Cole pitches 'outstanding game' in place of Stras
Righty strikes out 8 over 7 innings, allows 4 runs to powerful O's lineup in loss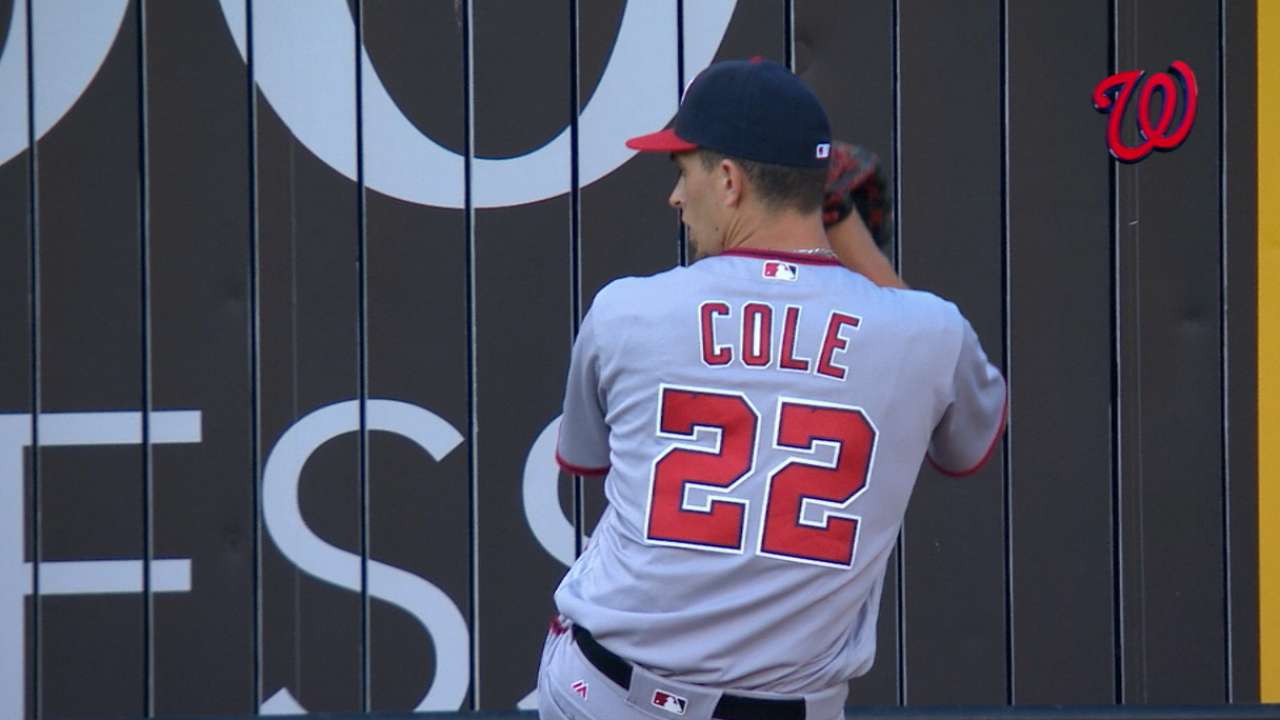 BALTIMORE -- A.J. Cole was preparing to start in Pawtucket for Triple-A Syracuse when he got word Monday afternoon that he was needed in Baltimore to start in place of Stephen Strasburg, who was placed on the 15-day disabled list with right elbow soreness. Cole had just been optioned back to the Minors on Saturday after spending two days with the Nationals, which included him missing his previously scheduled start in Triple-A on Thursday.
"It's been a weird couple days," Cole said. "This is what the game is, gotta be ready, and that's what I've been getting ready for."
Still, Cole delivered a strong outing for the Nationals even though it resulted in a 4-3 loss to the Orioles. On the road against one of baseball's best offenses, he held Baltimore to four runs and struck out a career-high eight batters. Cole -- the club's No. 13 prospect -- gave Washington's taxed bullpen a breather by lasting seven innings, the longest outing in his brief career.
"He pitched a heck of a game," manager Dusty Baker said. "He had great poise, great command against a very good offense. We knew they were prone to the strikeout. But we also knew that they were a home run-hitting club that depends on the home run. And they did both. ... Man, he threw an outstanding game."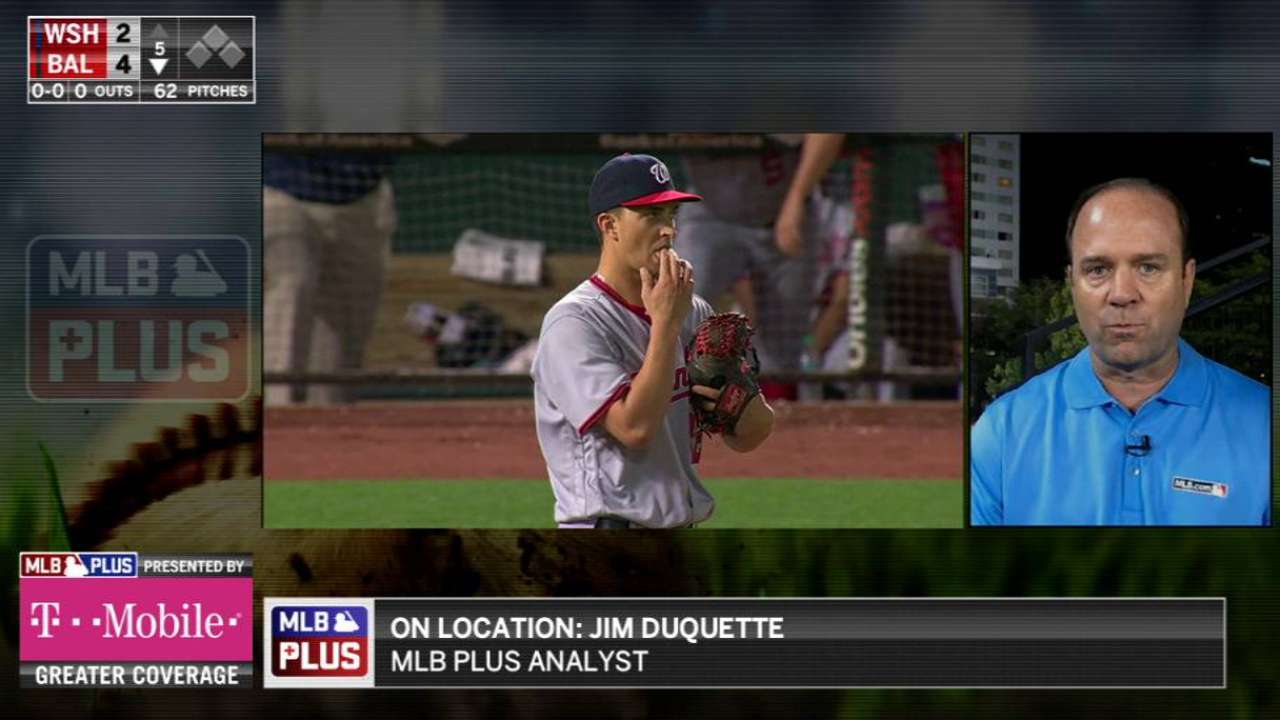 Cole began the outing looking sharp, cruising through the first three innings with five strikeouts even though Jonathan Schoop hit a solo home run on a pitch that Cole thought was in a good spot. Then the Orioles tagged Cole for three runs in the fourth, including a two-run homer from Mark Trumbo. The fact that Cole was able to settle in and still give the Nationals three more scoreless innings after that is what stuck out to Baker most.
"Especially in this ballpark and against this team," Baker said. "He seemed unfazed by the home runs, which is a sign of maturity."
"Well, it's happened to me a lot, so I've gotten used to it," Cole said with a laugh. "That's one of the things I've learned where you give up a home run or a big hit, you have to go back after them and do what you know how to do."
Although Cole struggled during his brief time in the Majors last season, he said the experience he gained then helped his comfort level this time out. The Nationals called up Cole to fill in for Strasburg in part because he was scheduled to pitch on the same day. Despite Cole's impressive outing, however, whether he will have the chance to make a second start in place of Strasburg remains to be seen.
Baker said Lucas Giolito -- the Nationals' No. 1 prospect and baseball's No. 4 overall prospect -- will also be lined up to potentially make that next start. Giolito was not an option Monday night because he would have been pitching on short rest.
Still, this was the kind of start from Cole that left an impression on Baker.
"He earned [another start]," Baker said. "Will he get it? I don't know. We've got to see how our situation is in our bullpen the next couple days."
Jamal Collier covers the Nationals for MLB.com. Follow him on Twitter at @jamalcollier. This story was not subject to the approval of Major League Baseball or its clubs.