Command continues to elude Rays' Snell
Following early exit, rookie lefty says 'attacking, getting ahead' key to success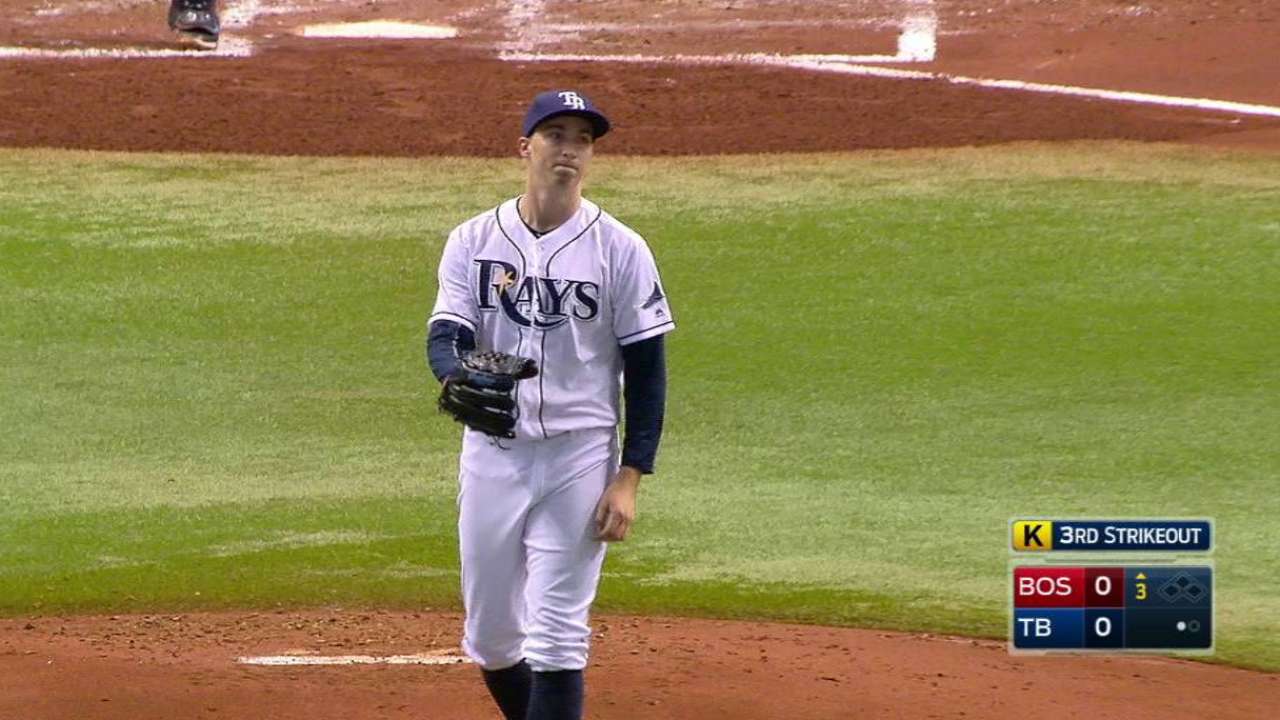 ST. PETERSBURG -- To find Rays left-hander Blake Snell's last efficient outing, the calendar has to flip back a full month to when the rookie, who entered the season as one of baseball's top prospects, took the mound in Oakland. His July 24 start was the last time Snell lasted more than 5 1/3 innings. He hasn't been bad in his five starts since, but a glaring flaw has materialized.
Three of Snell's last five outings have gone either five or 5 1/3. One was a 1 2/3-inning dud. Monday's outing against the Red Sox fell in the middle. The lefty went 3 2/3 as a 40-pitch fourth derailed what had been a promising start. Snell needed 94 pitches to make it through his abbreviated start while allowing two runs, four hits and five walks in Tampa Bay's 6-2 loss to Boston at Tropicana Field.
"Command, attacking, getting ahead, a whole lot," Snell said, rattling off everything that went wrong during his costly fourth frame. "It's definitely something I need to learn from, get better at."
Snell's cruised through the first three innings, even if they weren't particularly efficient. He allowed one hit in the first, one walk in the second and got out of the third after four batters with the help of a double play.
Even the fourth started innocuously enough. Mookie Betts battled for seven pitches and flied out to center.
The lengthy at-bat, however, was more than a blip. Hanley Ramirez worked a six-pitch walk, then Sandy Leon smacked a single to right field on the sixth pitch of the next at-bat. The next pitch was a curveball, which outfielder Chris Young launched for a double to left field to break the scoreless tie.
"It just kind of spiraled out from there," manager Kevin Cash said. "I'm not exactly sure why."
Snell lasted only three more batters and all three saw at least five pitches. Aaron Hill worked a seven-pitch walk. Andrew Benintendi hit a sacrifice fly on the seventh pitch of his at-bat. Dustin Pedroia walked on five pitches. Snell's day was done before the fifth for the second time in three starts.
The 23-year-old doesn't have a specific diagnosis in mind for the root of his command issues -- only 60 percent of his pitches during this five-game stretch have gone for strikes -- lamenting he needs to "just do it."
"That's the only way it's going to work is if I believe in it," Snell said. "I'm working hard at it. I just need to do it."
Cash's insistence on simplifying things for Snell is the logical root of concern. He threw first-pitch strikes to five of the seven batters he faced during the fourth, just struggled to finish them off. He went ahead 0-2 on Betts before the outfielder fought for seven pitches to throw Snell out of rhythm and send Tampa Bay on its way to a series-opening loss.
"He did some good things of getting ahead of some hitters, but it just seemed like there were just too many bullets wasted driving the pitch count up and leading to too many walks," Cash said. "When you walk this team seven, eight times -- whatever it was that we walked them -- it's going to make it difficult to win a ballgame."
David Wilson is a contributor to MLB.com based in St. Petersburg. This story was not subject to the approval of Major League Baseball or its clubs.