Gotta have Hart: Heads-up play by O's lefty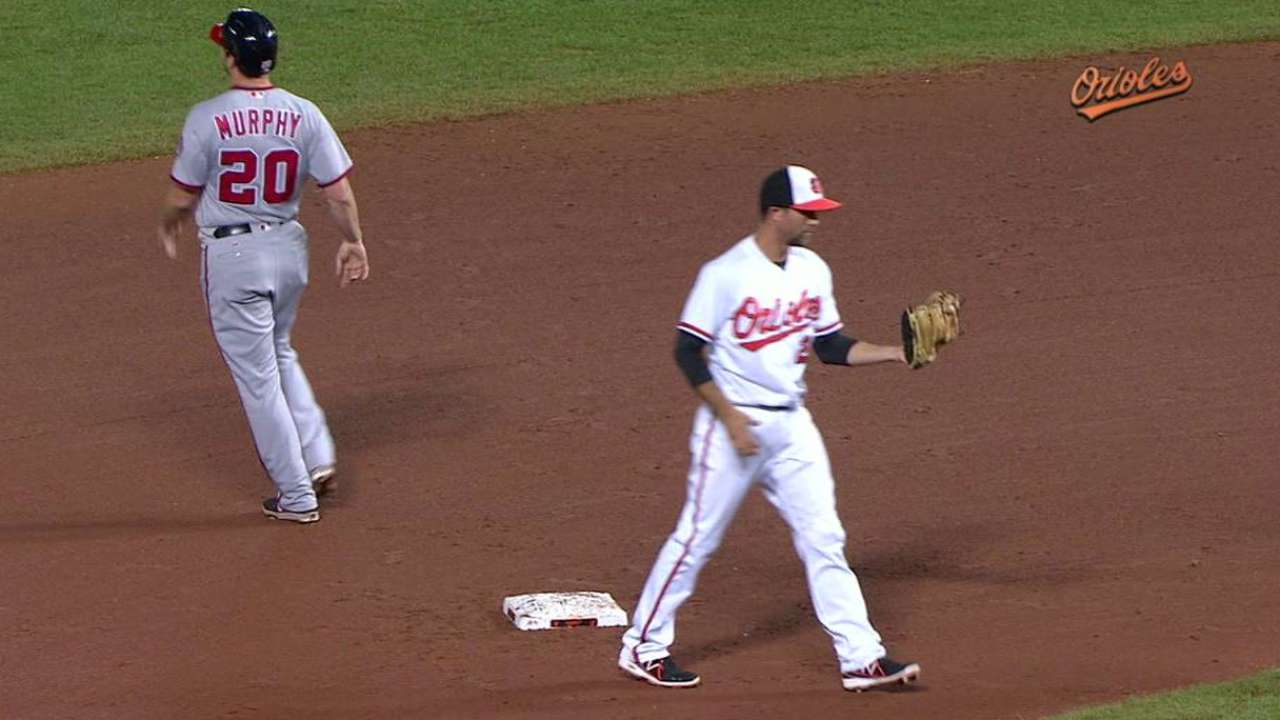 BALTIMORE -- Donnie Hart only recorded one out in Monday's game. But it was a big one.
Hart, who took over in the eighth inning of a one-run game, made a heads-up play on Bryce Harper's comebacker to nab Daniel Murphy at second base, erasing a leadoff double in a critical spot in the Orioles' 4-3 victory over the Nationals.
"That was important for him," Orioles closer Zach Britton said of Hart, who fielded Harper's chopper and spun around to get Murphy leaning too far off second. "He did a really good job.
"People don't realize how hard that play is. When you field it, your first reaction is you want to get rid of the ball. He made Murphy make a decision on where he was going to go and he made a great play. That's a huge out, if you look at how the game turned out."
Hart, who has become the O's late-inning lefty, said he left a ball a little too over the plate on Murphy's double.
"The guy has been hot all year," Hart said. "But I was fortunate enough to see some film earlier today on one of the plays where the ball is hit back to the pitcher and he took off running. So in that situation, I kind of told myself, 'Check him.' And sure enough, I got the ball back to me and I turned around and he had his head down going to third, so it just so happened we were able to get him.
"You always want to be in situations like that. I think, as a competitor, that's what you want, that's what you look for and that's my spot. That's my job. If I'm going to keep my job, I've got to get those guys out."
Keeping Murphy and Harper in check was a serious vote of confidence for Hart, who was in Double-A Bowie just a few months ago.
"Donnie ain't scared, and that's one of the things we like," Orioles manager Buck Showalter said. "He's athletic and he's throwing it over, and those two things play.
"The way we are in the bullpen right now without Darren [O'Day], every out we can get to keep guys from getting overtaxed, we have to take that chance. We're going to have to have someone to do that job [late-inning lefty] if we're going to get where we're going to get, and there's only one way to find out."
Brittany Ghiroli has covered the Orioles for MLB.com since 2010. Read her blog, Britt's Bird Watch, follow her on Facebook and Twitter @britt_ghiroli, and listen to her podcast. This story was not subject to the approval of Major League Baseball or its clubs.