Beninten-D! Boston LF robs Ray of HR
After nearly flipping over short wall, rookie says 'that's the best catch I've ever made'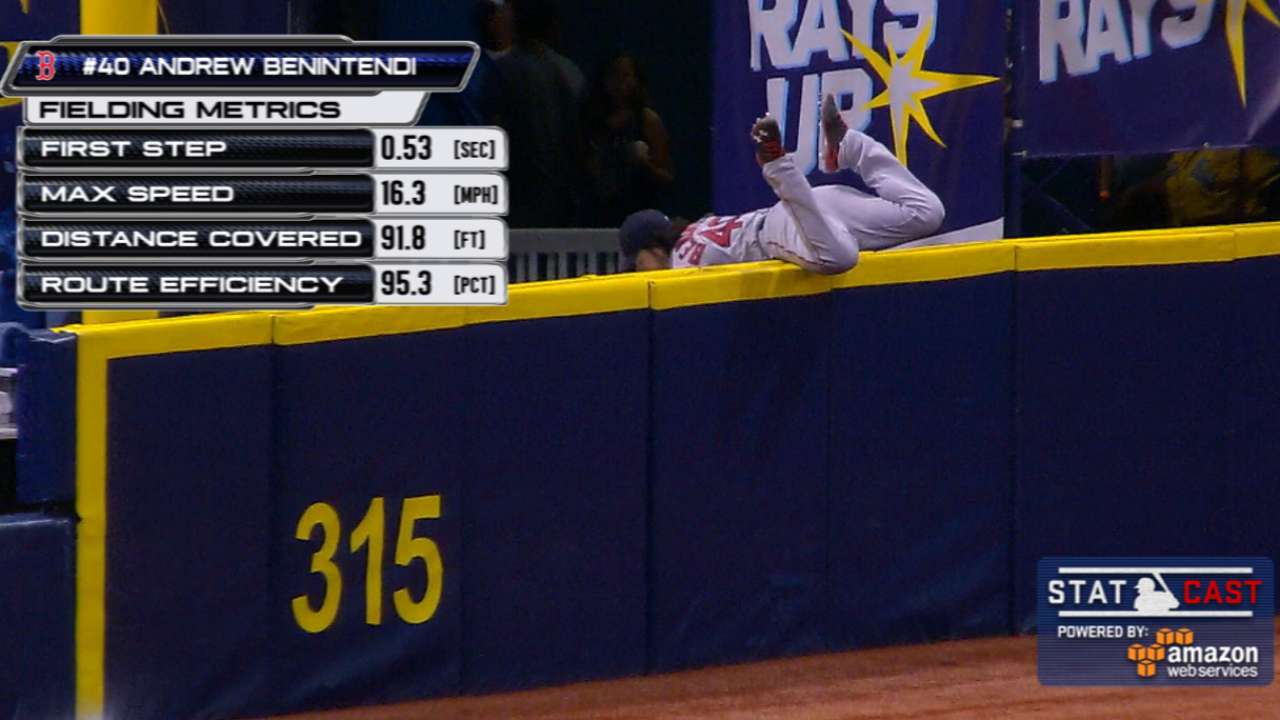 ST. PETERSBURG -- David Price was the lone man waiting just inside the clubhouse for Andrew Benintendi to return from the field. The Red Sox rookie outfielder was doing a postgame interview by the dugout, and everyone in the clubhouse was getting showered and dressed.
But Price waited for the man that preserved his scoreless start with a home-run robbing catch in the eighth inning. And when Benintendi came in, he gave him a hug -- his highlight-reel play a crucial moment in Boston's 6-2 win over Tampa Bay on Monday night, which moved the Sox into a tie for first in the AL East with the Blue Jays.
"I spent seven years here," said Price, the former Rays pitcher. "I didn't see that catch too many times. It doesn't happen a whole lot. That was huge."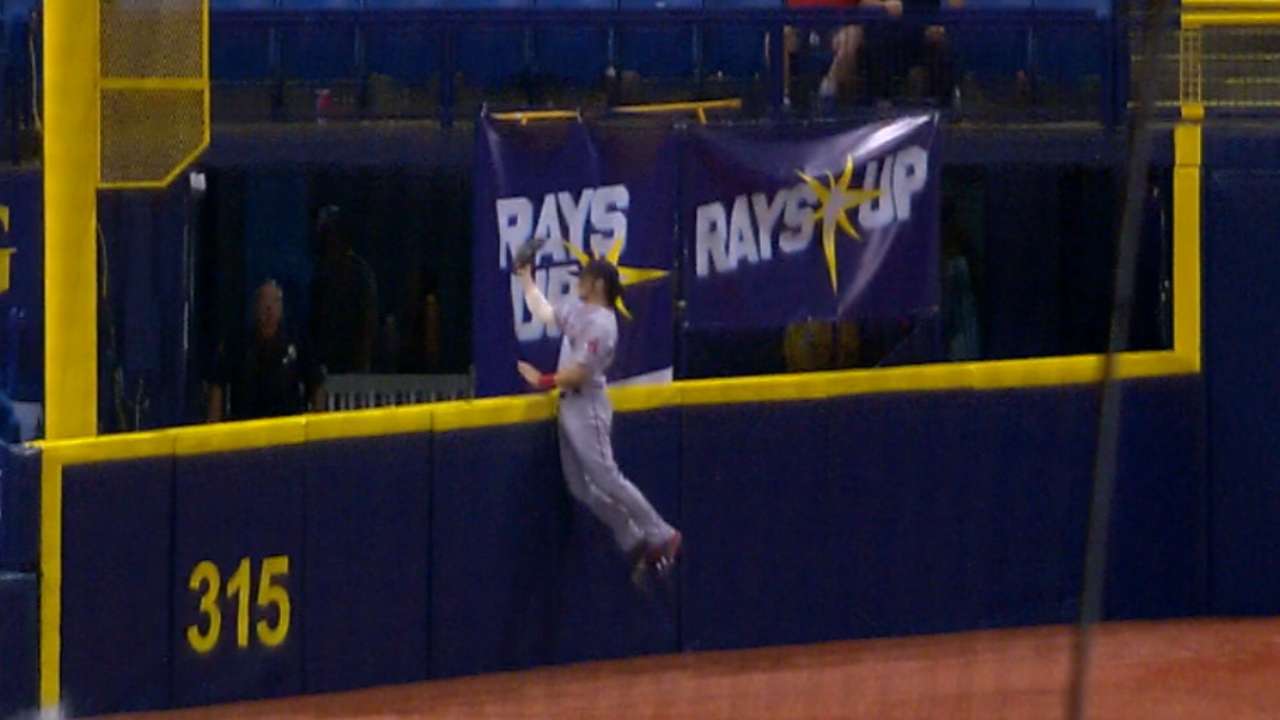 The play came with the Red Sox up, 3-0, in the bottom of the eighth. There was a runner on first with no outs when Steven Souza Jr. skied a ball down the left-field line. It was about to hook over the 315-foot porch when Benintendi jumped. He nearly fell over the wall as he brought the ball back in. He immediately got to his feet and relayed the ball back to the infield.
As he was coming off the field following that inning, he received a standing ovation from the Red Sox fans in attendance, and all the on-field players waited to congratulate him.
"I think that's the best catch I've ever made," Benintendi said. "I've never really had an opportunity to take one back."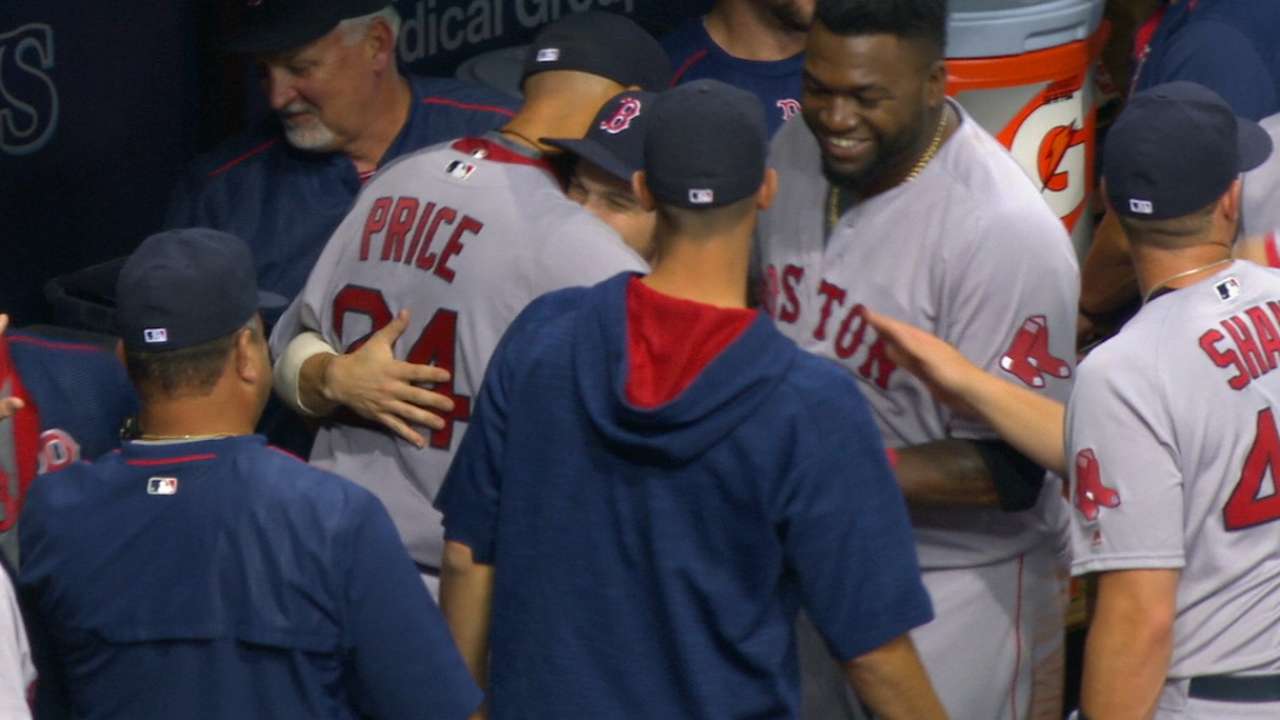 Benintendi made the catch in his first inning playing left field at Tropicana Field. Chris Young started in left, but with it being his first day off the disabled list and playing on a hard surface, he was taken out after seven innings. Jackie Bradley Jr. took over in center, moving Benintendi to left.
The play came one day after Benintendi hit his first Major League home run and triple. This first though may have been the most impressive of all. Souza said he was "stunned" and grabbed his helmet with both his hands in disbelief as his would-be homer turned into a flyout.
"David was very good, he was outstanding tonight," manager John Farrell said. "But in a three-run game, that late, take away a two-run homer, it's a huge difference in the game."
Sam Blum is a reporter for MLB.com based in St. Petersburg. This story was not subject to the approval of Major League Baseball or its clubs.