Mariners bring back Heredia, put Storen on DL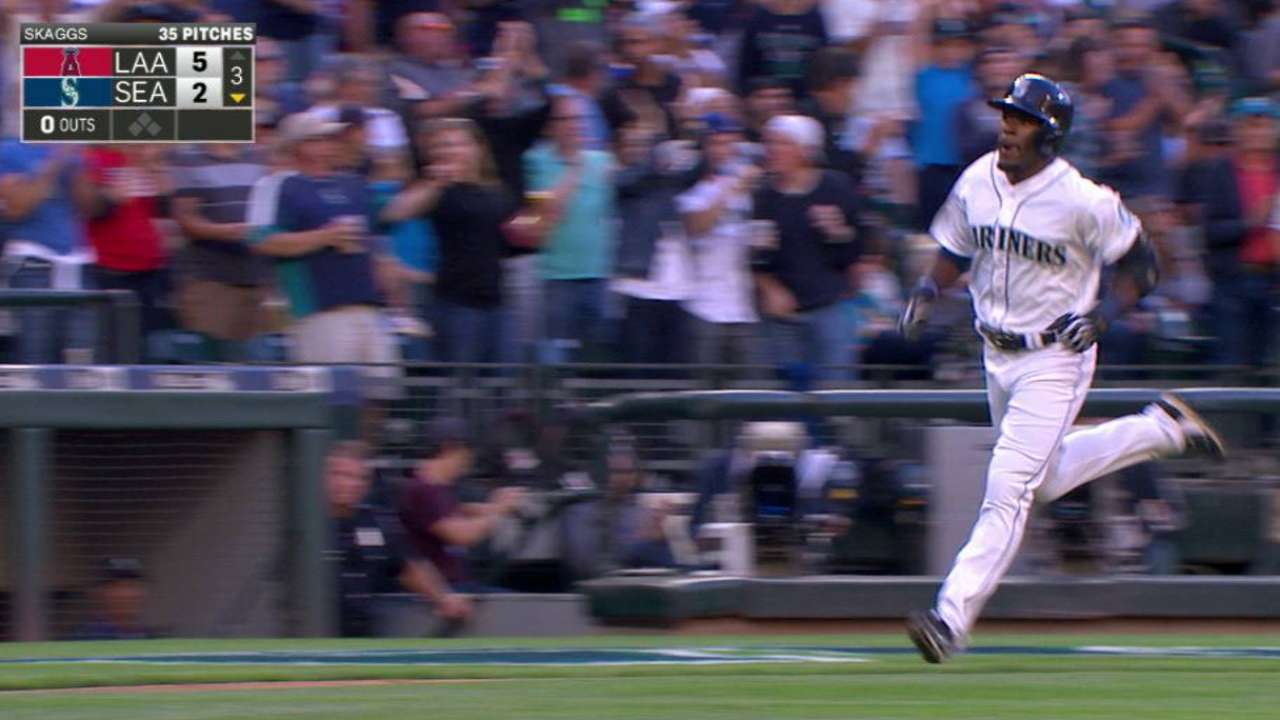 SEATTLE -- After seeing a fly ball to left field drop in for a base hit to drive in the go-ahead ninth-inning run in Sunday's 7-6 loss to the Brewers, the Mariners moved to shore up their outfield defense by recalling Guillermo Heredia from Triple-A Tacoma on Monday while placing reliever Drew Storen on the 15-day disabled list with right shoulder inflammation.
Heredia hit .280 with a home run and three RBIs in 12 games in a previous stint with Seattle before being optioned back to Tacoma on Aug. 10. He proved to be a capable defender who added some athleticism to the Mariners bench during that time, and he'll resume a similar role now that he's back with the club.
"He'll start against the lefties," manager Scott Servais said prior to Monday's series opener with the Yankees. "And late-in-the-game defense got us a little bit yesterday. That's something he can do and he really sparked our team last time he was here, offensively and defensively. It's just nice to have him back."
Heredia signed with the Mariners on March 1 as an international free agent after not playing the previous two years following his defection from Cuba. He's hit .312 with a .378 on-base percentage in 35 games for Tacoma this season.
"It's really comfortable being back here," Heredia said through translator Fernando Alcala. "The whole team has been very welcoming and I'm happy to be back. I'm hoping to do as well as I did the first time, if not better."
The Mariners will operate a man short in the bullpen Monday with Storen going on the DL, but Servais said more moves are likely coming Tuesday. Storen, 29, has gone 2-0 with a 4.35 ERA in 10 appearances since being acquired from Toronto for Joaquin Benoit on July 26.
"It's just kind of a culmination of having a lot of workload and we've been fortunate to have some high-leverage, tight games," Storen said of his fatigued shoulder. "I wasn't throwing a whole lot earlier, so it kind of caught up with me.
"I think normally I'd be fine, but with the games we're playing and roster-wise, I don't want to leave the guys hanging out to dry down there in the bullpen," said Storen. "So we'll let my shoulder calm down and come back strong. There are meaningful games in September. I'd rather be 100 percent in those than a watered-down version of myself."
Greg Johns has covered the Mariners since 1997, and for MLB.com since 2011. Follow him on Twitter @GregJohnsMLB and listen to his podcast. This story was not subject to the approval of Major League Baseball or its clubs.