Semien away from A's for birth of first child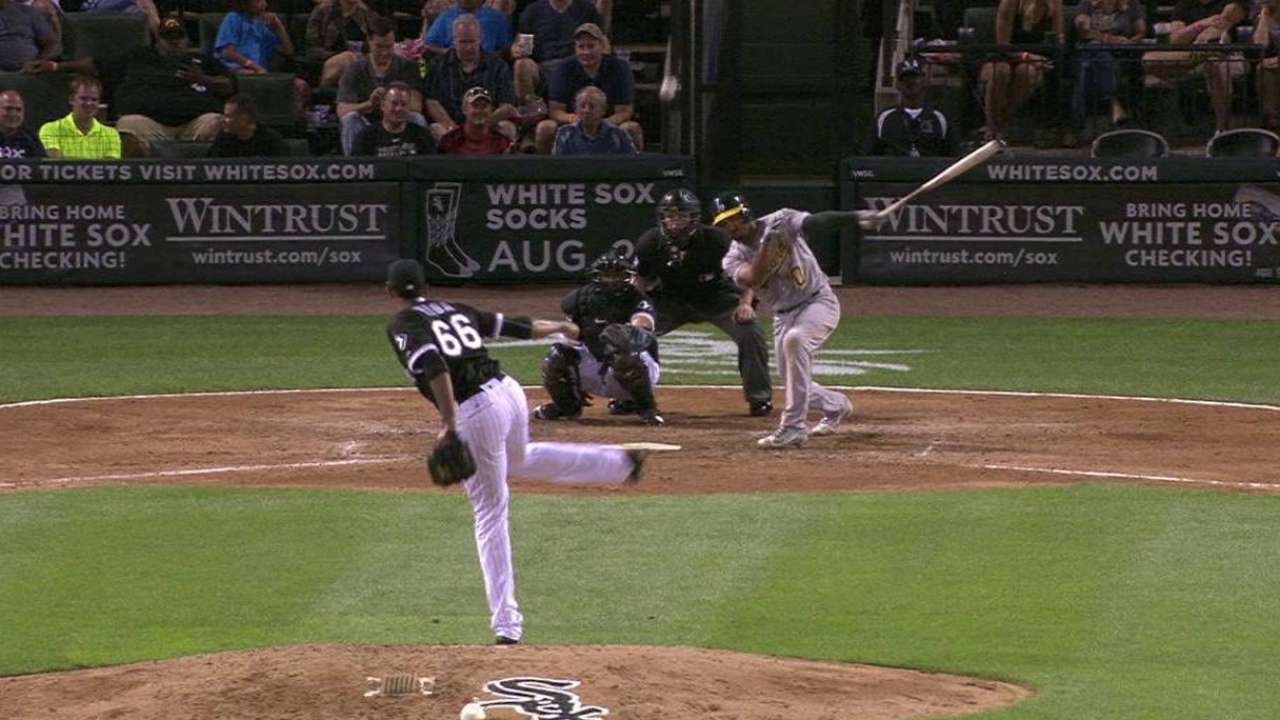 OAKLAND -- A's shortstop Marcus Semien was not with the team during Monday night's 1-0 loss to the Indians night, as he joined his wife, Tarah, for the birth of their first child that afternoon.
The A's are unsure whether Semien will be placed on the paternity list.
Semien's baby boy, Isaiah, was born around 5 p.m. at a Bay Area hospital, according to A's manager Bob Melvin. Semien had previously texted Melvin at 2:30 a.m. Monday morning to tell him the couple arrived at the hospital, and later sent a follow-up message to Melvin saying he wouldn't be at the Coliseum on Monday.
"Which doesn't surprise you from him, because he was probably trying to keep out hope that maybe she had the baby and he'd be able to get here somehow," Melvin said light-heartedly before the game. "My advice to him was to stay at the hospital."
Semien had played in every game this season, leading the Majors in games played. He's appeared in 126 straight games dating back to last season, the A's longest streak since Miguel Tejada played 594 straight games between 2000 and 2003.
Rookie Chad Pinder started in his place, making his first career appearance at shortstop. He went 0-for-3.
llness sets Phegley back
The A's don't have a timetable on a potential rehab assignment for catcher Josh Phegley, who underwent right knee surgery six weeks ago. His recovery has slowed in recent weeks following initial optimism, and a bout with strep throat this past weekend again slowed the process.
"It's a setback after a meaningless illness," said Phegley. "It's been a long road." Phegley was scheduled to catch a bullpen session in Single-A Stockton Saturday, but was sent home with a 103-degree fever, Melvin said. Phegley said Monday he's still encouraged by how his knee feels and hopes to begin a rehab assignment "very soon." He had surgery to remove a cyst on July 5.
Doolittle will pitch Tuesday
Melvin said reliever Sean Doolittle will make another rehab appearance Tuesday with Triple-A Nashville. Doolittle initially aimed to return to the A's Monday prior to the start of their three-game series with the Indians, but wasn't pleased with how he's thrown the ball on his rehab assignment and said he needed more time.
"He's been through this before and he knows when he feels good and when he's not quite there yet," Melvin said. "I appreciate that he's honest. Most guys want to get here regardless as quick as they can."
Worth noting
Melvin said pitcher Sonny Gray is doing plyometric work but isn't throwing yet. He noted Gray wants to pitch again this year, saying "I'm not sure we'll get to that point." … There's still no timetable for a Jesse Hahn rehab start after the pitcher experienced more shoulder discomfort Sunday … Reliever Fernando Rodriguez (right shoulder, 60-day DL) isn't throwing yet and it's unlikely he pitches again this year.