Gomes aims to return for postseason push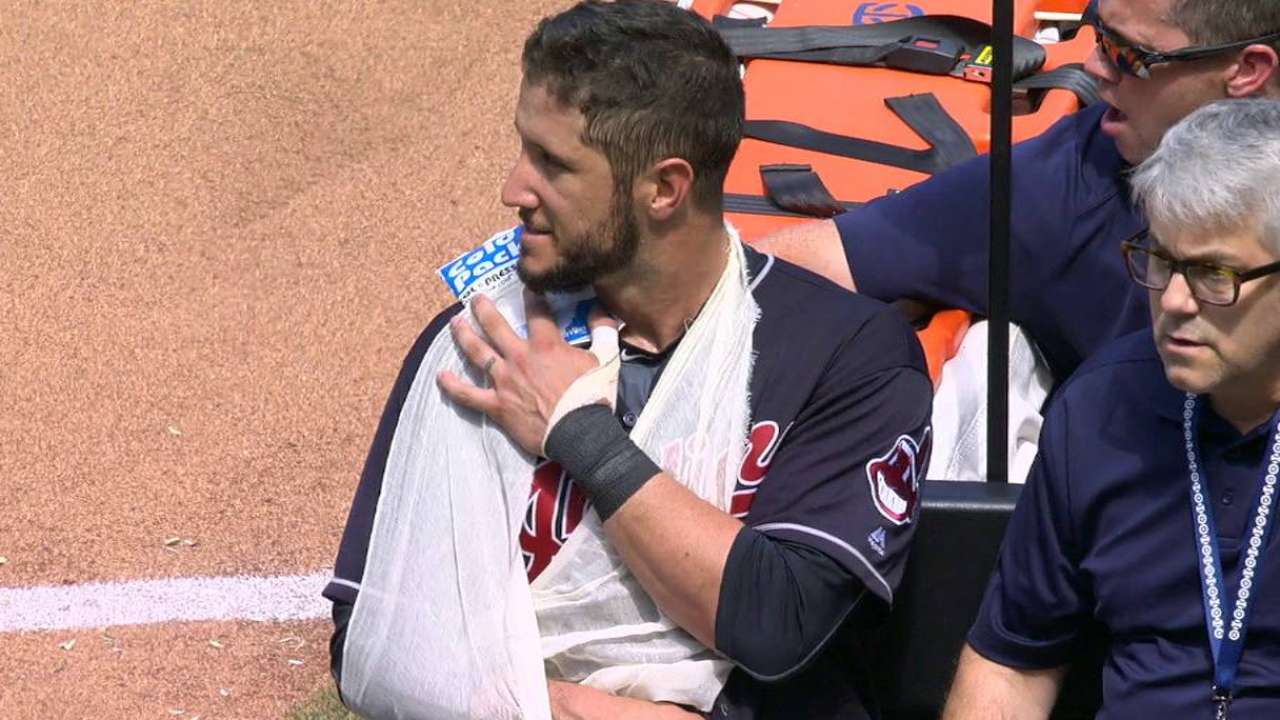 OAKLAND -- Yan Gomes has no hard feelings over the Indians' attempt to trade for catcher Jonathan Lucroy last month. Right now, all Gomes is worried about is getting ready to potentially help Cleveland down the stretch and maybe in October
In the hours leading up to Monday's game against the A's, Gomes went through a workout in right field at the Coliseum, continuing his comeback from a separated right shoulder. The catcher did agility drills and then played catch up to 105 feet while a handful of teammates looked on.
If the Indians hold steady and reach the postseason, Gomes wants to be available.
"Absolutely," Gomes said. "I'm trying to get there before [that] and get that last push in."
Gomes sustained his shoulder injury on July 17 during a fall at first base in a game against the Twins and was shelved the following day. Prior to the Aug. 1 non-waiver Trade Deadline, Cleveland attempted to improve its catching situation by acquiring Lucroy, going as far as reaching an agreement with the Brewers on a multi-player package.
But Lucroy exercised his no-trade clause, blocked the deal and was later dealt to Texas. Gomes, who is under contract through 2019 with a pair of team options that could keep him in Cleveland through 2021, shrugged off the whole ordeal.
"That had no effect on me at all," Gomes said. "How much can you say when you're a guy on the DL? We had talked about it. I respect the fact the guy is a great player. He's a two-time All-Star, so why not go after a guy like that? Especially for a team that's making a playoff push, [getting a high] caliber guy would have helped. But, I guess he didn't want to come here."
Gomes, however, does want to get back as soon as he can.
He has been playing catch for the past week and has advanced to hitting live pitching in the batting cage. Indians manager Terry Francona noted that Gomes will likely be cleared to transition to hitting on the field soon, and a Minor League rehab assignment could also be in the near future. The Minor League regular season ends on Sept. 5, but Gomes could get some at-bats as a designated hitter before he is cleared to catch.
"I don't want to get too far ahead," Francona said, "but just talking to [head athletic trainer James Quinlan], he's going to be able to DH probably well ahead of when he could catch. So, that's where we would probably try to use that to our advantage, where he could get some games under his belt."
Francona said the Indians are optimistic that Gomes will be ready to return next month.
"I hope so," said the manager. "It gives him something to shoot for, which is good. And then, if it works, good. And if not, he'll certainly be in good shape for going into the offseason."
Jordan Bastian has covered the Indians for MLB.com since 2011, and previously covered the Blue Jays from 2006-10. Read his blog, Major League Bastian, follow him on Twitter @MLBastian and listen to his podcast. This story was not subject to the approval of Major League Baseball or its clubs.