Freeman continues to rake at Chase Field
Braves' slugger turns in third career multihomer game at D-backs' park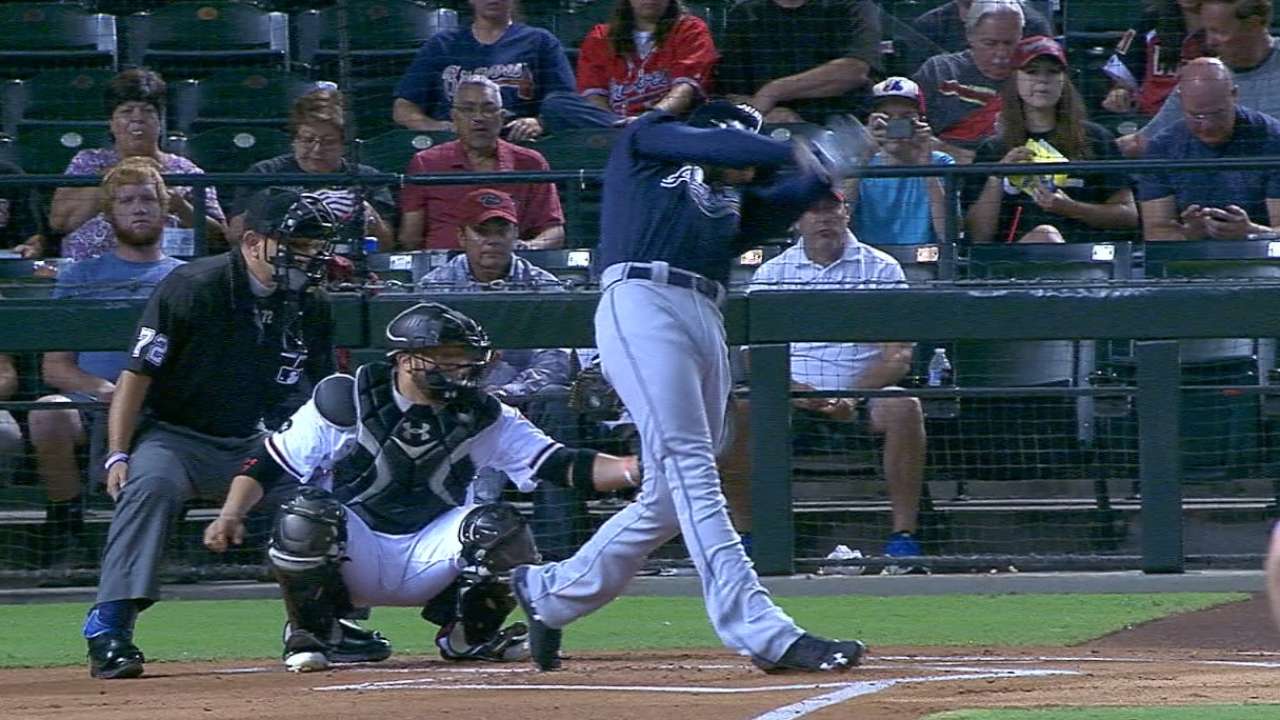 PHOENIX -- Upon further review, a trip to Arizona might have been every bit as therapeutic for Freddie Freeman as the cortisone shot he received this past weekend to aid a left finger ailment that certainly wasn't burdensome during Monday night's 9-8 loss to the D-backs at Chase Field.
After Freeman capped the ninth multihomer game of his career with a game-tying solo homer off D-backs right-hander Enrique Burgos in the ninth inning, Paul Goldschmidt opened the bottom half of the frame with a walk-off homer off John Gant, who entered after Arodys Vizcaino extended his recent woes by surrendering four runs in the seventh inning.
As the Braves have lost seven of their past nine games, they have seen their pitching staff post a 7.41 ERA. Vizcaino, who declined to speak to the media after the loss, has allowed four runs in two of the three appearances he's made since he returned from the disabled list and Tyrell Jenkins became the latest member of the starting rotation to be demoted to Triple-A Gwinnett.
The Braves have plenty of problems, but they can be thankful that Freeman appears to be healthy. After missing Sunday's win over the Nationals because of the finger, the Braves' first baseman drilled the first pitch he saw on Monday night over the left-center field wall for a two-run homer off Zack Godley.
"I wanted to come out swinging early, just to ease my mind," Freeman said. "I did that in my first at-bat, and thankfully they threw a pitch I was able to hit. Being able to hit it and put the mind at ease was big for me to get going in this game."
After doubling in a two-run second inning that gave the Braves a 5-0 lead, Freeman extended his power surge when he turned on Burgos' 3-0 fastball and drilled it over the right-field wall to tie the game in the ninth.
Freeman has nine career multi-homer performances, and three of them have been in the 16 games he has played at Chase Field. He has batted .426/.459/.897 with eight home runs over the 74 plate appearances compiled in road games against the D-backs.
"I love this place," Freeman said. "I like it more than Colorado. I think it's just the batter's eye. You get in that box and you feel good. You just see everything. It's just one of those things where you just feel very comfortable in the box here."
Freeman has battled swelling in the middle digit of his middle finger since the start of Spring Training, but the discomfort was severe enough on Saturday that the Braves' medical staff opted to give him his second cortisone injection since the start of the All-Star break.
Though Freeman has battled a variety of ailments, he is on pace to record career-bests in a number of statistical categories. He has already done so with his 26 home runs, and he is on pace to do so with his current .557 slugging percentage.
"Hopefully, he can just stay away from any other problems and finish the season strong," Braves manager Brian Snitker said.
Mark Bowman has covered the Braves for MLB.com since 2001. This story was not subject to the approval of Major League Baseball or its clubs.