Padres always looking to gain edge on bases
'It changes games,' Green says of team's aggressive approach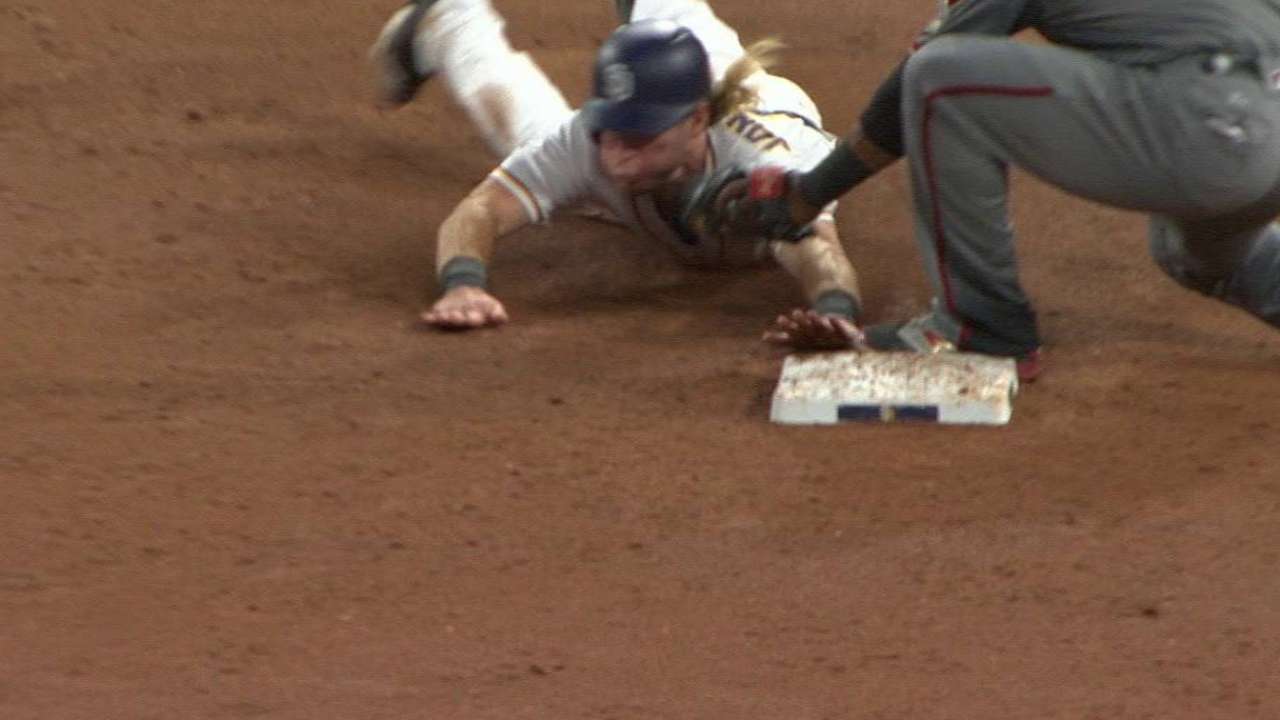 SAN DIEGO -- The Padres have ruled the basepaths this season, thanks to a mindset handed down from the coaching staff to the players that emphasizes aggression.
It might be easy to look at the stolen-base leaders this season and argue that the Brewers -- who lead the Majors with 136 stolen bases -- have been superior in this facet of the game. The Padres are third in baseball with 103 stolen bases, while the Indians and the Red Sox top the list in stolen-base success rates, at 82 and 81 percent respectively, compared to San Diego's 76 percent rate -- fifth in baseball.
However, the Padres have been outstanding in an area that is less glamorous, statistically, but nonetheless impacts the game in the same fashion: taking the extra base.
"It's a vision we drip out there every single time we have a team meeting about the way we want to play the game," said Padres manager Andy Green. "Aggressively, intelligently. We kind of fixate on those things and when we don't do it, they get talked about. So it's an expectation."
That expectation has led to the Padres leading all of baseball in extra-bases taken (XBT) percentage, which Baseball Reference defines as the percentage that runners advance more than one base on a single and more than two bases on a double.
With a 51 XBT percentage, the gap between the Padres and the second-place Indians (46 XBT) is larger than the gap between Cleveland and the 12th-place Dodgers (42 XBT).
"It's a huge testament," said Travis Jankowski. "We have a lot of aggressive players on this team. We have a lot of speed on this team. Taking the extra base when it's smart is just part of our mindset."
But this hasn't just applied to speedsters like Jankowski, who leads San Diego with 26 stolen bases. Ryan Schimpf, who has just one stolen base this season and doesn't exactly blaze around the bases, leads the team with a 73 XBT. Of all Major League players with at least 150 plate appearances this season, that mark trails only Kevin Kiermaier (82) and Byron Buxton (75).
Of all the active Padres hitters with at least 60 plate appearances, only Alexei Ramirez has managed a rate below the league average of 40 percent.
"It's our aggressive mindset, bumping up the extra 90 feet whenever you can," Jankowski said. "[Andy Green] and Tarrik [Brock], our first base coach, are huge on it. And [third base coach Glenn Hoffman] loves waving his arm at third."
The Padres also top the Majors in Fangraphs' Base Running (BsR) statistic, which accounts for the positive benefits of stealing and taking extra bases as well as the negatives of getting caught stealing, grounding into double plays and being thrown out on the basepaths.
San Diego has posted a 20.5 BsR this season, compared to the second-place Indians (16.8) and third-place D-backs (14.2). With BsR, the league-average for any given year is 0, with positive numbers representing above-average rates and negative numbers representing below-average rates.
So, while the Padres don't have the most stolen bases this season, they could very well be the best baserunning team in the game.
"It's part of our identity, what we want to do," Green said. "We have the expectation that you take that extra base, so if another single happens then you score. And it changes games."
Carlos Collazo is a reporter for MLB.com based in San Diego. Follow him on Twitter @CarlosACollazo. This story was not subject to the approval of Major League Baseball or its clubs.