Bundy, homering O's right ship with win over Nats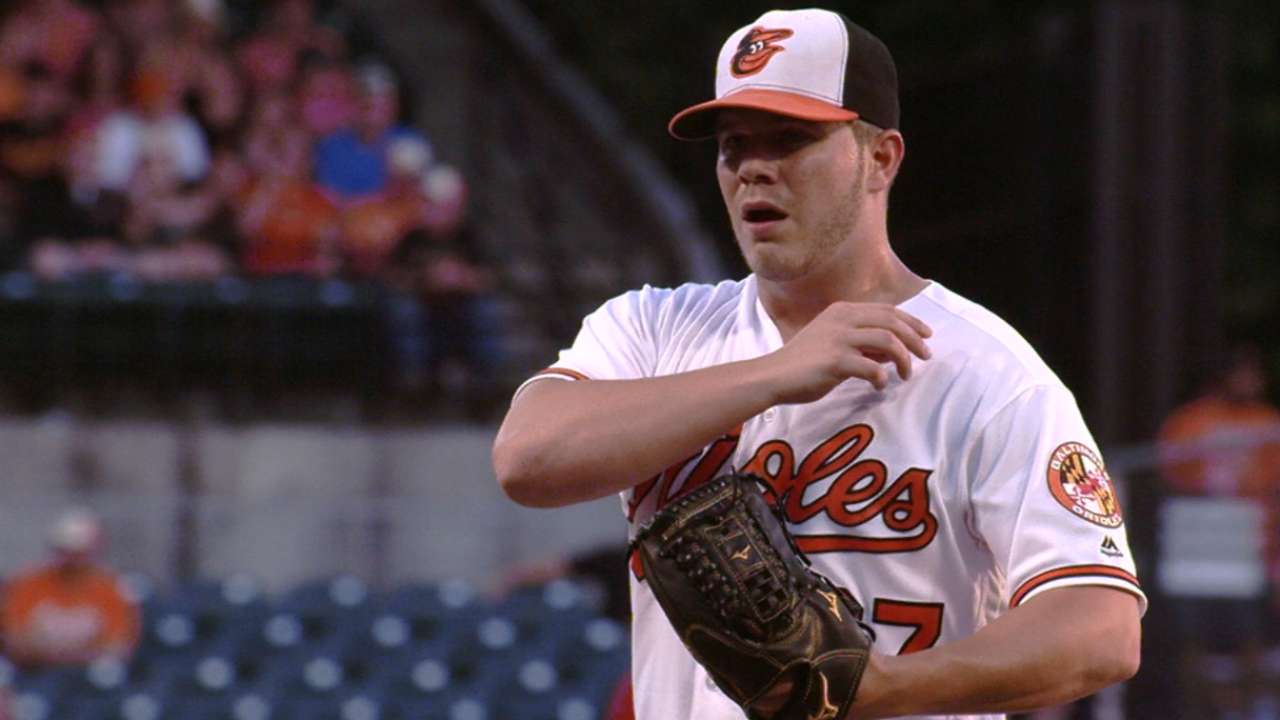 BALTIMORE -- The Orioles entered the series with the Nationals in the midst of a 1-5 homestand that's seen them fall from first place in the American League East to third. In need of a win to stop the slide, rookie Dylan Bundy and Baltimore's power-hitting lineup delivered in a 4-3 win at Camden Yards on Monday night.
Bundy threw a career-high 94 pitches to get through six innings of two-run ball, retiring nine of the final 10 batters he faced. It marked the second consecutive quality start for the Orioles, who had gone eight straight games without one before Sunday.
"Him bouncing back after maybe a so-so outing, I think that's huge for a young pitcher," Zach Britton said of Bundy, who allowed a career-high five runs Wednesday. "I've been there, and sometimes that's the biggest challenge. He did a great job."
The Orioles' victory brings them within two games of Toronto and Boston in the AL East, and they maintain their hold on the second Wild Card spot. It's the Nationals' second consecutive defeat, though they maintain a large lead in the National League East.
"We're playing a lot of good clubs now that are fighting you tooth and nail, trying to get a chance for October baseball," Orioles manager Buck Showalter said. "It's just a reminder that we can play that kind of baseball. We've been playing it for most of the year."
Baltimore, which hadn't led since the third inning of Friday's game vs. Houston, immediately found itself in another hole three batters into the game. Unlike the past few games, though, the O's were able to climb out of the early hole with the help of a solo home run from Jonathan Schoop in the third and two-run blast from Mark Trumbo to cap a three-run fourth.
All four runs were charged to starter A.J. Cole, who was making his first Major League appearance of the season in place of the injured Stephen Strasburg.
• Strasburg lands on DL with elbow soreness
"It's been a weird couple of days," Cole said. "I was supposed to start down in Pawtucket, and then they called me and said they need me for Monday here. This is what the game is, gotta be ready, and that's what I've been getting ready for."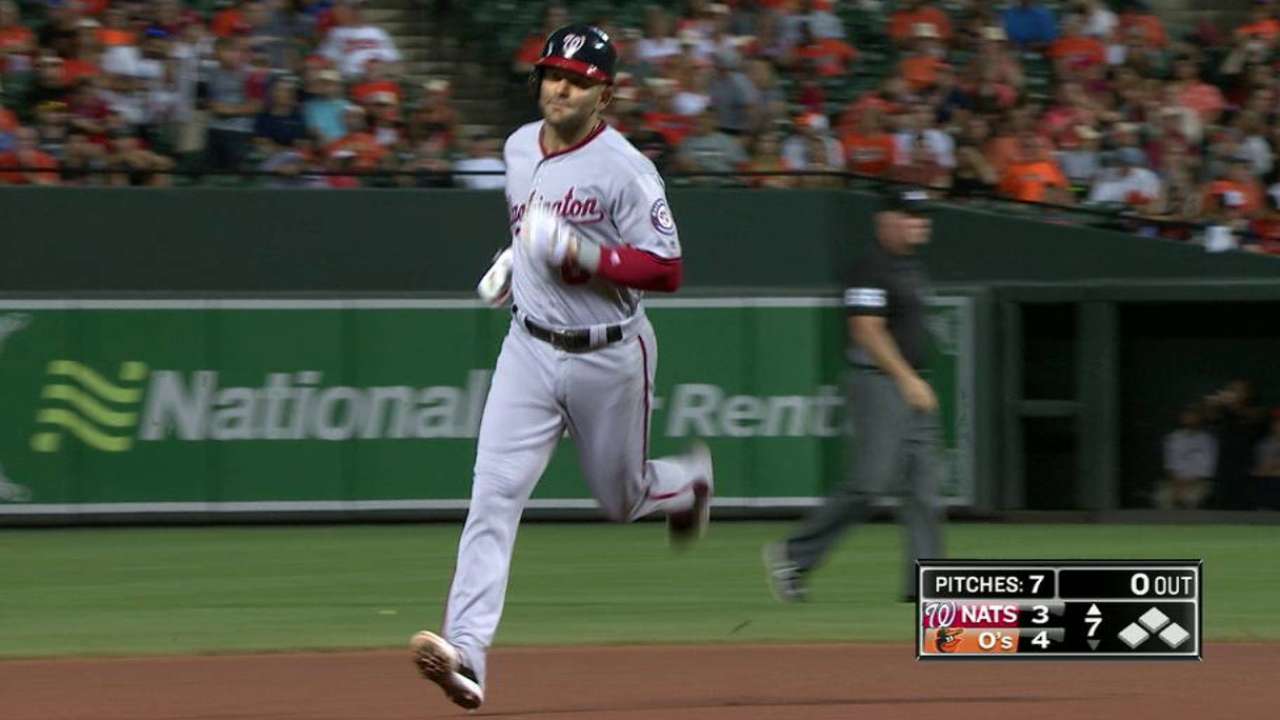 The Nationals pulled within a run on Danny Espinosa's leadoff homer in the seventh and had two runners in scoring position in the eighth, but the Orioles' bullpen held on. Britton, who hasn't allowed an earned run since April, remained perfect in save opportunities with his 38th of the season.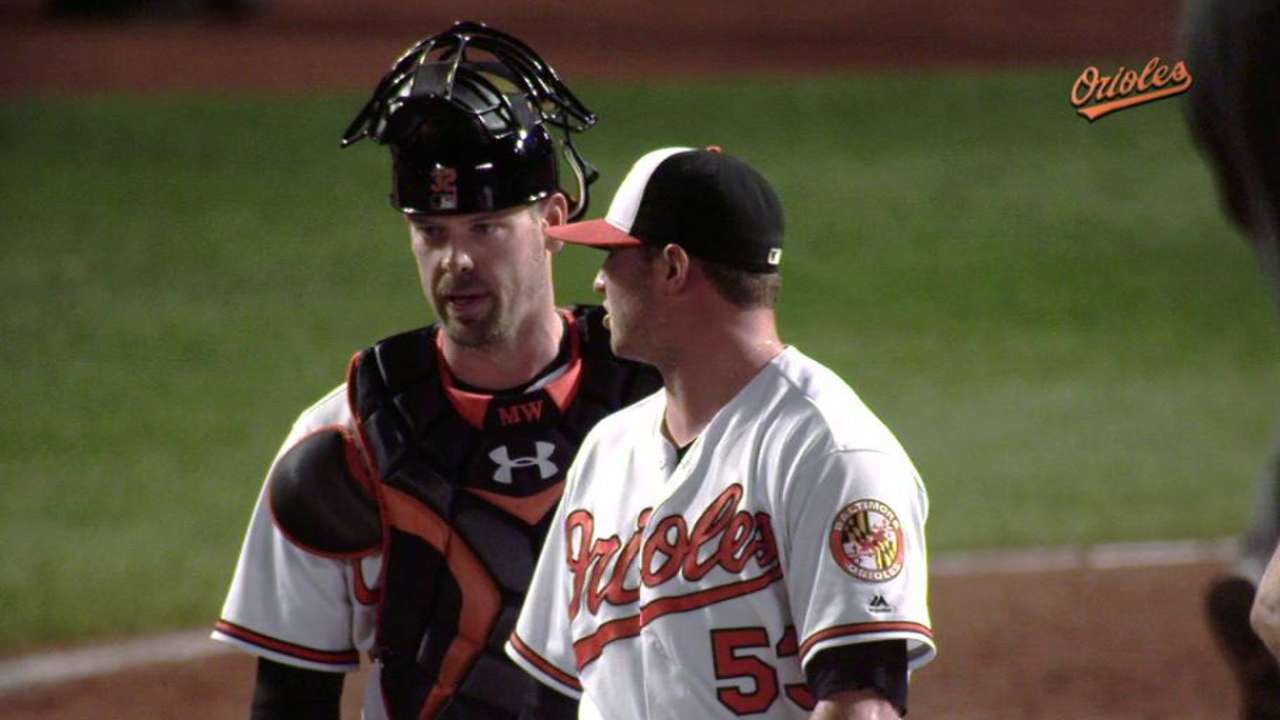 MOMENTS THAT MATTERED
All he does is homer: Trumbo has been blasting home runs all season, but lately, he's been doing it without any other hits. Dating back to Aug. 11, the slugger's past seven hits have all left the ballpark. With his league-leading 38th Monday, which left the bat at 105 mph and was projected to land 405 feet from home plate, per Statcast™, he's homered in four of his past five contests. He extended his Major League lead to three over Toronto's Edwin Encarnacion.
Asked how you explain his past seven hits being homers, Trumbo said, "You don't." More >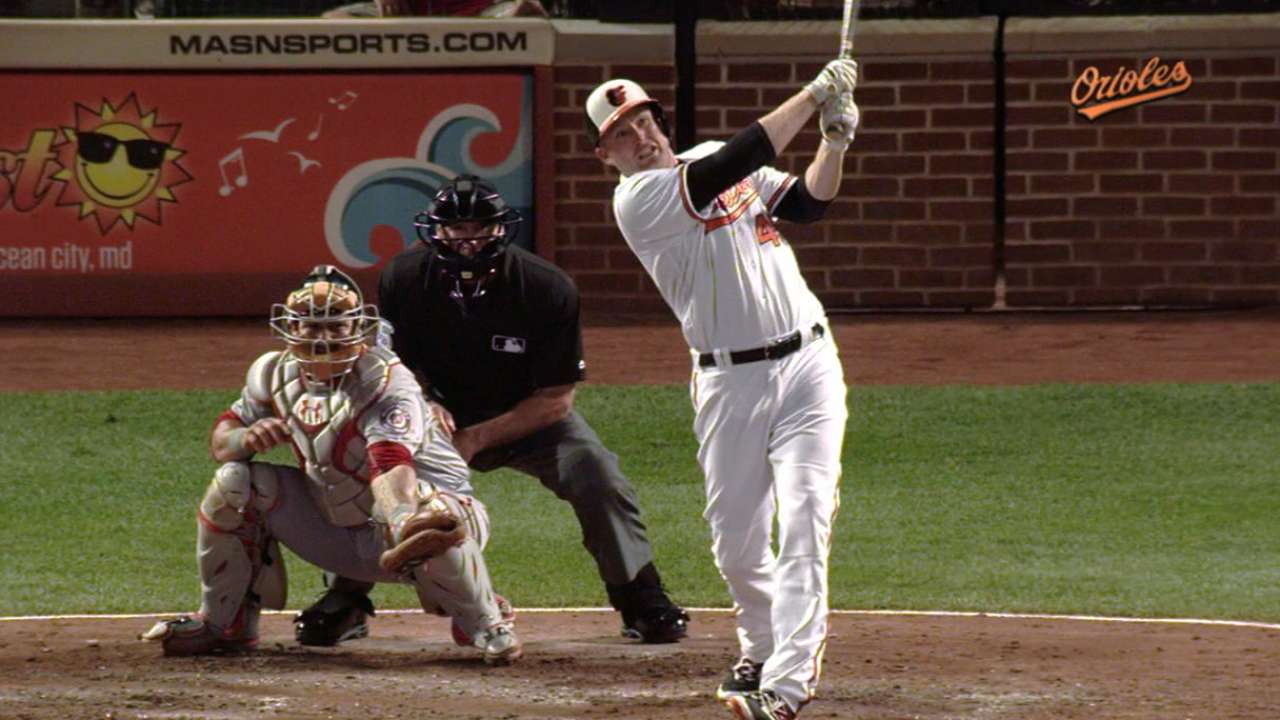 Strong replacement: When Strasburg landed on the disabled list with right elbow soreness earlier Monday, Cole was called upon from Triple-A Syracuse to make the start and delivered the longest outing of his career. He held one of baseball's most powerful offenses to four runs with a career-high eight strikeouts. In his only other Major League start, Cole lasted just two innings, but he tossed seven innings Monday to give a taxed Nationals bullpen a breather.
"He saved our bullpen, he pitched a heck of a game," Nationals manager Dusty Baker said. "He had great poise, great command against a very good offense. We knew they were prone to the strikeout. But we also knew that they were a home run-hitting club that depends on the home run. And they did both. ... Man, he threw an outstanding game." More >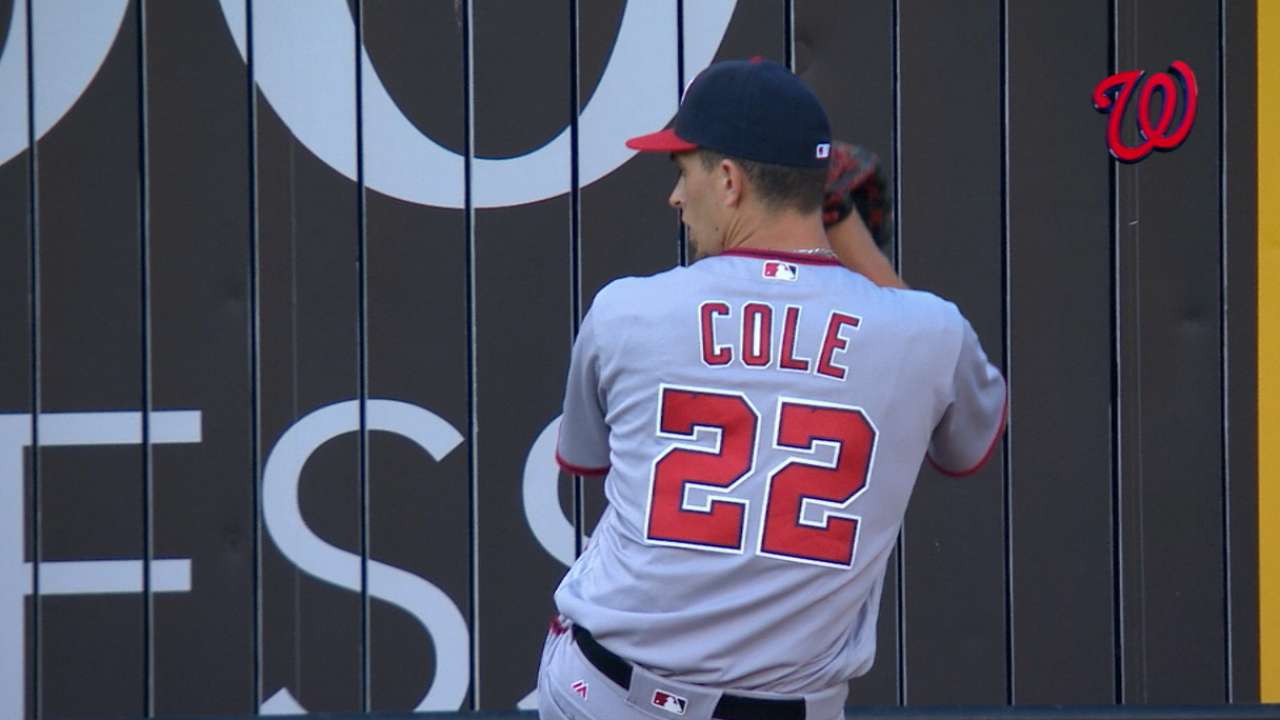 Caught in the middle: With the Orioles clinging to a 4-3 lead to start the eighth, lefty Donnie Hart came on to face lefties Daniel Murphy and Bryce Harper. Hart allowed a leadoff double to Murphy, putting the tying runner in scoring position. But the rookie made a heads-up play when Harper hit a comebacker to the mound. Hart spun and caught Murphy leaning too far off second base, nabbing the lead runner for the first out of the inning. More >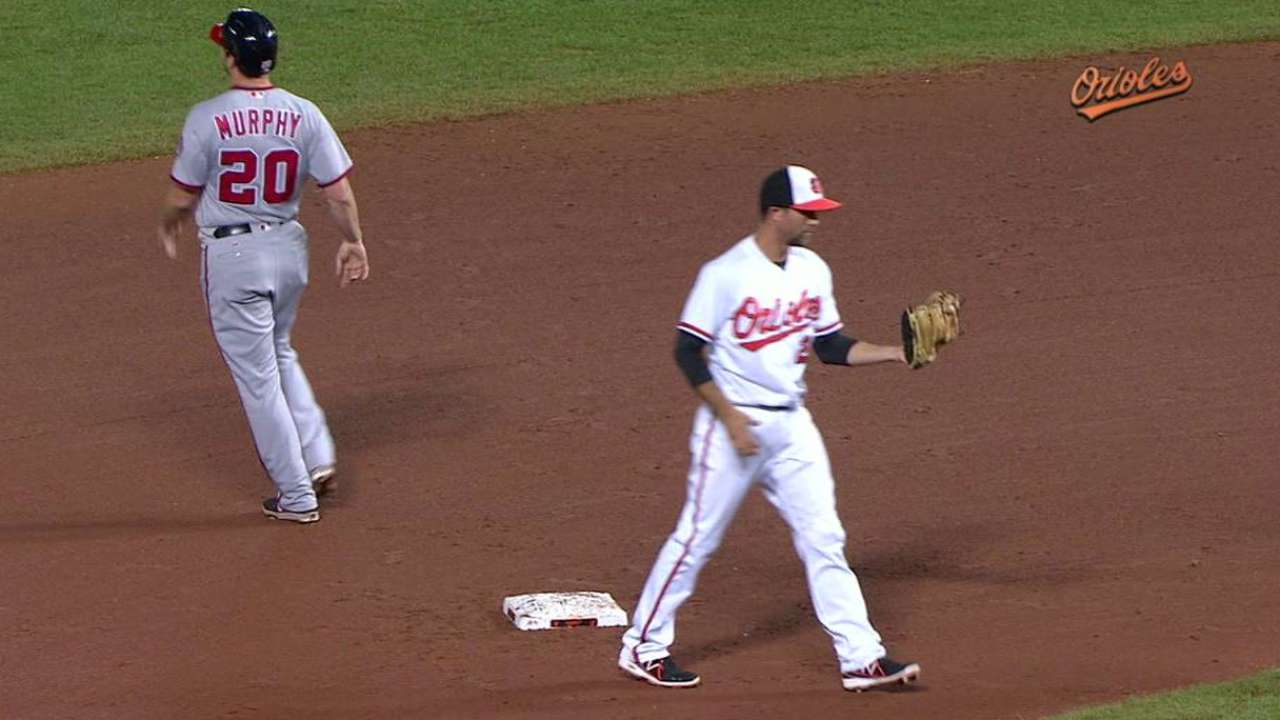 Missed opportunity: Even after Murphy got thrown out at second base, Washington still had a chance to tie the game or take the lead. With runners at second and third and two outs, Ryan Zimmerman battled Brad Brach for a seven-pitch at-bat before Brach got him to swing through a splitter for the final out.
"First time I ever faced him, too. It's tough coming into a situation like that when you never really seen a guy throw a pitch," Zimmerman said. "Especially a guy like that that's having the year that he's having. But I fought off a couple of good pitches and then he made a really good pitch, that last pitch. Just a split that started right at the bottom of the zone and fell out." More >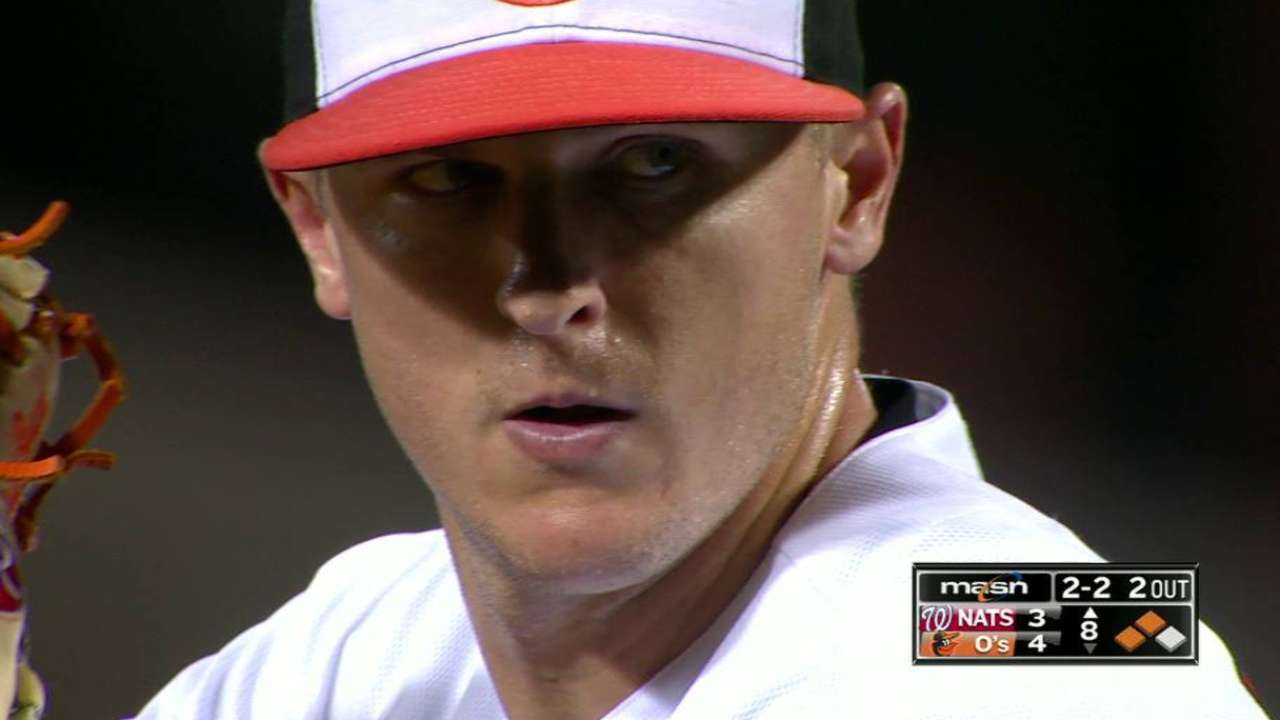 REPLAY REVIEW
Schoop's home run was a towering shot down the left-field line that was higher than the foul pole when it crossed into the stands. After originally calling a home run on the field, the umpires gathered for a crew-chief review. After one minute and 19 seconds, the call was confirmed.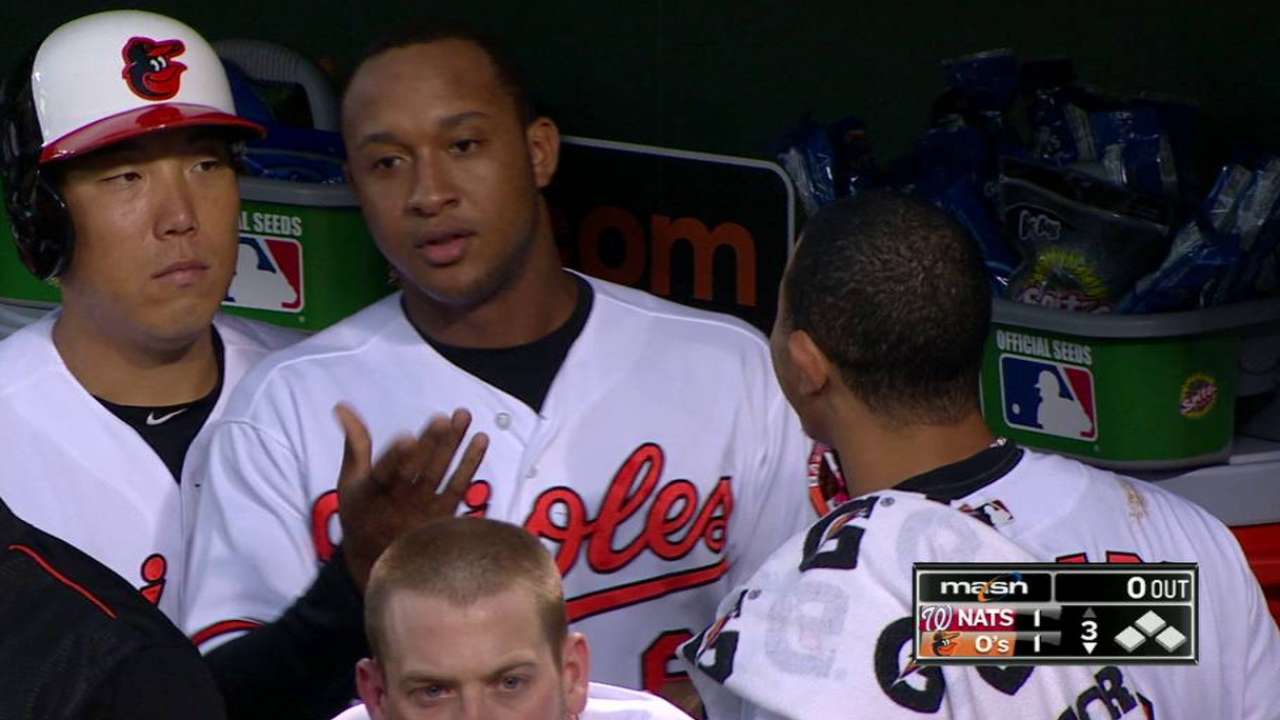 WHAT'S NEXT
Nationals: After back-to-back strong outings against the Braves, Reynaldo Lopez (2-1, 4.37 ERA) will make his fifth career Major League start against the Orioles on Tuesday at 7:05 p.m. ET. Lopez struggled in his first two starts, but since returning from the Minors on Aug. 13, he has allowed three runs (two earned) in 14 innings with 13 strikeouts.
Orioles: Kevin Gausman (4-10, 4.11 ERA) will look to build on his success at Camden Yards in the second game of the Beltway Series. While the young right-hander is winless on the road, he's gone 4-1 with a 2.73 ERA at home. He's coming off a win against the Astros in which he allowed five runs (four earned) over 6 2/3 innings.
Watch every out-of-market regular-season game live on MLB.TV.
Ryan Baillargeon is a reporter for MLB.com and covered the Orioles on Monday.

Jamal Collier covers the Nationals for MLB.com. Follow him on Twitter @jamalcollier.

This story was not subject to the approval of Major League Baseball or its clubs.