Pirates confident their cool bats will heat up
Offense manages just 5 hits in squandering Taillon's strong outing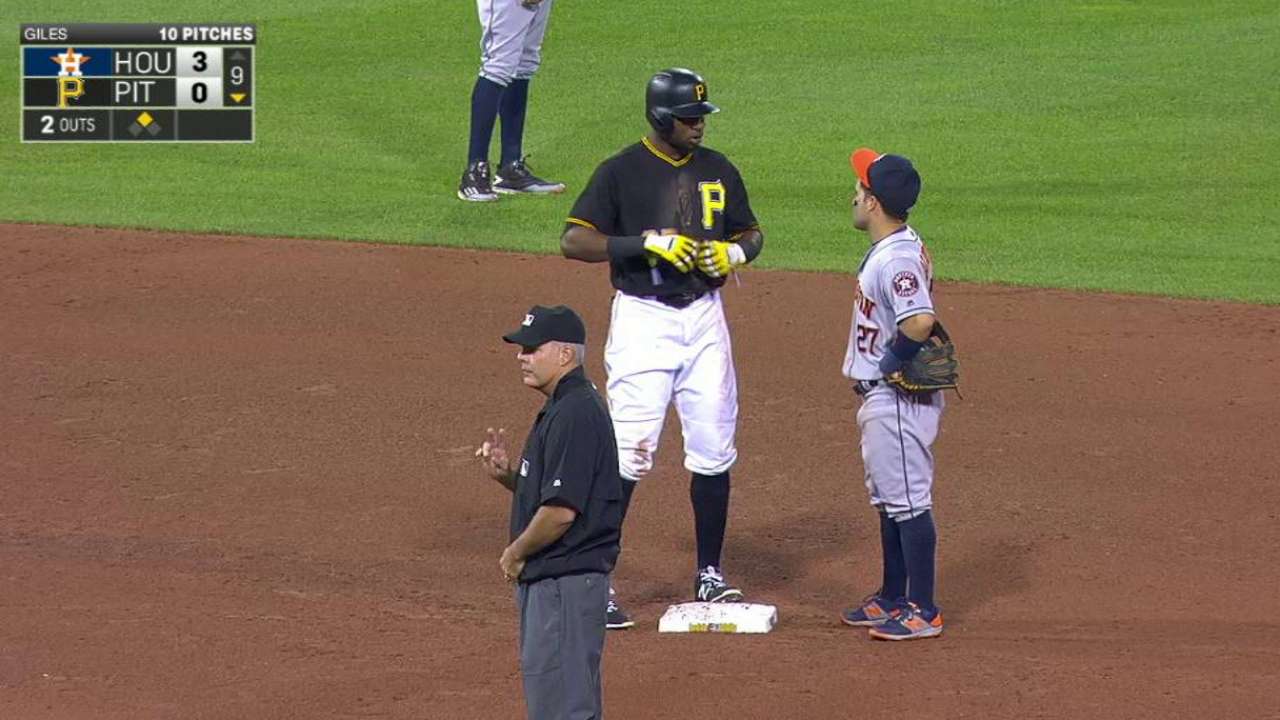 PITTSBURGH -- Monday night brought cooler evening air than PNC Park has felt most of the summer, but what played out on the field followed a more familiar script.
The Pirates got the pitching they needed in a series-opening 3-1 loss to the Astros, but their bats were too often silent. Pittsburgh lost its fourth straight game, and the offense has produced a total of nine runs in those four losses.
Credit Astros right-hander Doug Fister, whose fastball sank and ran, but rarely found the middle of the strike zone for seven scoreless innings. But this was not an isolated incident.
The Pirates have the second-lowest OPS (.688) in the Majors through 19 games this month, batting a collective .237/.327/.361 and averaging 4.16 runs per game. It hasn't been enough to support an improved pitching staff that's posted a 3.45 ERA in August, the fifth-lowest mark in the Majors and second only to the Cubs' 2.60 ERA in the National League.
"It just seems like we're on the field a lot longer than when we're hitting. It's not about our pitching. It's about our offense," third baseman David Freese said. "It's about us not stringing good ABs together. Typically, we do a decent job of wearing down the starter. We're kind of wearing them down without getting good production out of it, and it's frustrating."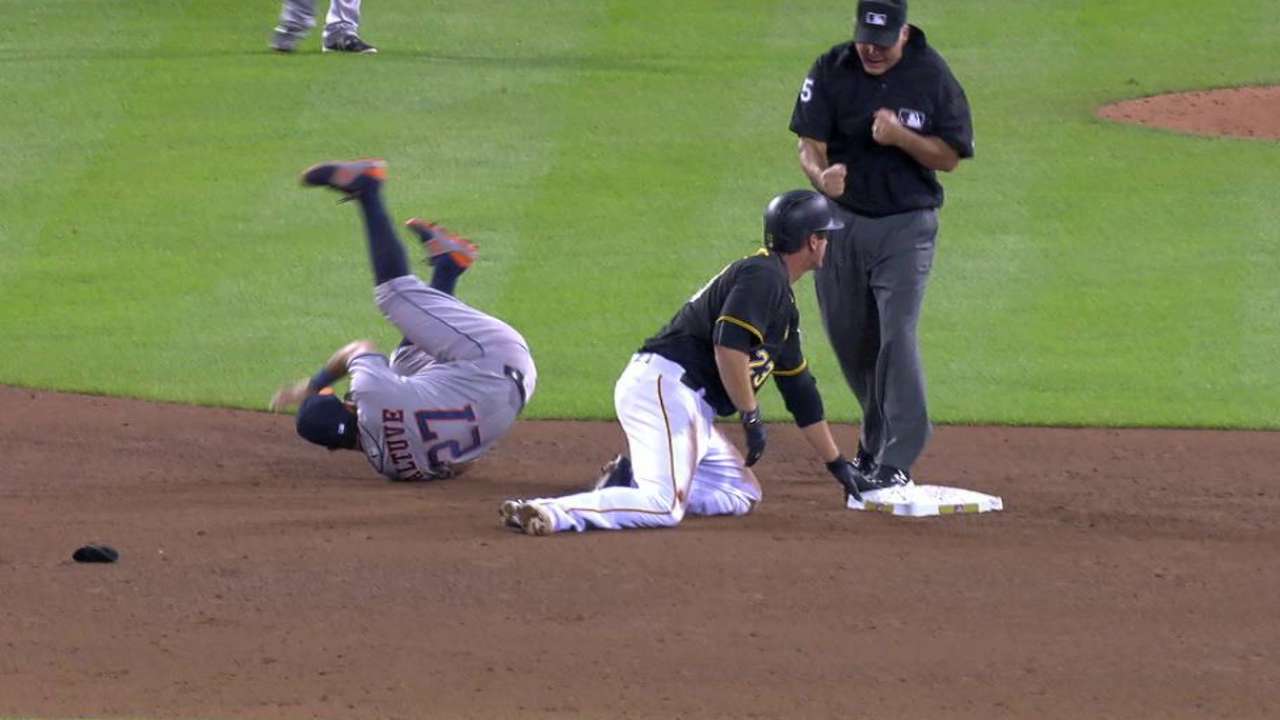 Through this 10-9 month and a wheel-spinning trip up and down the NL Wild Card standings, manager Clint Hurdle has encouraged his team to stick with the process. If the Pirates play the way they're capable of playing, Hurdle maintains, they'll find their way into the playoffs.
"When you're getting attitude and you're getting an effort, the game can swing back and forth sometimes; you've got to play through it," Hurdle said. "You hold fast."
After an inconsistent start to the season, the Pirates' pitching staff has stabilized. That's due in part to the emergence of Jameson Taillon, who's pitched eight innings in three of his 12 starts after Monday's fine outing.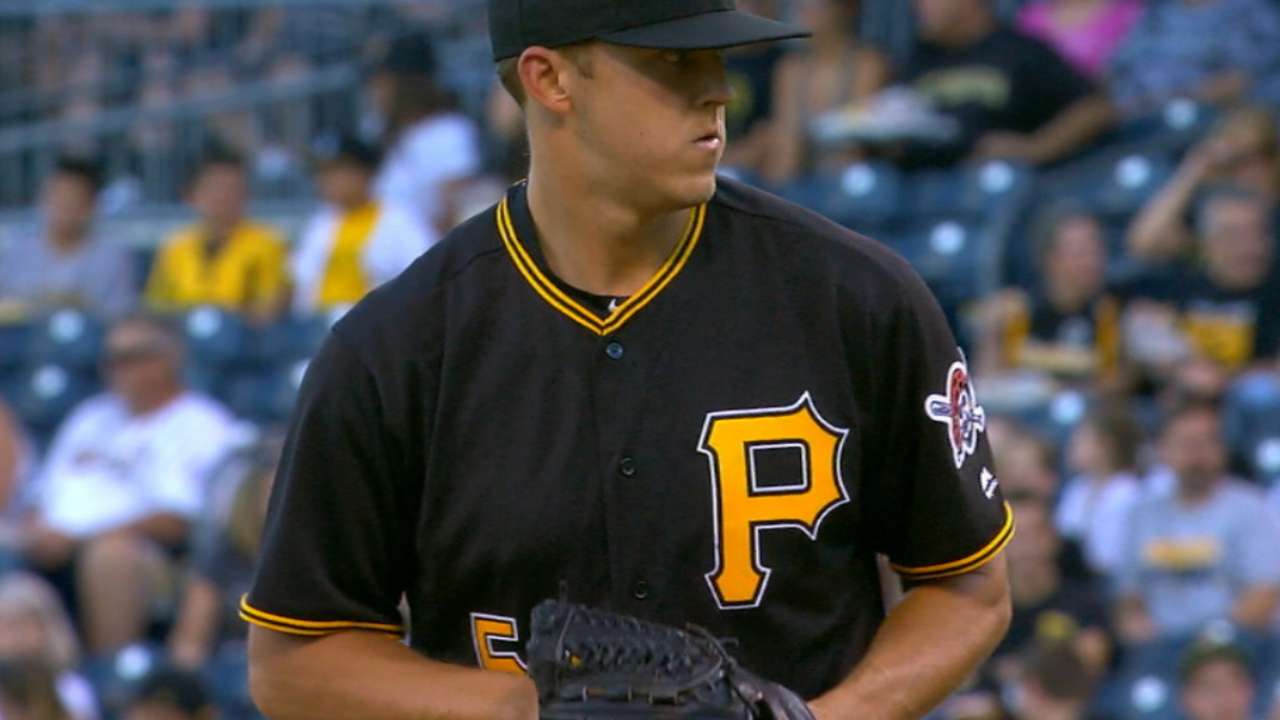 "I've learned a lot. I think every time I take the ball, I'm learning and growing," Taillon said. "Seriously, I've come a long way."
So has the Pirates' identity, but in an odd way. For the first two months, their dynamic offense propped up their struggling pitching staff. Now, they're leaning on their pitching to keep their lineup in games.
They managed five hits on Monday, and Gregory Polanco was responsible for two of them. An on-base machine for much of April and May, Pittsburgh drew one walk (by Freese), struck out nine times and only forced Fister to throw 92 pitches in seven innings.
"We didn't help Jamo at all tonight," Freese said.
The Pirates know their lineup is capable of more. They saw it earlier this season. As the weather continues to cool, they believe they will see it again.
"We just have to stay more consistent and keep fighting as a team," Polanco said. "We're going to keep fighting."
Adam Berry has covered the Pirates for MLB.com since 2015. Follow him on Twitter at @adamdberry. This story was not subject to the approval of Major League Baseball or its clubs.