MLB.com Columnist
Alyson Footer
IMAX movie brings The Show on the road
Special presentation of 'We Are Baseball' transports viewers on Hall of Fame tour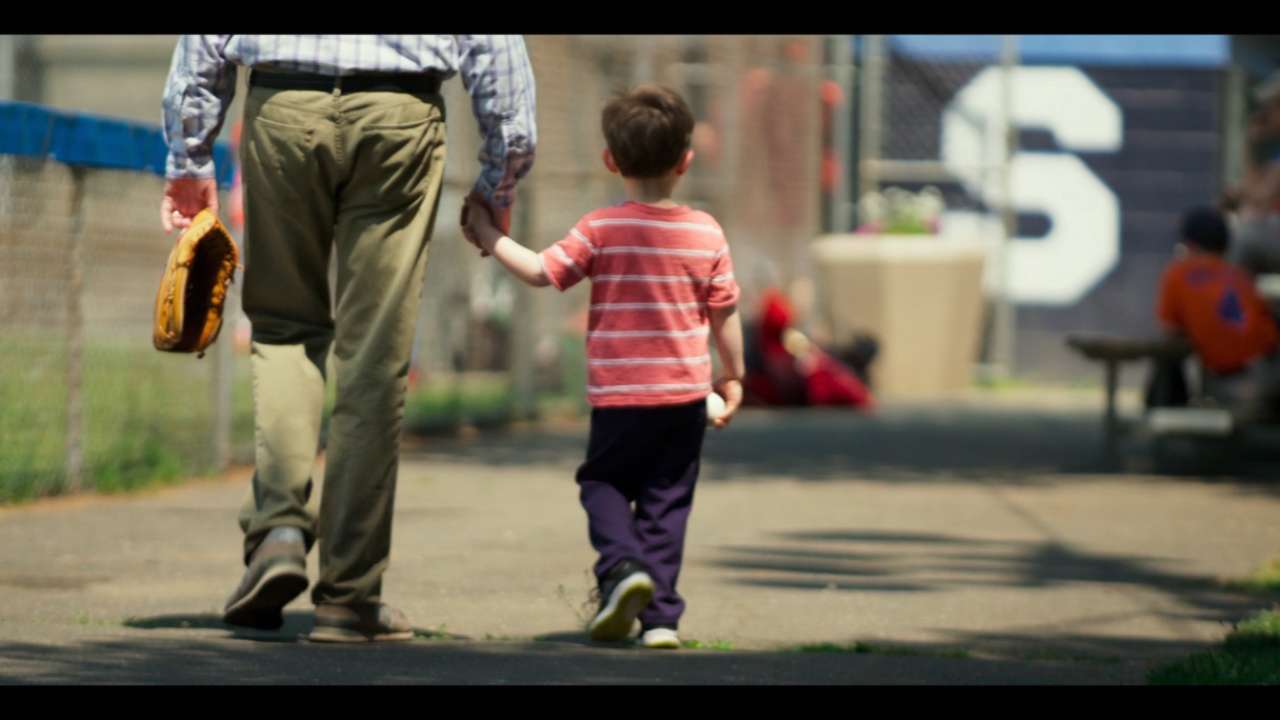 Nestled in the five-trailer platform that comprises the "We Are Baseball" traveling Hall of Fame tour is a mobile theater that shows an 11-minute IMAX movie, spotlighting the best of what the game provides today, and offering glimpses of where it is headed in the future.
Baseball, steeped deeply in tradition, will always connect generations and harken back to its past. But Major League Baseball has taken a deliberate and giant step forward, shifting its focus to a younger generation of fans stimulated more by what is in front of them than by what has already happened.
The IMAX presentation of "We Are Baseball" is one of many platforms being implemented to carry this new message.
The opening scene, shot from Cooperstown, has a regal and soothing feel, as does the voice of narrator Aaron Paul, best known for his role on AMC's "Breaking Bad."
"The National Baseball Hall of Fame stands as both shrine and sanctuary," Paul says. "The timeless essence of this beautiful game is simple: hit a speeding ball with a length of wood."
But almost as quickly as it starts, the tone changes. Over the next 10 minutes, "We Are Baseball" turns into a fast-paced audio and visual bonanza that takes the viewer directly into the middle of the action, whether it's David Ortiz being covered in rosin after logging a game-winning hit, or Andrew McCutchen jumping 10 feet in the air at the wall to rob an opponent of a home run, or Bryce Harper taking a curtain call after yet another monster homer.
"IMAX takes you somewhere you dream about going to, but probably will never get to," IMAX CEO Greg Foster said. "In this case, you are literally with Mike Trout, with David Ortiz. You are on the field. You are between the lines."
A logical partnership
That's why IMAX, with its superior audio and visual digital capabilities and giant screens, is such a natural partner for this type of baseball experience. Fans want to be as close up to the action as possible, but in most spaces, whether it's in person at a ballpark or watching on television at home, access can be limited.
"We Are Baseball" pummels those boundaries.
"One of the greatest attributes of many of the most powerful IMAX films is how we deliver scale and scope," said Lorne Orleans, SVP and executive in charge of production at IMAX. "There are moments when you're on the field and it's a wide shot and you are seeing an entire stadium on screen. Then there's a slow-motion shot of the pitcher winding up, where you're literally on top of him. You see the texture of his hat. There's so much detail, like you're there with them."
The idea to produce a film like this was hatched around 15 years ago, when Foster first joined IMAX. A dedicated baseball fan, Foster envisioned a natural alliance between the two. But it wasn't until four or five years ago when he forged a friendship with Red Sox owner and "We Are Baseball" co-producer Tom Werner that an IMAX film about baseball gained real traction.
Today, the film is a must-see element of the traveling Hall of Fame tour, which recently wrapped up its visit to Kansas City and is on its way to St. Louis.
"Most people experience baseball by going to a game or watching on television," Werner said. "This is a very fresh perspective on it. It was beautifully shot. The games that were shot in Dominican Republic articulated this is a game not just for professional athletes, but a game to be played in real life."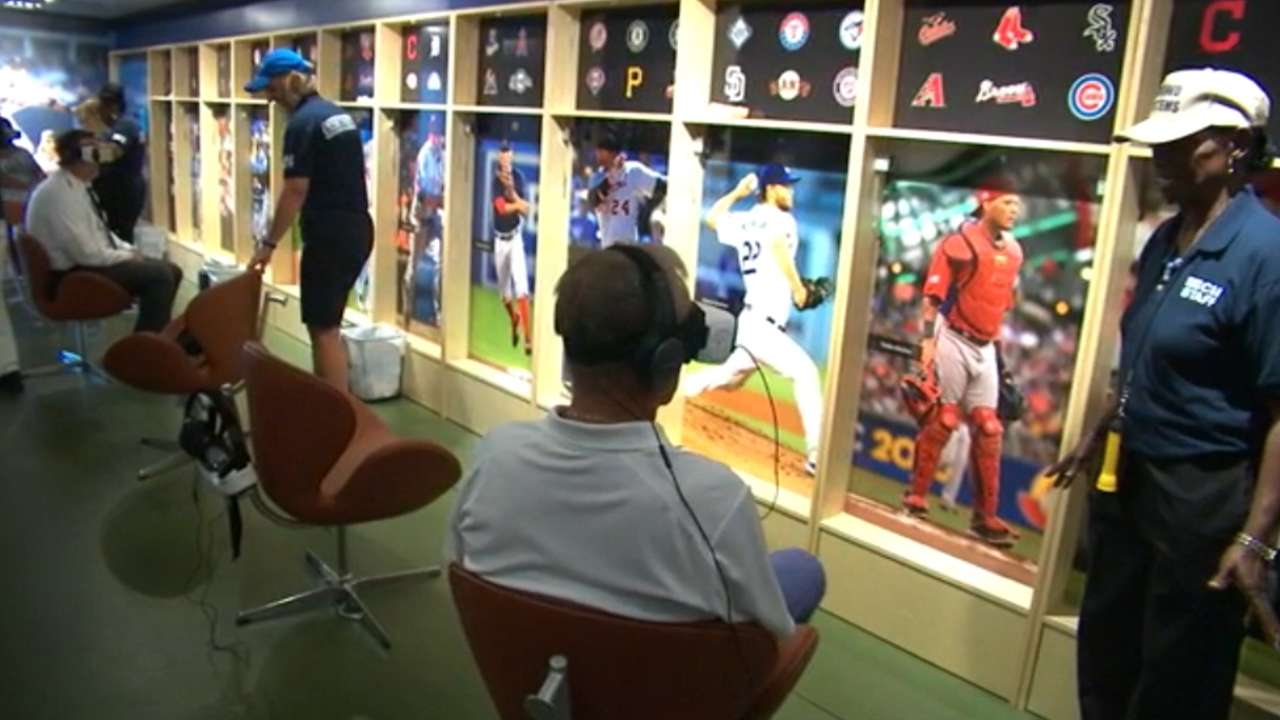 First of its kind
IMAX movies have been around for decades. But a traveling IMAX movie? This is a brand-new concept, one that requires much more than a flatbed truck and some straps.
Enter IMAX project manager Robert Richardson. He was tasked with building an enclosed structure durable enough to handle being transported from city to city and that can withstand the outdoor elements that most IMAX theaters are not exposed to.
Because this has never been done before, there was no precedent from which to draw.
"IMAX is so many things that you have to meld together," Richardson said. "It's not simply louder or brighter or bigger. It's really a combination of several factors. Now, we're going to strip out this element of control and say, 'You're going to do this from a parking lot, on a highway, or do this inside a mall in Minneapolis and still offer that same experience that warrants having the IMAX brand associated.'"
So how do you transport a 40-foot, 149-seat theater, 19 speakers and a movie screen measuring 38 feet wide and 19 feet, 7 inches high? In layman's terms, everything needs to be collapsible. And able to be folded into a truck.
Then there's the challenge of making sure the very hugely expensive equipment -- everything from projectors to a 20-ton air conditioner -- is protected during the transport.
"An IMAX projector is an incredibly sensitive piece of machinery," Richardson said. "We created something that allows it to have greater flexibility and movement when it's inside traveling, so we don't have that big smash against something that's hard. And we don't want to blow a very expensive bulb, or for a wire to break because of the way it's transported. We try to find a specific path that puts as little stress on the exhibit as possible. It's a real logistical challenge."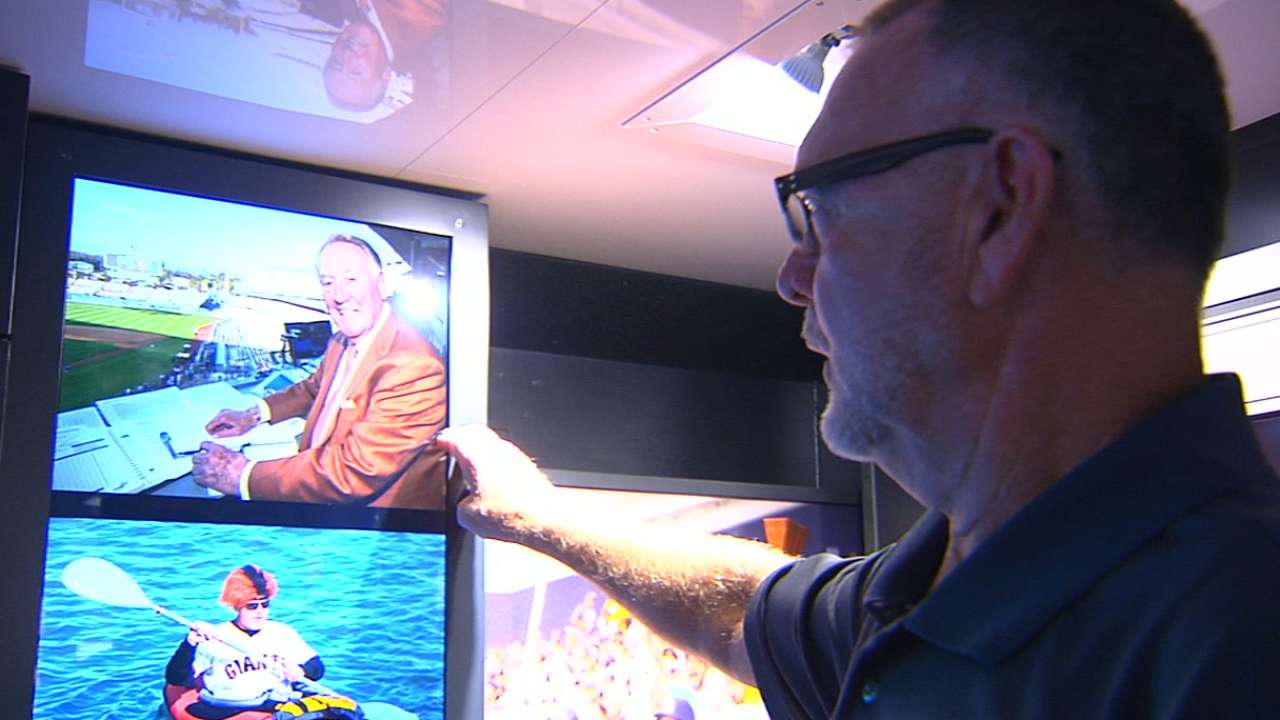 A sensory feast
The movie also delves into the physics of the game, showing how much faster a ball thrown at 100 mph arrives to the plate as compared to a more pedestrian fastball thrown at "only" 93 mph. Described by retired Yankees star Derek Jeter as "night and day," the 100-mph fastball arrives to the plate in 396 milliseconds, giving the hitter almost no time to decide whether to swing.
"Blink," said retired outfielder Torii Hunter, "and it's by you."
Appealing to a young audience has been a main platform for Rob Manfred since he took over as Commissioner in January 2015, with "Play Ball" acting as the driving force behind the initiative. Think of "We Are Baseball" as an offshoot of that idea, where fans are invited in to an interactive virtual-reality experience that goes beyond a more typical experience associated with a visit to the Hall of Fame.
The IMAX movie brings it all together, providing glimpses of how Major League Baseball intends to present its game to fans young and old: as an intriguing action-packed event that requires skill and strategy; as a traditional game whose fundamentals remain largely unchanged; as a global phenomenon that has reached young players and fans from all ends of the world; and, simply, as a game that is fun to watch and fun to play.
"Baseball, like a lot of things, needs to connect with a new generation," Foster said. "It can't connect if it's done simply the old-fashioned way. There's a resonance that comes from old school, but you also have to reimagine it, or hip it up, with technology to keep the generation that's 12 to 25 interested."
The "We Are Baseball" tour will reside at Busch Stadium in St. Louis from Friday until Sept. 11; Mall of America in Bloomington, Minn., from Sept. 16-29; and the Las Vegas Convention Center from Oct. 7-23. The 2017 schedule is still being set.
Alyson Footer is a national correspondent for MLB.com. Follow her on Twitter @alysonfooter. This story was not subject to the approval of Major League Baseball or its clubs.