Swanson makes fateful Chase Field debut
Braves' top prospect faces D-backs organization that traded him in December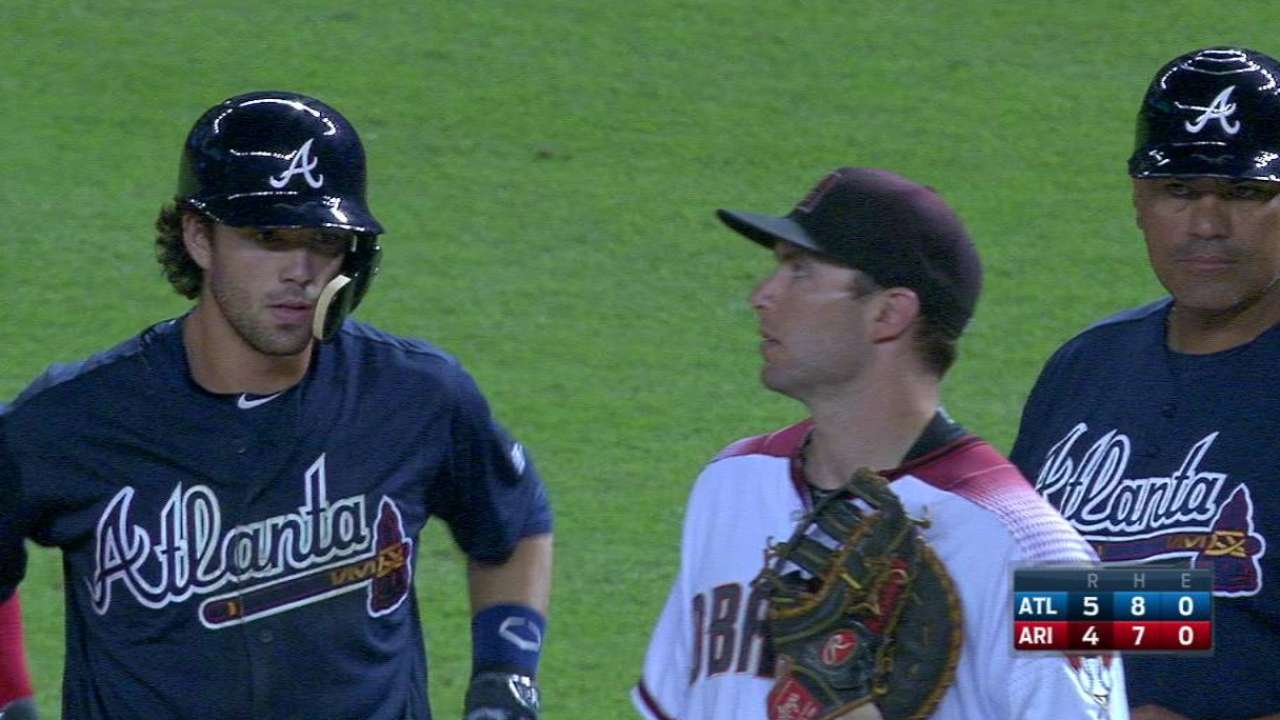 PHOENIX -- After learning he had received his first call to the Majors last week, Dansby Swanson immediately looked at Atlanta's schedule to see which pitcher he would face first. During his search he noticed his first road game would be played in Arizona, against the D-backs organization that had taken him with the first-overall pick in the 2015 Draft and then traded him to the Braves last winter.
"We all laughed because of obviously everything that went down," said Swanson, the Braves' top prospect. "It's exciting to be back out here."
Before going 1-for-4 in Monday night's 9-8 loss to the D-backs in the series opener at Chase Field, Swanson once again displayed the suave poise of a veteran as he was surrounded by Phoenix-based reporters who wanted to know what he was feeling as he prepared to play his original organization.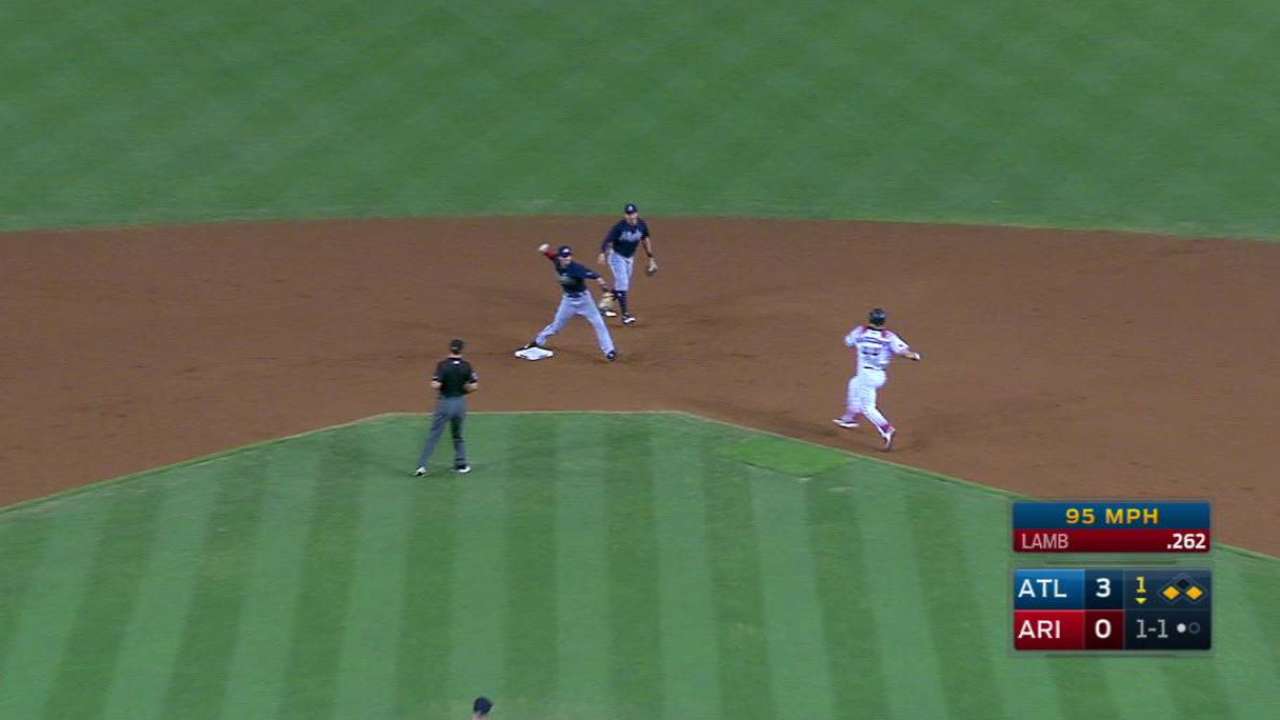 "I guess it's just a little fairy-tale story," Swanson said. "It's neat. It's always been a dream to play in every park possible. That has been a goal of mine since I was a kid, to not only visit all of them, but to play in them. So check another off the list."
The locations Swanson has inhabited during his first week as a big leaguer have certainly provided a feel-good element. The heralded shortstop, who ranks No. 5 on MLBPipeline.com's Top 100 Prospects, played the first five games of his career at Turner Field, which is located approximately 30 minutes from his childhood home in suburban Atlanta.
Now, he'll spend his first road series at Chase Field, a place he last visited when he signed with the D-backs in 2015 with the assumption he would remain in the organization much longer than he did.
"I couldn't be mad or upset at anybody, because Arizona did think enough of me to take me in the Draft where they did," said Swanson, who led Vanderbilt to back-to-back College World Series finals, winning a championship and a Most Outstanding Player Award in '14 before a runner-up finish in '15. "I was grateful for that and also thankful to be back home and close to some family members."
Signed, @LieutenantDans7 pic.twitter.com/wkWjtSCXYA

— Atlanta Braves (@Braves) August 23, 2016
This week's series between the Braves and D-backs also serves as a homecoming for Ender Inciarte, who was included with Swanson and Aaron Blair in the package Arizona provided to acquire Shelby Miller from Atlanta in December. Miller and Blair are both currently pitching at the Triple-A level.
After being burdened and sidelined by a hamstring injury during this season's first two months, Inciarte has started to produce much like he did during last year's breakout season for the D-backs. But the center fielder has made it clear that his excitement surrounding this week's series is focused on the chance to see how Swanson performs against his short-term employer.
"He's a great kid and a great teammate," Inciarte said. "We know the energy he brings to the lineup. He has a lot of talent. We've all seen he plays hard and he's a leader. Hopefully he's going to keep growing and learning and develop into a great player in the big leagues."
Mark Bowman has covered the Braves for MLB.com since 2001. This story was not subject to the approval of Major League Baseball or its clubs.