Sore Peterson rests in wake of wall-crashing catch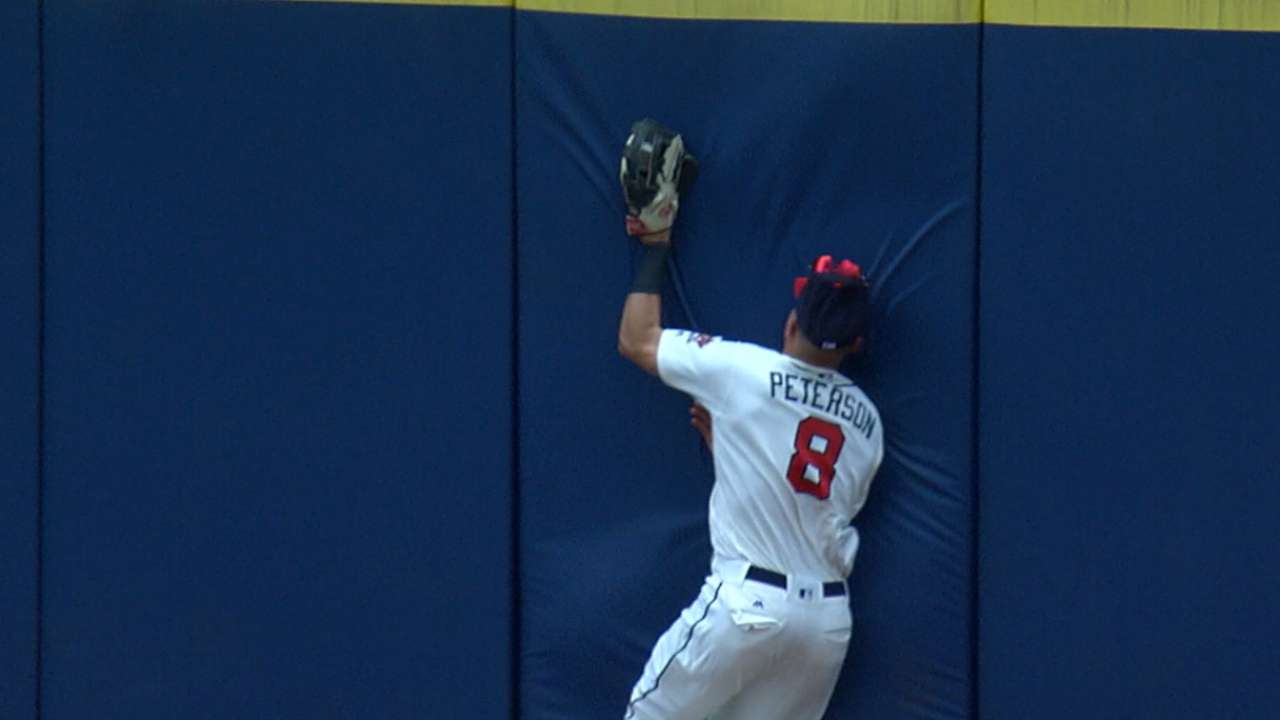 PHOENIX -- Jace Peterson felt fortunate to awake on Monday morning without a headache or any other concussion symptoms. But because his face, neck and right shoulder were still feeling the effects of colliding with Turner Field's center-field wall on Sunday, the Braves opted to keep Peterson out of the starting lineup for Monday night's series opener against the D-backs at Chase Field.
"He wanted to play, and he's a tough kid," Braves manager Brian Snitker said. "It's probably that football mentality that saved him. But it was almost like he got in a major wreck yesterday."
Peterson certainly gained even more respect from his teammates when he quickly recovered from the third-inning collision and ultimately ended the game in euphoric fashion, when he hit a walk-off home run that gave the Braves a 7-6, 10-inning win over the Nationals.
• Jace up their sleeve: Braves walk off in 10th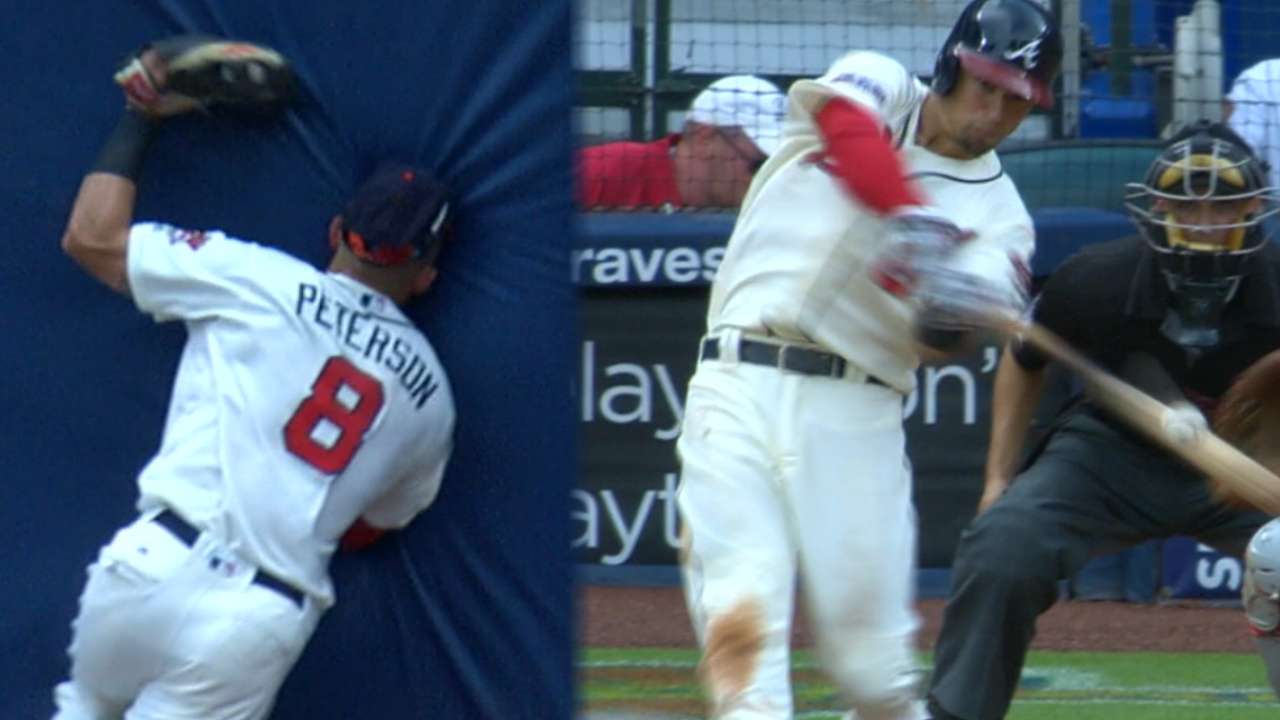 "I like to mix it up, and I know I can go back on a ball pretty good," said Peterson, who had never played center field before Sunday. "So, for me to be out there in center on the first day and get the opportunity to make a good play was fun."
While creating one of the best defensive gems produced by a Braves player this season, Peterson used many of the skills he developed as a hard-hitting cornerback at McNeese State. He displayed his recovery speed as he reached a top speed of 17.1 mph (per Statcast™) while tracking Chris Heisey's long drive. Then after grabbing the ball near the end of the warning track, he smacked face first into the center field wall's padding.
"It was a minor train wreck," said Peterson. "I know it was a big collision. Nick [Markakis, who was playing first base] said he heard it from the infield. So, it was loud. I'm just blessed and thankful it wasn't anything serious."
Along with feeling some shoulder and neck stiffness, Peterson was sporting a cut on the bridge of his nose when he arrived at Chase Field.
"I'm a little sore, but I can play today," Peterson said. "It's just more that they want me to take a day and get treatment."
Odds and ends
• Freddie Freeman returned to the Braves' lineup on Monday after missing Sunday's game while recovering from a cortisone shot he received in his bothersome left middle finger on Saturday night. The first baseman has battled swelling in the finger dating back to Spring Training. A cortisone injection received during the first day of the All-Star break provided just a few days of complete relief. Despite the lingering issue, Freeman has been out of the starting lineup only twice this season.
• Jeff Francoeur cleared waivers earlier this month and is drawing trade interest from the Marlins. But Miami's offers have not interested the Braves, who have made it clear they will not simply give Francoeur away for a fringe prospect.
Mark Bowman has covered the Braves for MLB.com since 2001. This story was not subject to the approval of Major League Baseball or its clubs.