Padres' rookies making most of chances
Perdomo, Kivlehan, Jankowski, Dickerson produce Sunday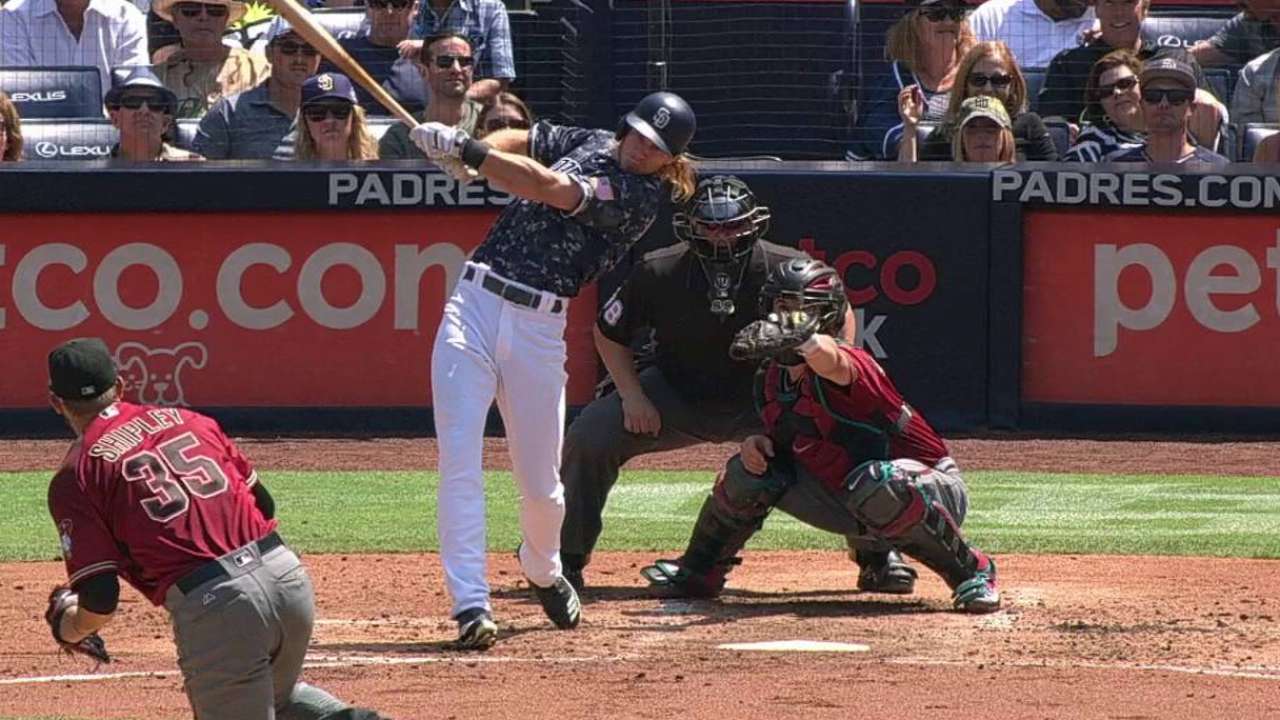 Bill Center, longtime sportswriter for U-T San Diego, is an employee of the Padres.
The Padres already tied a franchise record earlier this season by having six rookies in the lineup at the same time.
They fell one short of that total Sunday. But four of the five rookies who were employed played major roles in the Padres' 9-1 victory over Arizona at Petco Park
Starting pitcher Luis Perdomo allowed one unearned run on five hits and no walks with five strikeouts in what he admitted was his best outing of the season.
The other three contributors comprised the Padres outfield, from left to right, Alex Dickerson, Travis Jankowski and Patrick Kivlehan.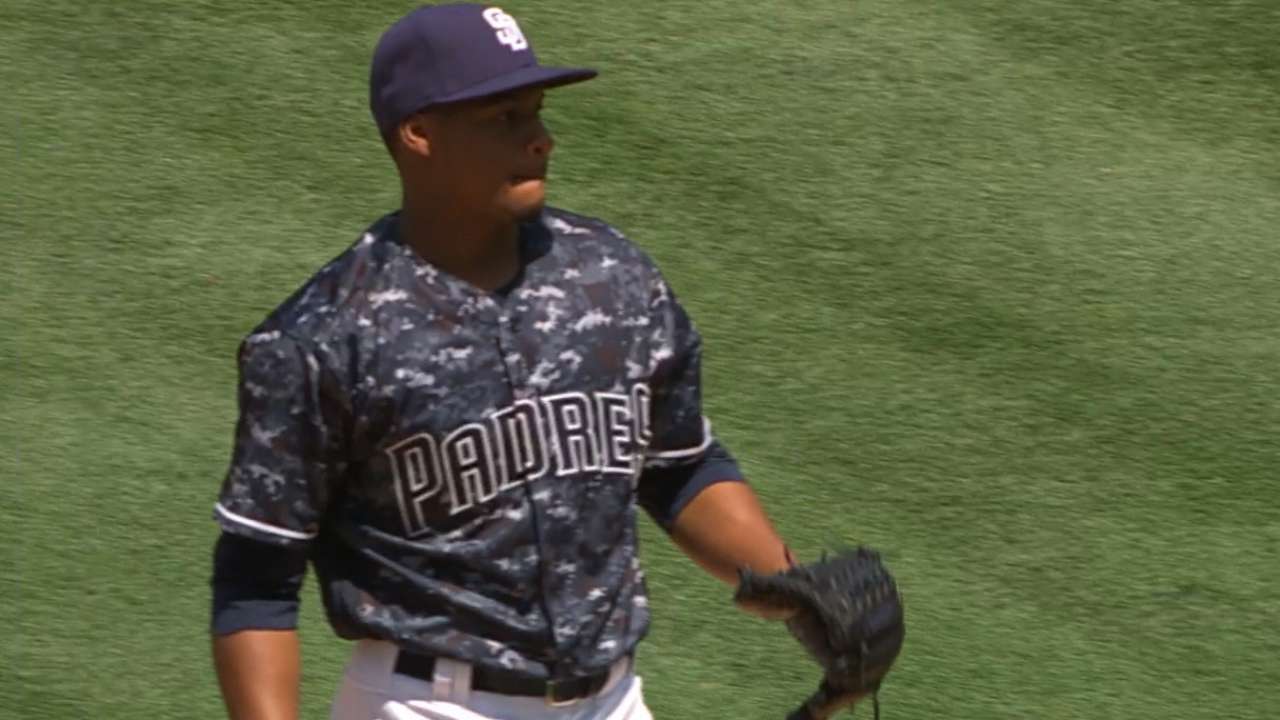 But let us start with Perdomo, who has given up three or fewer earned runs in nine of his 12 starts since permanently moving into the Padres' rotation on June 15. He has lowered his earned run average in 10 of those 12 starts.
Sunday marked the second time Perdomo went seven innings. It was only the third time in his 14 starts that he didn't walk a batter.
"He's made huge strides," Padres pitching coach Darren Balsley said of his prized pupil. "He doesn't want to just be here. He wants to be better. When he comes to the dugout after an inning, he doesn't want to hear how good he's doing, he wants feedback. He's very unique ... very easy to work with."
Perdomo is 3-0 with a 1.96 ERA in six games (two starts) against Arizona. Sunday's win was his first since July 27 at Toronto and his first home win since June 15 against Miami. He is 4-5 over his last 10 starts with a 4.07 ERA.
Next we'll go to Kivlehan, who tied a Padres record Sunday by becoming only the second Padre to ever reach base six times in his first two Major League games. The first was Anthony Rizzo in 2011.
Kivlehan was 2-for-4 in his Major League debut Saturday night with a homer. He reached base in all four of his plate appearances Sunday and scored three runs. Kivlehan was 2-for-2 with two walks Sunday making him only the fourth player in franchise history to have multiple-hit games in his first two Major League games.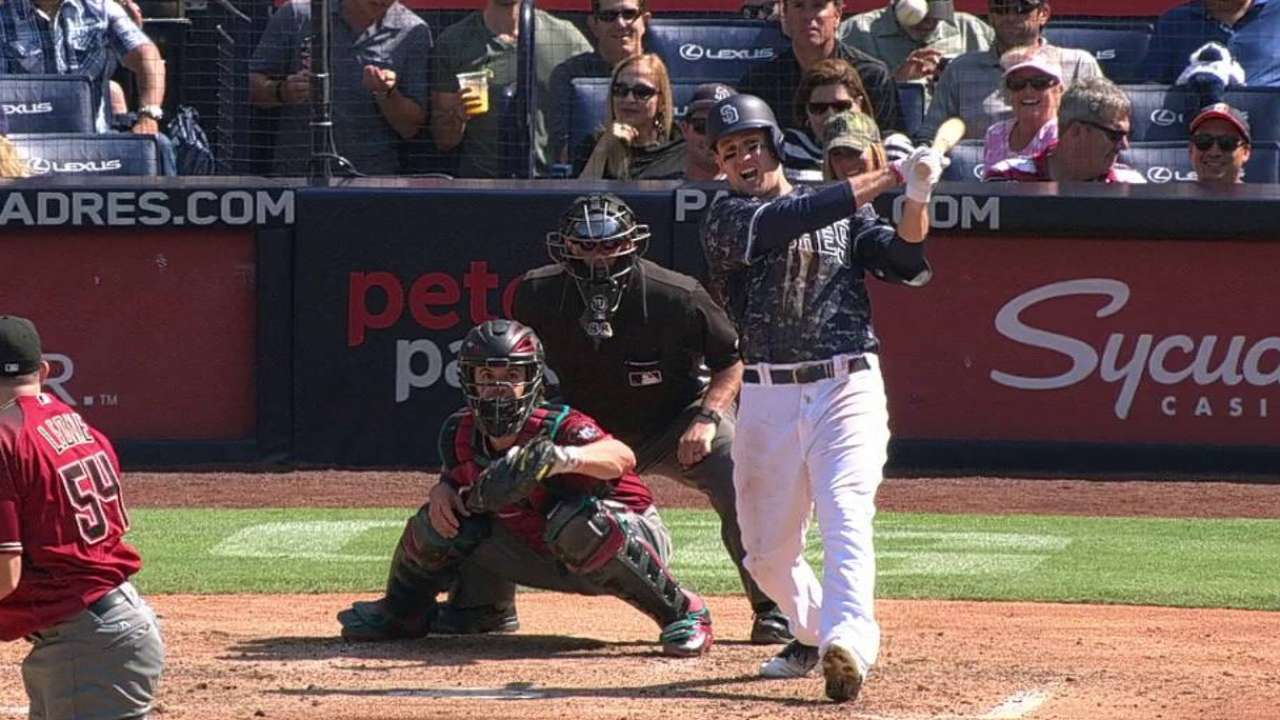 Promoted from Triple-A El Paso Saturday morning, Kivlehan celebrated his debut with one of the longest home runs in the 13-season history of Petco Park. His 451-foot shot was seven feet shy of the two longest homers, hit by Adrian Gonzalez in 2009 and Matt Kemp earlier this season.
Kivlehan became the fifth Padre to ever homer in his Major League debut and the first since Tommy Medica on Sept. 11, 2013.
Jankowski not only broke a scoreless tie with a two-run homer in the third inning Sunday, he stretched his string of reaching base to a 20th straight game since July 31. It is the longest active streak in the National League and the second-longest active streak in the Major Leagues. It is the longest such streak for the Padres since Kemp reached base in 31 straight games from Aug. 7-Sept. 11, 2015.
Jankowski's homer was his second of the season and his first since May 31. It was his first homer ever at Petco Park. Jankowski is hitting .338 (24-for-71) with four doubles, a homer, 17 runs scored and eight stolen bases in August. He is a career .326 hitter (15-for-46) in 16 games against Arizona.
Dickerson hit his eighth homer of the season Sunday.