Manfred watches New York win in LLWS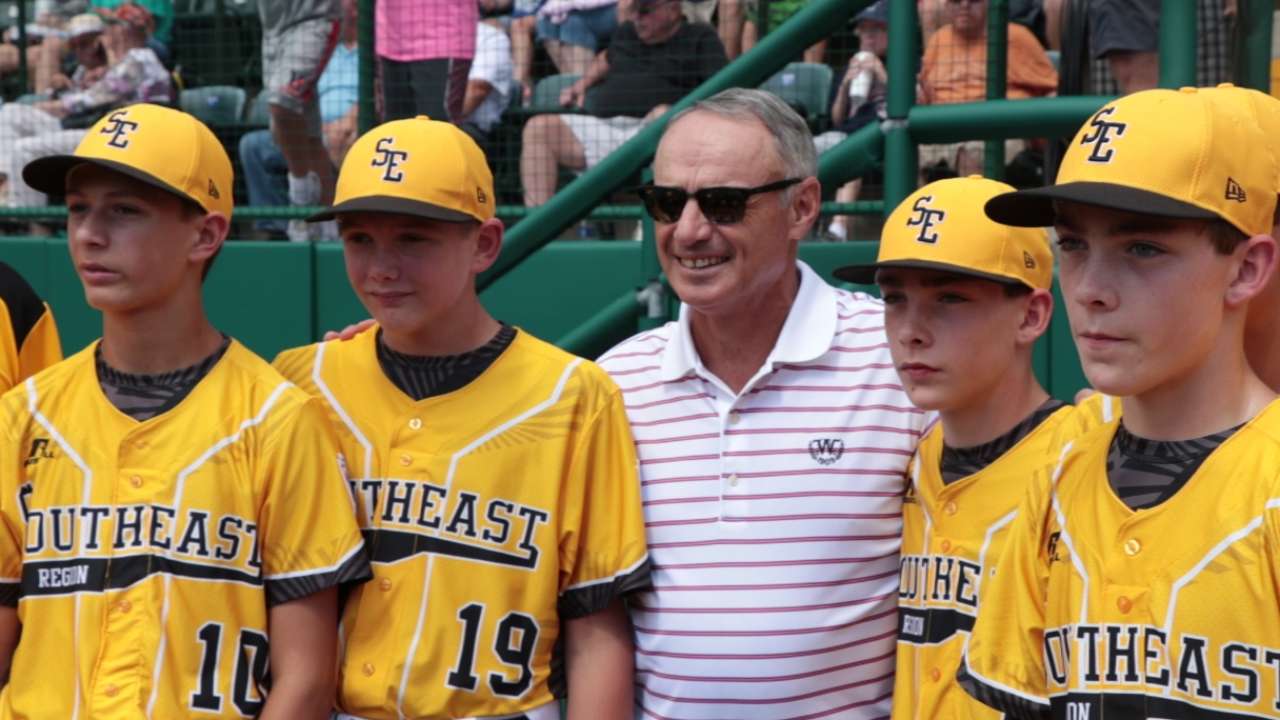 Monday, Aug. 22
WILLIAMSPORT, Pa. -- After rain forced the cancellation of all of Sunday's LLWS games, play resumed on Monday afternoon with the previous day's scheduled matchups. Panama edged Australia in the first contest before the New York squad, which received the support of Commissioner Rob Manfred, secured a 3-1 victory over Tennessee at Lamade Stadium. South Korea then trounced Canada, and Kentucky walked away with the win over Iowa.
Game 13
Latin America 3, Australia 2
Panama got on the board first with a second-inning home run and added to its lead in the fourth on a hit-by-pitch, a double and an RBI fielder's choice. It appeared that this would be all of the game's scoring until Australia made things interesting with a single and subsequent two-run homer in the top of the sixth. But Panama fought back in the bottom of the final frame, loading the bases with one out and the game tied at 2-2. A free pass from the Australia pitcher ultimately allowed Panama to walk off with the win.
NOTABLE PERFORMER
Esmith Pineda struck out 11 over five innings pitched and collected the fourth-inning RBI for Panama.
QUOTABLE
"What's been the biggest ride for me is watching these kids here. They're 12-year-olds on the world stage. As a country, we're growing in this experience." -- Australia manager Les Stockdale
Game 14
Mid-Atlantic 3, Southeast 1
As in its first game, New York made sure it was in a position of power on Monday afternoon by getting on the board in the bottom of the first. Ryan Harlost -- who pitched five innings and homered in New York's first game -- hit a towering, two-run blast to dead center to give his team an early lead, which would increase by another run in the third. Tennessee's Zach McWilliams connected for a solo shot in the top of the sixth to put his team on the board, but New York held on to win it.
NOTABLE PERFORMER
Michael Mancini walked in the bottom of the first to set the table for Harlost's home run. The starting pitcher also held his opponents to just one run on four hits with 13 K's in 5 1/3 innings.
QUOTABLE
"I just like to get ahead early. Run support makes you feel more loose." -- Harlost
Game 15
Asia-Pacific 10, Canada 0
Just days after Canada scored 10 runs in its opener against Japan, South Korea stifled Vancouver's bats. Pitchers Youbin Choi and Wontae Cho combined to strike out each of the first 13 batters they faced before Canada got its first baserunner of the day on a fifth-inning walk. Meanwhile, South Korea's Jungtaek Ru showcased his power at the plate with a mammoth three-run blast that landed well past the crowd gathered beyond the right-field fence. In the fifth, Moosung Kim and Cho added no-doubters of their own, to center and right, respectively, capping the mercy-rule victory.
NOTABLE PERFORMER
Cho proved that he could do just about everything on the field, going 3-for-3 -- including a long ball -- with a pair of RBIs while whiffing six batters.
QUOTABLE
"They just seemed to get stronger and stronger as they went through the lineup. To see four kids who can throw that hard -- they have unbelievable depth. This is the team to beat in this tournament." -- Canada manager Vito Bordignon
Game 16
Great Lakes 14, Midwest 4
After South Korea's bombastic display in Game 15, Kentucky's victory came in a back-and-forth affair. Both teams scored their first runs on wild pitches, and Kentucky added its second on a fielder's choice in the fourth. Iowa then went up by one, but Kentucky tied things up on yet another wild offering in the fifth. The game went to extras knotted at 3 before Iowa's pitcher walked in two runs and Kentucky's bats finally broke things open for good in an 11-run seventh.
NOTABLE PERFORMER
Kentucky's Spencer Newman -- who is one of three members of the Kentucky team to also play in the 2015 LLWS -- went 4-for-5 with four RBIs and a walk, scoring two of his team's 14 runs.
WHAT'S NEXT
Canada opens Tuesday's schedule against Mexico at 1 p.m. ET. Midwest then plays New England at 3 p.m., Australia faces Caribbean at 5 p.m. and Southeast goes up against West at 7:30.
Allison Duffy-Davis is a reporter for MLB.com. This story was not subject to the approval of Major League Baseball or its clubs.