Pirates sign Freese to 2-year extension
Veteran infielder eager to help Pittsburgh win WS championship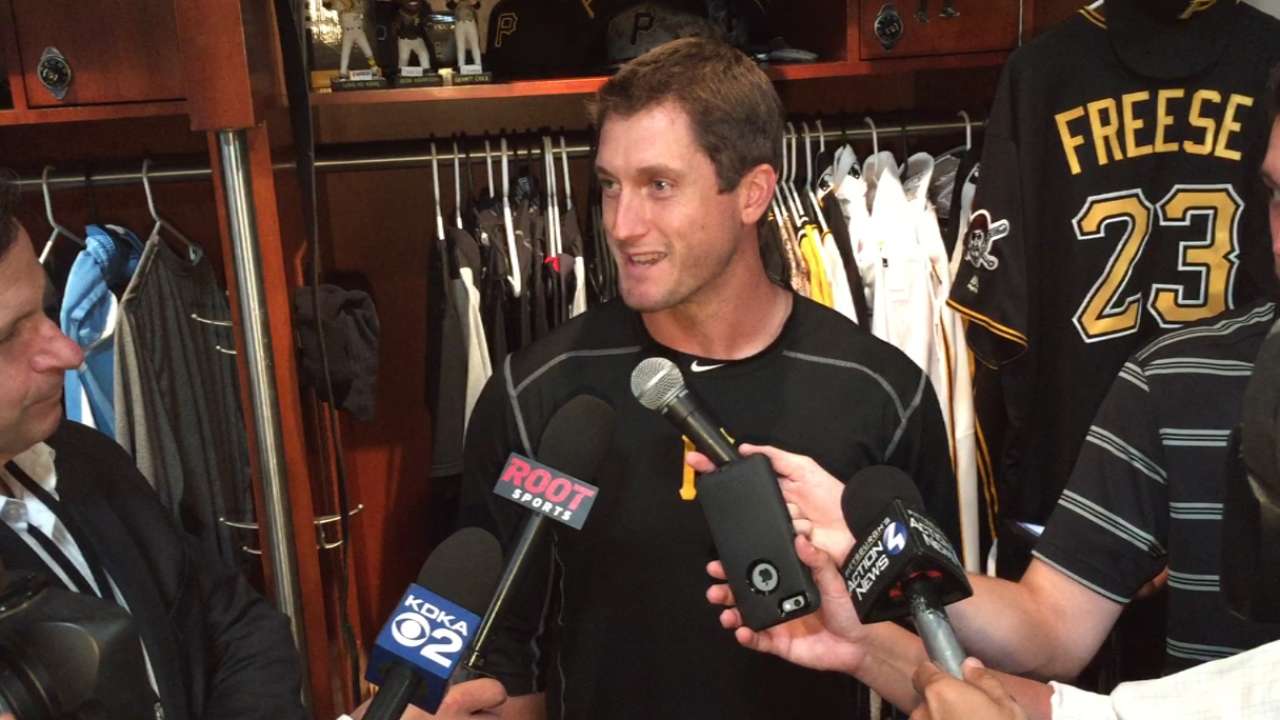 PITTSBURGH -- David Freese sat on a concrete block in the bowels of Dodger Stadium, expecting the question and wasting little time before answering it. Could he see himself staying in Pittsburgh beyond this year?
"For sure," he said a little more than a week ago. "Absolutely."
Having learned from an uncertain winter that became an uneasy spring, Freese cautioned that he wouldn't worry about the coming offseason. Now, he won't have to. The Pirates on Monday signed Freese, the veteran infielder and clubhouse leader, to a two-year contract extension with a club option for 2019.
"It's the Pirates. It's a team that can compete to win. I think that's the first thing I thought about when I signed here," Freese said in front of his locker at PNC Park, hours after officially signing the contract. "I was so ecstatic that I was with a team, considering the situation I was in, that had a realistic shot to win this year and compete in years to come. Then you look around at the guys, from top to bottom, I love every one of them. It's just a good fit."
The contract guarantees Freese $11 million over the next two seasons. He will earn $6.25 million in 2017 and $4.25 million in '18, and the Pirates can either pick up a $6 million option for '19 or buy out the final year for $500,000.
Last offseason, Freese found himself on the outside looking in, waiting for a match that didn't come until the Pirates swooped in and signed him to a one-year, $3 million deal. At that time, Pittsburgh considered its roster to be set and viewed Freese as a Trade Deadline expenditure, brought in as a bargain-value luxury to play third and first base.
Freese has proven to be a valuable addition and, in fact, one of the most valuable players on a postseason-hopeful team.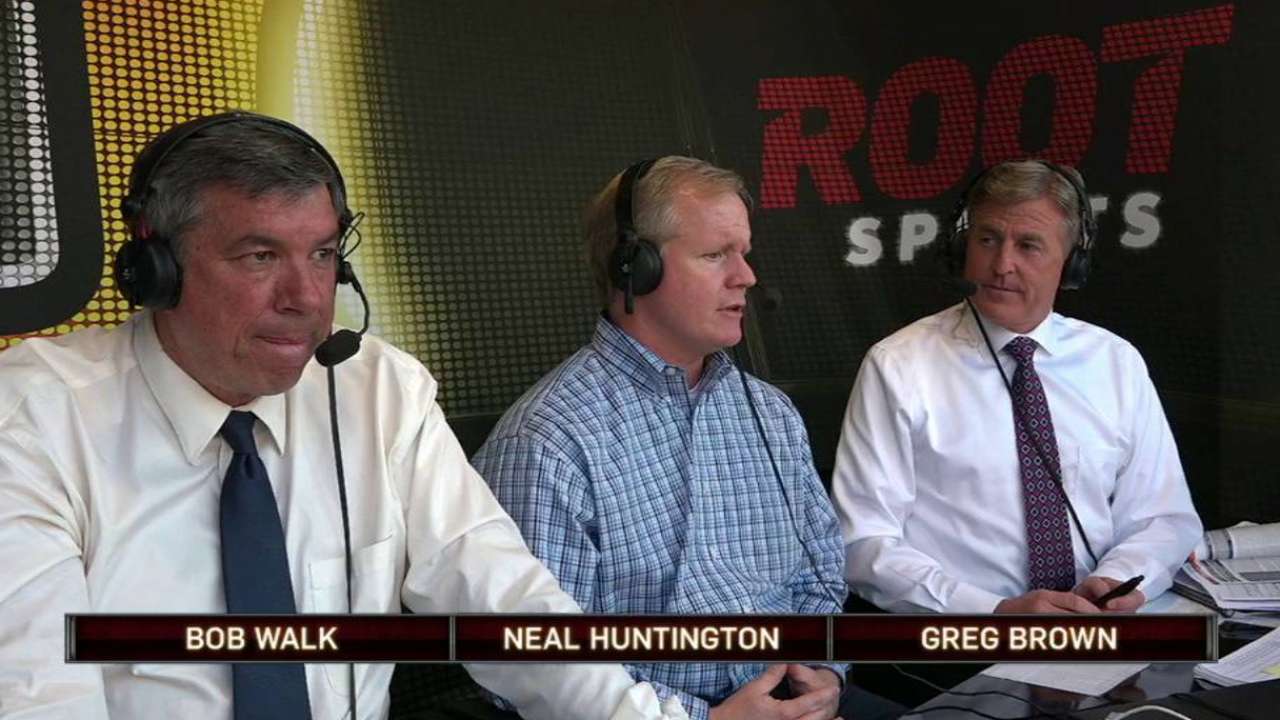 "David has done a terrific job for us on the field and has been a leader in our clubhouse," general manager Neal Huntington said. "He likes it here, and we like him. He's done some good things off the field. Both sides had interest, but ultimately it happened because David Freese wants to stay here."
The 33-year-old first baseman has put together a productive year at the plate, batting .276/.355/.437 with 12 home runs and 49 RBIs in 107 games. Freese has been worth 2.0 Wins Above Replacement, according to Baseball-Reference.com, the third-highest total on the team behind Starling Marte and Gerrit Cole.
The Pirates leaned heavily on Freese in April, when Jung Ho Kang was in the final stages of recovering from major left knee surgery. Upon Kang's return, they used Freese to spot the struggling second-year third baseman and slotted him in as the right-handed half of their platoon at first base, where he made a smooth transition defensively. With Kang nursing a shoulder injury, Pittsburgh will ride Freese down the stretch at third base.
The Bucs will enter next season planning to start Kang at third base, with Freese once again a highly qualified backup option.
"He wants to be part of this group. He likes this group. He wants a chance to win," Huntington said. If it were all about the final dollar or that regular role, he probably has to go somewhere else. But we like what he does. We like the person a lot. We stretched beyond, maybe, our normal commitment to this type of role, because of the type of person and player he is."
While they've benefited from his work on the field, the Pirates have most felt Freese's impact in the clubhouse. He quickly became a team leader, gaining the trust of manager Clint Hurdle and his teammates.
"We found a guy we feel can add value to a lot of different areas of what we do. He feels confident in us relying upon him," Hurdle said. "It makes my job easier. I'm thankful for that."
Freese has seen the highs and lows of life in baseball, reaching the game's summit when he was named MVP of the 2011 World Series for his hometown Cardinals. He's also dealt with alcohol-related issues and anxiety, but he recently told MLB.com that he is "at peace more than I've been, probably ever."
"Where I play and who I'm around is more important to me," Freese said. "If I didn't want to be a Pirate, I would've went to the market and seen what happened."
During that conversation beneath the Dodger Stadium bleachers, Freese said this season has changed his outlook regarding his future in baseball. He is settling down, engaged to be married and moving from St. Louis to Austin, Texas. He is physically strong and mentally refreshed.
But Freese remains as focused as ever on winning. With the Cardinals, he wanted to win a World Series for teammates like Albert Pujols and Yadier Molina. In Anaheim, he wanted to win with Mike Trout. In Pittsburgh, he wants to make a postseason run alongside Andrew McCutchen.
"When I'm done playing, decades from now, hopefully I have a chance to sit around and remember the relationships I had and hopefully still have," Freese said.
Wait -- what was that about being done playing decades from now?
"Yeah, when I'm 50," he said, laughing. "You know, I've got a few years left."
Adam Berry has covered the Pirates for MLB.com since 2015. Follow him on Twitter at @adamdberry. This story was not subject to the approval of Major League Baseball or its clubs.