MLB.com Columnist
Jim Callis
Yanks' Sanchez, Astros' Bregman lead Prospect Team of the Week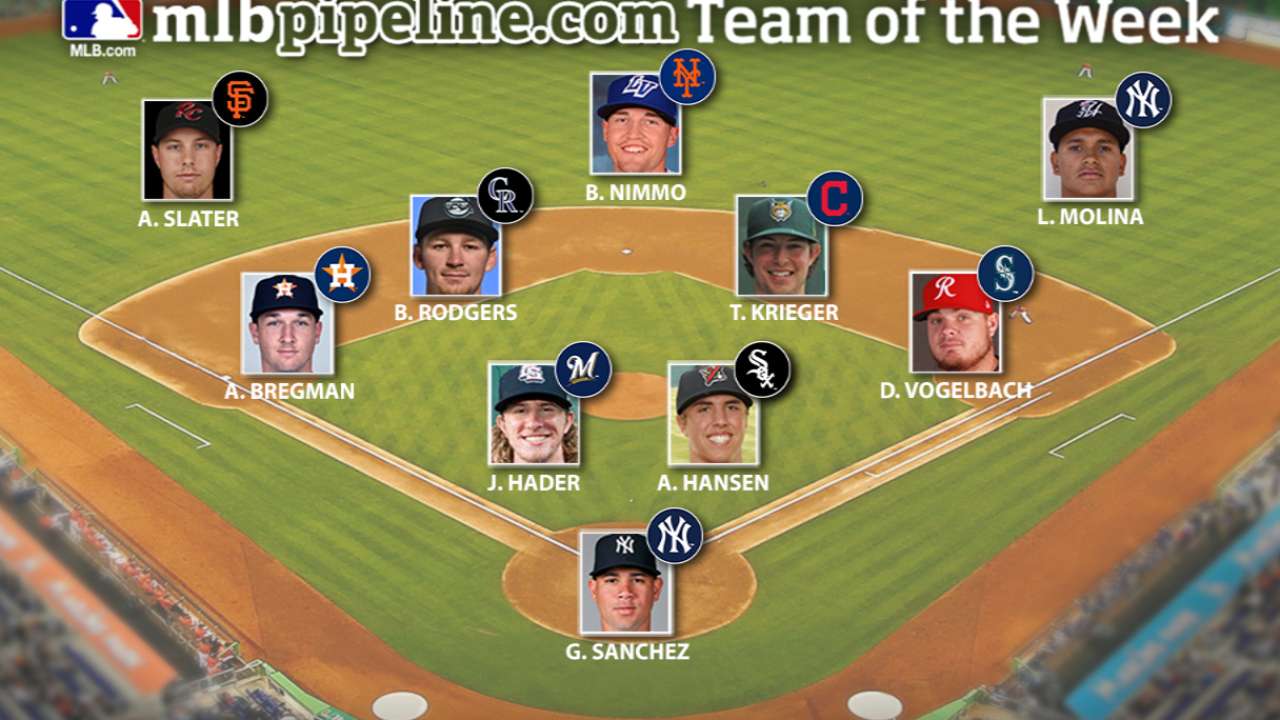 MLBPipeline.com's Prospect Team of the Week honors the best performances from the previous seven days. Any player currently on an organization Top 30 Prospects list on our Prospect Watch is eligible, including big leaguers.
The Yankees have gotten both younger and better in the past month. They traded their best hitter (Carlos Beltran) and two best relievers (Aroldis Chapman, Andrew Miller), then installed three rookies in their lineup and two more in their rotation. After playing .500 ball through July, New York is in the midst of its best month (11-8) of the season and has climbed within four games of a Wild Card berth.
It helps that all of those rookies have performed well. Gary Sanchez has been the best of the group and was on fire last week, when he hit .524/.600/1.190 with four homers in six starts, including five behind the plate. The only other member of the Yankees who can rival his power is fellow rookie Aaron Judge, and Sanchez has relegated Brian McCann to DH duty.
Sanchez' performance during games of Aug. 15-21 made him the spotlight performer on our Prospect Team of the Week. It's the third time he has earned PTOW honors in 2016, tying him with nine other players for the most recognition this year. This week's team features another three-timer in Indians second baseman Tyler Krieger and four other repeaters in Astros third baseman Alex Bregman, Brewers left-hander Josh Hader, Mets outfielder Brandon Nimmo and Rockies shortstop Brendan Rodgers.
The complete Prospect Team of the Week:
C: Gary Sanchez, New York Yankees
(Yankees' No. 5 prospect)
6 G, .524/.600/1.190, 4 R, 2 2B, 4 HR, 6 RBI, 4 BB, 5 SO, 1 SB
Sanchez is hitting .361/.409/.738 with six homers in 16 games with the Yankees, and his strikeout rate between Triple-A and the Majors is a career-best 16 percent. He also has shown off his strong right arm by throwing out four of the six basestealers who have tested him, though he still needs to clean up his receiving. Sanchez's domination at the plate earned him the American League Player of the Week honors.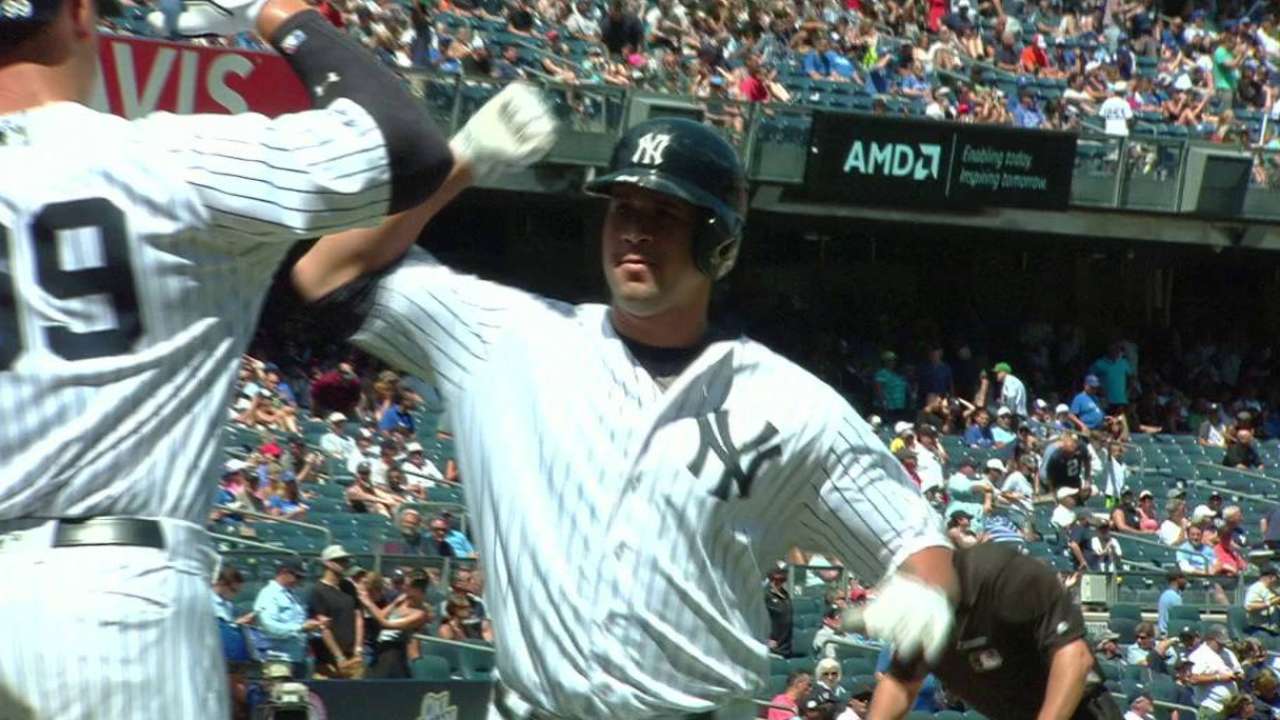 1B: Dan Vogelbach, Tacoma Rainiers (Triple-A)
(Mariners' No. 7 prospect)
7 G, .385/.469/.731, 4 R, 10 H, 3 2B, 2 HR, 7 RBI, 5 BB, 5 SO
Though Vogelbach remained in the Pacific Coast League, he struggled immediately after going from the Cubs to the Mariners in the Mike Montgomery trade, hitting just .185/.371/.296 with two homers in his first 24 games with Tacoma. He had four multihit games last week and reached base in each of his seven contests, improving his overall numbers to .296/.416/.510 with 20 homers in 120 games. Vogelbach ranks first in the PCL in walks (83), second in on-base percentage and third in RBIs (85).
2B: Tyler Krieger, Lynchburg Hillcats (high Class A)
(Indians' No. 16 prospect)
6 G, .524/.600/.810, 6 R, 11 H, 2 2B, 2 3B, 5 RBI, 3 BB, 6 SO, 2 CS
Krieger has been consistent in his pro debut, batting .313/.385/.427 at low Class A Lake County and .311/.395/.444 since arriving in Lynchburg at the end of June. A fourth-round pick in 2015, he sat out last summer to fully recover from shoulder surgery he had prior to his junior season at Clemson.
3B: Alex Bregman, Houston Astros
(Astros' No. 1 prospect)
6 G, .393/.433/.786, 6 R, 11 H, 2 2B, 3 HR, 9 RBI, 2 BB, 9 SO
Baseball's top prospect reached the Majors 13 months after the Astros made him the No. 2 overall pick in the 2015 Draft, and he didn't let a 1-for-32 start in Houston get him down. Bregman has batted .315/.370/.534 in 17 games since and hit his first three big league homers last week. He also has played nifty defense at third base, so the Astros will have to figure out someplace else to deploy Yulieski Gurriel.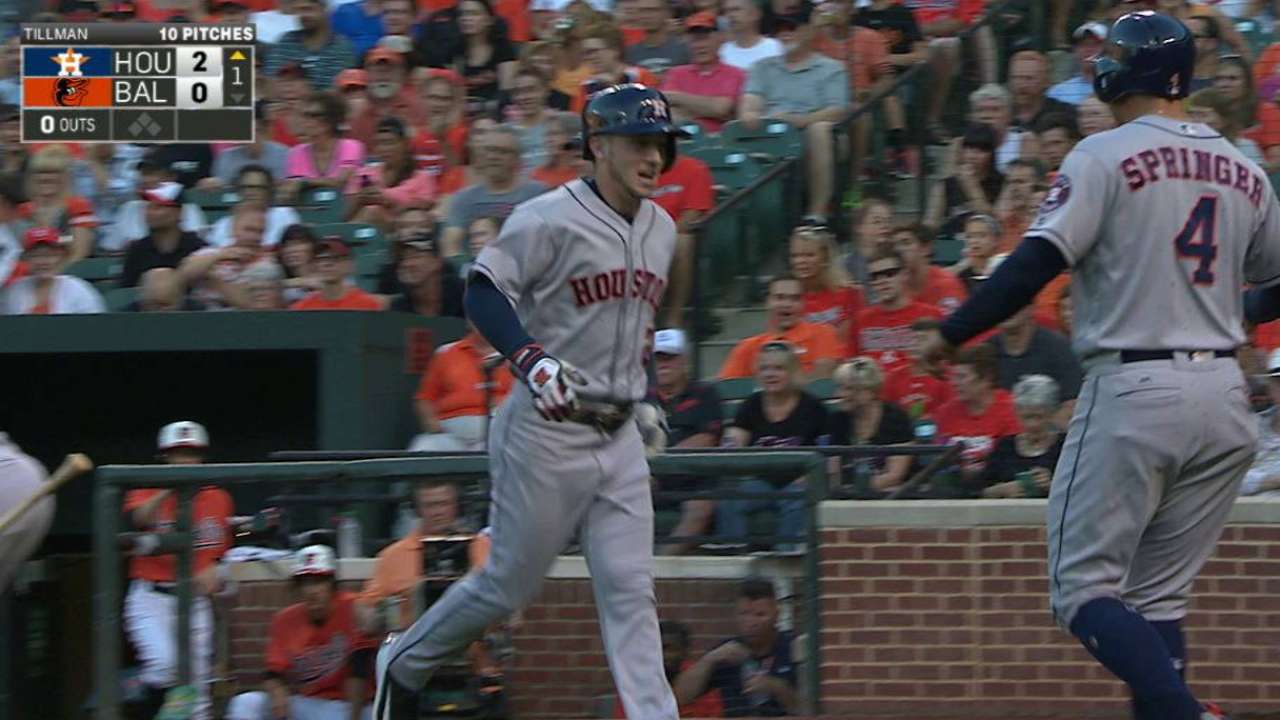 SS: Brendan Rodgers, Asheville Tourists (low Class A)
(Rockies' No. 1 prospect)
6 G, .458/.500/1.083, 8 R, 11 H, 3 2B, 4 HR, 10 RBI, 1 BB, 4 SO, 1 SB
Selected one pick after Bregman in 2015, Rodgers was MLBPipeline.com's top-rated prospect in last year's Draft. He has been one of the South Atlantic League's youngest regulars (he turned 20 on Aug. 9) and one of its best. Rodgers is hitting .286/.349/.493 with 19 homers in 103 games, ranking second in the SAL in homers and total bases (205), third in slugging and runs (71), and fourth in RBIs (71) and extra-base hits (48).
OF: Leonardo Molina, Pulaski Yankees (Rookie)
(Yankees' No. 30 prospect)
5 G, .444/.474/1.000, 5 R, 8 H, 2 3B, 2 HR, 5 RBI, 1 BB, 4 SO, 3 SB, 1 CS
Arguably the best athlete on the 2013 international amateur market, Molina came straight to the United States for his pro debut at age 16 after signing for $1.4 million. He hasn't had much statistical success, in part because he has been so young, but that hasn't stopped evaluators from raving about his tools and upside. Molina is in the midst of his best month as a pro and has hit .250/.331/.450 with five homers in 39 games since moving down from the SAL to the Appalachian League in mid-June.
OF: Brandon Nimmo, Las Vegas 51s (Triple-A)
(Mets' No. 5 prospect)
7 G, .452/.528/.806, 9 R, 14 H, 3 2B, 1 3B, 2 HR, 7 RBI, 5 BB, 5 SO, 1 SB
Originally rumored to be part of the trade that brought Jay Bruce from the Reds in August, Nimmo instead stayed with the Mets and has gone off since being sent back down the Triple-A a week later. He has six multihit games in the past 10 days, boosting his line at Las Vegas to .345/.420/.539 with nine homers in 82 games. Nimmo tops the PCL in on-base percentage and is second in hitting.
OF: Austin Slater, Sacramento River Cats (Triple-A)
(Giants' No. 22 prospect)
7 G, .520/.556/.840, 8 R, 13 H, 2 2B, 2 HR, 5 RBI, 2 BB, 3 SO, 1 CS
The Giants converted Slater from outfielder to second baseman during his first full pro season in 2015, then moved him back to the outfield this year. He has hit everywhere he has gone as a pro and is showing more power in 2016 with 13 homers after totaling just five in his first two seasons in the Minors. Slater had a tremendous weekend, going 10-for-13 (.769) with two doubles and two homers.
LHP: Josh Hader, Colorado Springs Sky Sox (Triple-A)
(Brewers' No. 4 prospect)
1-0, 0.00 ERA, 1 GS, 6 IP, 2 H, 0 R, 0 ER, 1 BB, 12 SO, 0.50 WHIP
Hader carved up Double-A hitters to the tune of a 0.95 ERA to start this season, and while his Triple-A mark of 4.79 isn't nearly as impressive, it masks how well he has pitched while battling the high altitude in Colorado Springs and the hitter-friendly parks of the PCL. He has six quality starts in 12 tries and a 2.88 ERA in his past six outings, with his best coming Sunday. Hader fanned 12 in six shutout innings and has the second-highest strikeout rate (11.8 per nine innings) among PCL pitchers with at least 10 starts, trailing only the Cardinals' Alex Reyes (12.8).
RHP: Alec Hansen, Great Falls Voyagers (Rookie)
(White Sox' No. 8 prospect)
0-0, 0.00 ERA, 2 GS, 11 IP, 1 H, 0 R, 0 ER, 6 BB, 17 SO, 0.64 WHIP
When Hansen's control fell apart this spring, he pitched himself out of Oklahoma's rotation and a shot at going No. 1 overall in the Draft. After the White Sox made some minor adjustments after signing him for $1.2 million as a second-rounder, the initial results have been terrific. Hansen allowed just one hit in two starts last week, including a 13-strikeout gem on Sunday, and now leads the Pioneer League with 59 whiffs in just 36 2/3 innings.
Jim Callis is a reporter for MLB.com. Follow @jimcallisMLB on Twitter and listen to him on the weekly Pipeline Podcast. This story was not subject to the approval of Major League Baseball or its clubs.