Holt knuckles down, pitches 1-2-3 ninth
Bailey, four Reds relievers struggle in loss to Dodgers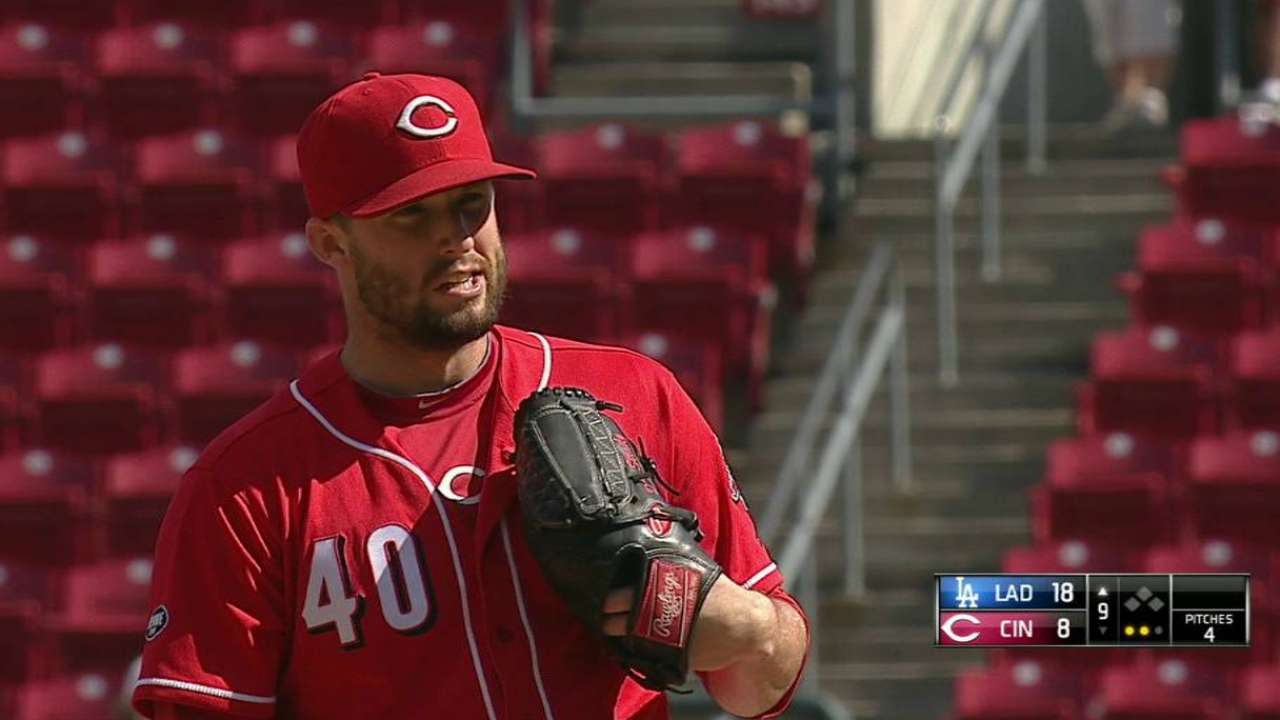 CINCINNATI -- Sometimes baseball can be a nutty game, indeed. In a blowout game on Monday between the Reds and Dodgers that had no shortage of scoring, it took an outfielder to have the best inning pitched.
Summoned to pitch the ninth inning of Cincinnati's 18-9 loss, reserve outfielder Tyler Holt retired the side in order -- using five pitches. It was the first time the Reds used a position player to pitch since Skip Schumaker did it in an 8-0 loss to the Braves on Aug. 21, 2014.
"Some guys can say it's easy, but when you're throwing 68 [mph] and those guys are throwing 98 [mph], obviously the hitters aren't used to that," Holt said. "It was 1-2-3, but let's be real."
Holt pinch-hit for reliever Michael Lorenzen in the bottom of the eighth with no activity in the Reds' bullpen. Obviously, Holt never hoped for a bad loss for his team, but the 27-year-old had been itching to pitch -- if needed. He took the mound before the Dodgers even came off the field after the third out of the eighth.
"I had trouble taking my at-bat seriously," said Holt, who flied out. "Unfortunately I had to go in, but not a lot of guys can say they pitched in a Major League game."
Holt's first pitch was a 63-mph knuckleball to Joc Pederson, who was swinging out of his shoes and missed. A second pitch was a 68-mph knuckler that Pederson hit for a routine fly to center field. Howie Kendrick hit his second pitch for a groundout to the shortstop. Andrew Toles flied out on the first pitch to center field.
"I threw two knuckles and the rest were just BP fastballs to Kendrick," Holt said. "I didn't want to hurt anyone. You try to be smart. You want to have a good time, but you try to take it serious."
Center fielder Billy Hamilton gave Holt the ball from the third out as a keepsake. Handshakes and high-fives were offered from teammates.
"With his limited number of pitches thrown, he'll probably be good to go tomorrow," Reds manager Bryan Price kidded.
It was a type of gallows humor shown by Price amid an ugly day for his pitchers that tied a season high with seven home runs allowed. Starter Homer Bailey lasted 2 1/3 innings with six runs and nine hits.
The Reds' bullpen, which had been much-improved lately, fared worse by giving up 12 earned runs and 12 hits, including six homers. Four homers were surrendered in the fifth inning alone -- three by Josh Smith and one by Jumbo Diaz. Blake Wood's first two batters of the seventh hit long balls. It gave the Reds' pitching staff 202 home runs allowed this season, easily on record pace to break the 1996 Tigers mark of 241.
"If you had a day where your starter is scuffling and your bullpen comes in and your middle relief has a hard time keeping it there, those are typically the outcomes," Price said.
Other than Little League, Holt said he had never previously pitched in an organized baseball game. The knuckleball has been something he has dabbled with.
"Just in the backyard with my dad," Holt said. "We would just go back and forth with it. That's what it developed into."
Mark Sheldon has covered the Reds for MLB.com since 2006, and previously covered the Twins from 2001-05. Follow him on Twitter @m_sheldon and Facebook and listen to his podcast. This story was not subject to the approval of Major League Baseball or its clubs.