Thor gives his all in gem against Giants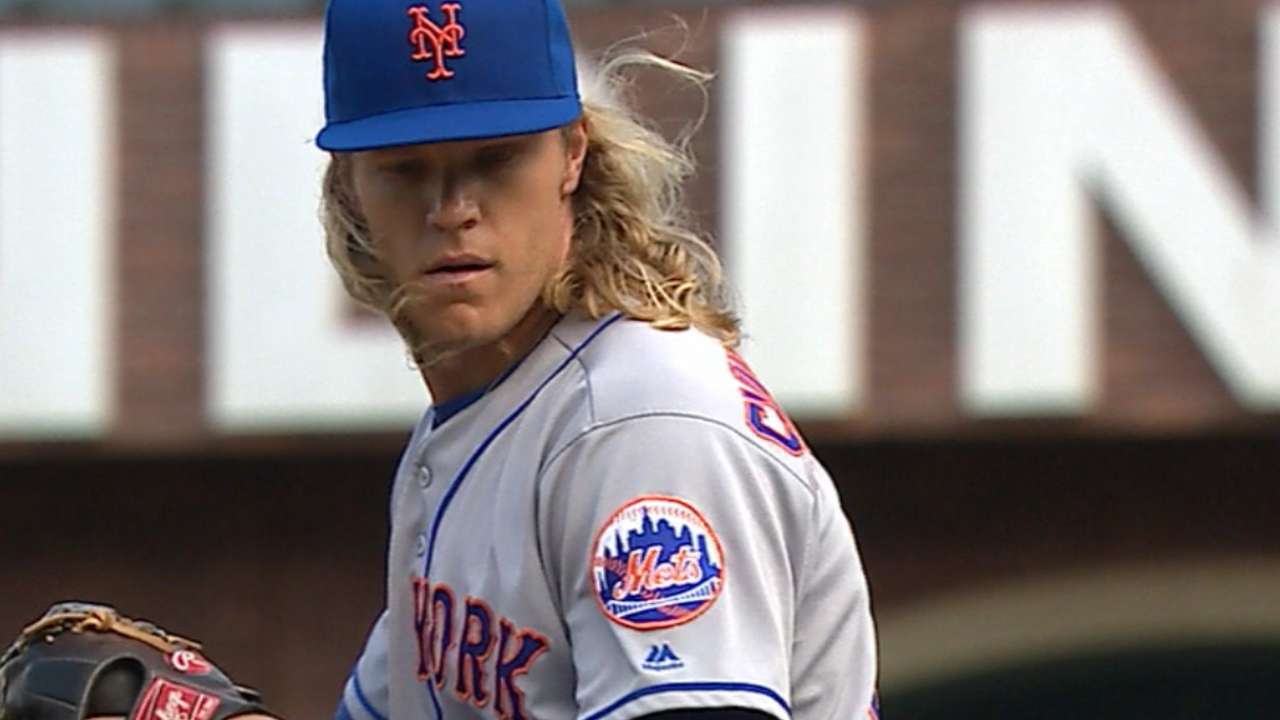 SAN FRANCISCO -- Terry Collins asked Mets pitching coach Dan Warthen to check on Noah Syndergaard prior to the start of the ninth inning in Sunday's 2-0 win over the Giants. Collins, fully intending to send Syndergaard back to the mound to finish off one of his strongest starts of the season, received a surprising update on his ace.
Syndergaard was tiring.
"I thought it would be the best decision to hand it over to the best closer in the game," Syndergaard said, "get a win, get back on the bus and head to St. Louis."
And so they did, turning to Jeurys Familia for his 41st save of the year. That plan, much like everything else Syndergaard did Sunday, was rock solid, as Familia preserved the shutout with relative ease to seal a series split.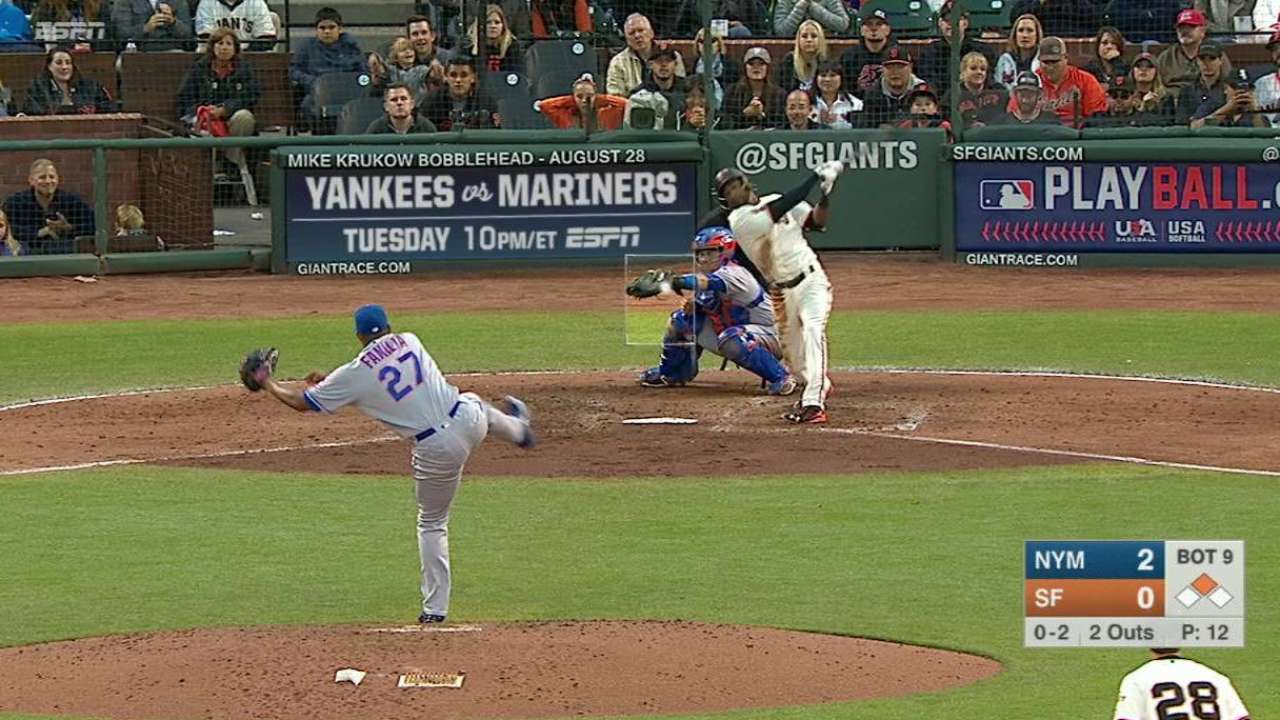 "I'll tell you what, though, he showed me something," Mets manager Terry Collins said of Syndergaard. "He came off and said, 'It's too late in the year to be a hero. I'm getting a little tired.' A lot of guys wouldn't have said that. They would've taken it upon themselves. That's what we wanted to hear."
Hero? Maybe not. But Syndergaard pitched like one of the best young starters in the Majors, throwing eight scoreless innings on an efficient 98 pitches while striking out six. He allowed just four baserunners and none advanced past first base. Two of those runners were caught stealing, an encouraging sign after Syndergaard entered Sunday's game allowing 40 of 44 runners to steal against him this year.
He also pitched past the sixth inning for the first time since July 3 and won for just the third time in that stretch.
"The past month and a half, I felt like today was the first day I went out there and actually relaxed and had fun out there," he said. "I just kept things simple. The last month and half, I've been trying to think too far ahead in advance."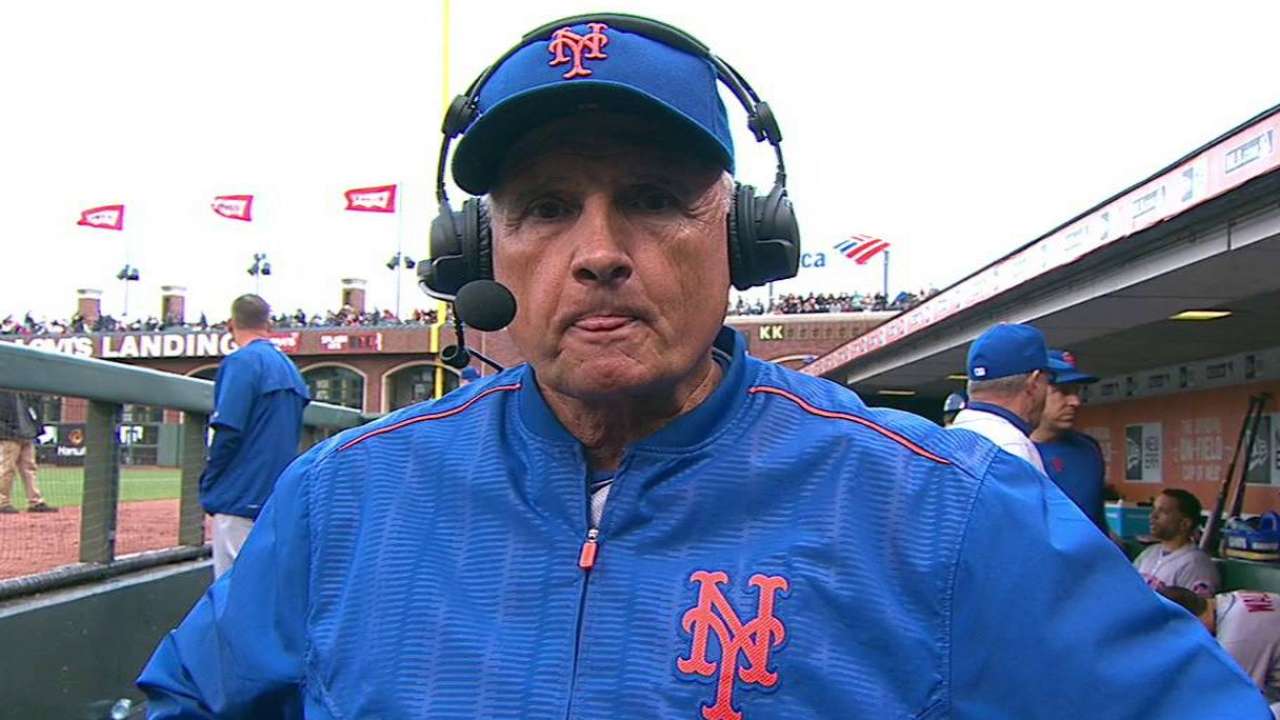 "This is really the best he's pitched in a long time," Collins said. "The command of his stuff, his breaking ball was much sharper today. ... He just pitched great."
The only baserunner to reach over Syndergaard's final three innings was Brandon Belt on a one-out walk in the seventh inning. Mets catcher Rene Rivera quickly trotted out to the mound, chatting with Syndergaard briefly.
"He was dealing, so I didn't have to go out any time before that," Rivera said. "I just felt like I had to go out there and give him a breather."
Syndergaard responded by throwing two straight strikes, later inducing an inning-ending double play from Brandon Crawford in the same at-bat.
It was an ace-like performance, matching Giants righty Jeff Samardzija nearly pitch for pitch until Yoenis Cespedes hit a two-run homer in the seventh to give the Mets a 2-0 lead and renewed hope heading into a three-game series with the Cardinals.
"We've had a tough time," Collins said. "If you're going to win, your good players got to play good. That means what Noah did tonight, what Cespedes has done the last couple games. We ride those guys. Hopefully this is the start of what we've been looking to do."
Mark Chiarelli is a reporter for MLB.com and covered the Mets on Sunday. This story was not subject to the approval of Major League Baseball or its clubs.