First-place Dodgers face Reds on MLB.TV
Battle of Beltways begins; AL postseason hopefuls in play today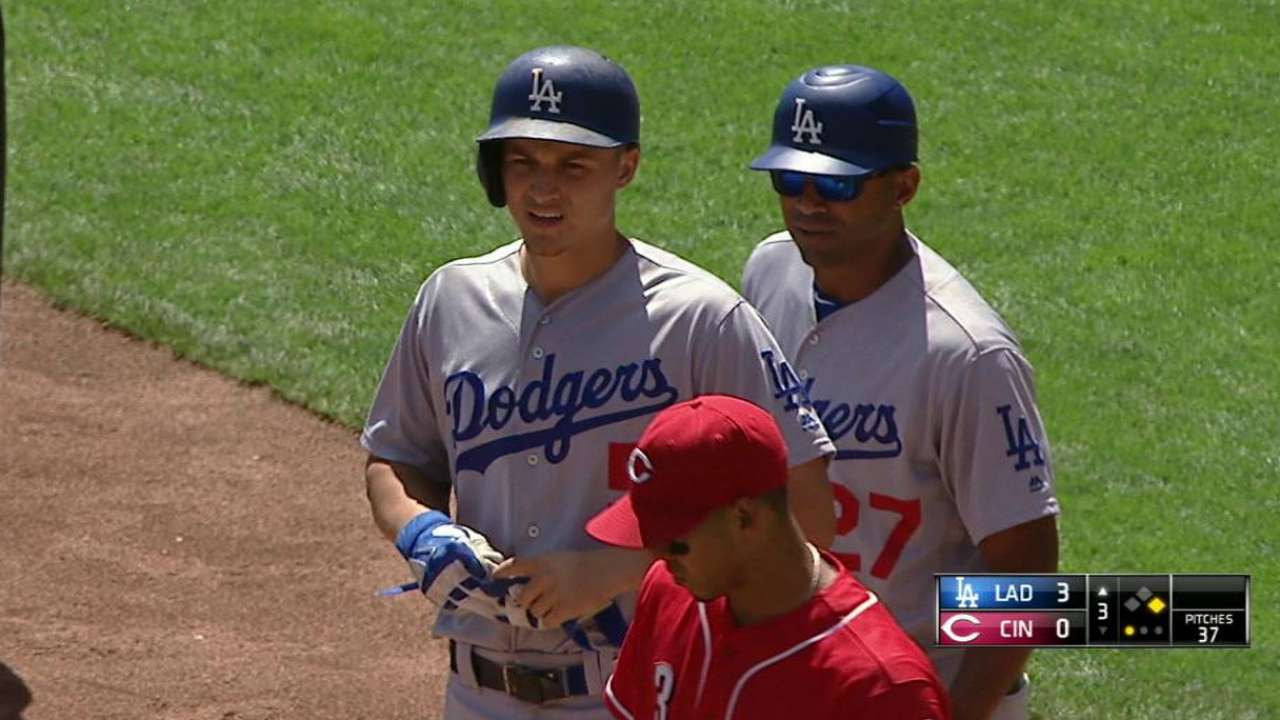 Perhaps we should've known all along that the National League West race between the Dodgers and Giants would come down to the very end.
It sure didn't look that way eight weeks ago. On the morning of June 27, the Dodgers learned that their ace Clayton Kershaw, in the midst of an historic season, had seriously aggravated a lower back injury in the team's 4-3 loss to Pittsburgh the night before. With Kershaw on his way to the disabled list, Los Angeles looked up and saw itself a season-high eight games back of the Giants.
But with the Giants losing, 2-0, to the Mets on Sunday Night Baseball, the boys in blue find themselves back on top by just a half-game with six weeks left in the regular season -- with the potential of a return by Kershaw sometime in September. The Dodgers' remarkable turnaround will mean nothing if they can't seal the deal, however, and the team will have one more chance to get in top form today in Cincinnati before a pivotal series at home against San Francisco begins Tuesday.
Los Angeles' tune-up isn't the only game worth keeping an eye on Monday. The Nationals and Orioles begin the 2016 Beltway Series on MLB Plus with a stellar pitching matchup between Stephen Strasburg and Dylan Bundy, In Pittsburgh and Seattle, teams on the outside of the playoff picture will try to take one step closer to breaking in, with all the action available on MLB.TV.
MLB.TV Premium has the same features as last year, and is only $49.99 for the rest of the season. This package has the best value and provides access to more than 400 devices and a free subscription to the MLB.com At Bat Premium app (a $19.99 value). It offers the best picture quality ever -- a new 60 frames per second -- for supported devices. Monthly signups for MLB.TV Premium are $24.99.
The new MLB.TV Single Team package is also available as a $39.99 yearly subscription. You can watch a single team's live out-of-market games in full HD.
Here's what to watch for today in the Majors (all times ET):
First-place Dodgers, Reds meet for finale in Queen City: LAD@CIN, 12:35 p.m.
The Dodgers were outscored, 20-3, in the first two games of this series before bouncing back to beat Cincinnati, 4-0, on Sunday. Now, looking to salvage a series split, Los Angeles turns to starter Scott Kazmir. The veteran southpaw has fared well in two previous career starts against Cincinnati, winning each while allowing just two earned runs over 13 innings.
L.A. also hopes Chase Utley can continue his production at the top of the lineup. Utley, who led off Sunday's game with a 399-foot home run, has hit all 11 of his homers this season from the leadoff spot. The veteran second baseman is batting .324 with three home runs and eight RBI over his last eight games.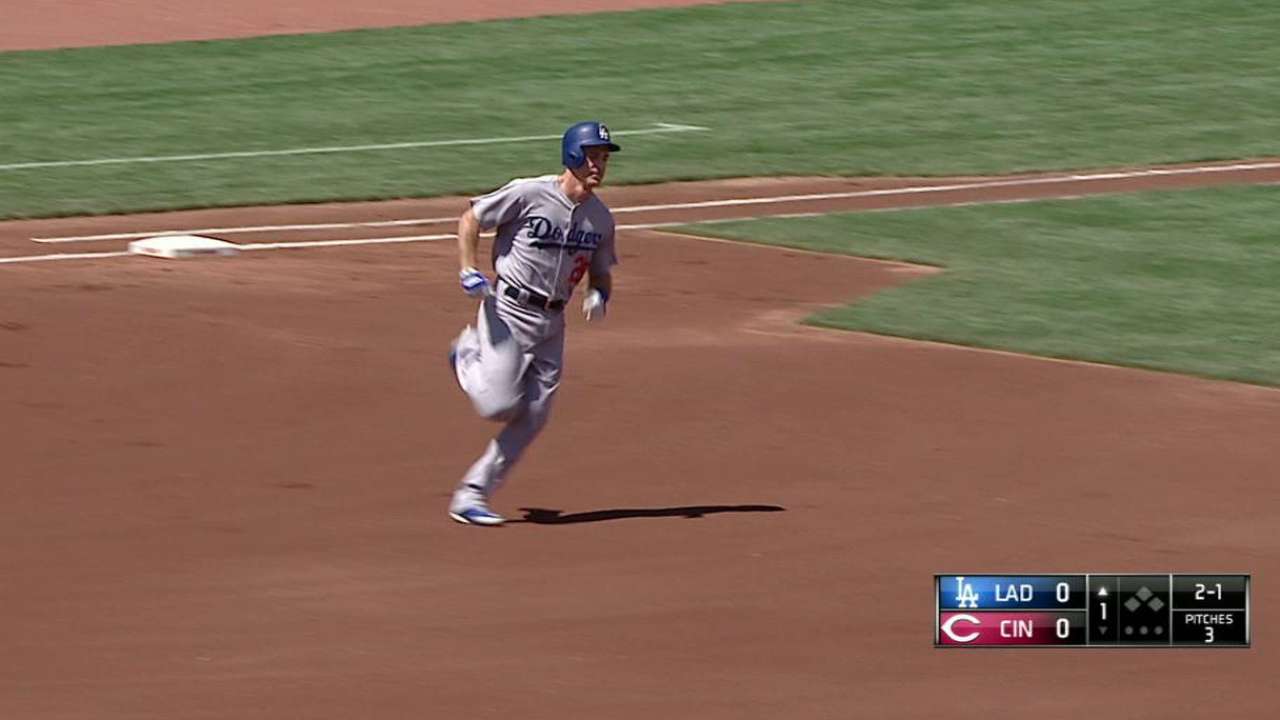 The Reds' gameplan probably involves getting an early lead and letting a revitalized bullpen handle the rest. After recording a Major League-worst 5.73 ERA in the first half, Cincinnati relievers have turned around and recorded a Major League-best 2.65 since the All-Star break.
Stat that matters: Since Kershaw's last start June 26, Dodgers starters had gone five innings or fewer in 28 of their last 45 games before teeanger Julio Urias picked up his team with six shutout innings Sunday.
Battle of the Beltways, Pt. 1: WSH@BAL, 7:05 p.m.
Beating their Beltways rival is one thing, but Nationals manager Dusty Baker would probably like to get Strasburg back on track just as much. The Washington ace has gone just 2-4 since he aimed for a 14-0 start against the Dodgers back on July 21, with a 7.63 ERA in those six games. Still, Strasburg's strikeout per nine innings rate has remained at a sky-high 12.03 during this current rough patch, and his opponent batting average on balls in play (BABIP) jumped up to .398 as opposed to just .264 during his first 17 starts. Baker and the Nationals are hoping this is just a blip on an otherwise brilliant season for their ace.
"The law of averages [was] against him to just keep winning the way he was winning," Baker said after Strasburg's Wednesday start in Colorado, in which he gave up a career-high nine runs. "So now, boom, back to earth a little bit."
The Orioles, who sit 2 1/2 games back in the AL East and hold a slim one-game lead on the second AL Wild Card spot, are also hoping for a return to form for Bundy. After stabilizing the rotation with four wins and a 1.84 ERA in five starts, Bundy suffered his worst start of his young Major League career against Boston. Baltimore has won six of the first 10 series between these two since the Nationals moved to Washington in 2005.
Stat that matters: Since returning to the Nats' lineup after missing five games with a stiff neck, Bryce Harper has hit .400 along with a 1.226 OPS and two home runs -- including a towering 405-foot shot Sunday in Atlanta.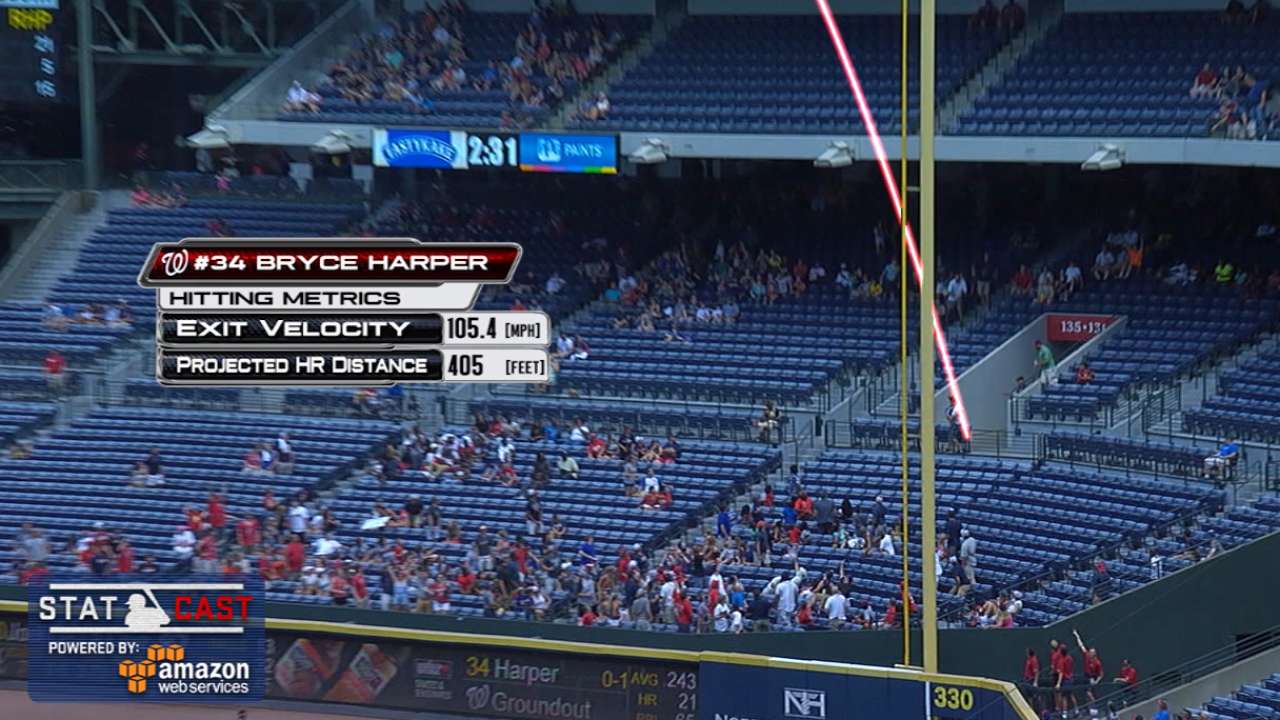 Astros, Pirates get reacquainted: HOU@PIT, 7:05 p.m.
Locking horns for just the second time since the Astros moved out of the NL Central, these former division rivals meet in Pittsburgh with a lot on the line. After waking up Friday just one game back of the second NL Wild Card, the Pirates dropped three in a row over the weekend to the Marlins -- their direct competitor in the chase. They'll look to rookie Jameson Taillon to right the ship. Taillon's a good a candidate as any, having posted quality starts in his last seven times on the bump.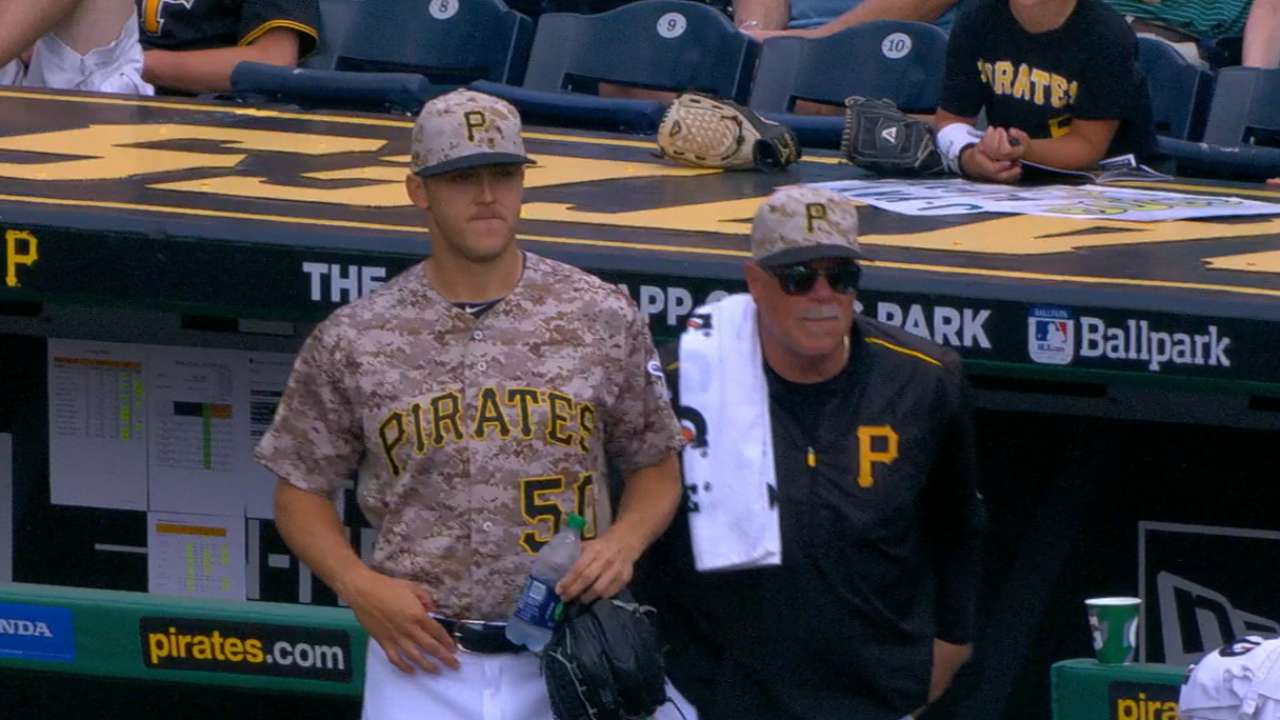 Houston is 3 1/2 games back in the AL Wild Card hunt, but Kansas City's recent roll has made the field even more crowded. The Astros are looking for an extra piece to push them over the top, and that could be Cuban import Yulieski Gurriel, who went 1-for-2 in his Major League debut Sunday.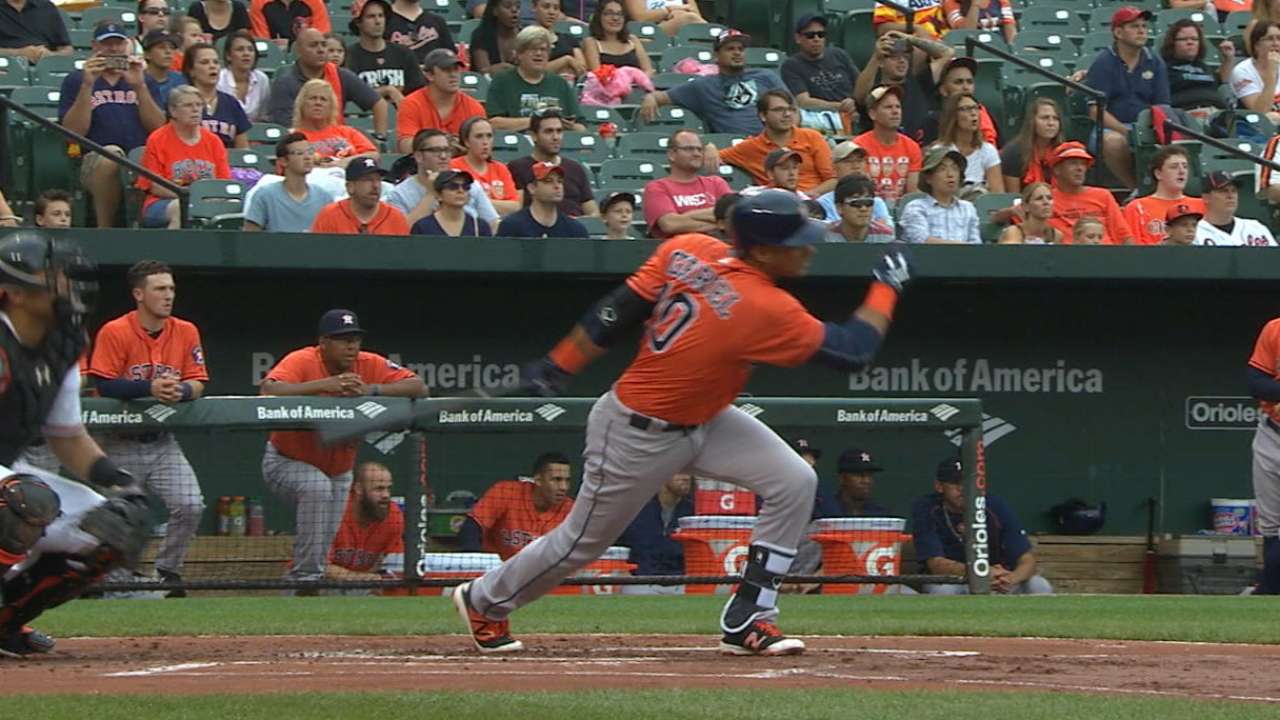 Stat that matters: The Pirates have won 14 of their past 19 meetings against the Astros, but this is a different Houston squad. Jose Altuve, Jason Castro and Marwin Gonzalez are the only three position players who were on the Astros the last time they played the Pirates in 2013.
Mariners knocking on Wild Card doorstep: NYY@SEA, 10:10 p.m.
Having won or split their last six series, the Mariners are just one game back of Baltimore in the Wild Card as they push to snap the longest postseason streak in the Majors. They've been especially tough at Safeco Field, where their eight-game home win streak was snapped Sunday by Milwaukee. Seattle has gone 25-12 at home since May 30, tying Toronto for the best home winning percentage in that time.
Though they've defended the Pacific Northwest admirably, Seattle will face a stern test in an inspired Yankees squad that has been spurred by its young guns. Leading the charge is catcher Gary Sanchez, who saw his six-game hit streak snapped Sunday, but his six home runs are tied with Shelley Duncan for the most by any Yankee in the first 17 games of his career.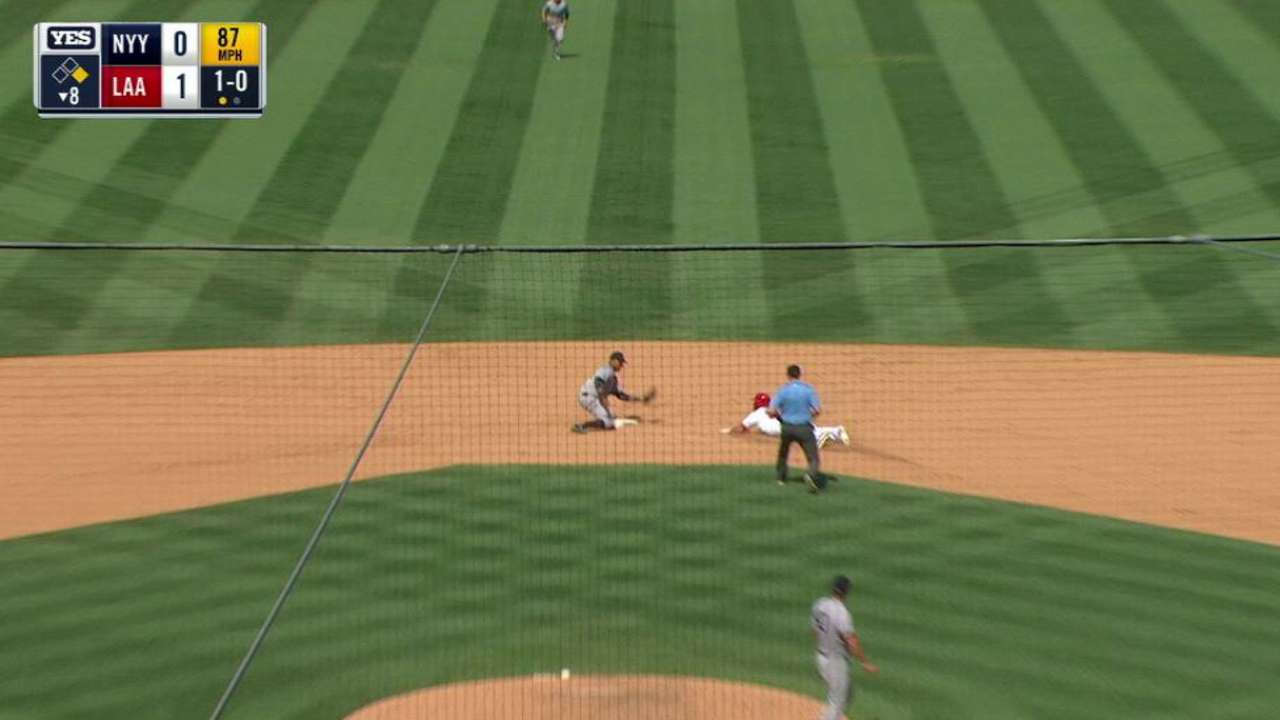 "When I came up, my mentality was to work hard," Sanchez said Saturday through a translator. "They have given me the opportunity to play every day, which I really enjoy. It's given me an edge and it's giving me good results right now."
Stat that matters: Twenty-three of the Yankees' 27 home runs this month have come from their players age 30-and-younger. Players that young contributed only 30 home runs total for New York from the beginning of the season to July 31.
MLB.TV Premium subscribers get the Mosaic View -- split screen or quad, available on PC or Mac only. That always comes in handy, especially when scoreboard-watching looms. MLB.TV Premium and MLB.TV Single Team subscribers both enjoy HD and both will get real-time highlights and player stats automatically loaded moments after they occur (only for the game you are watching with MLB.TV Single Team, and for all games with MLB.TV Premium).
Matt Kelly is a reporter for MLB.com based in New York. Follow him on Twitter at @mattkellyMLB. This story was not subject to the approval of Major League Baseball or its clubs.