Mets bullpen wearing down with heavy usage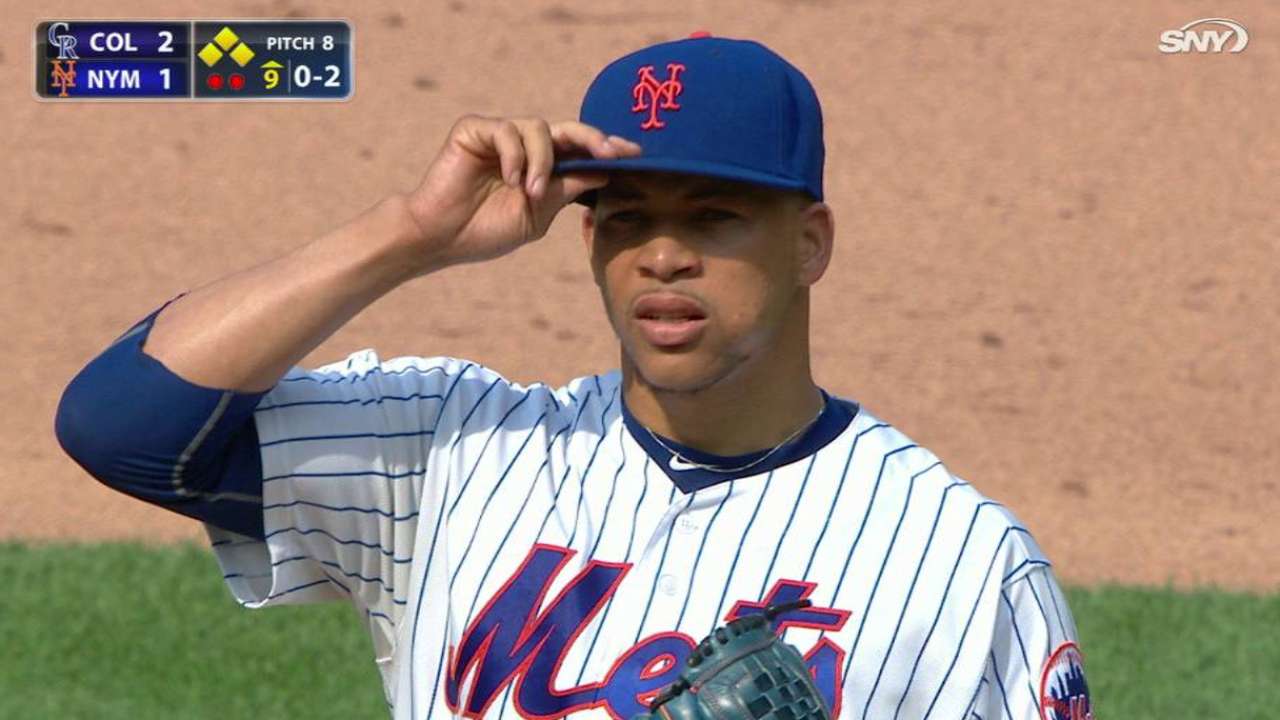 SAN FRANCISCO -- Mets manager Terry Collins said Friday he believes the residual effect of last year's playoff run is beginning to surface within his fatigued starting pitching rotation. Two days later, Collins said his bullpen is beginning to show signs of similar wear and tear.
Collins was asked prior to Sunday's series finale against the Giants if he's concerned about New York's recent stretch of relief. Mets relievers own an 8.02 ERA over their last 10 games.
"You can go back to when we were playing good and our bullpen was pitching really well," Collins said.
"Right now, with all the different things we've had to do, with some of the turmoil we've had in our starting rotation ... we've taxed our bullpen. The back end for sure. Those guys have been in 60 games apiece."
Collins is already down one reliever, right-hander Seth Lugo, who made a spot start Friday night for an ailing Steven Matz and is a possibility to start again Thursday against the Cardinals. Lefty Jerry Blevins wasn't available Saturday due to left forearm tightness, and Collins said Addison Reed was a "question mark" Sunday after throwing 1 2/3 innings in Saturday's 9-5 win.
Reed's 60 appearances are sixth most in the Majors this year. Closer Jeurys Familia isn't far behind with 58. While the Mets did receive a bit of a boost Saturday with the activation of Jim Henderson off the disabled list, it's a weary bunch in the bullpen.
"I think you're starting to see a little fatigue," Collins said.
And then there's Hansel Robles. The righty's given up 13 runs in 10 1/3 innings in August after not allowing an earned run in 11 2/3 innings in July. His ERA is now 4.03 after beginning the month at a 2.47 clip following an Aug. 1 appearance against the Yankees. He's made 53 appearances, four shy of his total from last season.
Collins spoke with Robles after he allowed two runs and walked two batters in one-third of an inning Saturday, reminding him he must stay ahead in counts and has strong enough stuff to keep Major League batters uncomfortable.
"It's quite obvious, he's not throwing strikes," Collins said. "I don't know if he's trying to overthrow, but he's gotten away from what really made him successful a couple weeks ago. That was pounding the strike zone. Now he's falling behind in the count and getting himself in trouble.
"He didn't say anything, but it could be the fact that maybe he's trying to overthrow due to the fact he's getting a little tired."
The Mets entered Sunday 14-21 since the All-Star break and sat five games back of the second Wild Card spot in the National League. They'll need the bullpen, which owns the second-worst ERA in August (6.13) after posting a 2.58 ERA in July, to bounce back, and quick.
Mark Chiarelli is a reporter for MLB.com and covered the Mets on Sunday. This story was not subject to the approval of Major League Baseball or its clubs.