Bruised and battered Jace plays walk-off hero
In first start in CF, Peterson crashes into wall on catch, hits winning HR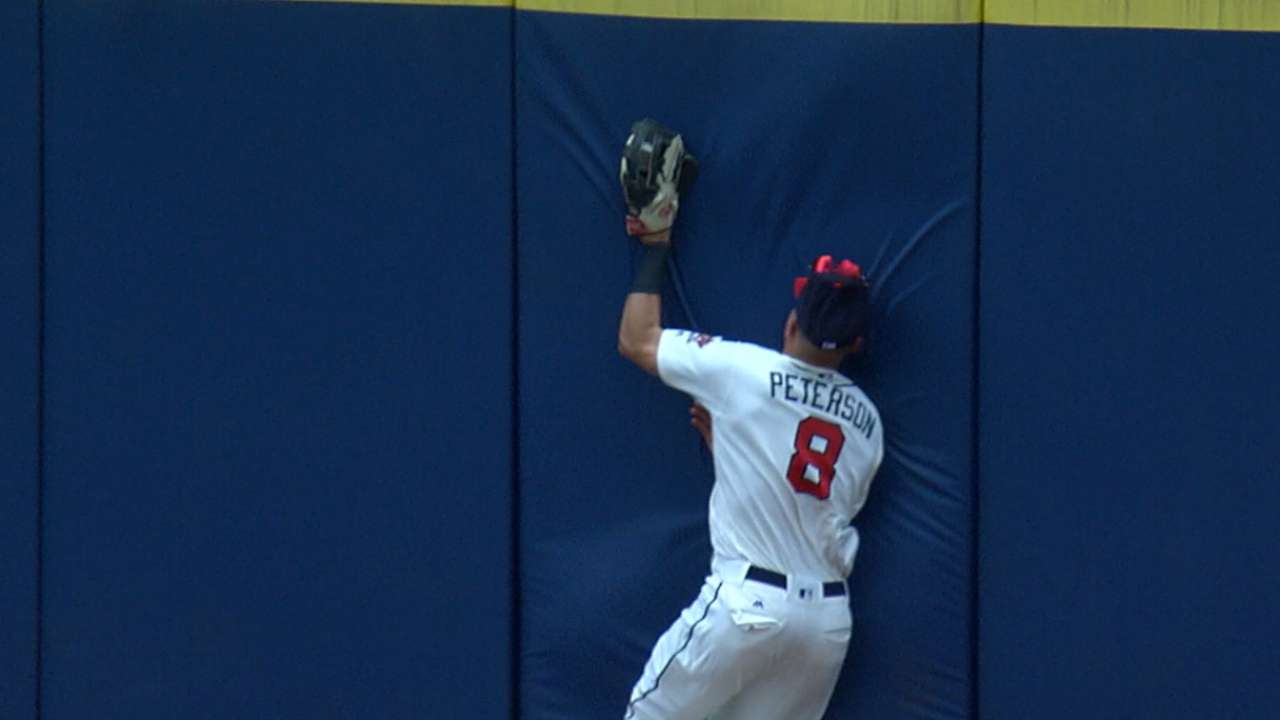 ATLANTA -- For at least the next couple of days, Jace Peterson will be reminded of the game in which he hit his first career walk-off homer every time he looks in the mirror.
Sporting a scar above his nose after colliding with the center-field wall on his third-inning catch, the Braves' utility man capped Sunday's 7-6, 10-inning win over the Nationals when he drove a Shawn Kelley slider over Turner Field's right-field fence.
"It was fun," said Peterson. "To go out there and play center field and be able to get another look in that position was fun. I enjoyed it, and I was able to make a good play. It was a fun game, and we needed a win. Fortunately it worked out for us."
As a defensive back at McNeese State, Peterson grew accustomed to dishing out big hits on the football field. Those blows came to his mind when he found himself on the receiving end of one on Sunday.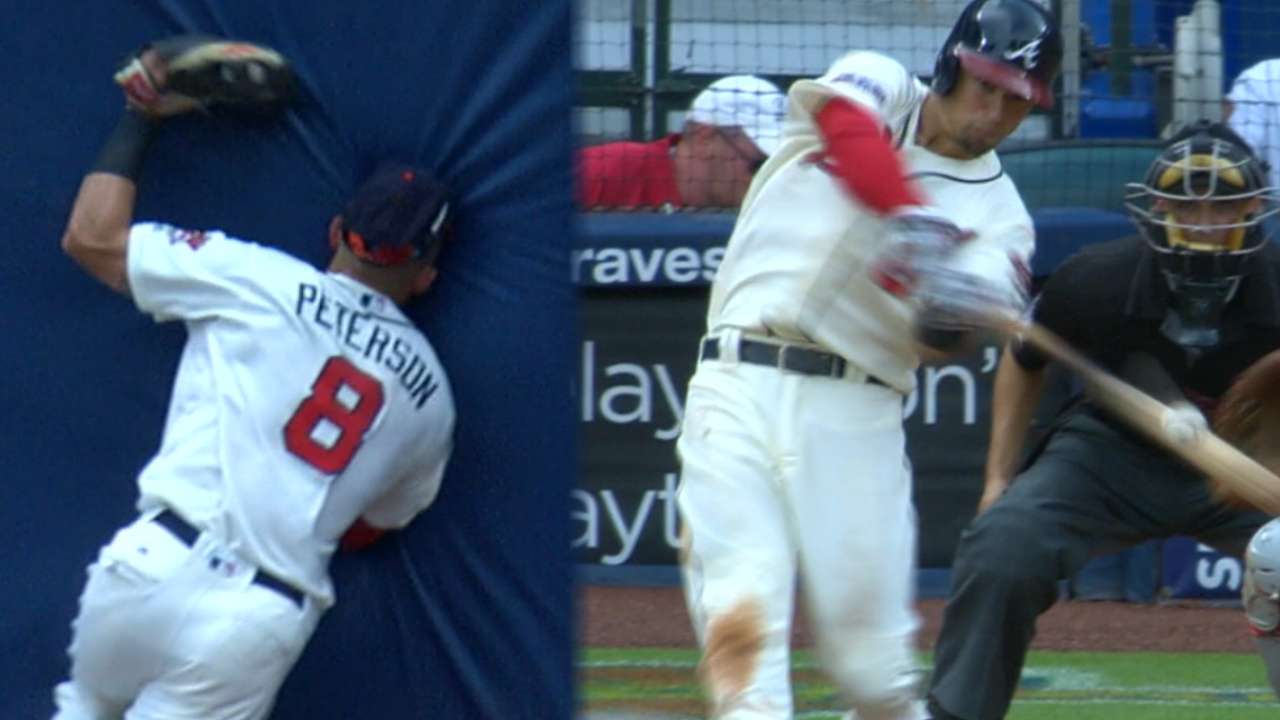 After scoring four runs already in the third inning, Washington appeared poised to increase its lead over the Braves when Chris Heisey drove Joel De La Cruz's 1-1 offering toward deep center.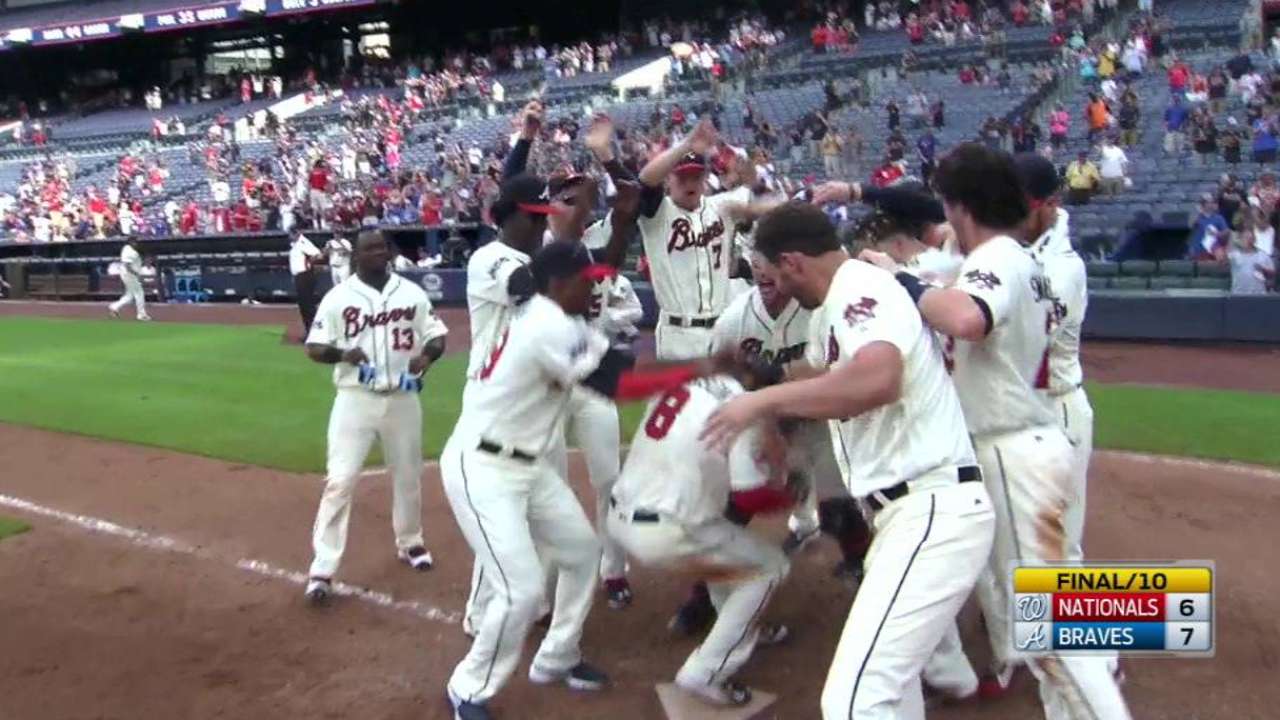 Peterson twirled around at the crack of the bat. Then, almost as quickly as he left his feet and came down with the ball, the center fielder's momentum came to an abrupt halt.
• Cut4: Peterson runs into wall, then hits walk-off HR
Smack. Face-first, he crashed into the fence. He rolled around on the warning track, attempting to catch his breath as trainers rushed to tend to his potential injuries. But Peterson got up under his own power and jogged off the field with a new addition to his highlight reel.
"It definitely was physical and felt good in a way," said the former football player about the collision. "But it hurt in a way. I'm glad it's behind me."
Although he played 10 games in center field for Triple-A Gwinnett this year, Peterson's spectacular grab came in his first Major League start at the position, further accentuating his willingness to help his team in any facet.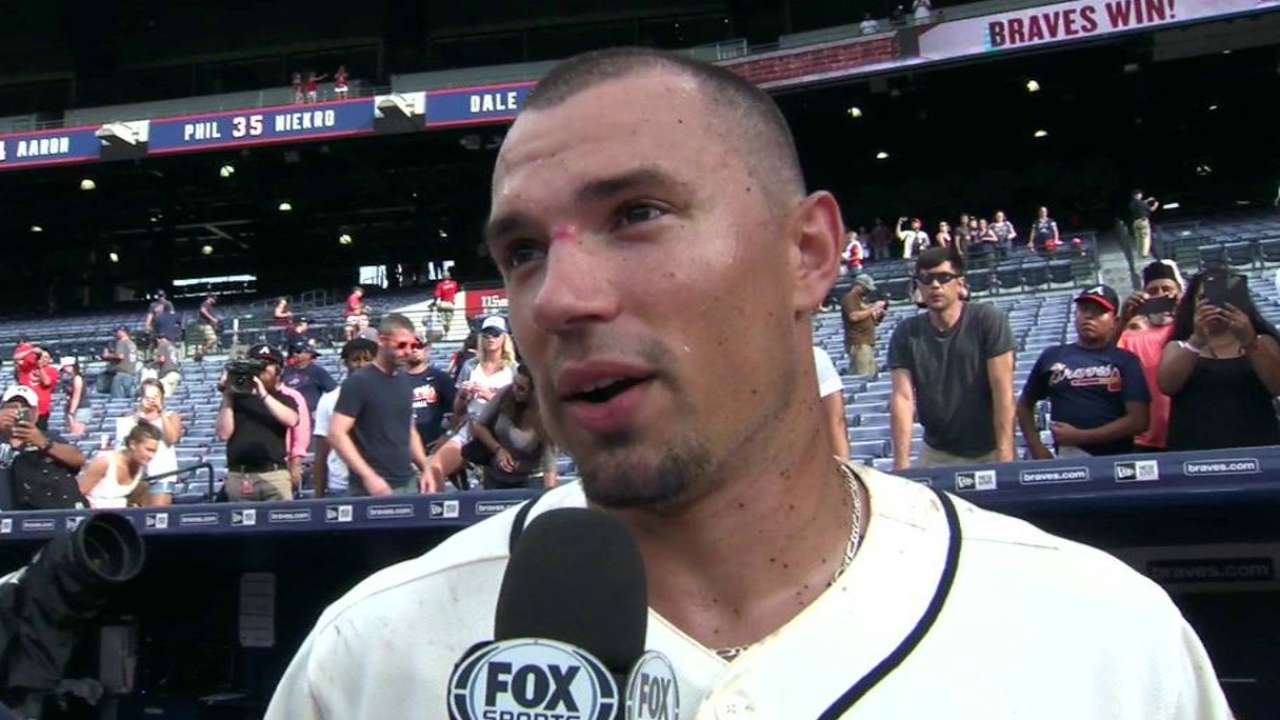 The 26-year-old opened the season as Atlanta's starting second baseman. But having also made 15 total appearances at third base and in left field before Sunday's game, his athleticism has proven to be a valuable asset.
"He's a tough kid," Braves interim manager Brian Snitker said. "We put him out there to try to give Ender [Inciarte's] legs a break, and he makes a catch we'll be watching for 24 hours before somebody does a better one."
But Peterson needed only seven more innings to one up his stellar defensive play. After Atlanta scored two runs in the eighth to force extra innings, he energized his teammates once again in the 10th when he deposited his seventh homer of the season into the right-field seats, bringing his team's seven-game losing streak to an end.
"He's just an athlete," said first baseman Freddie Freeman. "He's a gamer, too, and makes that kind of play in center field and comes up with the huge hit. He's riding high right now. A walk-off homer is one of the coolest things you can ever do, and I'm so happy for him."
Pat James is a reporter for MLB.com based in Atlanta. This story was not subject to the approval of Major League Baseball or its clubs.