Perdomo's rapid improvement surprises Friars
Rule 5 acquisition cementing place in 2017 rotation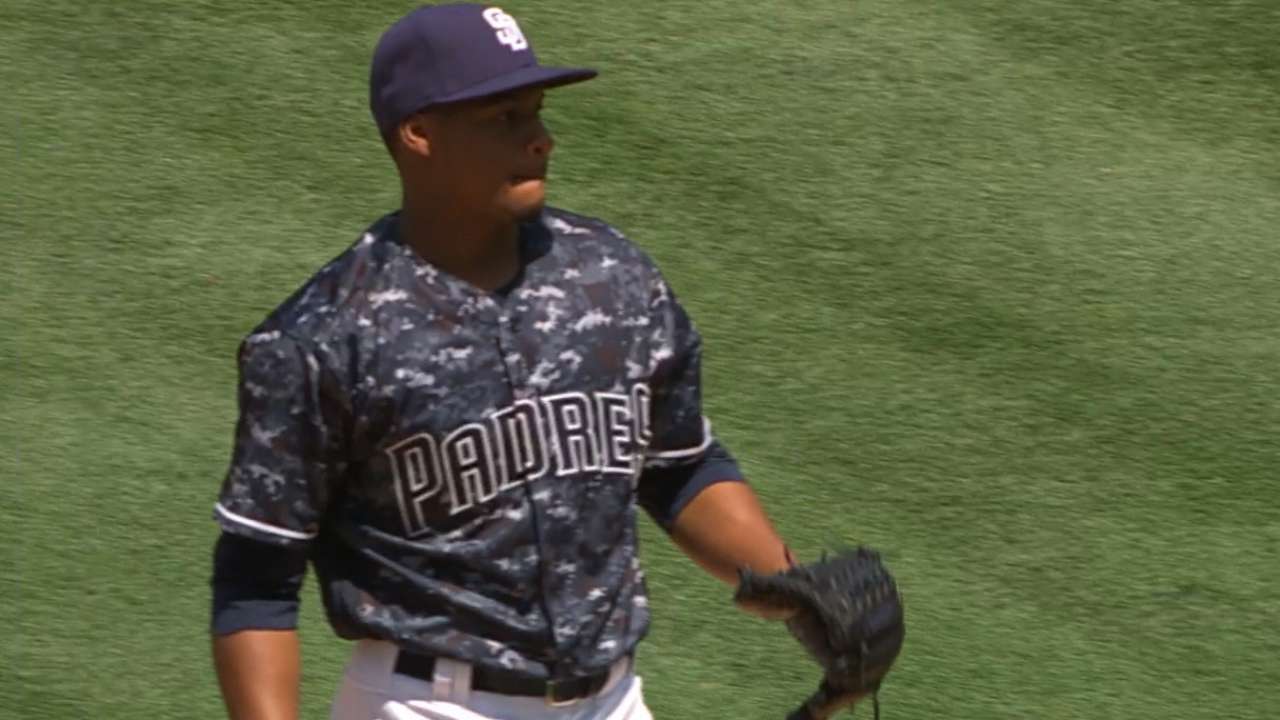 SAN DIEGO -- When the Padres nabbed Luis Perdomo in the Rule 5 Draft last offseason, they envisioned performances like the one he put forth in Sunday's 9-1 victory over the D-backs.
Thing is, they didn't exactly envision those performances coming in 2016.
The Padres liked Perdomo's potential, so they took a flyer on him -- despite the fact that he had never pitched above Class A. But because of his Rule 5 status, Perdomo had to remain on the big league roster, or the Padres would have risked losing him back to St. Louis.
"This is quick," manager Andy Green said of Perdomo's progression from timid rookie to one of the most composed young pitchers in the National League. "Usually, you're thinking best-case scenario ... is you find a way to get him through the season on your roster. You basically have to hide him to a degree, give him low-leverage situations the whole year, then he probably goes back to Double-A the next year and progresses to Triple-A. Then, in a couple years, he's a fixture in your rotation.
"That path has been accelerated. He's moved incredibly quickly, and he's going to have every opportunity to be a fixture in the rotation for years to come."
Perdomo had the best outing of his young career Sunday, allowing only an unearned run and five hits over seven innings.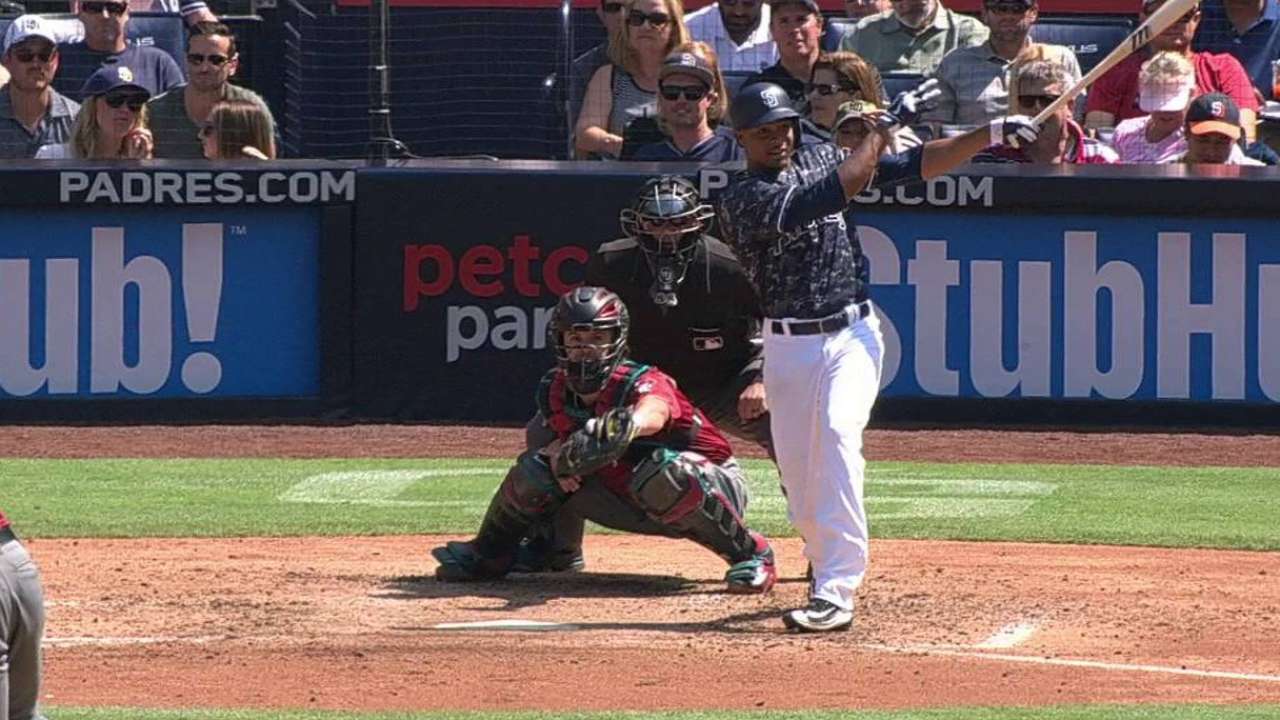 When Perdomo's ERA ballooned to 10.38 in early June, it seemed almost unthinkable that he'd have a place in the Padres' 2017 rotation. The prudent move, it seemed, would be to sneak Perdomo through the season, before affording him more time to develop in the Minors.
But since then, Perdomo has lowered his ERA in 10 of his last 12 outings. He's evolved into arguably the Padres' most reliable starter and figures to have his rotation spot locked up for next year.
Of course, given that it's only August, Perdomo isn't exactly focused on 2017.
"I'm really just trying to do the best work I can, and pitch the best I can," Perdomo said through an interpreter. "I'm ultimately not going to be the one making the decision. But I'm working hard, pitching hard, and we'll see what happens."
So what, exactly, does the Padres' decision-maker think?
"It's hard to guarantee a guy a rotation spot in August of the preceding season," Green said. "But he's going to be competing for a spot. He's going to have every opportunity to win it. And based on what I see with my own eyes, [I] expect him to."
Perdomo's evolution has been nothing short of spectacular this season, and a large part of that can be attributed to pitching coach Darren Balsley. Among other things, Balsley has helped develop Perdomo's sinker -- the biggest key to his success. The right-hander owns the highest ground-ball rate in the National League among pitchers with 100 innings.
But it's a testament to Perdomo's maturity that he's been able to work so well with Balsley and use his advice to improve.
"He's very unique," Balsley said. "He wants feedback. He doesn't want you to say 'nice job.' He wants to be better. He's made huge strides this year in everything he has done, from his pitches, to how he commands himself, to his approach. He doesn't just want to be here."
Given Perdomo's recent results, it's hard to believe this is the same pitcher who allowed six earned runs to the Dodgers in one inning on Opening Day.
But catcher Christian Bethancourt thinks he's pinpointed the biggest reason Perdomo's improvement.
"He's having fun," Bethancourt said. "You can see it in his face. He wants to pitch, he wants to get out there. The first time he was out there at the beginning of the season, he was nervous. He never pitched Double-A, Triple-A, so of course he was nervous. I played all the way to Triple-A, and I was nervous.
"Now, Imagine a guy that comes all the way from A ball to the big leagues, then pitches against the Dodgers on Opening Day. ... He's just going to get better. He's having fun now, using all his stuff. It was just fun to catch him; I didn't even sweat today."
AJ Cassavell covers the Padres for MLB.com. Follow him on Twitter @ajcassavell. This story was not subject to the approval of Major League Baseball or its clubs.