Shipley has trouble making adjustments in loss
D-backs rookie struggles after two strong innings vs. Padres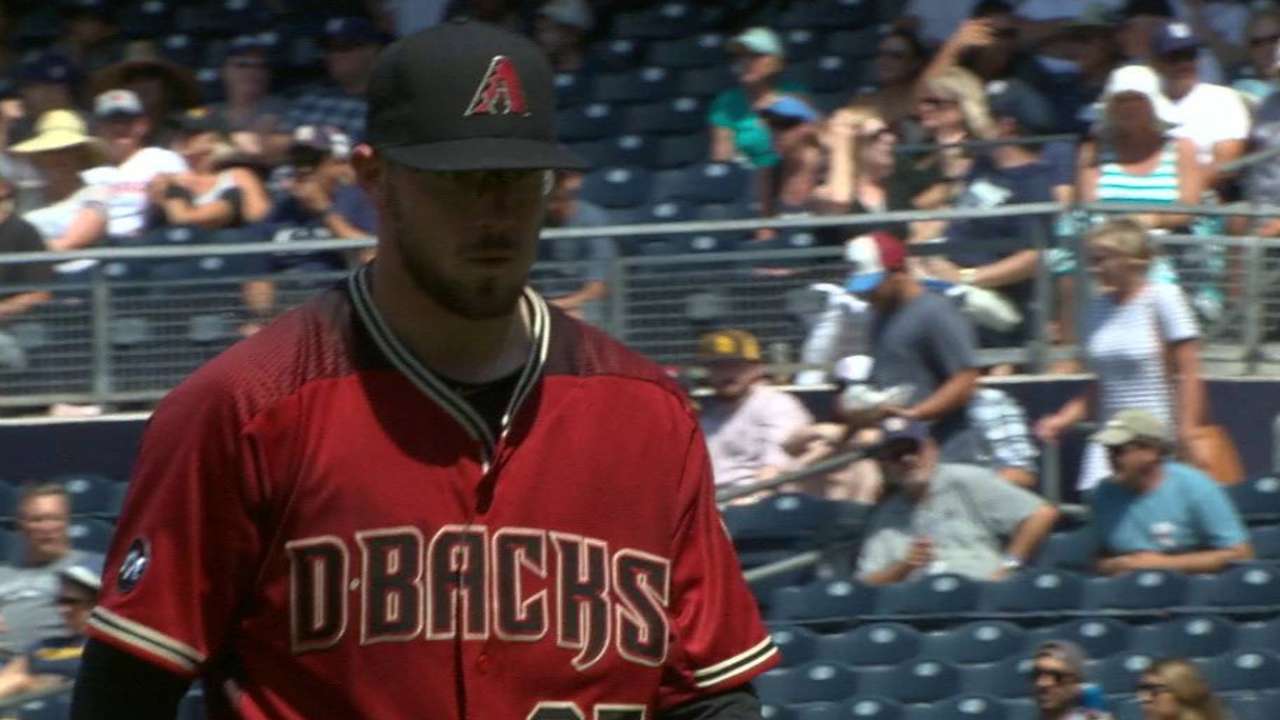 SAN DIEGO -- Braden Shipley made it look easy in the first two innings, but after that, the Padres reminded him that in the big leagues things can turn quickly as they beat the D-backs, 9-1, on Sunday afternoon at Petco Park.
In his sixth Major League start, it took Shipley just five pitches to get through the first inning and 10 in the second.
"Looked like he came out and had his good stuff," D-backs manager Chip Hale said. "They did a nice job of making adjustments."
Shipley (2-3) was one strike away from getting out of the third inning unscathed as well, but Travis Jankowski turned on an up-and-in pitch and drove it for a two-run homer.
"If I throw it there 10 times again, he probably won't do that again," Shipley said.
After striking out the side in order in the fourth it looked as if Shipley had settled back in, but the Padres began to hit him, scoring two in the fifth and three in the sixth.
"I don't really think anything changed," Shipley said. "I felt really good today, felt really strong today throughout the whole game. They're big league hitters and they did a good job today. They put the ball in play and stuff happens and, like I keep saying, I'm going to learn. It's hard to see now, but the failures and these things that keep happening are going to turn into a positive eventually."
Shipley's four-seam fastball hit 94 mph and he seemed to be more aggressive with it in the early innings than he did in the middle of the game.
"It's on me too, because we didn't keep attacking them," catcher Tuffy Gosewisch said. "The first few innings we were just attacking them, going right after them, but they were hacking, and we knew they were hacking, so we started to throw a little bit more offspeed and got behind in the count and just had to throw some strikes in bad counts."
Steve Gilbert has covered the D-backs for MLB.com since 2001. Follow him on Twitter @SteveGilbertMLB. This story was not subject to the approval of Major League Baseball or its clubs.