Twins can't find way to solve pesky Royals
Santana's 10 K's aren't enough in finale; Minnesota now 2-11 vs. KC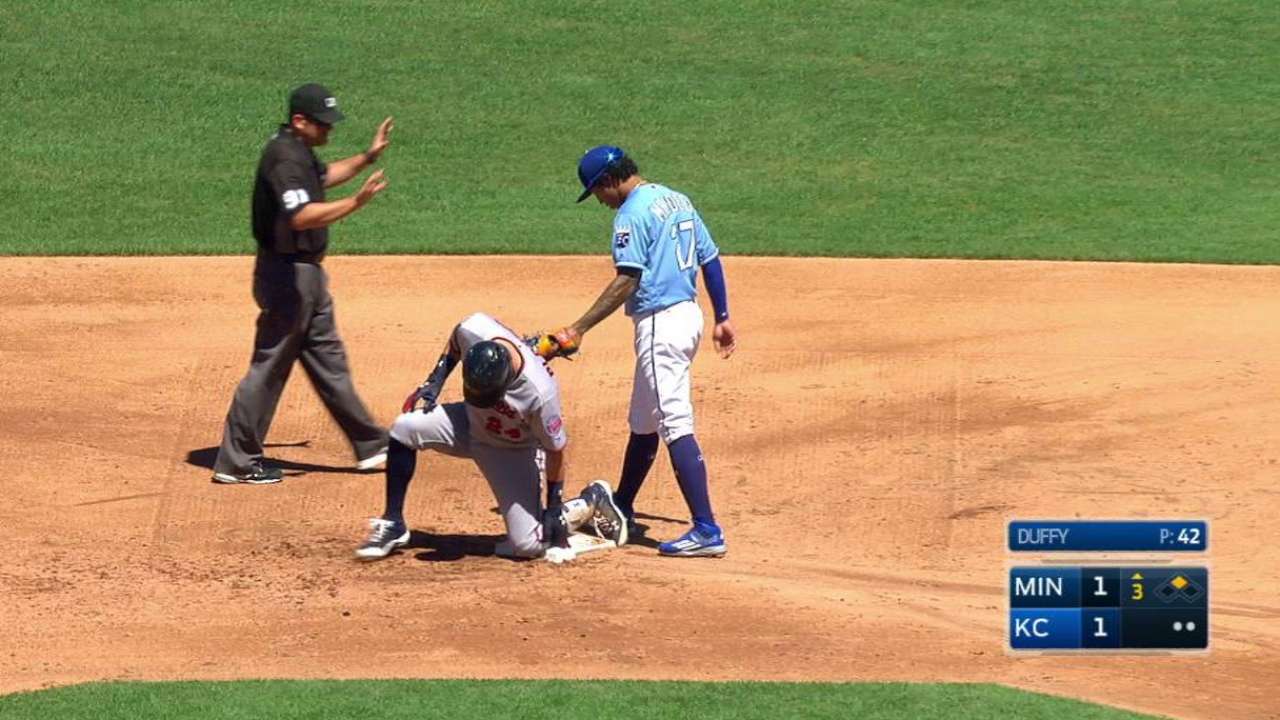 KANSAS CITY -- After the Twins won both games in Atlanta earlier this week, it gave them 16 wins over their previous 24 road games.
But despite that recent success away from Target Field, the Twins just can't find a way to beat the Royals this season, especially at Kauffman Stadium. Those woes continued on Sunday in a 2-1 loss, leaving the Twins 2-11 vs. the Royals this year, including an 0-7 mark in Kansas City. It was the Kansas City's first four-game sweep of Minnesota since 1999 and its first four-game sweep over the Twins at Kauffman Stadium since 1975.
"I'm very frustrated," manager Paul Molitor said. "I can't tell you. To come in here and have to endure these four games. Some of these situations and environment where guys need to step up, our mental toughness needs to improve. Hopefully we do that as we get more experience from our younger core. That's what it takes to win on the road against a team that's playing well."
It gave the Royals a season-high eighth straight win, but they're still on the fringes of the postseason race at 64-60. But when they have played the Twins this year, the Royals look just like the team that won the 2015 World Series.
"It's terrible," second baseman Brian Dozier said. "We're playing good, but it seems like these past four games, we always make that one mistake you can't make against a good team like the Royals."
On Sunday, the issues mostly came with runners in scoring position, as the Twins went 2-for-9 in those situations, including loading the bases with none out in the second, only to come up empty-handed. The lack of offense against Royals lefty Danny Duffy gave right-hander Ervin Santana a tough-luck loss, as he gave up two runs over seven innings with a season-high 10 strikeouts.
"We've fallen short of taking advantage of opportunities," Molitor said. "We had another situation with a runner at third and nobody out, and we can't get him in. When you have your best pitcher going, those things can be huge."
Another mistake came in the sixth, when Jorge Polanco couldn't handle a grounder from Lorenzo Cain with two out. The play wasn't ruled an error, although Molitor felt it should've been one, and it came back to bite them, as Eric Hosmer doubled on the next pitch to bring home the go-ahead run.
"It turns out the winning run comes on a play we need to make," Molitor said.
It spoiled another strong start for Santana, who has been pitching like an ace with a 1.91 ERA over his last 11 starts. He did what he could do to try to stop the streaking Royals, but it wasn't enough.
"They're really hot right now," Santana said. "Everything is going their way. They just wait for any chance so they can try to do damage."
Rhett Bollinger has covered the Twins for MLB.com since 2011. Read his blog, Bollinger Beat, follow him on Twitter @RhettBollinger and listen to his podcast. This story was not subject to the approval of Major League Baseball or its clubs.