Duffy appreciates Royals' defense stepping up
Gordon, Cain make inning-saving catches as KC finishes sweep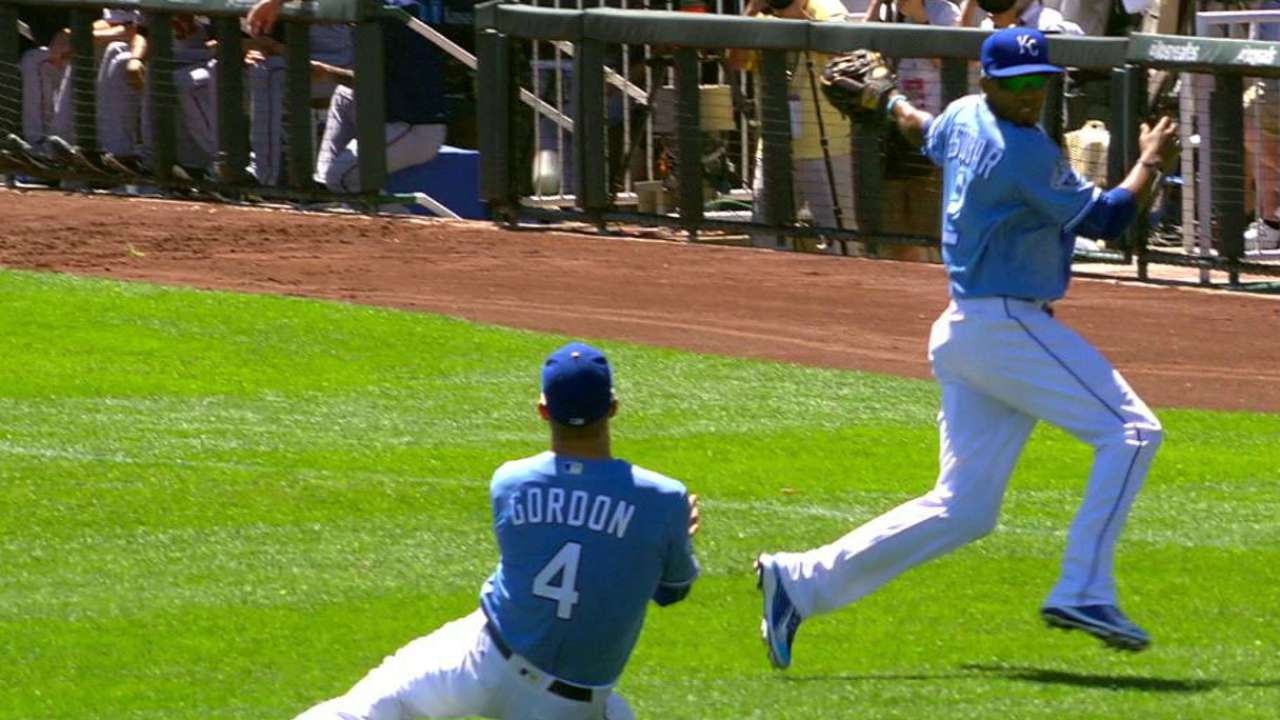 KANSAS CITY -- With two on and none out in the second inning, Royals left-hander Danny Duffy was in danger of letting the game get away from him. Facing Eduardo Escobar, Duffy missed with four straight fastballs, loading the bases and giving the Twins a golden opportunity.
Duffy got the first out of the inning, but an 0-1 changeup to Kurt Suzuki caught enough of the plate for Suzuki to make contact. The ball carried toward shallow left field, where Alex Gordon made a fantastic sliding catch, traveling 104 feet with a route efficiency of 94.5 percent, according to Statcast™. It was the first of several stellar plays by the Royals' defense in a 2-1 win to complete a four-game series sweep.
With two down in the second, Danny Santana's ground ball to the left side of the infield would have given the Twins a run, but Royals third baseman Cheslor Cuthbert was able to snag the ball before contorting his body to throw to second for the final out.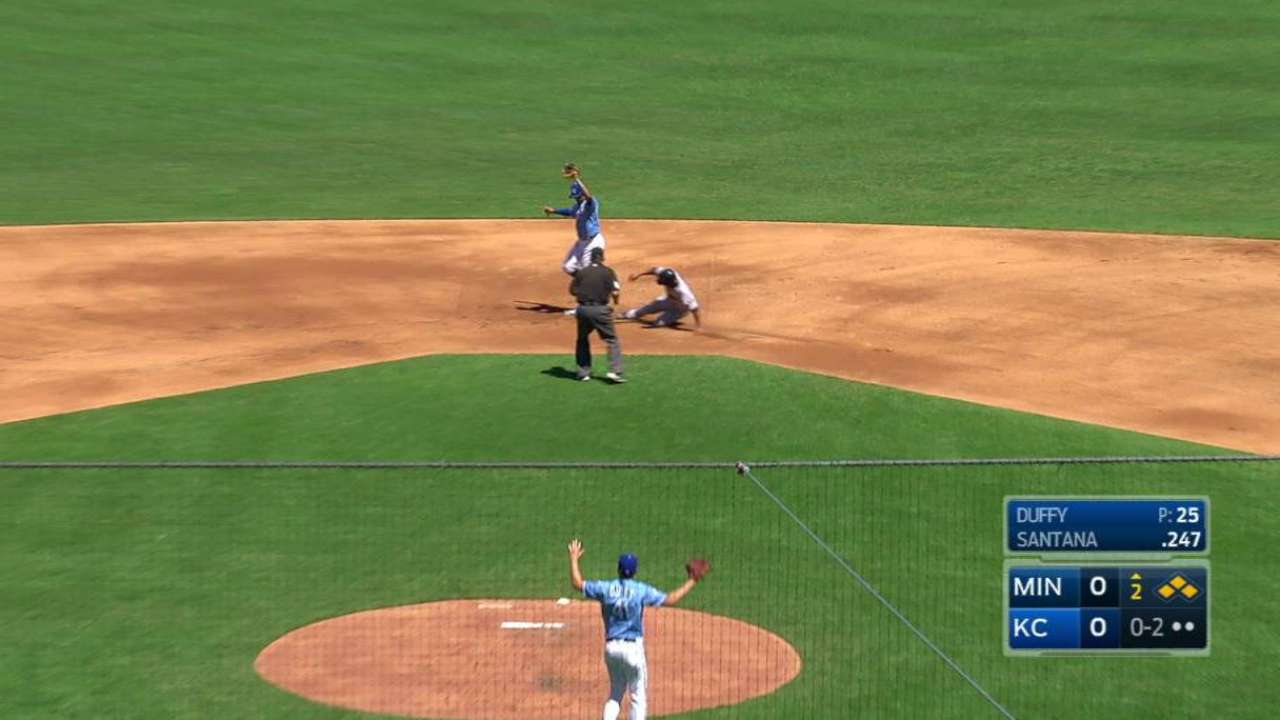 "It didn't look like it was a difficult play, but it was an extremely difficult play," Royals manager Ned Yost said. "Defensively we've been very, very solid."
"The play ... saved them a couple runs," Twins manager Paul Molitor said. "That's what they do. They grind and play defense and they pitch. And we've had trouble overcoming that."
When the Royals' defense had a chance to make a play, it delivered.
"When you don't have your best stuff, you just battle," Duffy said. "Just get through as many outs as you can and let your defense play behind you. And goodness, didn't they? They killed it out there today."
Sure enough, the defense saved Duffy on several occasions.
There was another tough diving catch by Gordon, but perhaps the best play was Lorenzo Cain's diving catch in the fourth with one on and none out. Eddie Rosario smacked a ball 314 feet to right with an exit velocity of 91 mph, according to Statcast™, but Cain read the play perfectly sprinting to his right before laying out for the catch. Duffy gave him an emphatic hat tip, as he escaped the inning without surrendering a run.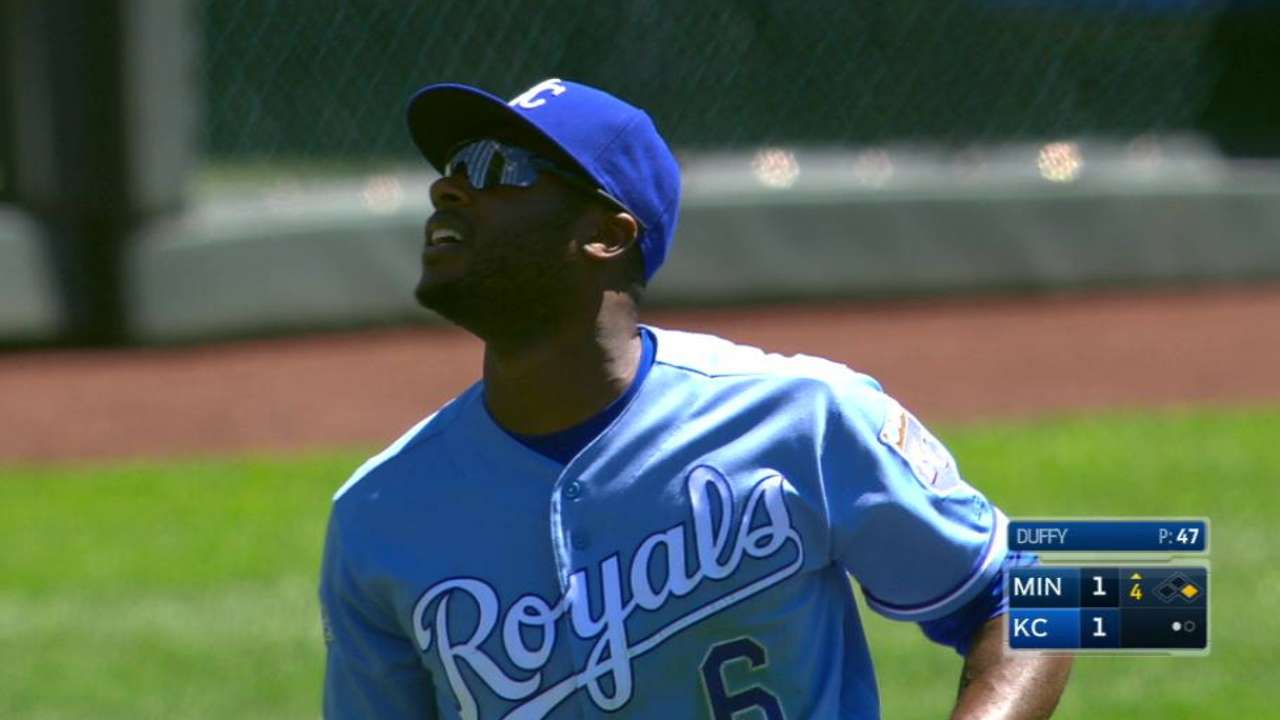 "We really like to sell out and go make plays out there," Cain said. "We just want to back [the pitchers] up as much as we can."
And even with Duffy out of the game after 6 2/3 inning, there was no let-up. In the eighth with one out and none on, Jorge Polanco hit a fly ball to shallow right. Royals second baseman Raul Mondesi sprinted toward the ball, staring straight up into the sun as he tried to track it.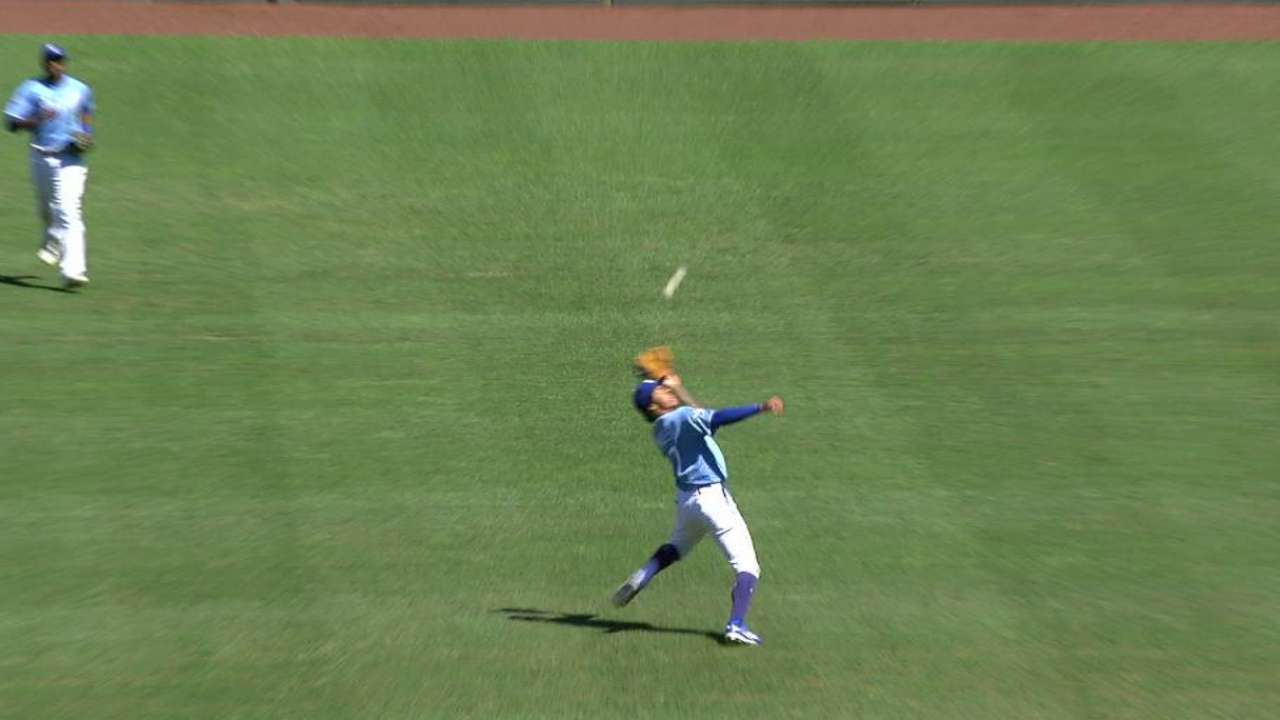 At the last moment, Mondesi snapped his glove forward to make the catch.
"You know that was a tough play that [Mondesi] made there in the eighth inning. That's a tough play," Yost said. "We just made some really, really good plays."
Scott Chasen is a reporter for MLB.com based in Kansas City. This story was not subject to the approval of Major League Baseball or its clubs.