Villar's consistency gives star turn credence
Third baseman has established himself as pillar of Brewers' lineup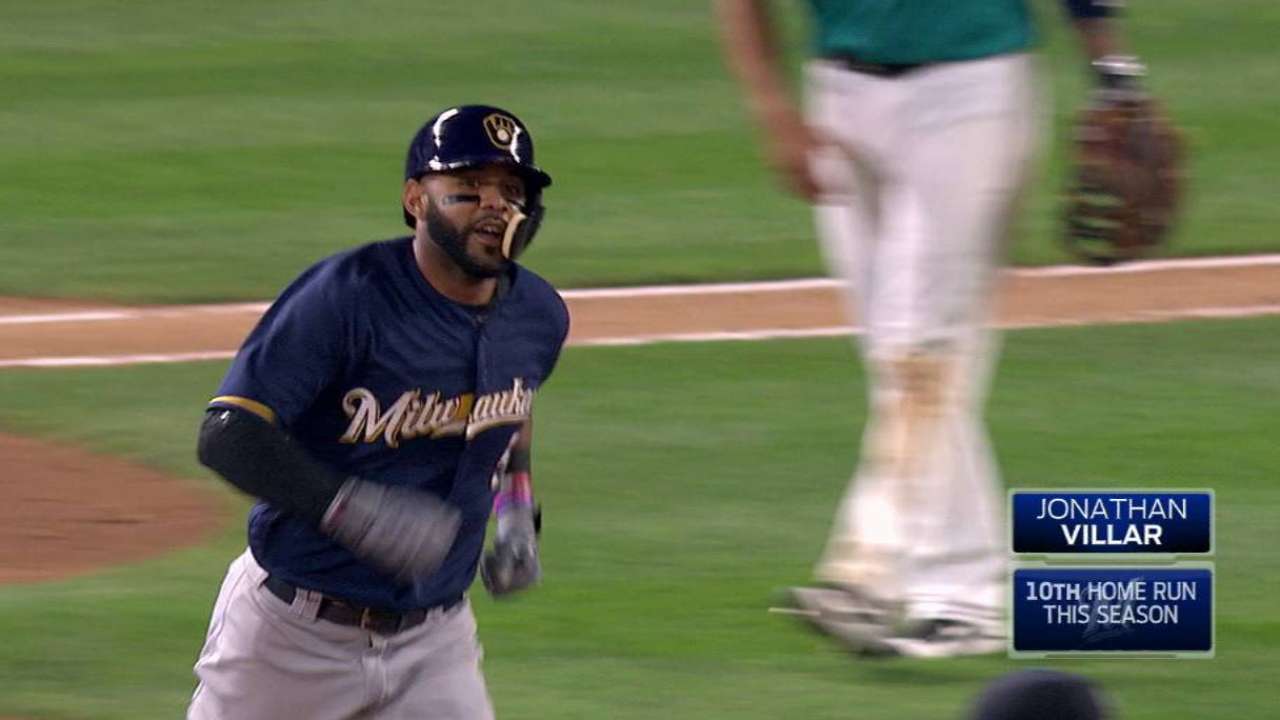 SEATTLE -- It's late August, which means it's late enough in a Major League Baseball season to, well, maybe, possibly, make sort of, relatively definitive conclusions about players based on performance.
Right?
In other words, is it about the time to somewhat safely say that Jonathan Villar is an emerging star?
The Brewers third baseman entered the season as a somewhat intriguing, somewhat young (25) player who came over in a November 2015 trade with the Astros. Villar had ascended to the big leagues in Houston at the age of 22 and shown some speed but not a lot of on-base proclivity, hence a previous career-high of 263 at-bats, achieved in 2014. That has all changed dramatically this season.
Villar has seized the hot corner and the leadoff spot and entered Sunday's game against the Mariners with a .300/.384/.438 line, 48 stolen bases -- which ranks second in the National League -- 28 doubles, 43 RBIs and 66 runs scored.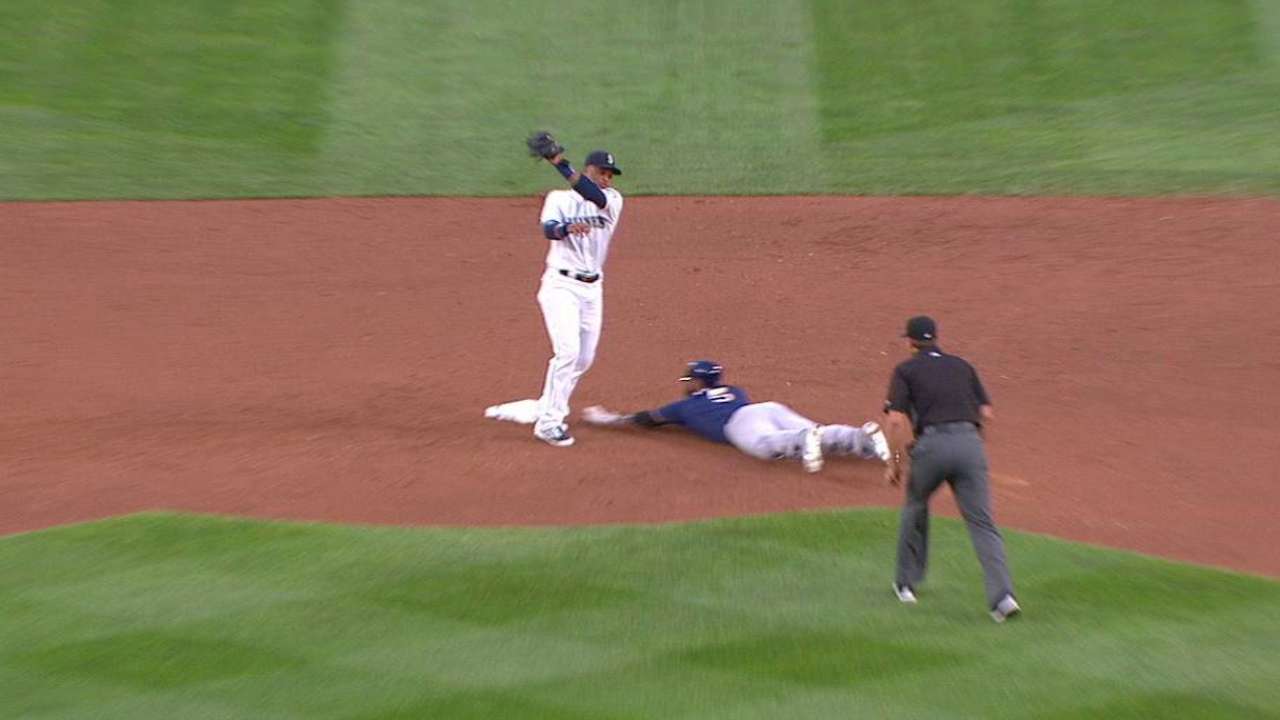 Brewers manager Craig Counsell said it was impossible to know that Villar would be this good this season, but he also said there's potential, particularly with power at the plate, for much more.
"It's obviously happening fast," Counsell said. "He got to the big leagues at a really young age, which I always think is telling. And he's a player that has a lot of skills, really. I think failure in the big leagues helped him, actually. He had to learn from it a lot and make adjustments for it, and he's still a player that is growing a lot with every day that he plays.
"Nobody has a crystal ball with this stuff. When [general manager] David [Stearns] acquired him, he thought he was a player that, if given another chance at a full-time role, that there was more to come, and he was right."
Birthday memories
Sunday was Counsell's 46th birthday, and he was asked, since his birthday comes smack in the middle of the baseball season, if he had recollections of great success during his decorated 16-year career as a big leaguer.
He laughed and then said, "I went 0-for-4, I can tell you that."
Retweet to wish #Brewers Manager Craig Counsell a happy birthday! pic.twitter.com/hWMVfalkya

— Milwaukee Brewers (@Brewers) August 21, 2016
When asked why that was his immediate response, Counsell said, "I just know that I played for a while, and I went 0-for-4 a lot, so there's a really good chance that I did it on my birthday."
Brewers public relations whiz Mike Vassallo quickly called Elias Sports Bureau for some details and got the facts: Counsell was a career .316 hitter (6-for-19) on Aug. 21, with two career RBIs. Not too shabby.
Despite the fact that he's now officially in his late 40s, Counsell proved that he's got a razor-sharp memory. He indeed did go 0-for-4 on a birthday, and it happened on No. 39 (2009) when he was on the Brewers and they were visiting the Nationals. But he forgot about his banner birthday in 2005, when the freshly 35-year-old went 3-for-5 with a double against the Reds.
Doug Miller is a reporter for MLB.com. Follow him on Twitter @DougMillerMLB. This story was not subject to the approval of Major League Baseball or its clubs.