AB by Chisenhall example of Tribe's resolve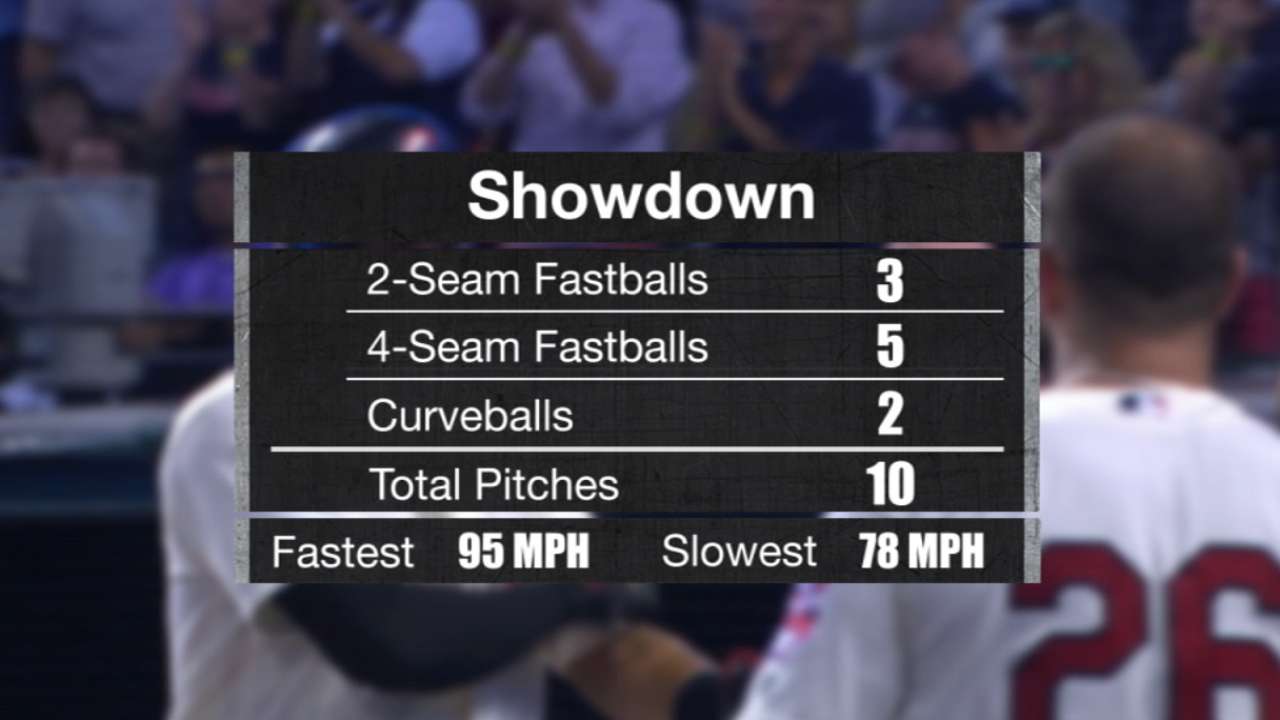 CLEVELAND -- Indians outfielder Lonnie Chisenhall didn't change his approach in his second at-bat on Saturday night. He just saw enough pitches, and Chisenhall was able to do what few people have done this year against Blue Jays righty Aaron Sanchez.
In Saturday's 6-5 loss, Chisenhall lifted the 10th pitch of his fourth-inning at-bat into the right-field seats, tying the game at 5 and giving the Indians' dugout new life. It was just the 11th home run Sanchez allowed all year.
"Being able to see that many pitches in a row, I was able to calm down," Chisenhall said. "It was a good swing. It was nice to come back right there and answer back after they put up a few runs and put us in a good spot."
According to Statcast™, the ball traveled an estimated 425 feet with an exit velocity of 105 mph. It capped a five-run fourth inning off Sanchez. Prior to Saturday, the right-hander had allowed two or fewer runs in nine of his previous 10 starts.
"I thought [Sanchez] last night was as good of stuff as you are going to see," Indians manager Terry Francona said. "Sometimes a couple at-bats can change the game. You don't see too many guys pull the ball on his two-seamer in the air. Lonnie did, and it doesn't happen very often."
It was Chisenhall's eighth homer and second in his last three games. What it further highlighted was Cleveland's ability to rally. The two previous games, Indians outfielder Tyler Naquin delivered consecutive walk-offs: One on a sacrifice fly to top the White Sox, and the other on an inside-the-park home run off Toronto closer Roberto Osuna.
And on Saturday when it appeared the Tribe was out of it, the team once again answered the bell, although the Indians did eventually drop a one-run game.
"You don't want to roll over, especially when you're trying to pick up games or extend a lead or just make your organization proud," said Chisenhall, who has driven in three or more runs a team-high seven times. "You go out there and you fight until the ninth and then come back and get them tomorrow."
It's a necessary trait for a team that has postseason aspirations, and one Chisenhall said the Indians developed well before sitting atop the American League Central.
"Since I've been here, we've had it," Chisenhall said. "Even two years ago, three years ago when we weren't even in it, we were still coming back in games and not giving up. That's something to have."
Worth noting
• Catcher Yan Gomes will go on the seven-game road trip with the team. Gomes has been on the disabled list since July 17 with a separated right shoulder. He will continue to do what he has been doing, which includes throwing at 90 feet.
"They felt like it would be good for him to make the trip with us," Francona said.
Shane Jackson is a reporter for MLB.com based in Cleveland. This story was not subject to the approval of Major League Baseball or its clubs.