Miscues loom large as Orioles drop series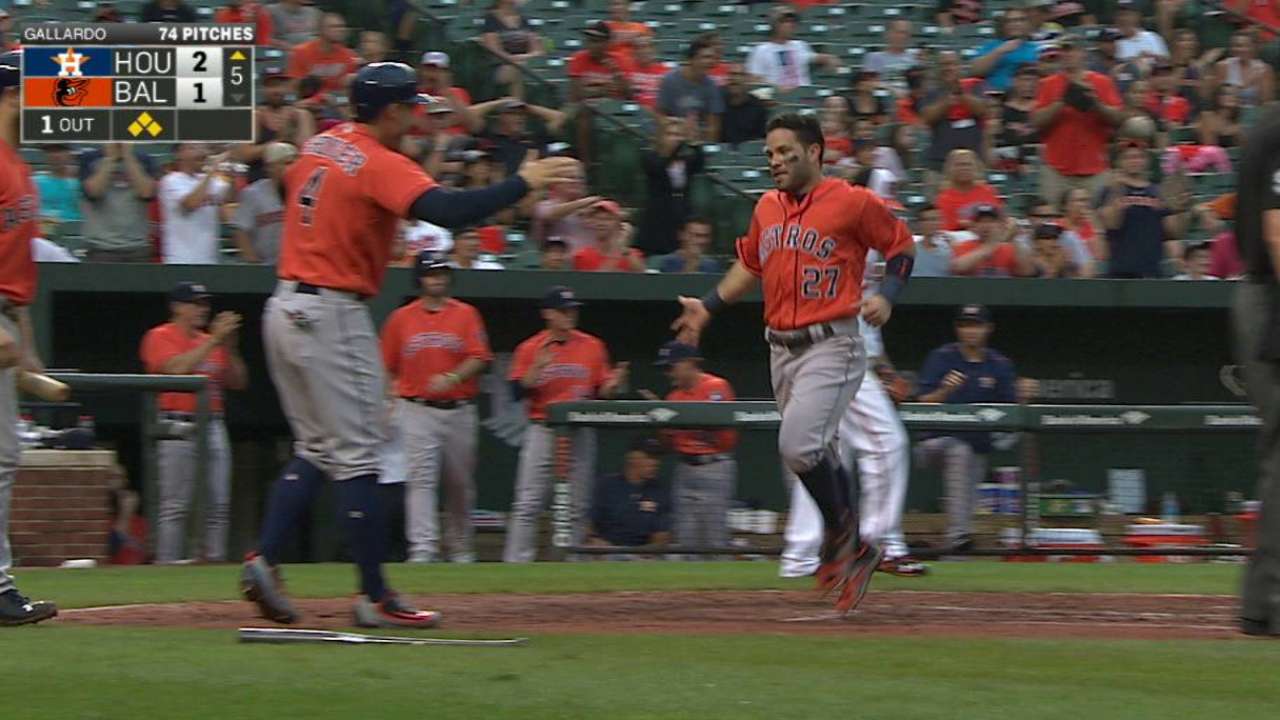 BALTIMORE -- Innings like the one the Orioles had in the fifth of Sunday's 5-3 loss happen over the course of a 162-game season, but they seem to sting a little extra in the midst of a 1-5 homestand in mid-August.
The Orioles could've had a scoreless frame if not for an error by Manny Machado and a liner that manager Buck Showalter said right fielder Chris Davis lost in the lights for what was ruled a two-run double. The defensive miscues led to three decisive runs for the Astros, who beat the O's for the third straight night.
"It's tough. It definitely is. That's how baseball is," said righty Yovani Gallardo, who allowed four runs (three earned) in seven innings. "It's just one of those things where we have to keep moving forward, keep working and try to turn it over tomorrow."
Gallardo induced a chopper to third to lead off the fifth that two-time Gold Glove Award winner Machado never secured. The Astros then sandwiched singles around a strikeout to take a 2-1 lead.
After an RBI single, Carlos Correa lined a ball into the right-center gap that Davis got to in stride. But the ball glanced off his glove, trickling to the wall to allow two more runs to score. If Machado and Davis are able to make the two plays, the Orioles head to the bottom of the fifth tied at 1. Instead, they trailed, 4-1.
"Chris is a good right fielder and maybe our best right fielder," Showalter said. "It got in the lights, and he just had to guess where it was. He almost made a great play."
Davis, the Orioles' everyday first baseman, was making just his third start of the year in right field.
Baltimore entered Sunday with a .987 fielding percentage, good for fourth in the Majors. But according to FanGraphs.com, the Orioles entered the day with -22 defensive runs saved, the 25th-worst mark in the Majors.
Ryan Baillargeon is a reporter for MLB.com based in Baltimore and covered the Orioles on Sunday. This story was not subject to the approval of Major League Baseball or its clubs.