O's prospect Bridwell debuts against Astros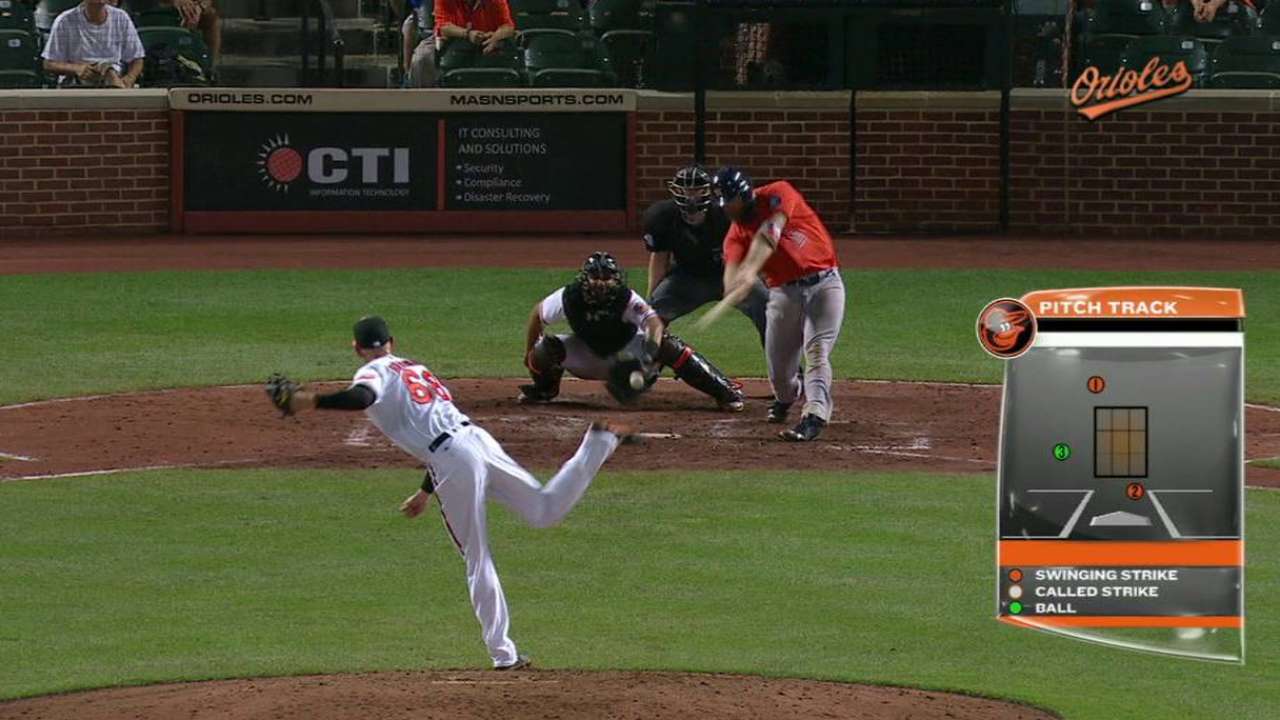 BALTIMORE -- The Orioles recalled right-handed pitcher Parker Bridwell from Triple-A Norfolk on Sunday morning to help add coverage in the bullpen. It didn't take long for Bridwell to pitch in.
Bridwell, the O's No. 27 prospect according to MLB.com, made his Major League debut in the eighth inning vs. the Astros. He allowed one run -- Jake Marisnick's homer -- over two innings in the O's 5-3 loss to Houston.
"Good. Real good. That's one thing. We feel confident that Parker's going to come out there firing," manager Buck Showalter said of Bridwell, who struck out Evan Gattis, the first batter he faced.
"He's going to say, 'Here it is,' and that's why everybody kind of liked him, especially in a potential bullpen role. Made one pitch-selection mistake. He sped up Marisnick, and you never want to throw him that pitch. Ever. But it barely got out. He pitched well. We needed those two innings pitched."
After Marisnick's homer, Bridwell rebounded to record a quick third out, then pitched a scoreless ninth to help save the rest of the bullpen.
"If I could put it into words, I would. It's just a dream come true. Just like any other kid," said Bridwell, who kept the ball from Gattis' strikeout. "I was pretty nervous before that first pitch. And then that kinda lifted a little weight off my shoulders. But it was fun. It was everything I expected."
Bridwell, who has pitched for four different Orioles affiliates at some point this season, was 4-2 with a 4.13 ERA over 69 2/3 innings in the Minors. He said Sunday he was pretty proud of himself for keeping his nerves mostly in check and for coming back strong in the ninth.
"Of course, I always pride myself on having a short memory," he said. "You can't do anything about it. You can't go get the ball back, take a run off the board. So, just move on and worry about the pitch that's coming next."
With the bullpen accounting for 14 1/3 innings the prior two nights, the O's have made multiple pitching changes. They recalled Odrisamer Despaigne for Saturday's game and sent him down following the 12-2 loss, after he allowed four runs in three innings. They also optioned Tyler Wilson on Friday.
Bridwell's outing helped get the bullpen, at least partially, back on its feet.
"Wait and see if [Vance Worley] and [Ubaldo Jimenez] need another day. Should be able to get [Brad Brach] and [Mychal Givens] back tomorrow, and [Donnie Hart]," Showalter said. "But there's a lot of things this time of year with guys, back-to-back outings with young pitchers is a challenge, because some of them haven't done it, and up here there's just a lot of moving pieces there that you have to stay on top of."
Brittany Ghiroli has covered the Orioles for MLB.com since 2010. Read her blog, Britt's Bird Watch, follow her on Facebook and Twitter @britt_ghiroli, and listen to her podcast. This story was not subject to the approval of Major League Baseball or its clubs.