Hoffman shows promise, poise in first look
Rockies' No. 3 prospect stung by bad luck in 4-plus innings vs. Cubs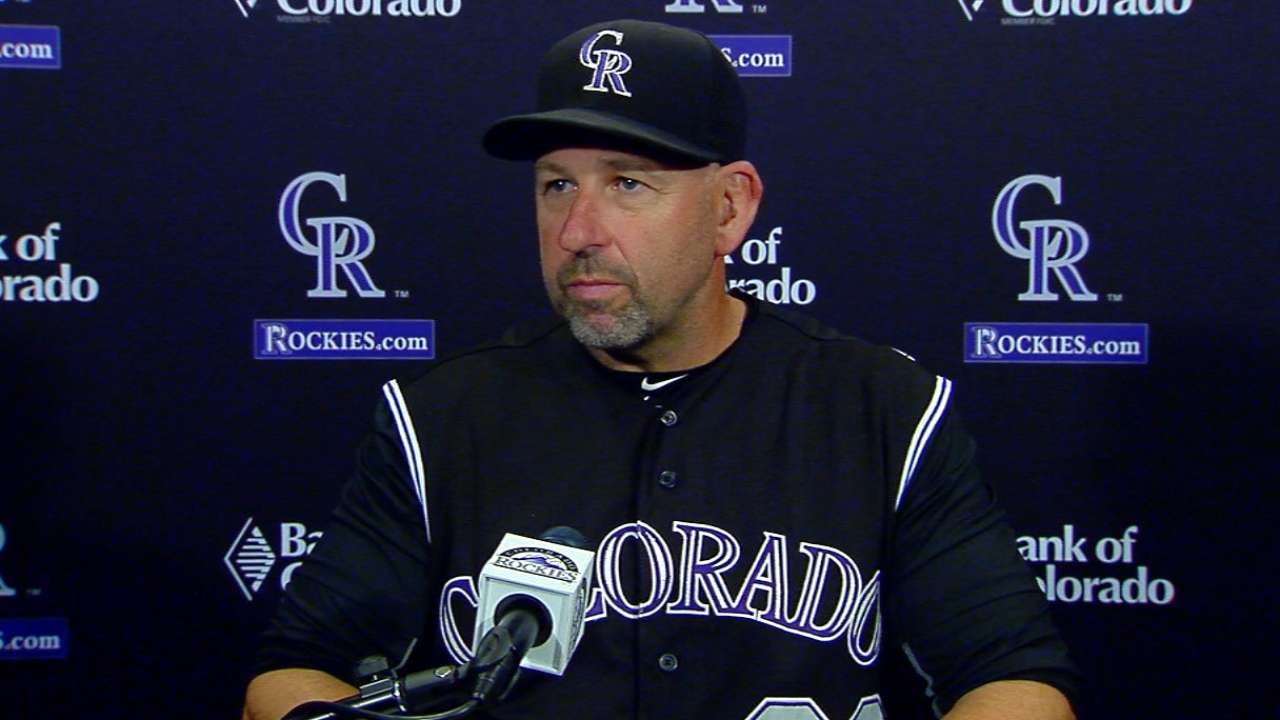 DENVER -- Rockies right-hander Jeff Hoffman's Major League debut Saturday, with Coors Field packed and loud, was pretty much like his dreams, except for the lack of nerves on his part.
"I don't know why that was," he said. "I was really expecting to be nervous, to be jittery, all that stuff."
Nervousness couldn't be blamed for his rough outing -- seven runs (six earned) and seven hits in four innings plus three batters in a 9-2 loss to the Cubs. It's hard to even blame Hoffman, the key prize acquired in last year's trade that sent shortstop Troy Tulowitzki to Toronto.
Hoffman -- the Rockies' No. 3 prospect -- was called up from Triple-A on Saturday, in part because of righty Tyler Chatwood's back injury and also because, as manager Walt Weiss said, "He's ready."
Hoffman breezed through the Cubs' heavy-hitting lineup first time through the order. Dexter Fowler singled to open the game but was erased on a double play, and Hoffman faced the minimum through three innings. Hoffman buckled Jorge Soler with an 84-mph slider for a strikeout to end the second, and blew a 96-mph fastball by Miguel Montero to open the third.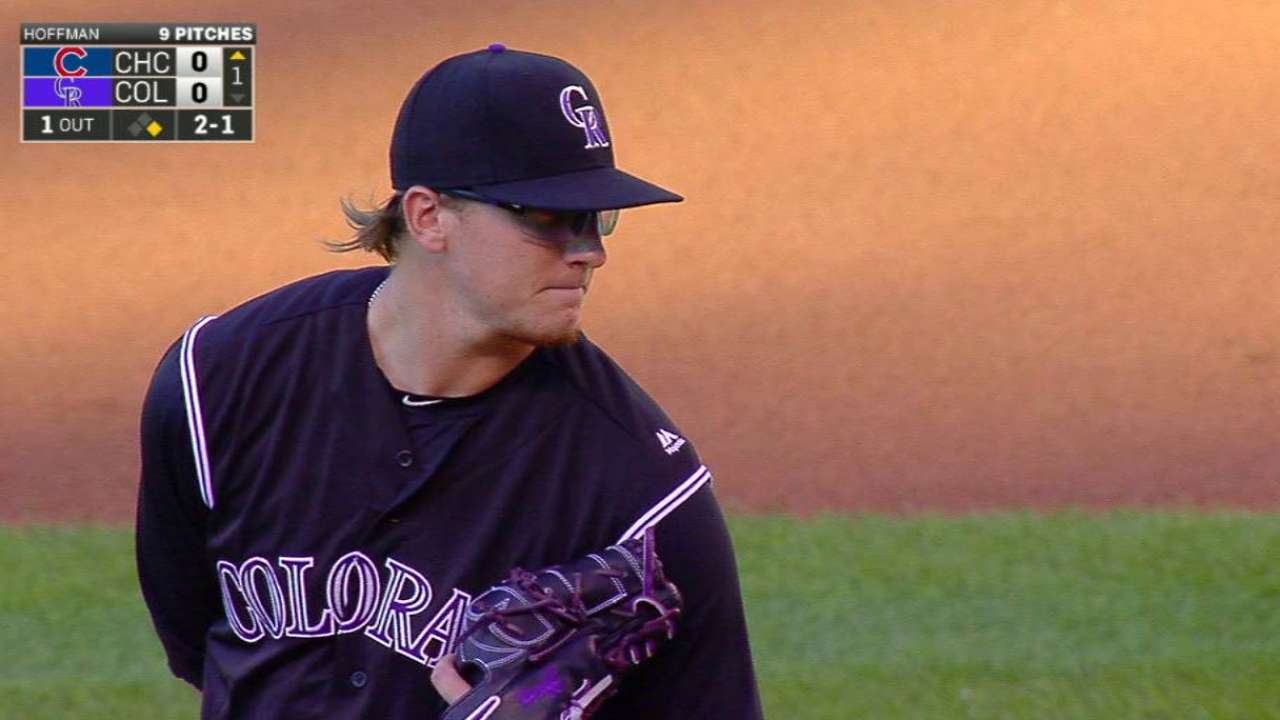 Bad luck was no small part of how his night began unraveling in the fourth.
Fowler singled again, and raced to third when Hoffman's low pickoff throw eluded Ryan Raburn -- making a rare start at first base. Hoffman and Kris Bryant then battled out a 10-pitch at-bat that ended with Bryant poking a fastball through a hole opened by a shift that put second baseman DJ LeMahieu on the third-base side of the infield.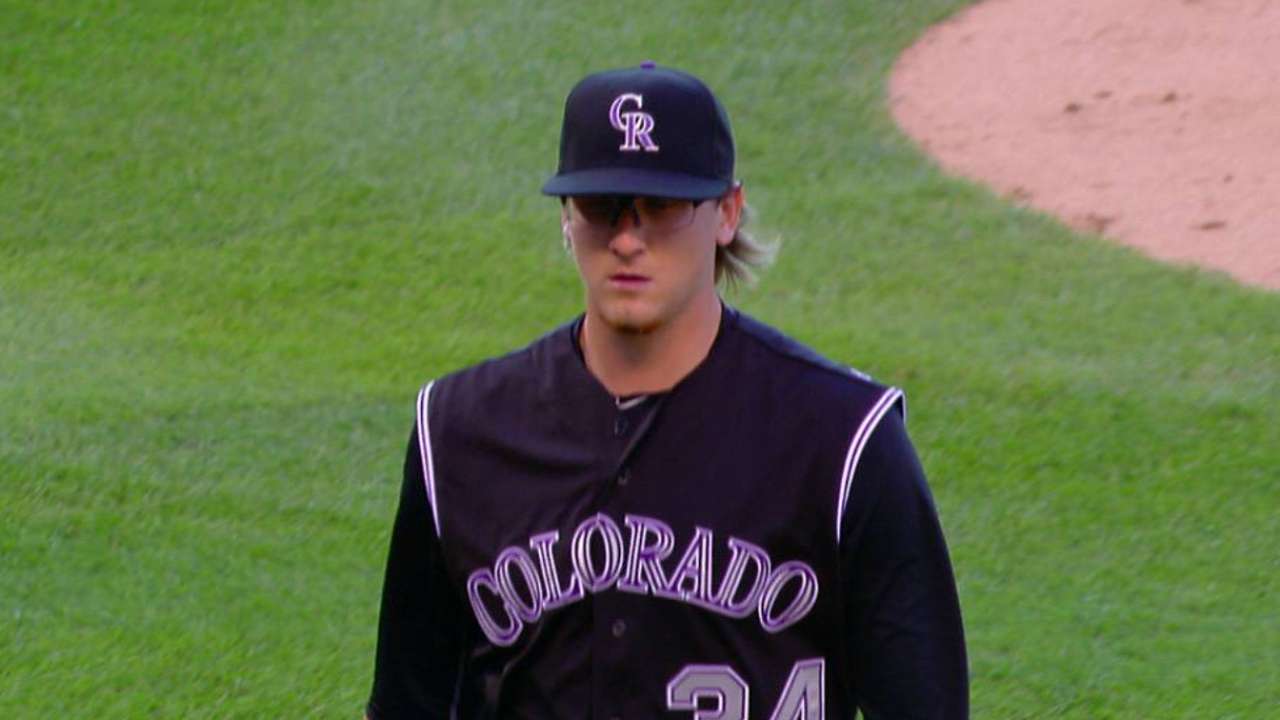 The Cubs had five hits in the fourth, three on shift-beaters along the ground. One of them was Montero's single that dribbled through the right side to drive in two runs.
In the fifth, Raburn's fielding error, a walk to Fowler and Bryant's 31st homer of the season for three runs ended Hoffman's start.
Hoffman noted that he worked down in the zone throughout, so he and catcher Nick Hundley discussed some eye-level raising strategies that can be part of his start next Friday at Washington. But of his 77 pitches, two -- Ben Zobrist's fourth-inning double and the Bryant homer -- and two Fowler singles were hit solidly. Beyond that, the Cubs found holes.
Hoffman acknowledged that some ground balls simply went where fielders weren't. But he also didn't excuse himself from trying to improve. Part is working in better counts, part is pitch selection.
"Late in the count to Bryant [on his fourth-inning single], you can't give in," Hoffman said. "I thought I threw a pretty good fastball on the outer half, but as good a hitter as he is, he shot it the other way and found a hole. Next time, maybe I go with something different. I had so much confidence in my changeup tonight; maybe I throw it and he rolls it to the other side."
Weiss said, "There's a lot to like about the kid. He showed good stuff, good poise. He's going to be a good one."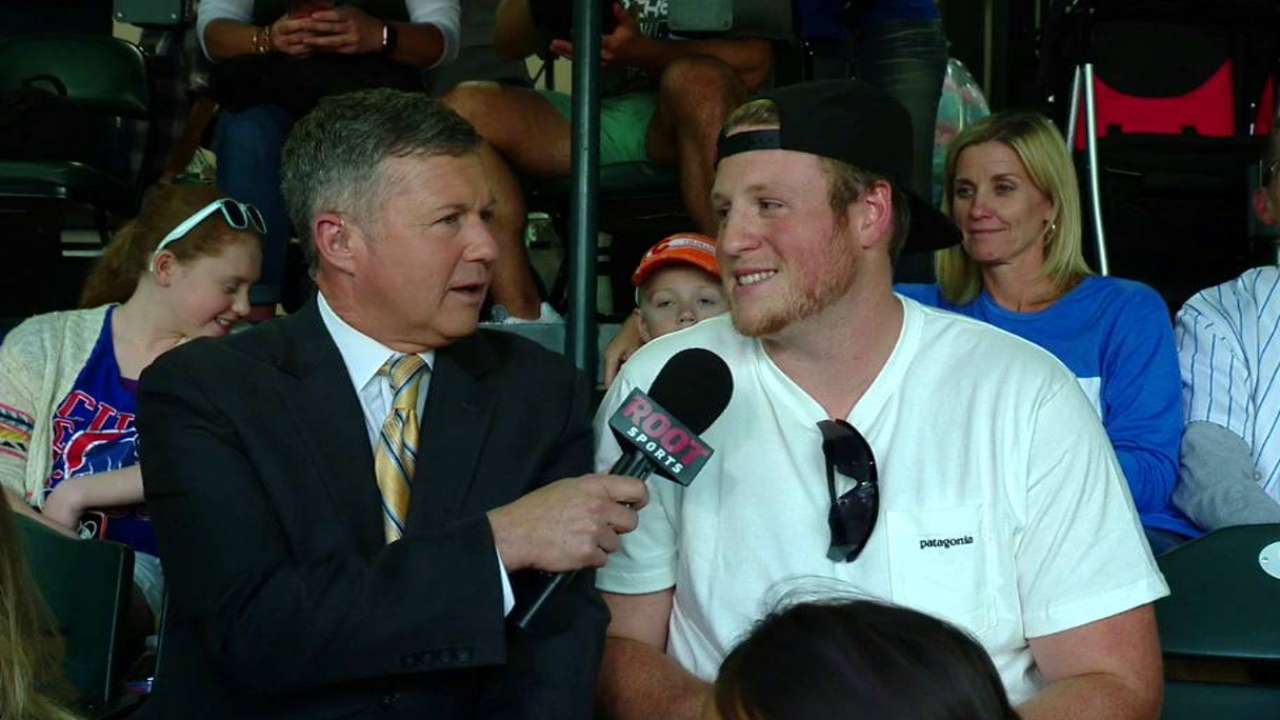 Thomas Harding has covered the Rockies since 2000, and for MLB.com since 2002. Follow him on Twitter @harding_at_mlb, listen to podcasts and like his Facebook page. Ben Weinrib contributed to this report. This story was not subject to the approval of Major League Baseball or its clubs.