Phelps puts on show in front of family, friends
Cheering section of about 85 watch ex-reliever continue to thrive as starter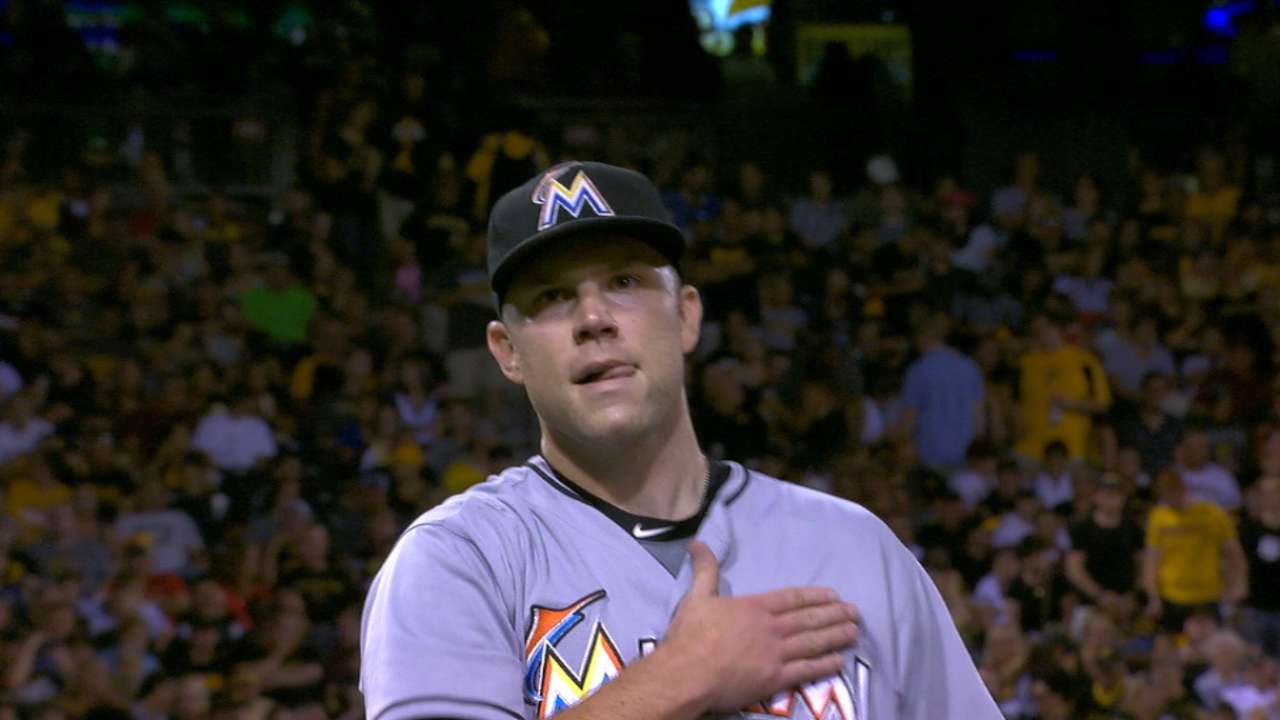 PITTSBURGH -- For David Phelps, Saturday night was a bit of a homecoming and a family affair for the 29-year-old right-hander.
With roughly 85 family members and friends on hand, Phelps turned in one of the finest performances of any Miami starter this season, striking out nine in six scoreless innings in a 3-1 Marlins win over the Pirates at PNC Park.
After closing out his night by striking out Andrew McCutchen looking at a 90.6-mph cutter to end the sixth, Phelps motioned toward his wife, Maria, and his large cheering section on his way to the dugout.
"I think about where I've been in my career and the sacrifices my family has made for me," Phelps said. "My wife's family has been so supportive."
Phelps makes Pittsburgh his home year-round, and for one night, he had his vocal contingent rooting for the Marlins in a game with postseason implications. Miami moved a half-game past the Bucs and 1 1/2 games behind the Cardinals for the second National League Wild Card spot.
"That's what it's all about," Phelps said. "They've been so supportive throughout my career, coming to Pittsburgh, where they're all diehard Pirates fans. That they can put on Marlins stuff for one night is pretty awesome."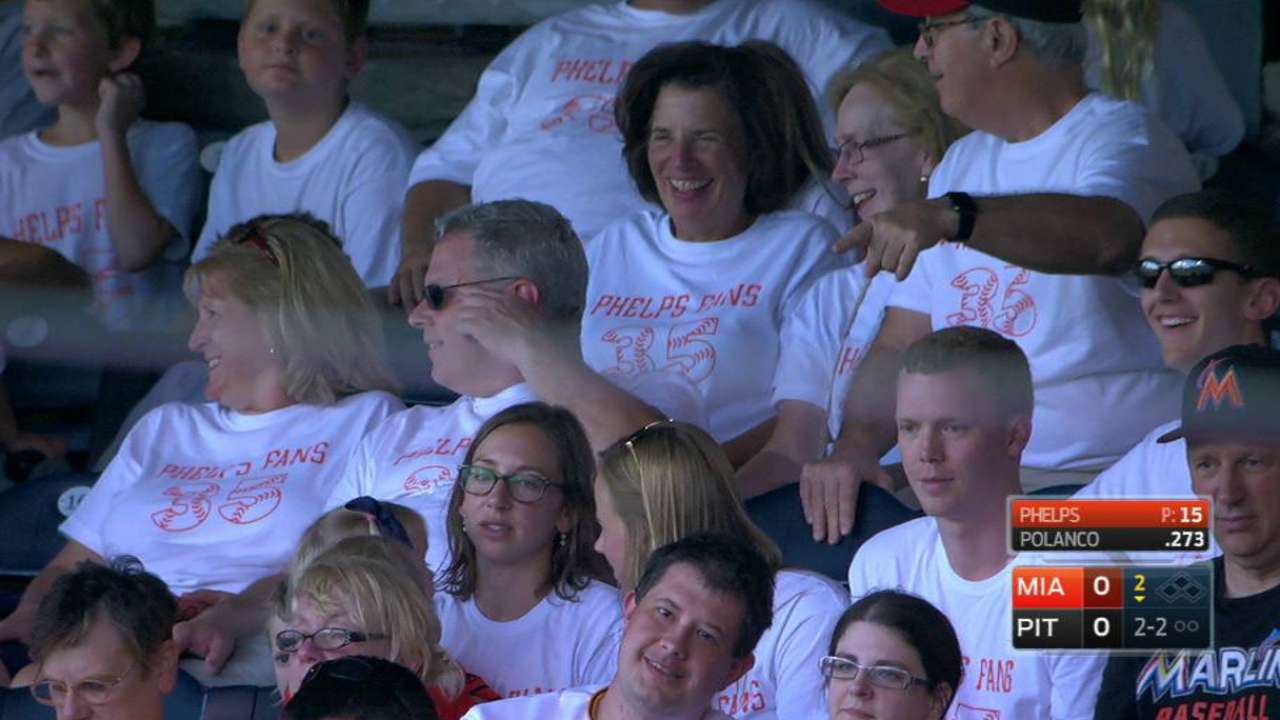 Phelps clearly put on a show, carving up the Pirates on pitches that darted back and forth across both sides of the plate. He allowed just two hits. The nine strikeouts match his single-game high previously set when he was with the Yankees. On April 26, 2013, against the Blue Jays, he also fanned nine.
"He's a guy that locates really well," manager Don Mattingly said. "And he can crisscross both sides of the plate. If you can crisscross both sides of the plate, you've got action. You're talking about a guy who can move the ball both sides of that corner."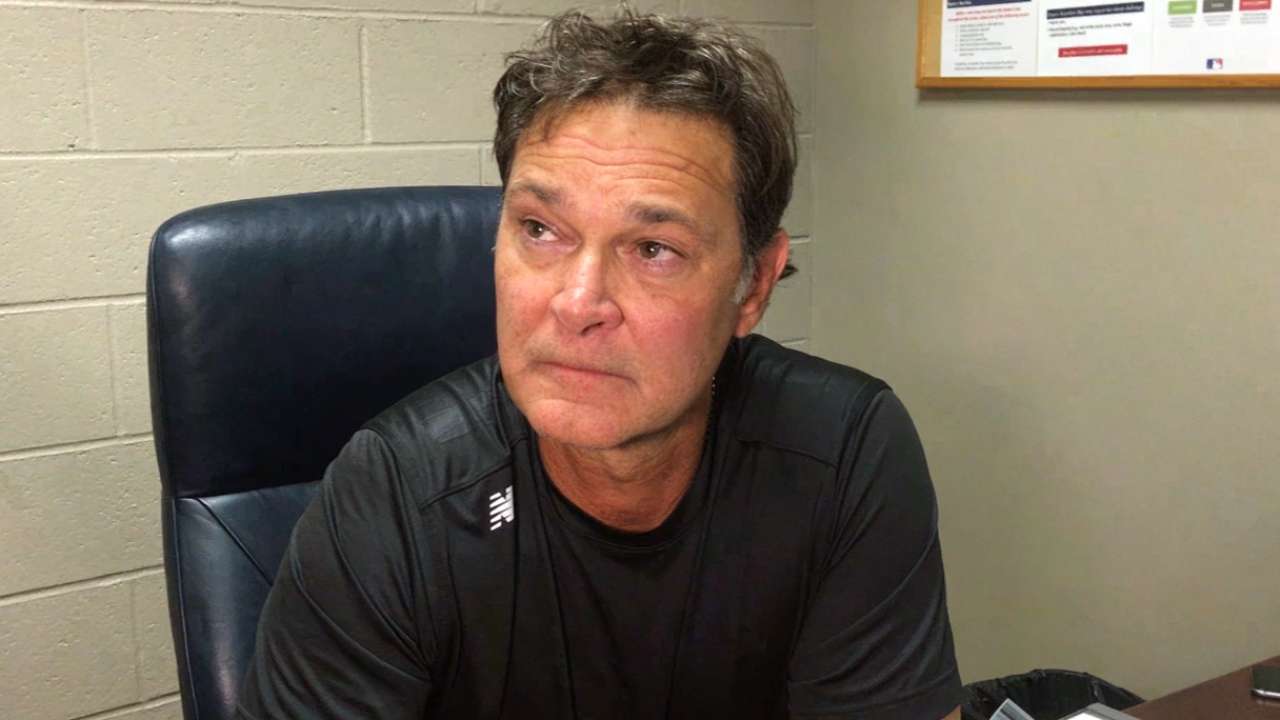 By crisscrossing, Mattingly means Phelps has pitches that can break in both directions, making him difficult to hit. The righty's cutter and curveball break in one direction, while his sinker, or two-seam fastball, and changeup move downward in the opposite direction.
"As a starter, he's using his other pitches," Mattingly said. "He's using his curveball more, and he's using his changeup more."
Phelps has been a hybrid on the Marlins' staff. He opened the season as a long reliever before switching to a late-inning setup role. Phelps even has three saves, and he's pitched in all nine innings. In four starts, his ERA is 1.31 with 26 strikeouts in 20 2/3 innings.
"Health goes a long way," Phelps said. "I credit our training staff, getting me ready to go day in and day out."
Phelps praised trainers Dustin Luepker and Mike Kozak and strength and conditioning coordinator Ty Hill for keeping him ready for every situation.
"I joked with Dustin moving into the rotation that his job was going to get a lot tougher," Phelps said. "The way we're at right now, it's all hands on deck. If they need me to pitch the fifth, that's what I'll do. I got a taste of the postseason my rookie year and I'm fighting like heck to get back. Whatever they need me to do, I'll do it."
Joe Frisaro has covered the Marlins for MLB.com since 2002. He writes a blog, called The Fish Pond. Follow him on Twitter @JoeFrisaro and listen to his podcast. This story was not subject to the approval of Major League Baseball or its clubs.