MLB.com Columnist
Jon Paul Morosi
Mookie's a good Betts to win AL MVP Award
Red Sox's superstar outfielder already turning heads around baseball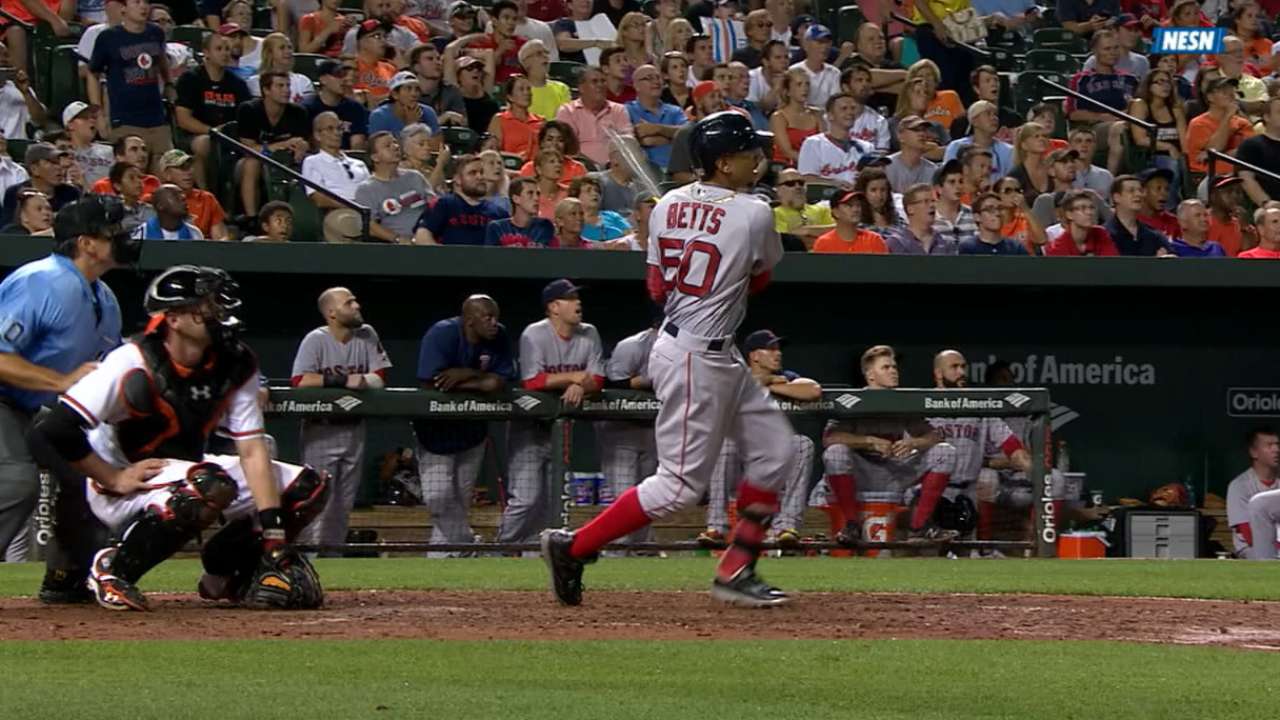 DETROIT -- David Price is a Vanderbilt-educated Cy Young Award winner. He's made five All-Star teams. He surrendered Derek Jeter's 3,000th hit. Among the past eight American League MVP Award winners, five of them were Price's current or former teammates -- including Josh Donaldson in Toronto last year.
Price knows talent. So let's pay close attention to what he said Saturday, when asked about resplendent Red Sox teammate Mookie Betts.
"Right now, I think he's the best player in all of baseball," Price said. "I have the utmost respect for Donaldson and Mike Trout and Jose Altuve. But Mookie's been special. And when a guy has never done it before, that makes it a little more special.
"Watching him last season, I said, 'He's Andrew McCutchen Jr.' He's got a pair of the quickest hands in baseball. That was McCutchen: It didn't matter how hard you threw. If you tried to throw a fastball in, he was going to hit it really hard to left field. It's the same thing with Mookie.
"Early this year, teams would shift him, put three infielders on the left side. But then he hits a ground ball to the right side for a single, steals second and scores a run. That shuts down the shifting."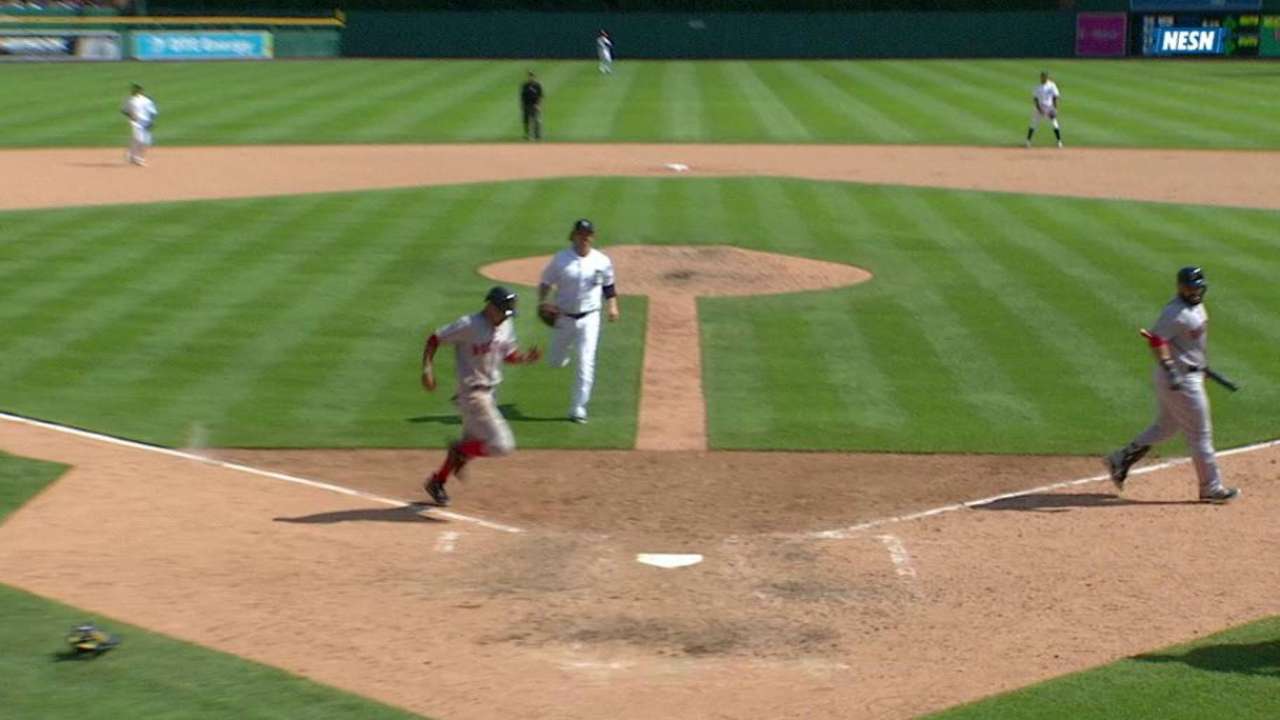 Betts is a dashing, leaping, slugging antidote for a sport concerned about its "pace of action," to borrow a favorite phrase of Commissioner Rob Manfred. Home runs? He hits them (28 this year, one behind David Ortiz for the team lead) and can deny them with spectacular catches. Betts' basestealing ability -- he leads the Red Sox with 19 -- has been slowed only by a new assignment: He's batted cleanup five times over the past week, going 7-for-19 (.368) with two home runs and five RBIs.
That's right: As Ortiz nears the end of his storied career, he's protected by a 5-foot-9 right fielder in his second full Major League season. The arrangement seems awkward only until you watch Betts lash line drives to left. Betts is on pace to be the first 23-year-old in MLB history with a season of 30 or more home runs, 20 or more stolen bases, an OPS of .900 or better and 100 or fewer strikeouts.
Increasingly, descriptors like "superstar" and "MVP candidate" have been ascribed to Betts. They are accurate. And they do not bother him.
"You have to embrace it," Betts said before Saturday's 3-2 win over the Tigers. "It's a matter of believing in yourself but also realizing how much more you still have to do. I trust all the work I've done in the offseason, and I know I can't stop and rest now."
Betts' stature makes him both exciting and relatable -- a key aspect of his marketing appeal in baseball's post-Jeter era. While he's a freakish athlete who starred in bowling and basketball at John Overton High School in Brentwood, Tenn., Betts is only slightly taller than the listed height of a diminutive baseball icon with a similarly distinctive first name: Yogi Berra.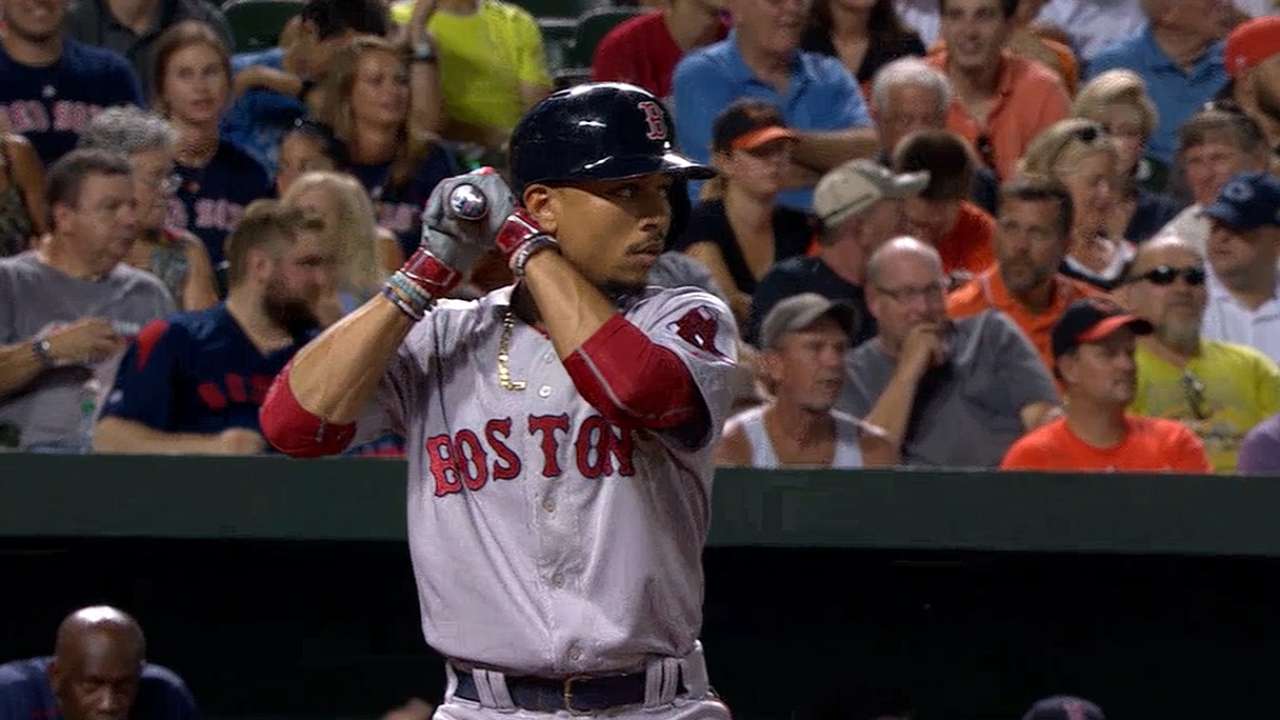 When Mookie homers over the Green Monster or makes a sprawling catch near the Pesky Pole, we have an easier time imagining ourselves in his spikes than, say, Giancarlo Stanton's after a 500-foot home run.
"He's on his way to being the next face of baseball," Price asserted. "He could do it."
As for Betts' recognizability among casual American sports fans, he has an advantage Trout, McCutchen and many others do not: He plays for the Red Sox, a franchise that -- like the Yankees in Jeter's early years -- provides the platform of a major East Coast market and likelihood of frequent postseason exposure.
"I can be a role model," Betts said. "Being black, I know that kids in the black community aren't playing baseball as often as they used to. I want to help the game grow.
"I know I'm not 6-foot-5 or 230 pounds, either ... I just try to swing as fast as possible. I don't have the strength of Miggy [Miguel Cabrera] or Stanton. I want to make the most of what I have. That's the mindset I take up there."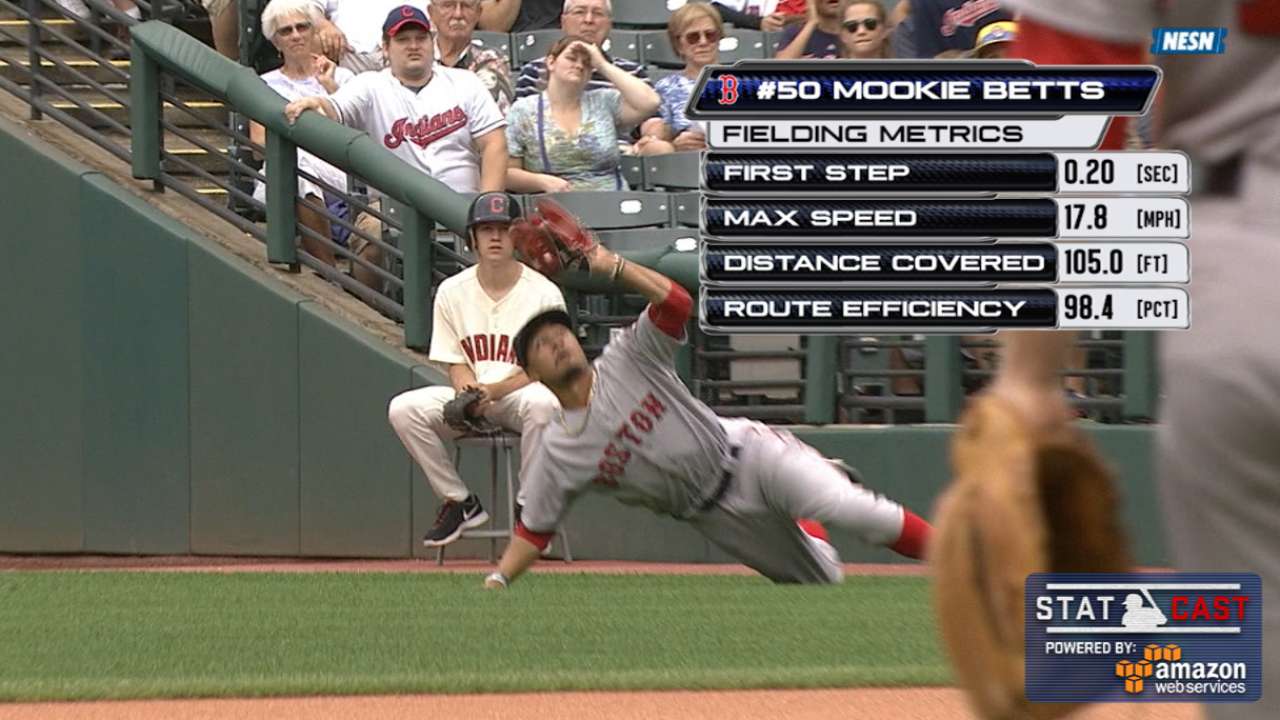 Price smiled when he was told of Betts' desire to be a role model.
"That talks about the way he was raised," said Price, a fellow Nashville-area native. "I know his mom and his dad. They're both quality people -- always in town, watching him play. I see how he treats his family, how he treats his friends. I went to his bowling event this offseason. Seeing him around his family and friends, you can tell he was raised right.
"It's special, to have a guy of his caliber, at such a young age, understand that what he does, doesn't just affect the Boston Red Sox. Kids from all over the place are watching this guy. Big leaguers are watching this guy. He's a special talent. He's wrapped his head around that at an early age, and that's good."
We're fortunate that Betts has come to prominence at a time when the sport has new tools to measure his excellence. According to Eric Nehs of MLB Network's research department, Betts is the shortest player among the top 30 qualifying hitters in average exit velocity.
Alex Speier of the Boston Globe noted earlier this year that Betts can be only the third player 5-foot-10 or shorter to have a 30-plus home run season at 23 or younger. The first two -- Willie Mays and Mel Ott -- are in the Hall of Fame.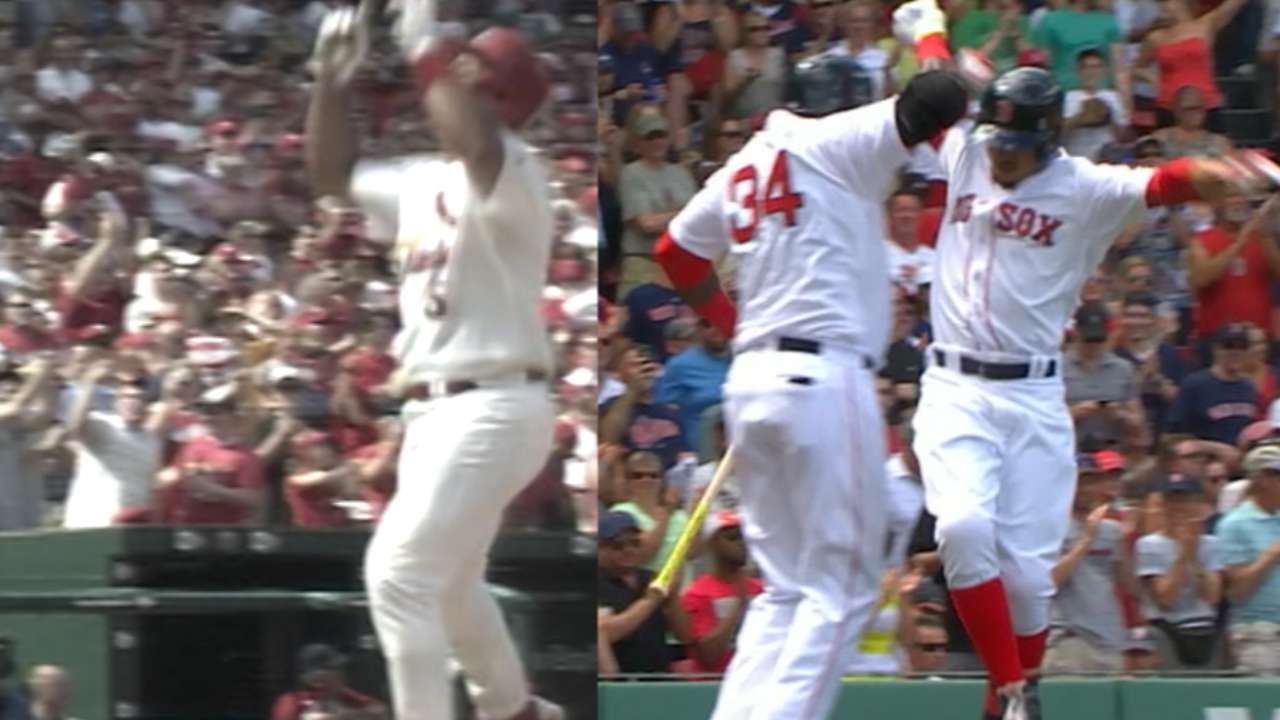 "He's a rarity," Red Sox starter Rick Porcello said of Betts. "I think probably the most comparable guy to him in the game right now is Trout, and that's just in regard to how many different ways they can impact the game and help you win -- defensively, with their arm, stealing bases, hitting for power, hitting for average. You take all those things into account, not a lot of guys in the game can do all of them, and do them so well.
"You see a lot of guys who have good swings but don't have a plan when they go to the plate. It gets exposed because they end up swinging at bad pitches. When you watch Mookie -- at his age, having the plan he has, knowing what he wants to do in certain situations -- it's way above what you would find in a 23-year-old. On top of that, he's got tremendous whip and force that he generates with his swing. He's only 5-foot-9 or 5-foot-10, but he's a strong kid. I mean, you see him take his shirt off, he's jacked. He's built for it."
Betts' candidacy for the AL MVP Award could track closely with the tightly contested AL East race, since Toronto (Donaldson) and Baltimore (Manny Machado) have bona fide candidates of their own. Whether Betts wins a World Series in October or the big award in November, his offseason is certain to include plenty of golf with Price, who has a substantial edge in experience.
For now.
"I'll take him on the golf course," Price said, smiling. "He hasn't played long enough. I've been playing since I was 6.
"But give him two more years, and Mookie could be pretty special on the golf course, too."
Jon Paul Morosi is a columnist for MLB.com. This story was not subject to the approval of Major League Baseball or its clubs.