Kivlehan announces presence with a bang
Padres rookie receives 200 text messages after record-setting debut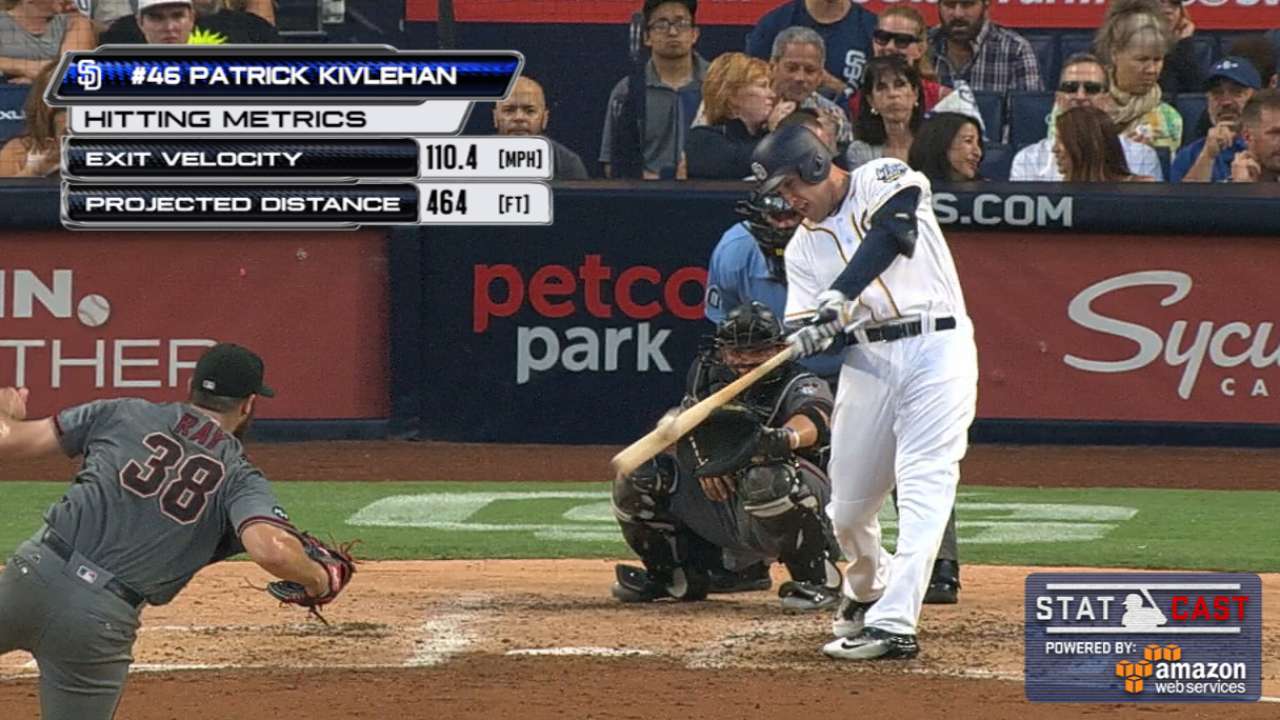 SAN DIEGO -- Patrick Kivlehan seemed to be the only Padres batter who had a read on D-backs starter Robbie Ray during Saturday night's 2-1 loss.
In his Major League debut, the 26-year-old rookie launched his way into the hit column -- and the San Diego record books -- with a 464-foot home run in the fifth inning, the only hit Ray surrendered on the evening.
"The first at-bat, I honestly don't even remember it. It went by so quick," Kivlehan said of his third-inning strikeout. "I was a little jittery. Kind of just took a couple deep breaths."
The deep breaths must have made a difference, because when Kivlehan turned around on the 96-mph fastball -- which left his bat at 110-mph -- he was responsible for the second-longest home run by a Padre in the Statcast™ era.
"Regardless of the outcome of the game, that's a pretty sweet moment," said Padres manager Andy Green. "The guy's dreamed about doing that his whole life, and his first, he hits [464] feet in the big leagues. That's really special for him, and it's something he should never forget. I'm sure he won't."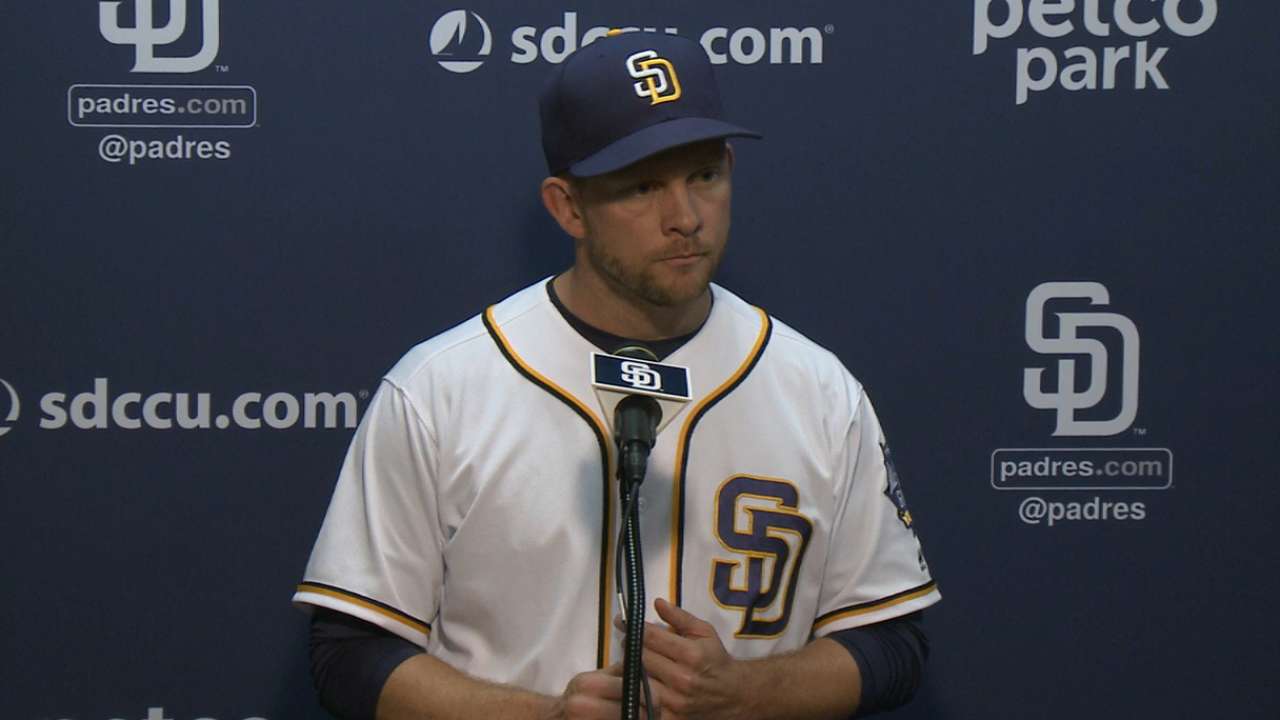 The former Mariner is still getting a feel for the San Diego clubhouse, of course -- asking a Padres PR rep if he was supposed to go to his locker when he noticed media waiting to talk to him -- but he has had a handful of familiar faces to help him out.
"When I came here it was kind of a familiarity just knowing a couple guys like [Cory Spangenberg] and [Travis] Jankowski," he said. "It was definitely a little comfort coming here, and just knowing some guys and you can rely on them on how to work here...
"It's definitely something to remember, definitely a great start. Kind of wish the ending would have been a little better, but all in all, a great night."
It would be hard for Kivlehan to forget about this moment, even if he wanted to, with more than 200 text messages waiting for him in the clubhouse after the game.
"It was pretty surreal. I hit it and I didn't feel it so that means that's a good thing," Kivlehan said. "I saw where it was going and I definitely knew I got it, and it's one of those feelings where you don't really know what to think as you're running around the bases.
"You're kind of floating around second and third."
Kivlehan went on to record a second hit in the eighth inning, going 2-for-4 in his first game in the bigs. He became the fifth San Diego player to homer in a Major League debut, joining Kevin McReynolds (1983), Jason Bay (2003), Eddy Rodriguez (2012) and Tommy Medica (2013).
Kivlehan also became the 10th player in franchise history to record a pair of hits in his debut, but the first of that group to homer as part of a two-hit debut game.
Carlos Collazo is a reporter for MLB.com based in San Diego. Follow him on Twitter @CarlosACollazo. This story was not subject to the approval of Major League Baseball or its clubs.