Roberto's redemption: Closer bounces back
Young righty retires part of Tribe lineup that gave him trouble day before for save No. 28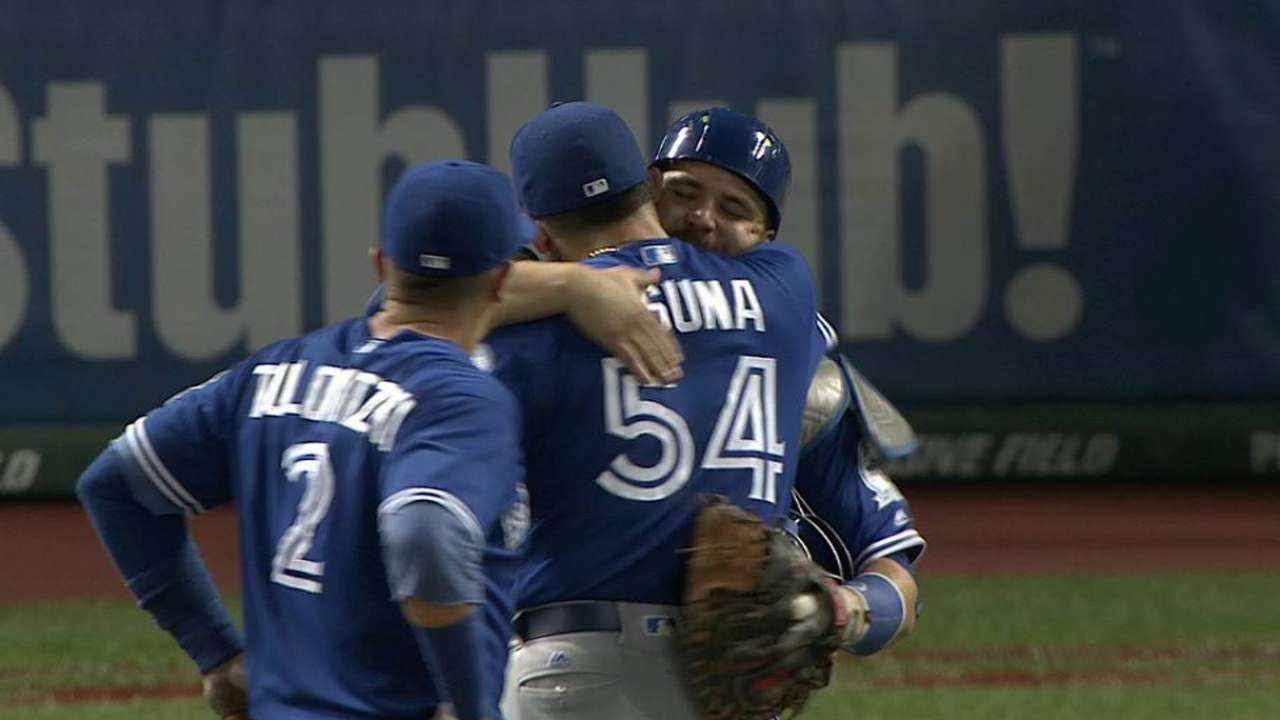 CLEVELAND -- Roberto Osuna only had to wait 24 hours to get the redemption he was looking for against the Indians.
One night after blowing a save in the series opener, Osuna was back on the mound and put the finishing touches on a 6-5 Toronto victory over Cleveland on Saturday. In an ironic twist, it also came against the same part of the order that caused so much difficulty the night before.
Jose Ramirez and Tyler Naquin each went deep on Friday night to complete a dramatic come-from-behind victory. Osuna received a second chance against them the following night, and he was flawless in a three-up, three-down ninth en route to save No. 28 on the season.
"It was really almost an identical scenario, where we were at in the lineup, who was coming up, all that stuff," Blue Jays manager John Gibbons said. "He answered the bell. He bounced back."
When Osuna jogged in from the bullpen to start the ninth inning Saturday, he was greeted by a familiar foe. Ramirez was waiting and looking to build on the success he had on Friday when the third baseman sent a poorly located changeup over the wall for a game-tying solo home run.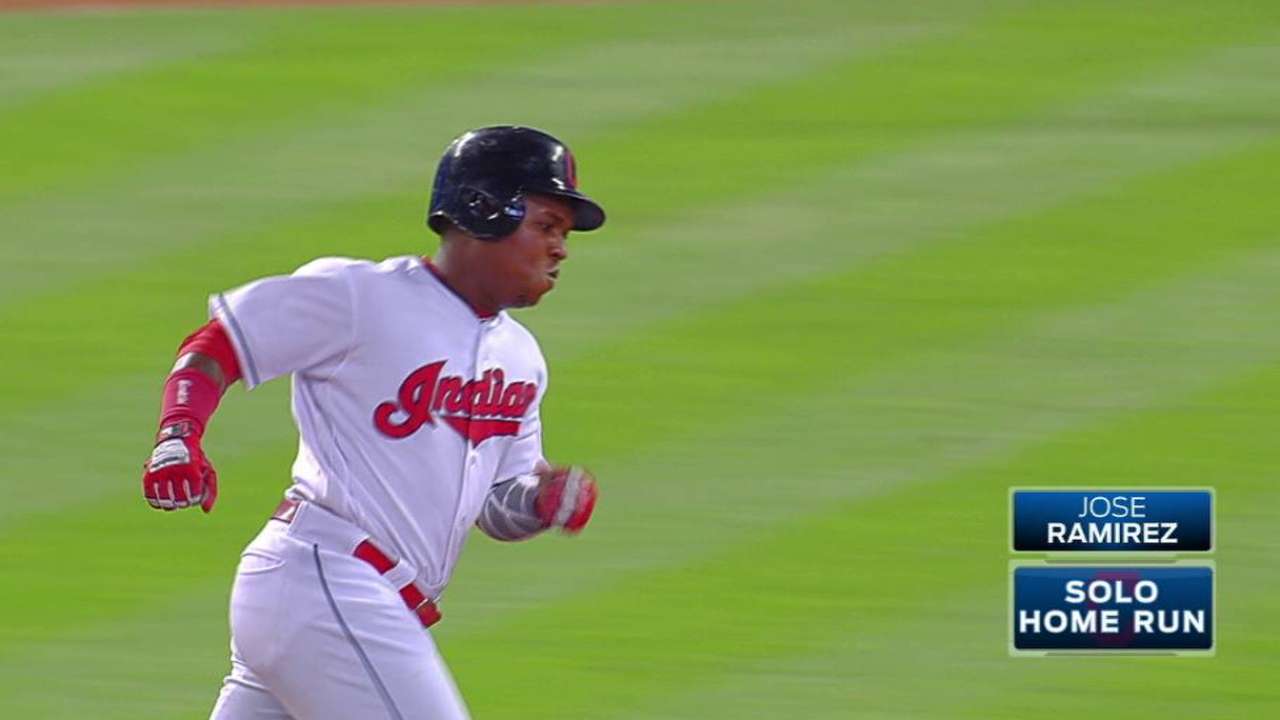 Osuna went to work and quickly got ahead of Ramirez, 1-2, before eventually getting him to fly out to left field on an 87-mph slider. The 21-year-old closer then struck out Lonnie Chisenhall on five pitches, but Osuna's demons could not be fully exorcised until he got the best of Friday night's hero.
Naquin delivered the final blow in the first game of this series when he hit a ball off the top of the wall in right field and did not stop running until he had a walk-off inside-the-park homer. On Saturday night, Osuna fell behind, 2-0, but then quickly evened the count and got Naquin to ground out to third on a 97-mph fastball.
"I'm not surprised," Blue Jays first baseman Edwin Encarnacion said through an interpreter of Osuna's performance. "He's really mature. I didn't talk to him yesterday, but I talked to him today, and he was fine. I wasn't worried about it."
Not to be overlooked in all of this is the continued success of setup men Joaquin Benoit and Jason Grilli. Both relievers tossed a scoreless inning of relief on Friday night and didn't allow any runs again on Saturday. Benoit has yet to allow an earned run in 10 innings for the Blue Jays, while Grilli has a 1.57 ERA over 28 2/3 innings.
Toronto's bullpen might have been a major concern earlier in the season, but it has been lights out since the Aug. 1 non-waiver Trade Deadline. There's a renewed sense of confidence inside the clubhouse and on the field that when the Blue Jays have the lead late in the game, they're going to hold onto it. Benoit, Grilli and Osuna are the reasons why.
"It kind of reminds me a little bit of last year, when the Royals would bring that 7-8-9," Blue Jays second baseman Devon Travis said. "These guys are incredible. They want to be in there every single day, and it's just important for us to play good defense behind them. They bring what they have to bring every day."
Gregor Chisholm has covered the Blue Jays for MLB.com since 2011. Follow him on Twitter @gregorMLB and Facebook, and listen to his podcast. This story was not subject to the approval of Major League Baseball or its clubs.