Hellickson puts back issue behind him vs. Cards
Right-hander becomes first Phillies starter to pitch 7 innings since July 26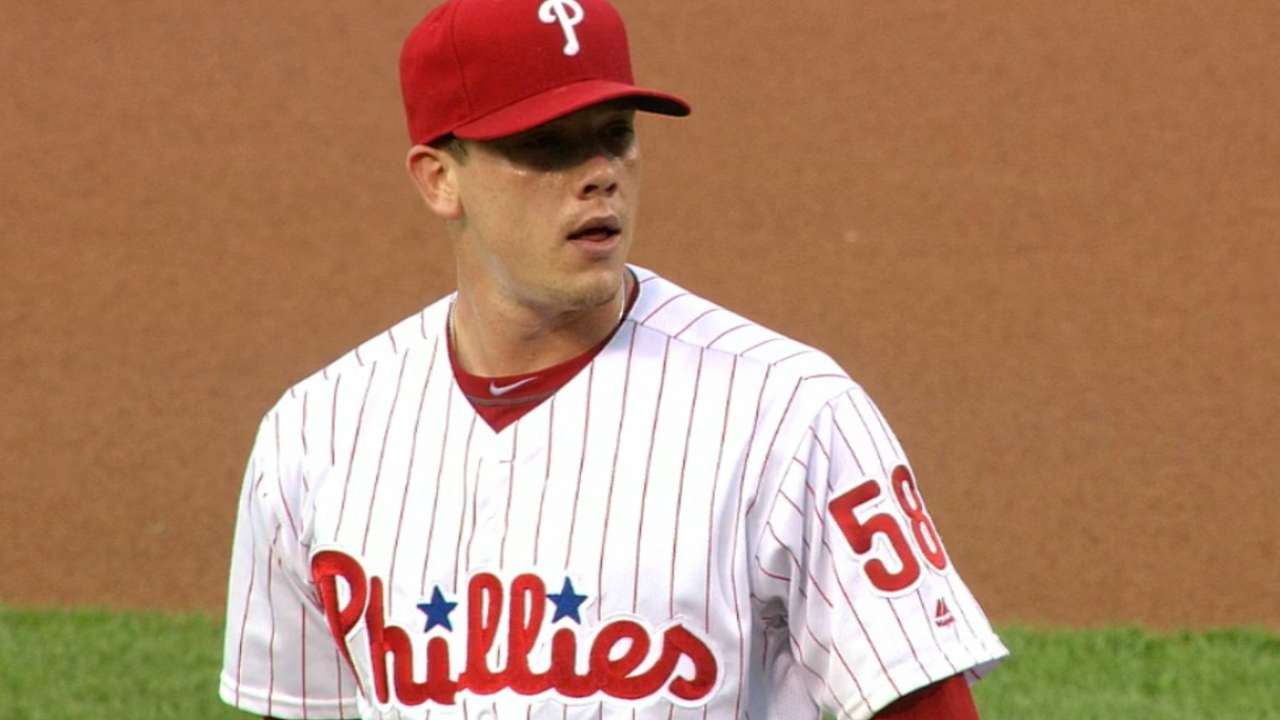 PHILADELPHIA -- Jeremy Hellickson's back is just fine.
Hellickson, who left his Aug. 10 start against the Dodgers at Dodger Stadium after he tweaked his back, allowed two runs in seven innings in Saturday night's 4-2 victory over the Cardinals at Citizens Bank Park. It was the first time a Phillies starter pitched seven or more innings since Jerad Eickhoff pitched seven against the Marlins on July 26, snapping the 21-game streak. The Phillies' rotation didn't pitch six innings in 15 of those games.
"I was [aware of it]," Hellickson said of the streak. "I heard it and read it, I don't know about the rest of the guys. It's really nothing we think about, though. It was good to save the bullpen a little bit tonight."
He said after his outing against the Dodgers that he did not expect to miss a start, although the Phillies pushed back his next scheduled start from Wednesday to Saturday.
"It was nice to have a few days to let it heal, but it really wasn't bothering me except for the day after," Hellickson said.
But other than Jeremy Hazelbaker's pop fly that carried just behind the left-field wall in the third inning for a game-tying two-run homer, Hellickson cruised. He retired 13 of the final 17 batters he faced.
"I think the biggest thing was just getting ahead," Hellickson said. "It's an aggressive lineup."
Todd Zolecki has covered the Phillies since 2003, and for MLB.com since 2009. Read his Phillies blog The Zo Zone, follow him on Twitter and listen to his podcast. This story was not subject to the approval of Major League Baseball or its clubs.