Angels DFA Giavotella, put Escobar on 7-day DL
Cron activated, Cowart recalled as infield gets a shakeup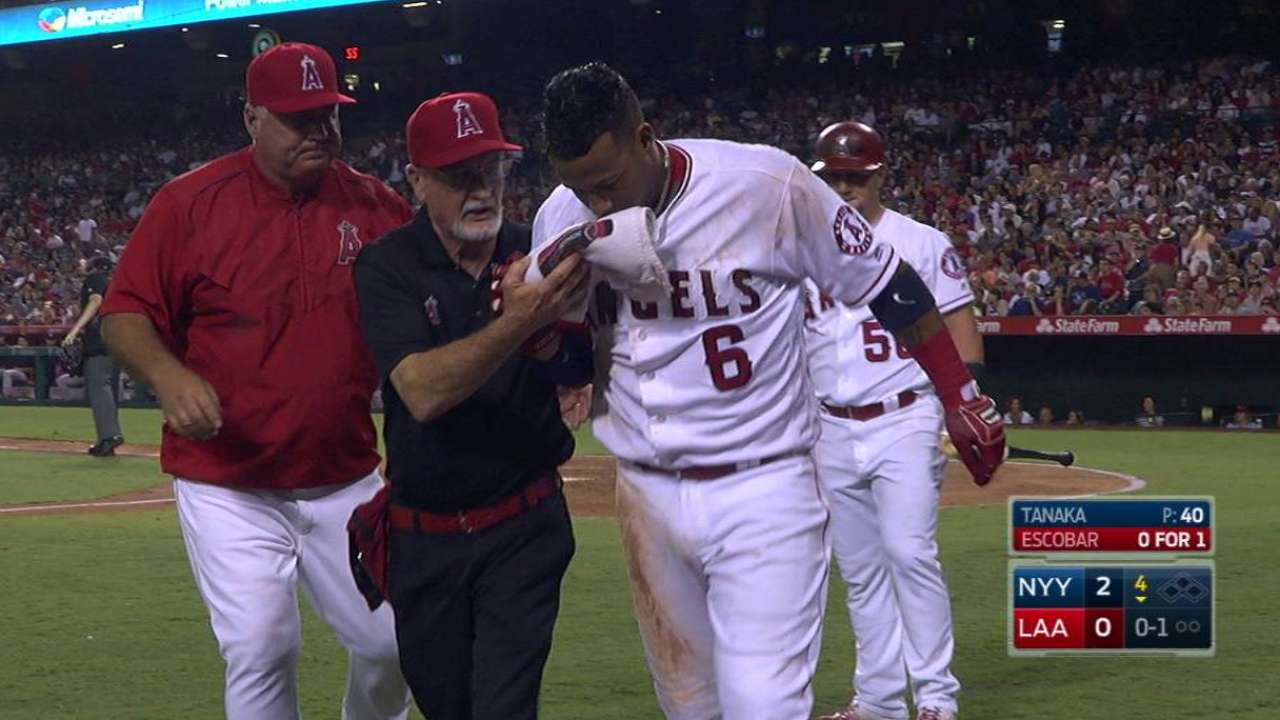 ANAHEIM -- The Angels will take a look at a number of players at second base for the final six weeks of the season after designating Johnny Giavotella for assignment on Saturday as part of a slew of roster moves that also included activating C.J. Cron from the disabled list, recalling Kaleb Cowart from Triple-A Salt Lake and placing Yunel Escobar on the 7-day concussion DL.
Angels manager Mike Scioscia said playing time at second would be split up between Cliff Pennington, Gregorio Petit and Cowart moving forward.
"We're going to take a look at a couple of other different avenues and hopefully get the production we need, both offensively and defensively, at second base," Scioscia said before Saturday's game against the Yankees at Angel Stadium.
Giavotella, who earned the everyday job at second in 2015, had seen his playing time diminish in recent weeks and had not appeared in a game since Sunday in Cleveland. Giavotella was hitless in his last 16 at-bats and had been passed on the depth chart by Pennington, who returned from the DL on Aug. 2.
Pennington, Petit and Cowart can all play multiple infield positions. Pennington, a switch-hitter, and Petit are better defenders than Giavotella, who hit .260/.287/.376 in 99 games this year and made 90 starts at second.
"Johnny, for a time, was an incredible sparkplug for us," Scioscia said. "But I think being just able to play second base, his opportunities had started to diminish, and not being versatile was going to be tough, especially if we were not going to commit to him to playing second base every day. It was going to be tough for him to get at-bats and to contribute."
Pennington, signed through next season, will have an opportunity to earn a larger role. He was hitting .281 over his last 19 big league games entering Saturday.
"I think Cliff is definitely going to be part of the rotation at second and part of the solution at second," Scioscia said. "We'll see how many days it turns into, how many days a week, but you definitely want to keep guys fresh and don't grind them too hard. We'll see how much Cliff can play. We have enough depth there."
With Escobar suffering a concussion after fouling a ball of his nose and cheek in Friday night's game, Scioscia said playing time at third base would be divided between Pennington, Cowart, Petit and Jefry Marte, who started there on Saturday. Escobar is second in the American League with a .320 batting average.
"We've got a lot of versatility," Scioscia said. "All the guys at second base can play third base also. We'll mix and match and move some guys around and see what lineup makes sense at a time."
Cron, six weeks removed from breaking his left hand, started at first base and hit sixth on Saturday.
Worth noting
• Reliever Cam Bedrosian (right middle finger flexor tendinitis) has not thrown in two days after beginning a throwing program earlier this week.
"He's in a little holding pattern right now," Scioscia said. "Hopefully he's moving in the right direction."
Laymance is a reporter for MLB.com based in Los Angeles. This story was not subject to the approval of Major League Baseball or its clubs.