Garret Anderson joins Angels Hall of Fame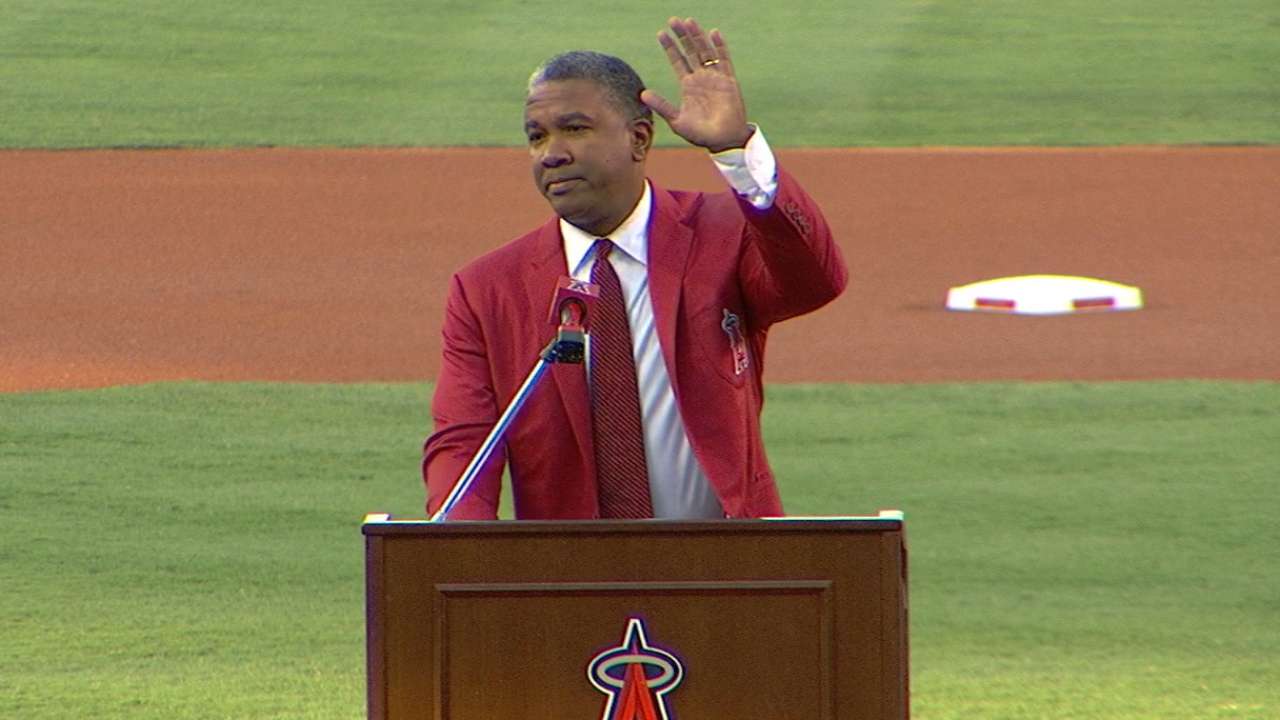 ANAHEIM -- Garret Anderson rarely wears his World Series championship ring from 2002, but the Halos' former outfielder proudly brought it out Saturday for a special occasion, as he was inducted into the Angels Hall of Fame in a pregame ceremony on the field at Angel Stadium.
"I had to actually knock the dust off it," said Anderson, who had a three-run double in Game 7 of the Fall Classic all those years ago. "It's been sitting in the drawer. I never wear it. I made sure I had it today and wore it out. It brings back memories, and it's almost sometimes has me thinking, 'Did it really happen?'"
Oh yes, it did happen. Angels fans certainly haven't forgotten. That was abundantly clear during a touching ceremony to welcome Anderson as the 14th individual inducted into the organization's Hall of Fame.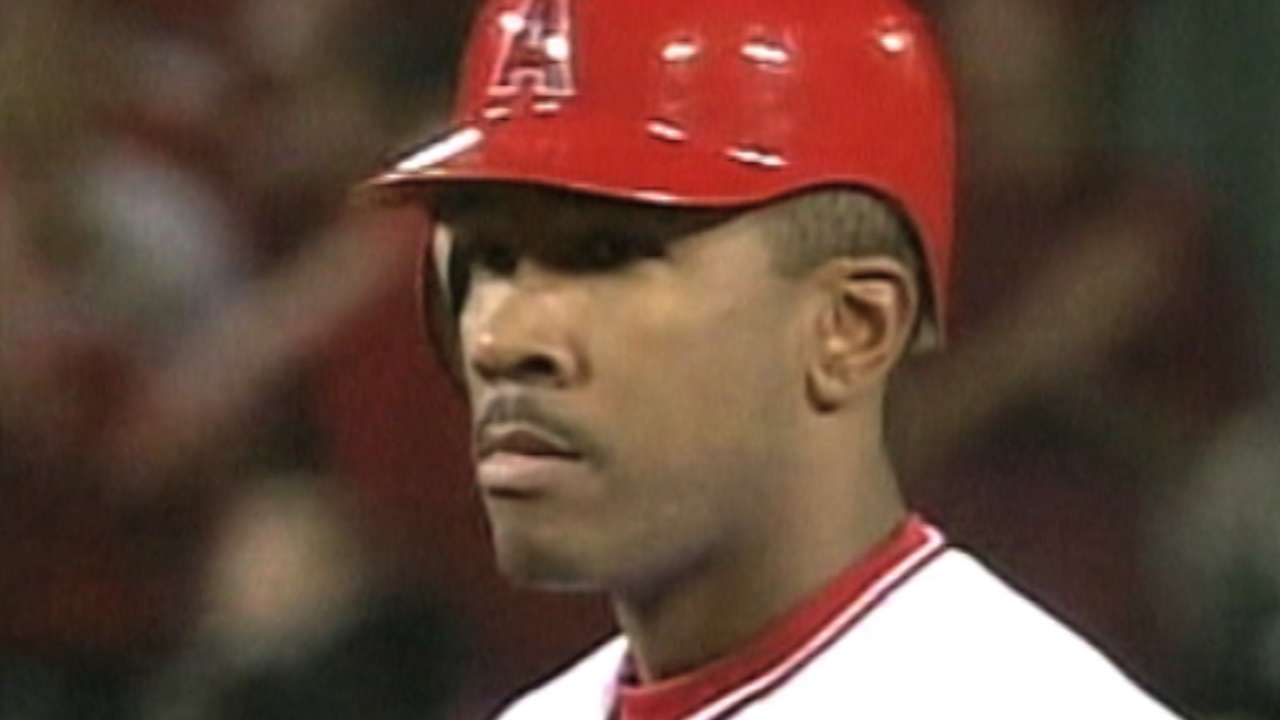 Anderson received standing ovations from the crowd before and after a brief speech in which he thanked those who made an impact on his decorated big league career.
One of the most productive hitters in franchise history, Anderson remains atop the Angels' all-time list in a number of offensive categories: at-bats (7,989), runs (1,024), hits (2,368), total bases (3,743), extra-base hits (796), doubles (489), RBIs (1,292) and games (2,013). He ranks second with 272 home runs, trailing former teammate and fellow Angels Hall of Famer Tim Salmon (299).
Anderson was never an outspoken player during his 15 seasons with the Angels, from 1994-2008. So it wasn't a surprise that he couldn't put into words exactly what his induction truly meant to him, though he did his best to communicate his feelings.
"When someone takes the time to honor you for your accomplishments, to me it's very humbling," said Anderson, who keeps himself busy by spending time with his family and taking classes at Irvine Valley College. "It doesn't have to be done. To be part of an organization that does have a rich tradition and to be a part of that and to get in where those other guys are that have gotten in before me, it means a lot. It hasn't really sunk in yet."
Angels manager Mike Scioscia had plenty of praise for Anderson, whom he managed for nine seasons.
"I think out of all the players that have come through here, there aren't many who have been as talented as Garret," Scioscia said. "I think his passion to play this game was very real, and although maybe it didn't manifest itself the way it did with some other players, Garret played hard, he wanted to win.
"He's got that internal competitive nature that every great player has to have, and he was really the foundation of our championship run back in 2002 and for many other years. He just was a terrific talent and a terrific person."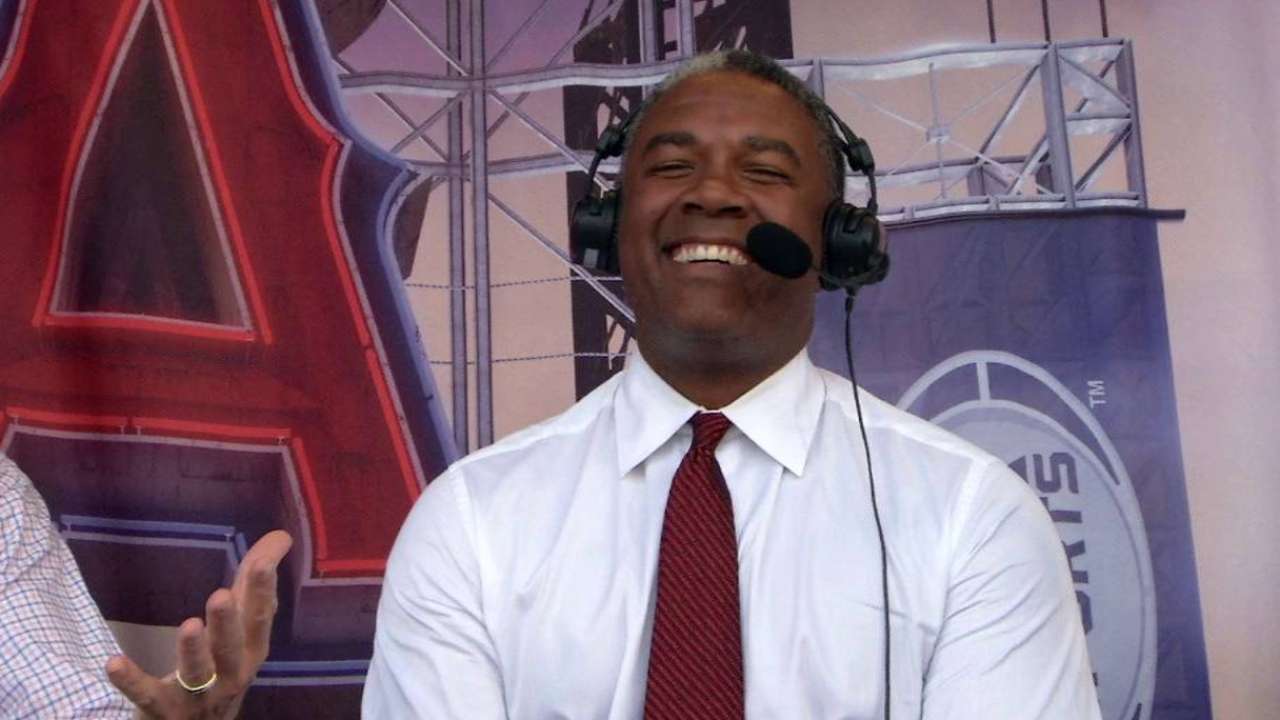 Saturday's ceremony made it clear just how much Anderson was beloved by his former teammates. Torii Hunter, Darin Erstad, Troy Percival, Gary Matthews Jr., Jim Edmonds and Adam Kennedy were among those in attendance. Hunter and Percival took the dais to tell anecdotes about playing alongside Anderson. Chone Figgins sent along a few remarks, and Chili Davis appeared in a message on the stadium video boards.
"There's a lot of players that I think pushed this organization to a higher level, and there's no doubt that Garret was a huge part of that," Scioscia said. "When you start to see some of the players that represented the Angels in the way guys like Garret did, with a championship and with playing the game at such a high level for a long time, for them to be honored in an event like this, it has special meaning."
The Angels played a special video package during the pregame ceremony and played select Anderson highlights during the evening's 5-1 loss to the Yankees.
Anderson's initials were painted in left field, where he starred for the Halos.
Anderson follows previous Angels Hall of Fame inductees Bobby Grich (1988), Jim Fregosi (1989), Don Baylor (1990), Rod Carew (1991), Nolan Ryan (1992), Jimmie Reese (1995), Brian Downing (2009), Chuck Finley (2009), Gene Autry (2011), Bobby Knopp (2013), Dean Chance (2015), Mike Witt (2015) and Salmon (2015).
"The inclusion of Garret into the Angels Hall of Fame will be a special moment for our organization and a fan base fortunate to watch his numerous contributions in an Angels uniform," said Angels owner Arte Moreno, who presented Anderson with his Angels Hall of Fame ring. "Garret was the model of consistency during his 15 seasons with the Angels, and we are proud he will be joining this distinguished group of Angels."
Laymance is a reporter for MLB.com based in Los Angeles. This story was not subject to the approval of Major League Baseball or its clubs.