Torreyes answers Yankees' call
Rookie getting extended look while Headley battles sore heel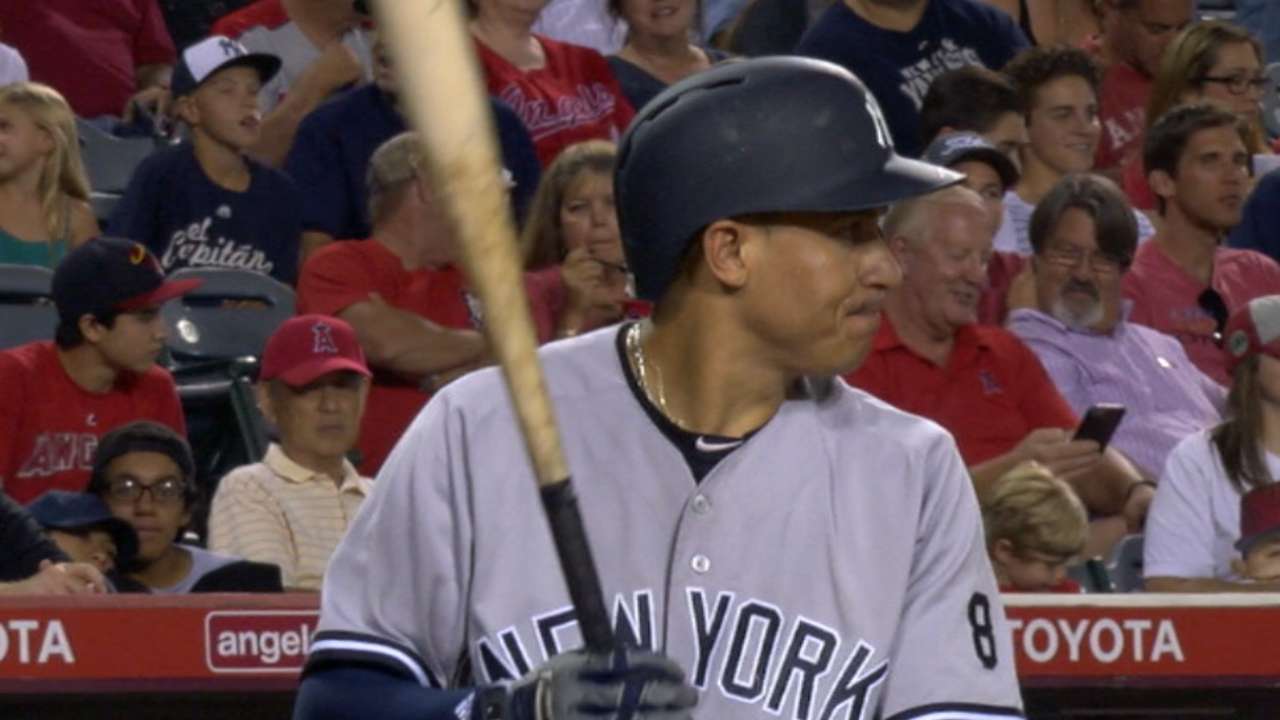 ANAHEIM -- A day after the game of his life, Ronald Torreyes found himself in the Yankees' starting lineup again, with Chase Headley still slowed by Achilles tendinitis.
Torreyes registered both his first four-hit game and his first home run in Friday's 7-0 win over the Angels and was back in the lineup on Saturday night at Angel Stadium, batting ninth and playing third base. It was just the third time this season he received consecutive starts.
"My job is to come to the ballpark ready to play," Torreyes said after Friday's win. "Although I don't play every day, once I get the opportunity to play, I want to do my best."
Facing Angels starter Jered Weaver, Torreyes put up a double and a homer in his first two at-bats, then found himself a triple shy of the cycle when he came up to bat in the eighth inning. He only came away with a single, but it was enough to cap off a career night for the 24-year-old rookie.
While Headley said he felt good enough to play on Saturday, the confluence of Torreyes' Friday night, the team's thirst for youth and the lingering soreness in his ankle provided enough reason to him for the decision.
"We haven't talked about it, but I wasn't surprised when I got a text saying I wasn't going to start," Headley said. "I'm sure I will be in there tomorrow, the next day, whenever. Probably just depends on how he's doing. There's no reason to rush me back when he's playing like he did yesterday. I would imagine that was a factor in their decision."
Headley told reporters Friday that he had been feeling the Achilles soreness for a week, but a rain-delay-lengthened game on Wednesday exacerbated the soreness enough to take him out of the lineup. Team doctors have told him there isn't a significant risk of reinjury. He also said he felt no tightness in the ankle, just soreness.
Manager Joe Girardi echoed that sense of precaution, saying the team isn't worried about the injury becoming "something big," but he did admit a situation exists where Headley's ankle becomes moot: Torreyes keeps going 4-for-4.
"He'll play everyday," Girardi hypothesized. "He'll be MVP by the end of the year, too."
Jack Baer is a reporter for MLB.com based in Los Angeles. This story was not subject to the approval of Major League Baseball or its clubs.