Papi joins Ted, Yaz as only Sox with 1,500 RBIs
Slugger take selfie with fan just before swatting tiebreaking 2-run HR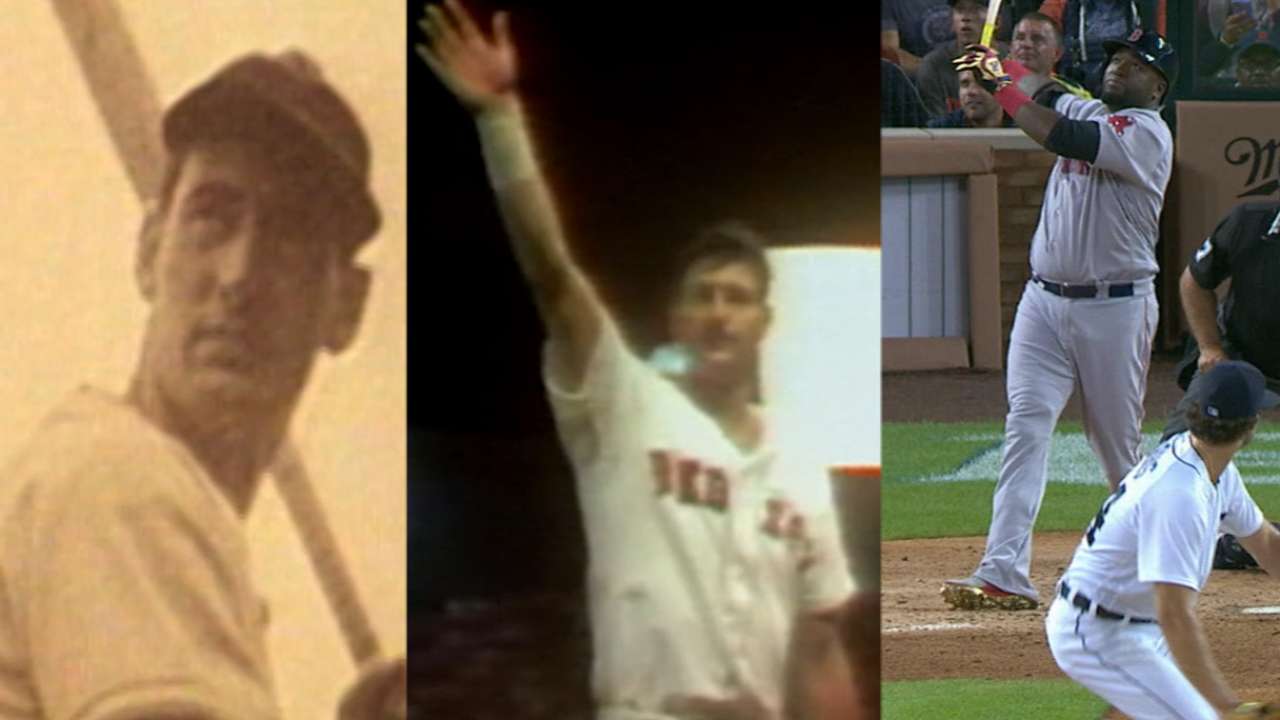 DETROIT -- The Tigers honored David Ortiz with a ceremony on the field ahead of the Red Sox's 3-2 win at Comerica Park on Saturday night. He thanked them by going 3-for-4 with a two-run home run in the fifth inning that came before a one-hour, 11-minute rain delay -- the second of the night.
Ortiz got a hold of an 0-1 slider over the plate and sent it to the right-field seats for his 29th homer, tying him with Ted Williams (1960) and Raul Ibanez (2013) for the most home runs hit in a season after turning 40. But Ortiz did not bat an eye at the stat.
"Forty is just a number," said Ortiz, who also became the third Red Sox player with 1,500 RBIs, joining Hall of Famers Williams and Carl Yastrzemski. Ortiz also scored his 1,400th career run, becoming the 95th Major Leaguer to reach that plateau.
• Papi took a selfie with a fan ... right before hitting a homer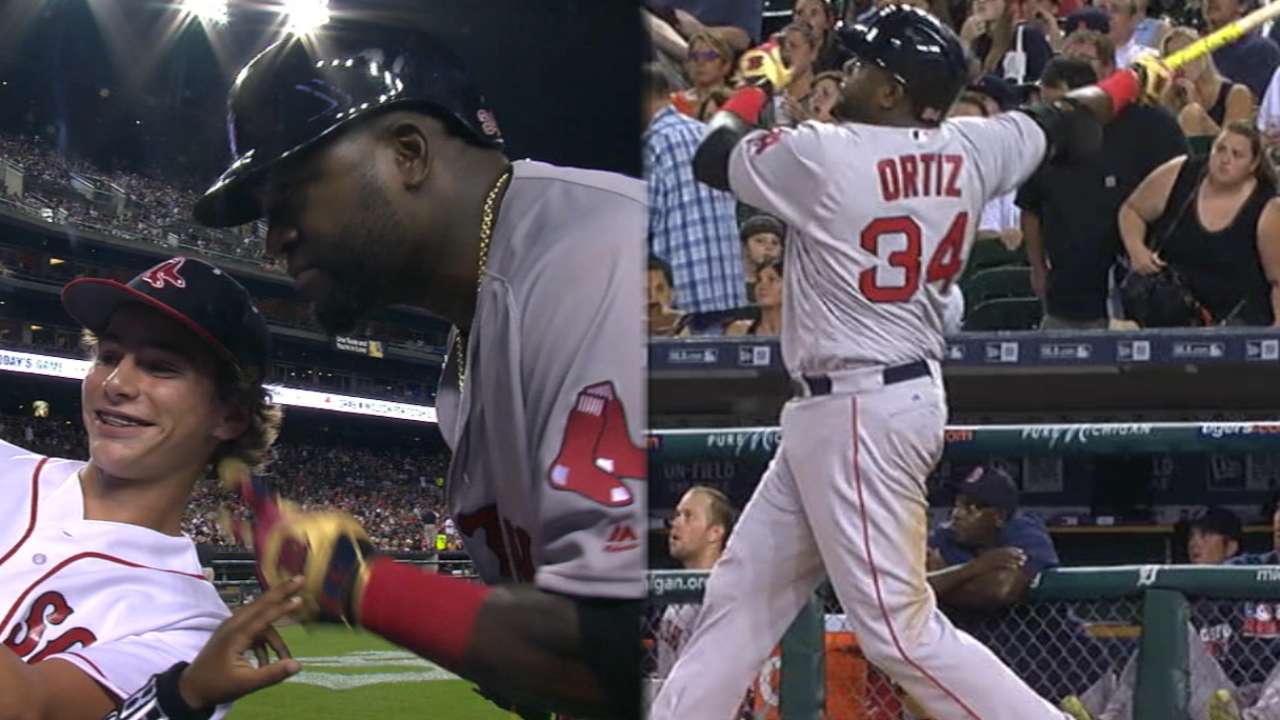 That statement by Ortiz is a microcosm of his season. His 29 homers and 97 RBIs have made for a season that can stack up with any number of great seasons he's had in his 20-year career.
This season, age aside, even begins to compare to 2007, when he hit for a .332 average, belted 35 homers and had 117 RBIs. Boston manager John Farrell said he has been impressed by Ortiz's durability.
"That goes back to the work he put in in the offseason," Farrell said. "That was one of the more impressive offseason programs that he went through. High intensity, very comprehensive. There've been a couple times where we've had to monitor his hamstring or lower back, but that's not out of the norm. He's been very reliable and dependable from a physical standpoint."
Ortiz's homer Saturday lifted the Red Sox to their eighth win in nine games, helping them remain within a half-game of the first-place Blue Jays in the American League East. Farrell was not surprised, though.
"Once again, he's the difference in this one offensively," Farrell said. "Two-run homer. He gets a breaking ball up in the zone that he hits out of the ballpark. It was good to see that swing by him."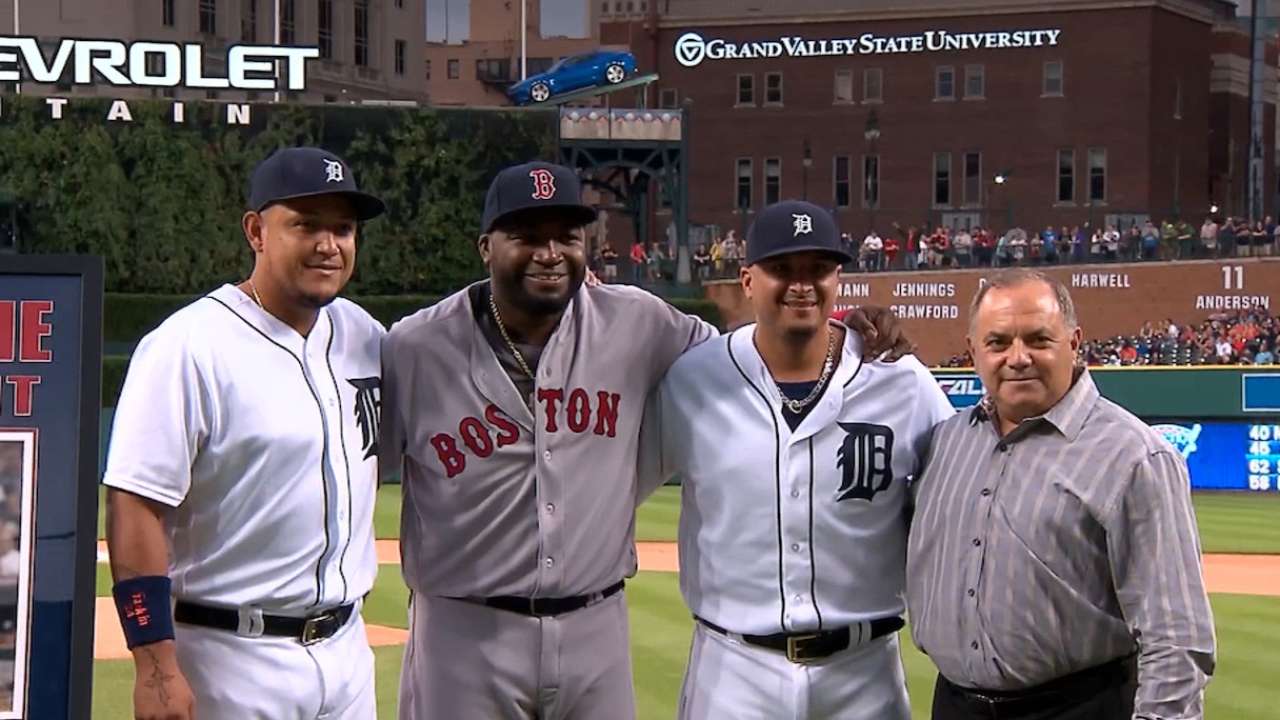 The Red Sox could be poised to make one final postseason appearance with Ortiz in a Red Sox uniform, something he has done seven times with the Red Sox and once with the Twins in 2002.
"We're playing well," Ortiz said. "We're playing well and we need to continue doing that. The starting pitching is doing really good and our offense is coming through."
Tigers sluggers Miguel Cabrera and Victor Martinez took part in the ceremony, delivering messages on the video board thanking Ortiz for being a friend and a mentor, as well as wishing him luck in his life after baseball.
"Those guys are brothers to me," Ortiz said. "Those guys are family. So great to see them out there and what they said on the board is something that means a lot to me. And even not playing next year, I'm just going to keep it that way with them. Whenever they need me, I'll be there."
Kyle Beery is a reporter for MLB.com based in Detroit. This story was not subject to the approval of Major League Baseball or its clubs.