Cespedes' strength a 'springboard' for Mets?
In second game since returning from DL, OF hits 2 HRs, RBI double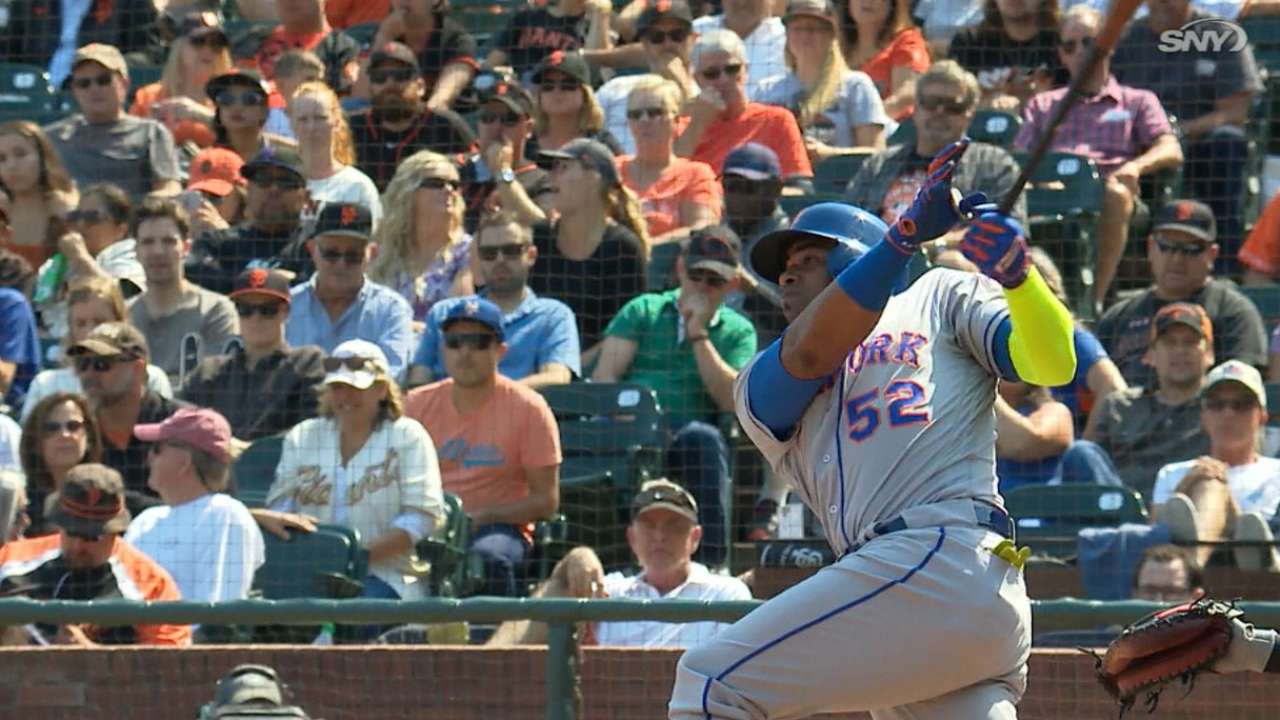 SAN FRANCISCO -- Whether the Mets are capable of reversing their August freefall to remain within striking distance in the National League playoff race will hinge on more than just one game. But Yoenis Cespedes' performance Saturday reminded them, at the very least, that they have a batter dominant enough to alter a season.
Cespedes pounded two home runs in a 9-5 victory over the Giants, helping the Mets win for just the fourth time in their last 12 games. It was the outfielder's second game since his activation from the disabled list Friday after missing most of August with a right quad injury. Joining him were Asdrubal Cabrera, also activated Friday, and Neil Walker, who missed four games with lower back tightness, in a Mets lineup that looked as healthy as it has been in some time.
"We've been talking for a long time," Mets manager Terry Collins said. "[Cespedes] is so dangerous in the lineup and makes such a big difference. It's nothing against anybody else, but he's tough to replace. It's nice to have him back."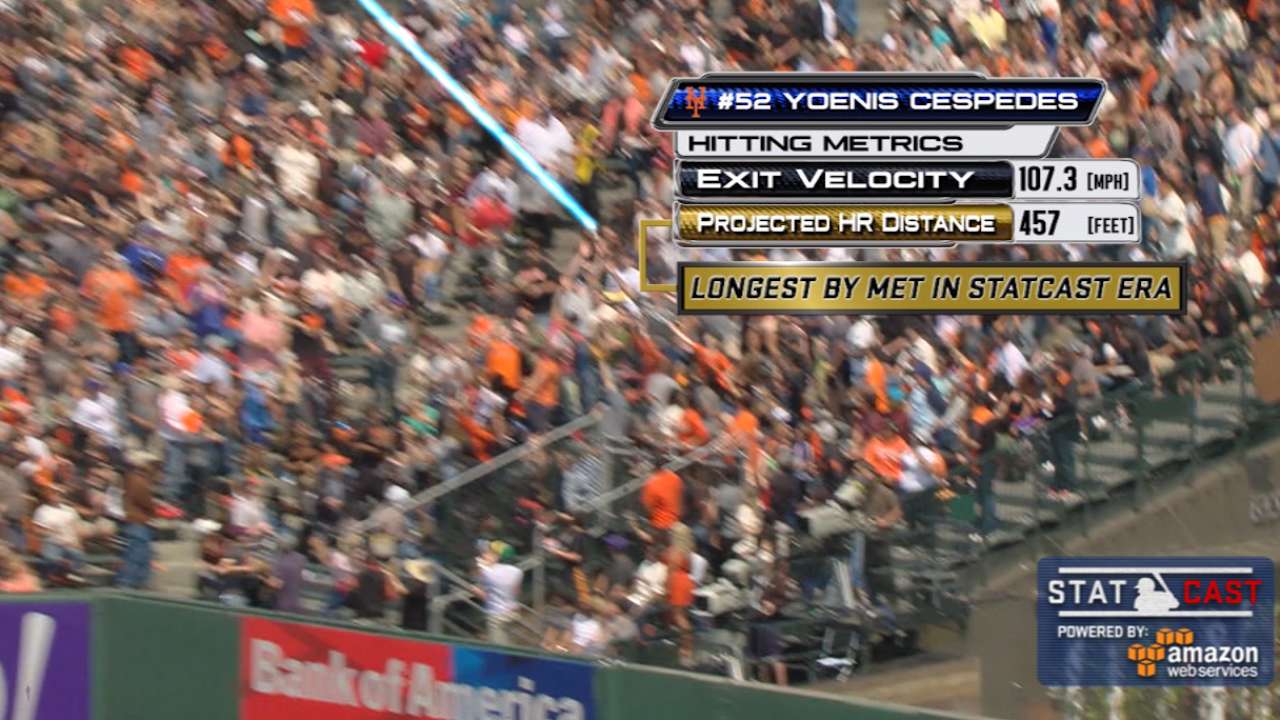 Cespedes went on the disabled list Aug. 3 with a lingering quad injury. The Mets have gone 6-10 since, they sit at 61-62 with 39 games remaining, and they are still 4 1/2 games out of the second Wild Card spot as they defend their 2015 National League crown. They've been plagued by a myriad of issues -- untimely hitting, a lackluster bullpen, health -- through their August swoon. One game is not enough to reverse a trend.
But it did show what a healthy Cespedes is capable of -- something he first displayed as he spearheaded New York's second-half run in 2015.
Cespedes blasted a solo homer in the third inning -- 457 feet from home plate, according to Statcast™, and the longest home run by a Met in the Statcast™ era (2015-16) -- and launched a 418-foot homer in the seventh inning. It was his eighth multi-homer game of his career, and he also added an RBI double in the first and nearly added a third homer in the ninth inning, skying out to the warning track in left.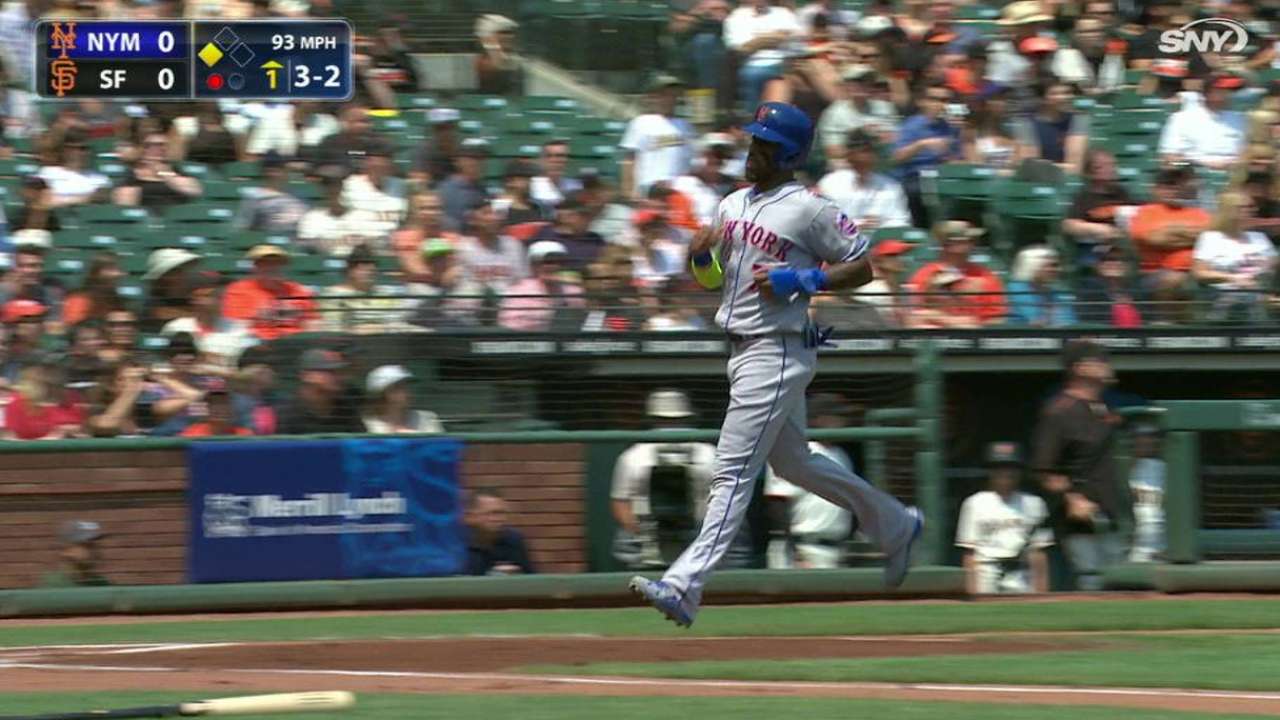 "I think Cespedes, that presence instills sort of fear and concern in another team," Mets starter Bartolo Colon said.
Cespedes' inclusion in the middle of the order also lengthens New York's lineup. The Mets rattled off nine runs, including a four-run sixth inning that opened up the game, and they chased Giants starter Matt Moore after five innings. Cespedes says he's healthier, too, swinging more freely with restored strength in his quad. And Saturday's performance comes despite, as he says, still not feeling like his timing is back at the plate.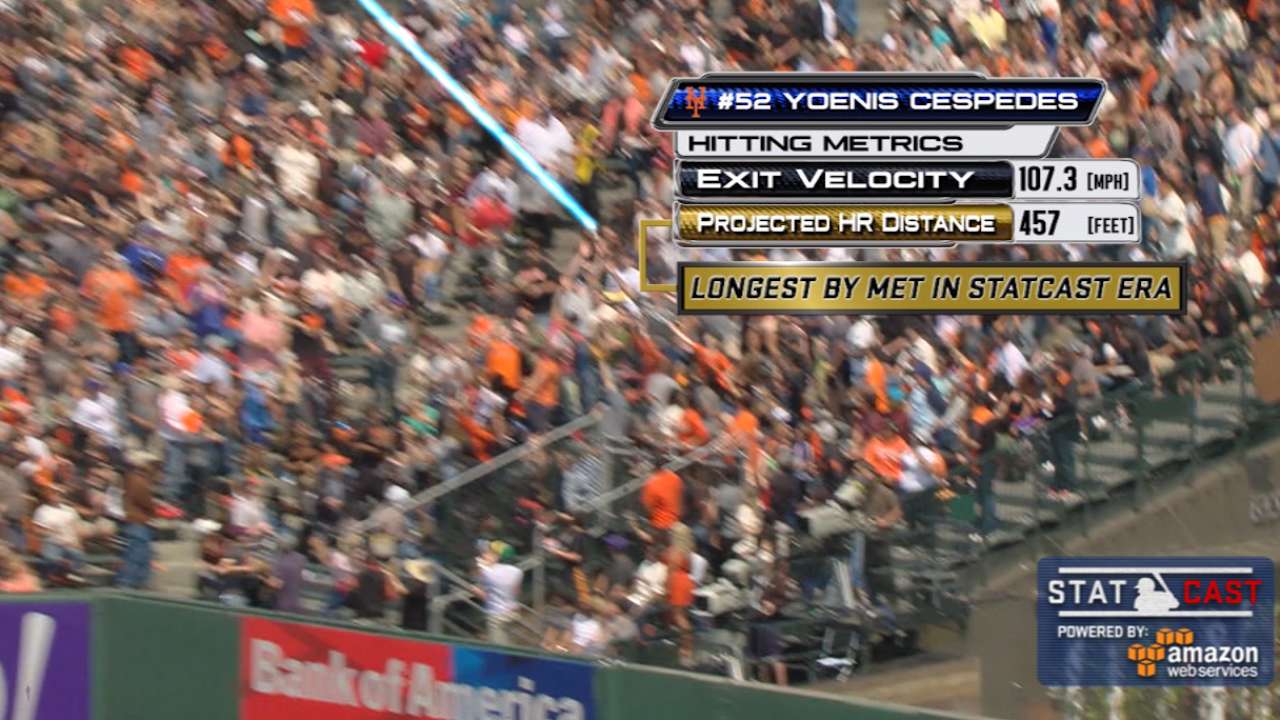 He's now hit 24 homers and is hitting .293/.364/.566 in 96 games. In 153 games since being acquired last year, he has 41 homers.
"He's the guy in the lineup that does all the damage, or a lot of damage," Collins said.
The Mets won with force Saturday after spending much of August battered. Their youthful pitching, as Collins alluded to, may be tiring after a long year last season. They can't afford to yield more ground. But they have Cespedes back. And as he showed Saturday, that's a powerful thing.
"Today was a good day, Collins said, "and we need to use this as a springboard."
Mark Chiarelli is a reporter for MLB.com based in the Bay Area. This story was not subject to the approval of Major League Baseball or its clubs.