Tillman: Shoulder fine; issue was no command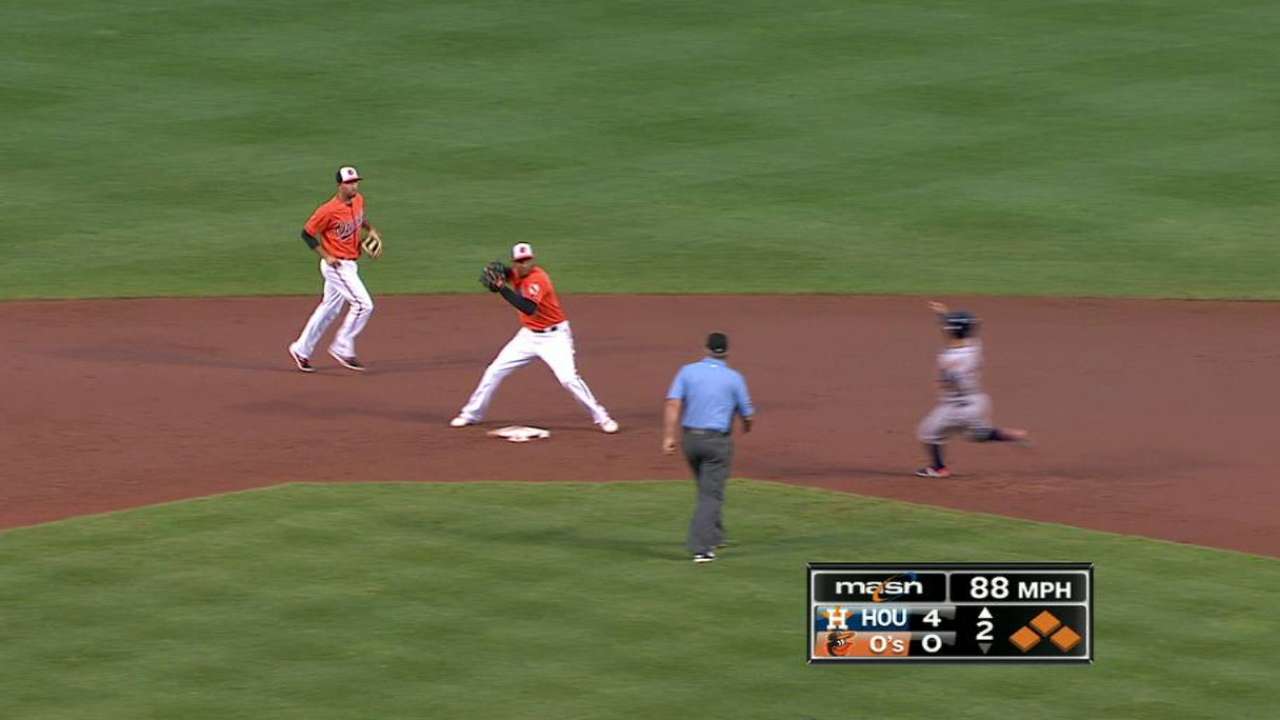 BALTIMORE -- When the Orioles have needed a stopper this season, they've turned to Chris Tillman. After Baltimore allowed a season-high 15 runs Friday, the staff's ace stepped on the hill Saturday looking to get a struggling rotation back on track.
But Tillman, making his first start since being scratched with right shoulder discomfort, didn't resemble the guy who entered with 15 wins. The right-hander, who allowed six runs on six hits, was pulled before recording an out in the third inning in the 12-2 loss to the Astros. Tillman's fastball velocity was down early in the start, and he struggled with his command, matching a season high with five walks.
After the outing, though, Tillman didn't use his shoulder as an excuse. He said he felt fine.
"That's the big positive coming out of this -- probably the only positive you can find," Tillman said of his health. "I felt good. Just couldn't command the baseball."
Before missing Wednesday's start, Tillman hadn't pitched on more than six days' rest all season. Manager Buck Showalter said he thinks the time off contributed to the poor performance.
Tillman attributed his lack of command to the rust and said his velocity dipped in the first inning because he was being cautious with his shoulder.
"I was a little timid early on," Tillman said. "There was some apprehension there, but the more I got into it, I feel like it started to come around. I'm pretty confident in it, and I have a pretty good feeling that it wasn't going to be a thing anymore. I felt really good at the end. I felt like it was coming out a little better."
Tillman couldn't get the ball over the plate in the third, however. He hit the first batter he faced in the inning and then walked three consecutive hitters before Showalter pulled him.
"I know a guy like him doesn't make excuses, and I know he's probably beating himself up over the start and the location," Adam Jones said. "That's his bread and butter, his command. Didn't happen tonight. It happens."
As the O's try to hold onto the second Wild Card spot in the American League, they'll need better pitching from their entire starting rotation. After the staff recorded seven straight quality starts from Aug. 5-11, the rotation has gone eight straight outings without one. The starters have an 8.82 ERA over the past eight games.
"It's tough when you're getting beat on early on," Showalter said. "It's pretty tough [for the offense] to cover that many runs the last two nights. It's pretty obvious we need to pitch better."
Ryan Baillargeon is a reporter for MLB.com based in Baltimore and covered the Orioles on Saturday. This story was not subject to the approval of Major League Baseball or its clubs.