Michael Buczek Little League honors fallen NYPD officers
League president, Buczek's sister, throw ceremonial first pitches at Little League World Series
WILLIAMSPORT, Pa. -- Michael Buczek Little League may not be representing the Mid-Atlantic Region in the Little League World Series, but about 25 of its players and league executives were nonetheless honored in Williamsport before Game 10 between Oregon and Rhode Island on Saturday afternoon.
Named in honor of police officer Michael Buczek, who was killed in the line of duty on Oct. 18, 1988 -- the same night that fellow officer Christopher Hoban was killed -- the league was established by Buczek's father, Ted. Since 1989, it has served as a safe haven in the Washington Heights neighborhood of Manhattan, where Buczek died at just 24. A New York City public school in the area also bears Buczek's name.
"What the league was able to do was give us a pause here at the baseball field and really get to know the parents and the community," said league president Johnny Moynihan, an NYPD sergeant who threw out one of two ceremonial first pitches before the game. "And they could get to know us."
Michael Buczek Little League is unique in that, instead of local sponsors, or even players' last names, each team's uniforms are emblazoned with the name of a NYPD officer killed in the line of duty. The tradition began in 2001, in the wake of the Sept. 11 attacks. Players also meet the families of the fallen officers they represent, and teams keep a picture of that officer in their dugout during games.
"Although I know in Major League ball it's all about the front of the shirt, in our league it's about the back of the shirt," said Michael's sister, Mary Jo Buczek, who donned a Yankees T-shirt for her ceremonial pitch.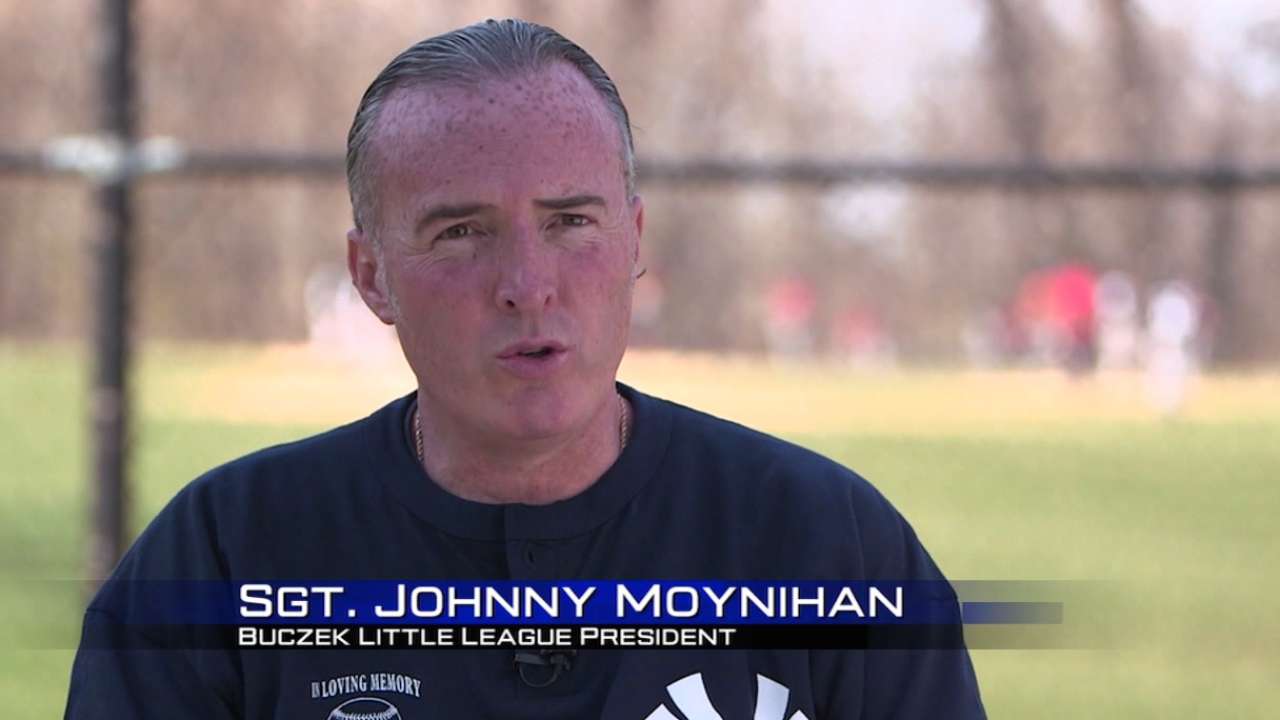 In June, Little League President and CEO Stephen Keener visited the Michael J. Buczek Ballfield, not far from Yankee Stadium, to present the league with the third annual Carl E. Stotz Little League Community Award. The award's namesake was the founder of Little League, and recipients are selected for generating a positive, lasting impact within their communities. Michael Buczek Little League also received a $5,000 grant.
"What the volunteers and families are doing at this league and in this community is very special," said Keener. "Johnny Moynihan, Mary Jo Buczek, and all the volunteer leaders in this league are not only instilling all of the great life lessons that the Little League program emphasizes, but also establishing the important connection between the community and its police officers."
In fact, 30 graduates of the league have pursued careers in law enforcement.
"In baseball, everybody wants to make it to the Major Leagues," said Moynihan. "But in the big scheme of things, our main goal is building Major League citizens one at a time.
Allison Duffy-Davis is a reporter for MLB.com. This story was not subject to the approval of Major League Baseball or its clubs.