Walker goes 2-for-4 in brief return to Mets' lineup
Second baseman will take paternity leave Sunday; Henderson back in 'pen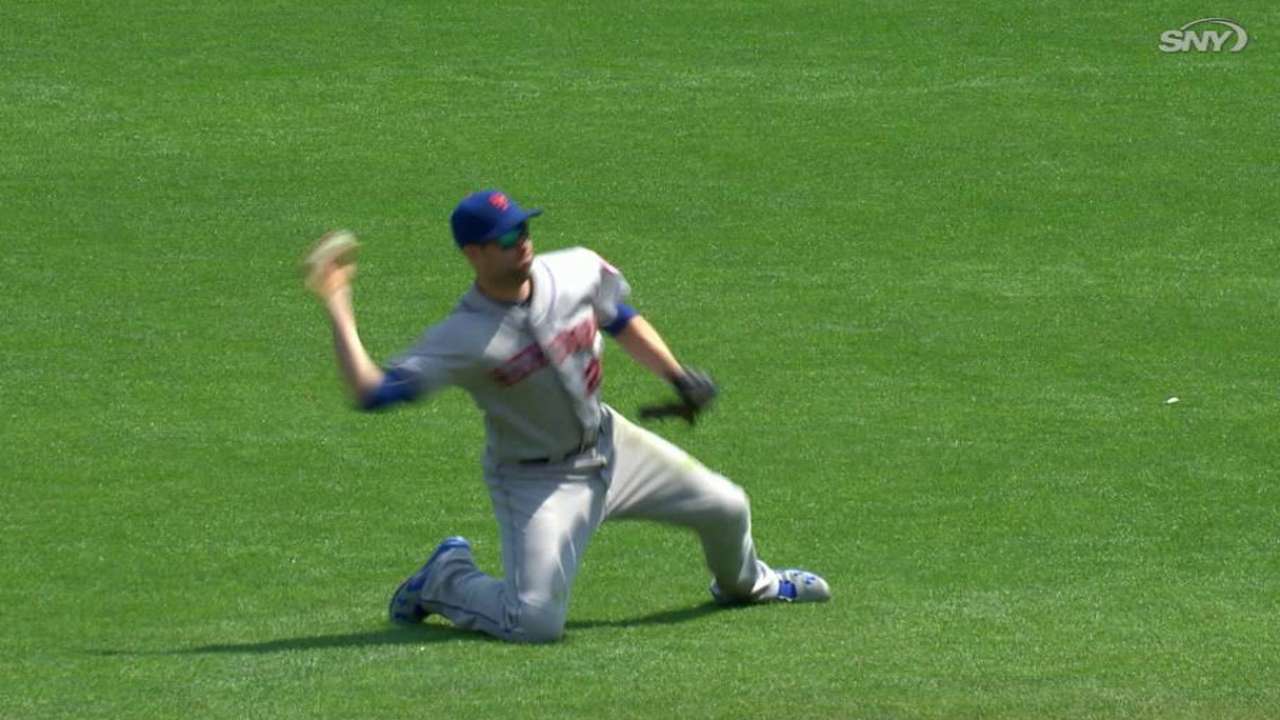 SAN FRANCISCO -- The Mets' lineup received a much-needed boost Saturday with the return of Neil Walker. He went 2-for-4 with two runs scored in a 9-5 win over the Giants in his first start since missing the previous four games with lower back stiffness.
His return, however, will be brief. Walker said he plans to go on paternity leave following Sunday's game in San Francisco and fly home to Pittsburgh to be with his wife for the birth of their child on Monday. He expects to miss New York's three-game series in St. Louis and rejoin the team on Friday against the Phillies.
Walker played a key role in Saturday's win. He made a diving stop to snare a Buster Posey grounder to end the fifth inning, preserving a 3-2 Mets lead. He also led off the sixth inning with a single and later scored, sparking a four-run New York barrage that opened up a 7-2 lead.
"Usually the first dive is pretty indicative of where I'm at," Walker said. "I got challenged pretty good today, I scored from second twice and dove two or three times. So everything was good."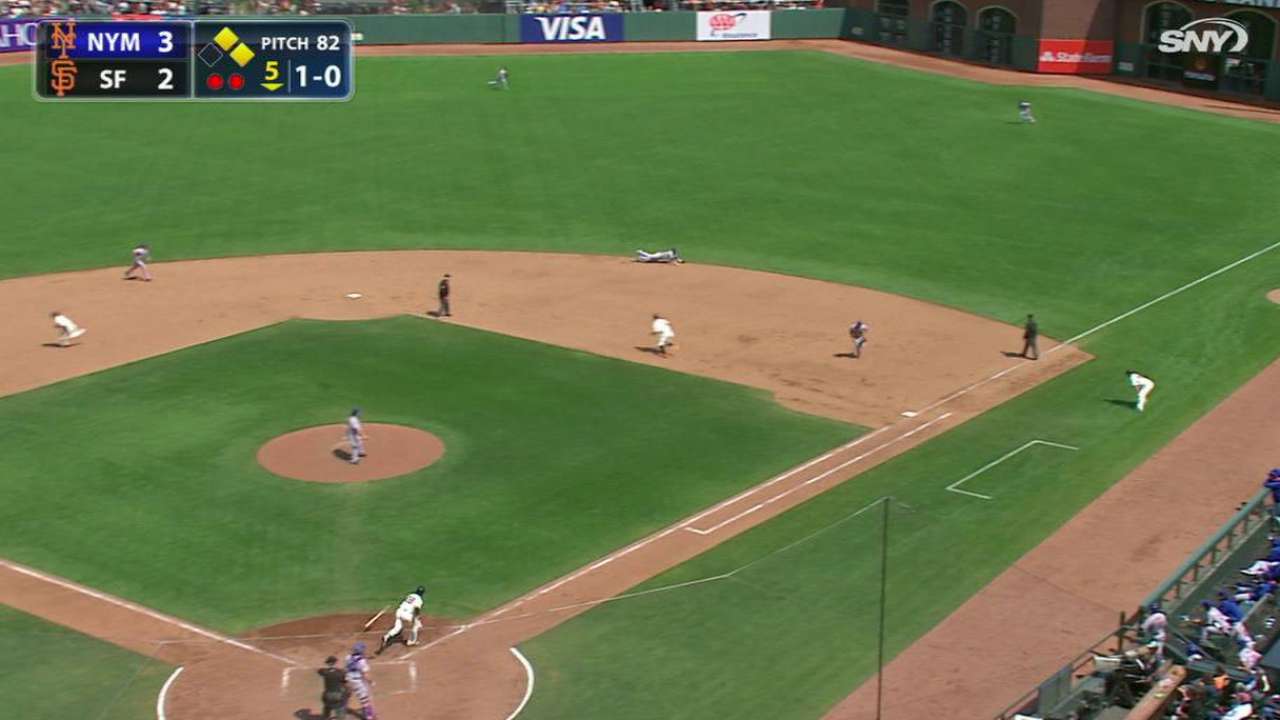 Walker rejoins the lineup amid a Mets swoon, as they've lost four of six to begin a critical 10-game road trip and are now one game below .500 (61-62). He's hit well when healthy this month, batting .403 in August while hitting six homers in his last 16 games.
Henderson returns
Reliever Jim Henderson rejoined a Mets bullpen in dire need of a jolt on Saturday, as New York activated the right-hander off the 15-day disabled list and optioned Erik Goeddel to Triple-A Las Vegas.
Henderson was available Saturday, but he did not see action. Manager Terry Collins said the 33-year-old will return to his customary seventh-inning role in the bullpen. Henderson hasn't pitched in the Majors since the Mets placed him on the 15-day disabled list retroactive to June 19 with a shoulder impingement.
Collins said Las Vegas manager Wally Backman has seen renewed velocity from Henderson in his most recent rehab assignment.
"Wally says his velocity is back to where it was when he left Spring Training," Collins said. "It's a big part of his game. He's not a finesse guy by any stretch. He's a power pitcher."
Henderson has dealt with shoulder issues in each of his last two seasons and had shoulder surgery in 2014. He was primed to rejoin New York in July until a hamstring injury stalled his rehab. He has since made six rehab appearances beginning Aug. 6, including five with Triple-A Las Vegas, and he didn't allow a run over his last three Minor League innings.
Henderson is 1-2 with a 4.26 ERA in 31 outings this year, striking out 30 batters in 25 1/3 innings. He was effective in April, posting a 1.08 ERA in 12 appearances, but he allowed 11 earned runs in his final 17 innings prior to the injury.
New York's bullpen has struggled, posting the second-worst 'pen ERA in the Majors in August (5.95), heading into Saturday's games. Mets relievers have allowed 30 earned runs in their last 33 2/3 innings.
"Right now we need him, Collins said of Henderson. "Our bullpen could use a fresh arm."
Goeddel, 27, is 1-0 with a 4.18 ERA in 28 appearances. He's given up five runs in his last 1 1/3 innings pitched, including a run on three hits Friday night against the Giants.
Mark Chiarelli is a reporter for MLB.com based in the Bay Area. This story was not subject to the approval of Major League Baseball or its clubs.