Strahm leads flawless effort from Royals' 'pen
Relievers throw 6 2/3 scoreless frames in win over Twins
KANSAS CITY-- The Royals have already counted on left-hander Matt Strahm to get them through several different situations over the past few weeks. Friday's game, which spilled over into Saturday, was another new experience for the rookie.
After a three-hour rain delay, Strahm took over for starter Edinson Volquez in a tie game with a runner on second and one out. It wasn't the easiest spot for the young southpaw, but he adapted, throwing1 2/3 scoreless innings in the Royals' 5-4 win over the Twins at Kauffman Stadium.
"You're here this long, you have to win it," Royals manager Ned Yost said after the game. "The bullpen was fantastic."
With the outing, Strahm's ERA dropped to a stout 1.08, but even more impressive was the job he continued to do with inherited runners.
Strahm was inserted into a high-pressure situation against the Rays in just his second career outing. With two on and one out, he struck out Brad Miller and Desmond Jennings, the Rays No. 4 and 5 hitters, to end the inning.
On Friday night, it was no different. Strahm took the mound for his first pitch with Jorge Polanco standing at second base. He walked Joe Mauer to put two on, but forced Trevor Plouffe to fly out, before striking out Max Kepler to end the inning.
Polanco represented the sixth inherited runner Strahm had dealt with in his young career. Like the other five, he never got the opportunity to score.
"Don't talk about it," Strahm joked about the streak. "[I'm] just going out there and pitching, trusting [Salvador Perez] and [Drew Butera] and following their lead."
With Strahm's outing and some additional work by relievers Peter Moylan, Brian Flynn, Joakim Soria, Kelvin Herrera and Chien-Ming Wang, the Royals' bullpen continued their stretch of dominance, extending their streak of shutout innings to 25 2/3.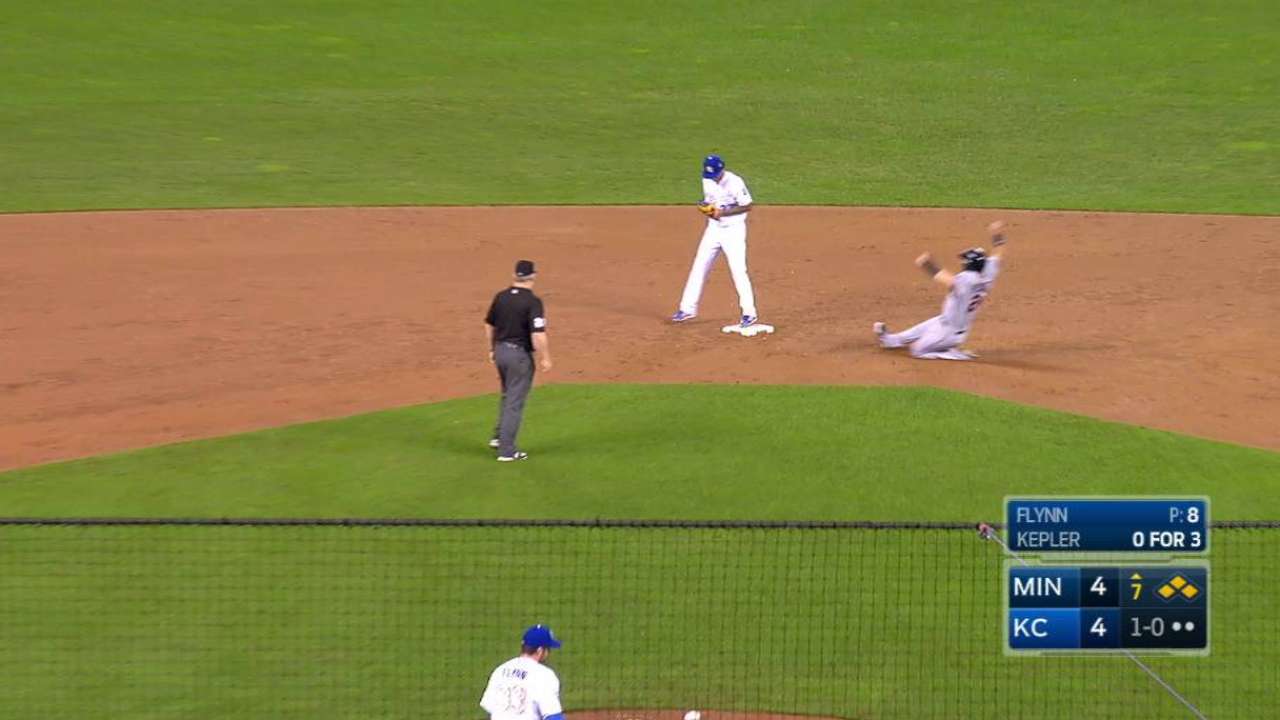 Entering the day, Kansas City's bullpen had given up just five hits in 61 at-bats during the streak. That number improved against the Twins, as the 'pen didn't allow a hit until the 11th inning, dropping the opposing batting average to .073 (6-for-82).
"[There's] never a thought of any kind of streak," Moylan said. "[We] just go out there and try to keep it scoreless."
Scott Chasen is a reporter for MLB.com based in Kansas City. This story was not subject to the approval of Major League Baseball or its clubs.