Shields seeks answers after A's light up scoreboard
Veteran starter hurt again by long ball, allowing 3 HRs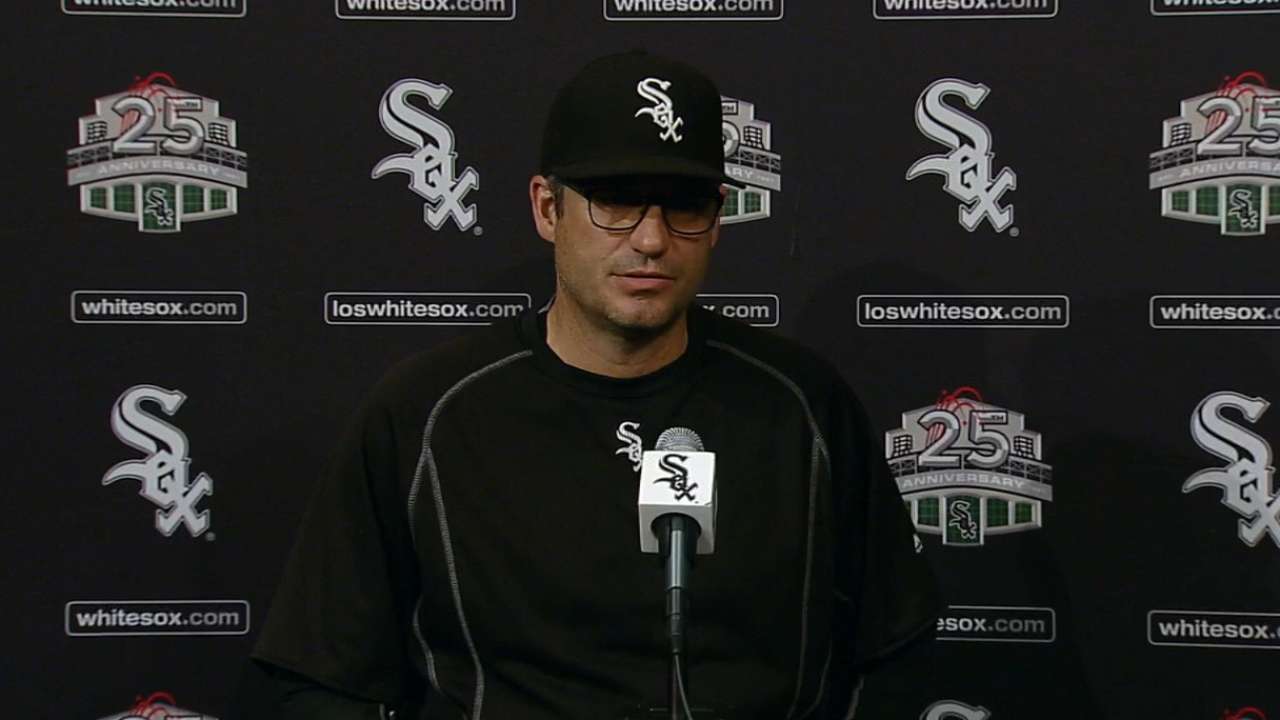 CHICAGO -- Fans at U.S. Cellular Field let out a roar sometime around 9:40 p.m. CT Friday night when the stadium went dark and the scheduled fireworks show began.
Unfortunately for White Sox starter James Shields, Oakland hitters unofficially started those fireworks a little more than two hours earlier. The A's knocked out three home runs and cruised to a 9-0 victory in the opener of a nine-game homestand for the South Siders.
Shields allowed six earned runs (seven total) on eight hits in 4 2/3 innings, striking out three and walking three. He has given up 27 earned runs on 33 hits over the last 14 innings, covering four starts, with five strikeouts, nine walks and nine homers allowed.
During nine starts at U.S. Cellular, Shields owns a 6.51 ERA and a .308 opponents average against. He also has yielded six or more runs in seven starts this season.
White Sox manager Robin Ventura indicated postgame Friday that Shields will be back out on the mound for his next start against the Mariners.
"He's going to figure that out," Ventura said. "There are times where a team will hit him around and he has been able to fight his way back. He's had the roughest stretch when he first got here and he seemed to calm those waters and figure it out. He has the ability to do that."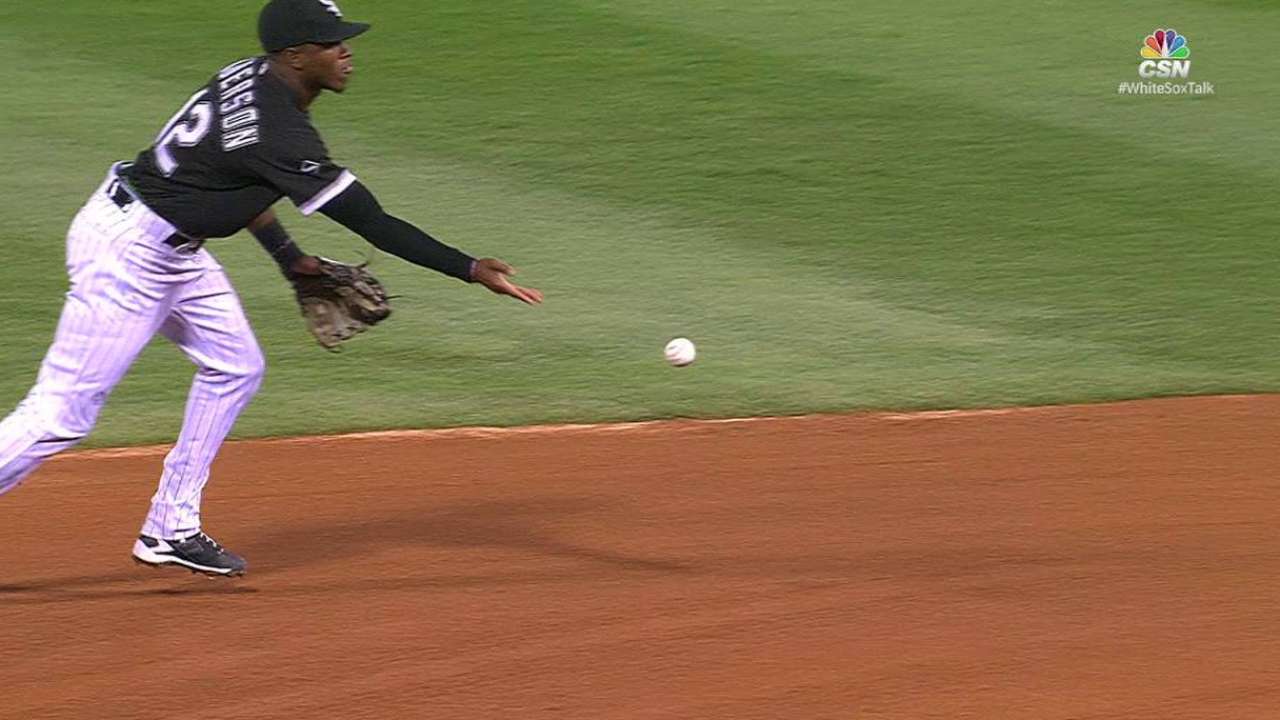 "I need to finish strong, no doubt about it. I need to finish strong," Shields said. "I'm not helping this team out right now, so I need to do my job and get better and move on."
Home runs have been an issue for Shields. Since the start of 2015, he has allowed a Major League-high 62. In his 69 2/3 innings with the White Sox, the opposition has gone deep 20 times.
Khris Davis hit a good changeup for a two-run shot in the third, according to Shields. Home runs from Stephen Vogt and Yonder Alonso in the fifth were off bad pitches.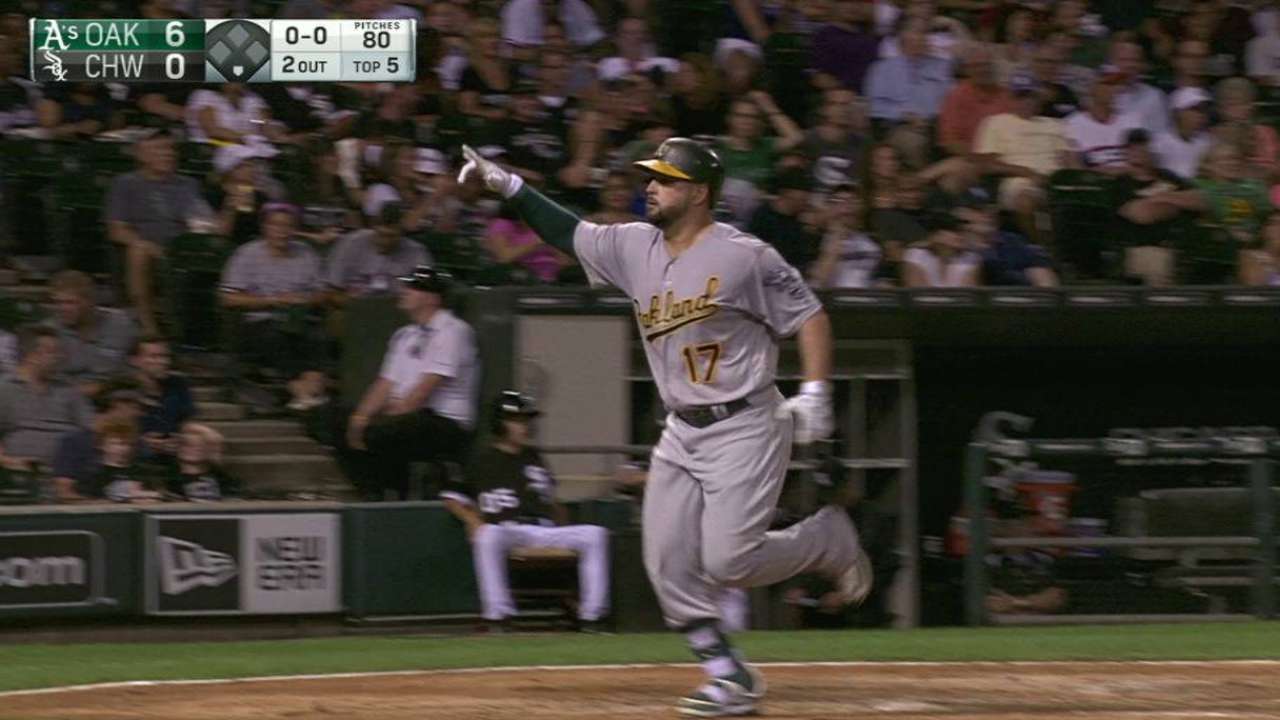 "It's never good when you see balls flying out of the park," White Sox catcher Dioner Navarro said. "They are going to put the ball in play on him so he knows he has to keep the ball down and try to make them hit the ball on the ground.
"So frustrating for me. I'm trying to get the guy to help us out because I know he can. I guess everything is going wrong. He's competing hard. He's trying to help us out. But you know, he has to keep grinding and trying to figure some stuff out. It's the only thing we can do."
Navarro caught Shields in the midst of his career prime with the Rays from 2006-10. Shields is not that same pitcher, but Navarro believes Shields can contribute much like he did during five straight quality starts in July.
The issue in Shields' mind is making better pitches in stress situations.
"As of lately, I'm not getting the job done with runners on base," Shields said. "When you give up homers, it's fine as long as no one's on. That's not what I'm doing right now. I need to get better."
Scott Merkin has covered the White Sox for MLB.com since 2003. Read his blog, Merk's Works, follow him on Twitter @scottmerkin, on Facebook and listen to his podcast. This story was not subject to the approval of Major League Baseball or its clubs.