Naquin does it again: OF a walk-off hero
Rookie hits inside-the-park HR to deliver clutch win in 2nd straight night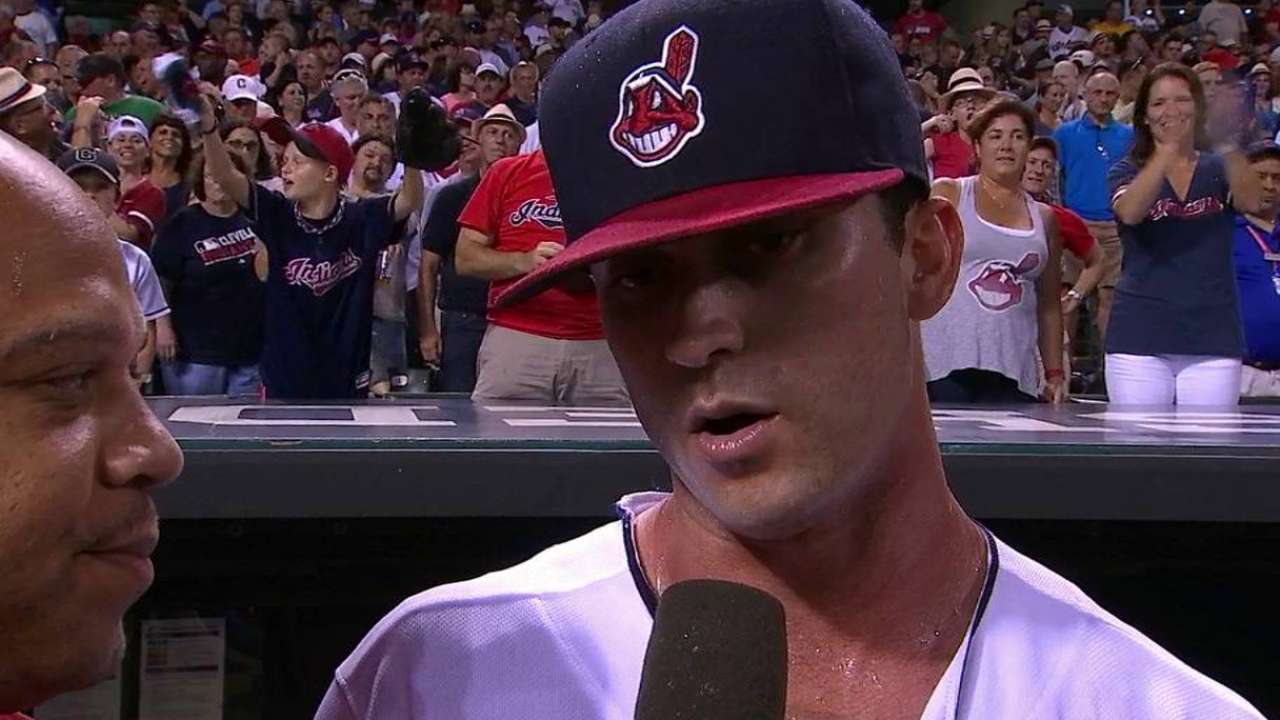 CLEVELAND -- Indians outfielder Tyler Naquin slid across home, and very briefly, he had a chance to savor the moment. Before the mob engulfed the rookie outfielder, Naquin hoisted his hand into the dark Cleveland sky.
"Just rockin' out," Naquin said after the Tribe's 3-2 win over Toronto on Friday. "That was a pretty cool moment, so I'm gonna get into it."
For a second straight time, Naquin was on the receiving end of that moment at Progressive Field. The latest celebration of a two-night party was courtesy of his inside-the-park walk-off home run as the Indians erased a one-run deficit in the ninth.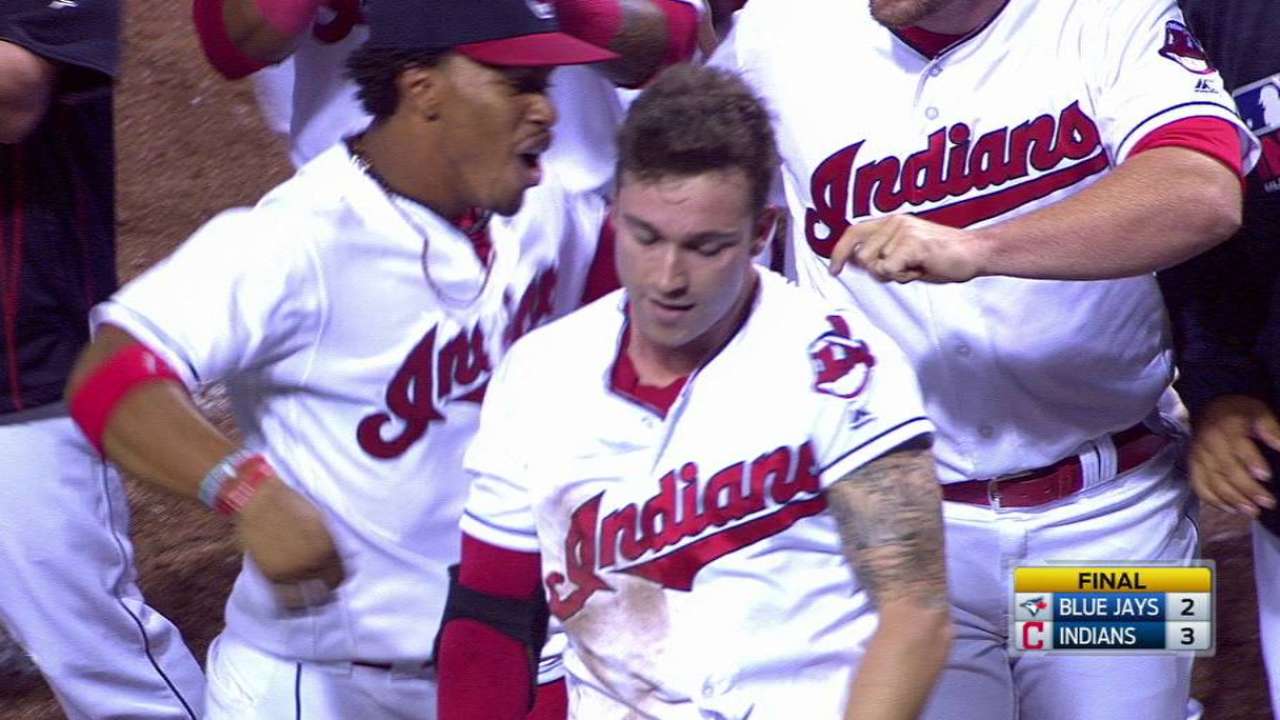 "That was exciting, that's for sure." Indians manager Terry Francona said. "I thought even going into the ninth, it's not good to be down one, but I thought it was a heck of a game, both sides. Good pitching, good crowd excitement, good baseball. To see the way it ended makes it way better."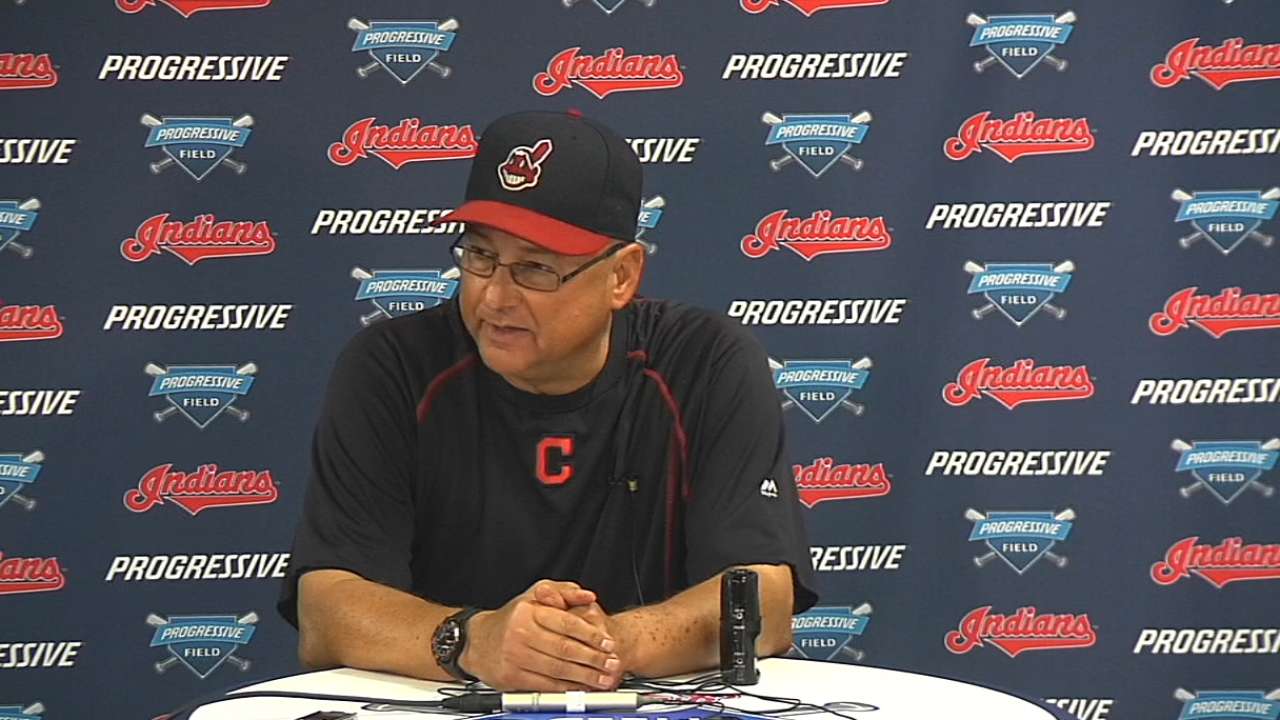 Cleveland entered the home half in the ninth trailing by one, but Jose Ramirez gave the Indians new life when he lifted a one-out solo shot into the seats in right off Toronto righty Roberto Osuna.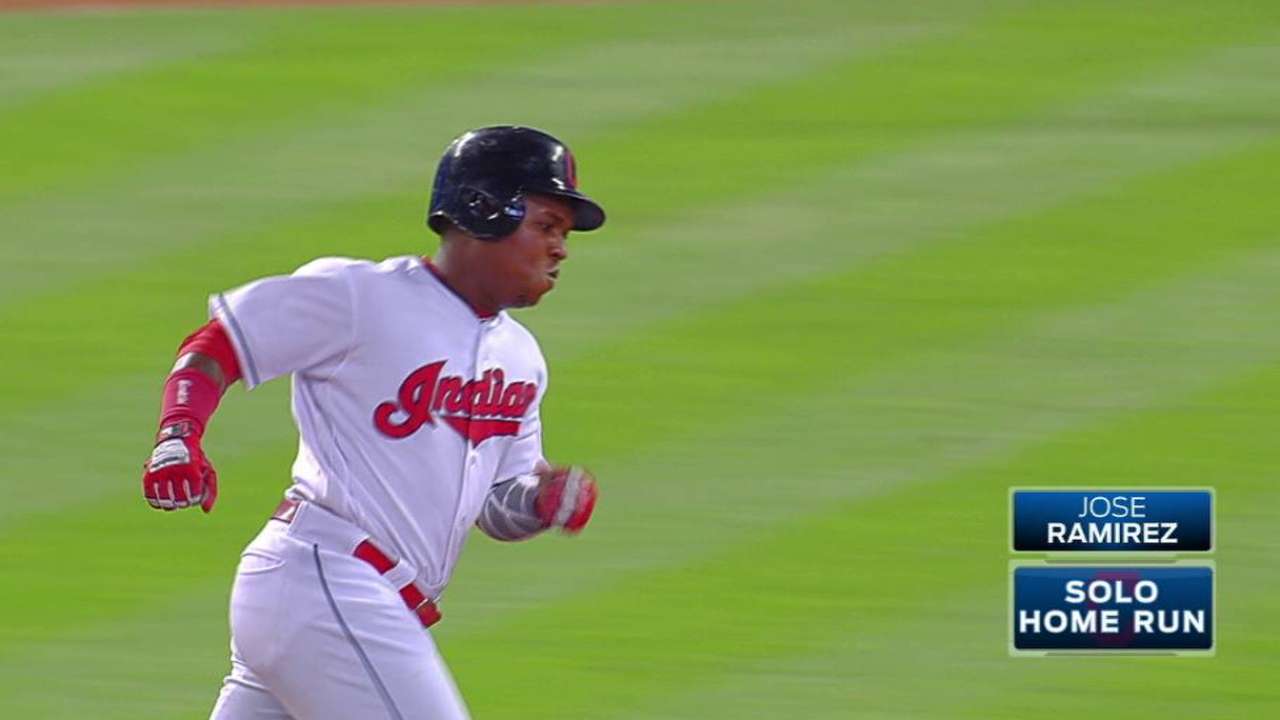 Naquin followed suit, lifting a 1-2 offering from Osuna toward right -- a ball that initially looked like it was going out. Instead, it fell just shy, ricocheting off the wall as Michael Saunders appeared to misplay it.
"I was just thinking after I hit it, I took a couple steps out of the box and just pictured it kicking off the wall," Naquin said. "I said, 'I have a chance to score if it kicks far enough.' And sure enough, it did."
Unbelievable finish for the @Indians!! WOW. wonderful atmosphere in there tonight. #Windians #StriveForGreatness #TheyreNext

— LeBron James (@KingJames) August 20, 2016
The ball kicked off the wall and rolled into a gap in the outfield as he rounded second. By the time Naquin rolled toward third, the ball had gotten to Melvin Upton Jr., who fell to the grass. This made the decision to wave him around a no-brainer for third-base coach Mike Sarbaugh.
"Initially, I thought it was out," Sarbaugh said. "And then when it hit the wall, I saw that Upton was pretty far away from it backing up. And when he got to it, I thought we would have to stop him. But as soon as he fell, I thought we had a good chance of scoring. Just good job on Tyler's part, just making sure he kept running. That was a great way to win the game, that's for sure."
As soon as he got the go sign, Naquin sprinted home and slid face first to finish his race around the infield. According to Statcast™, Naquin went home to home on the final play in 15.69 seconds. It is the fourth fastest inside-the-park home run of the season. The fastest mark is 15.23, set by Eduardo Nunez of San Francisco, who set it when he was with Minnesota on June 2.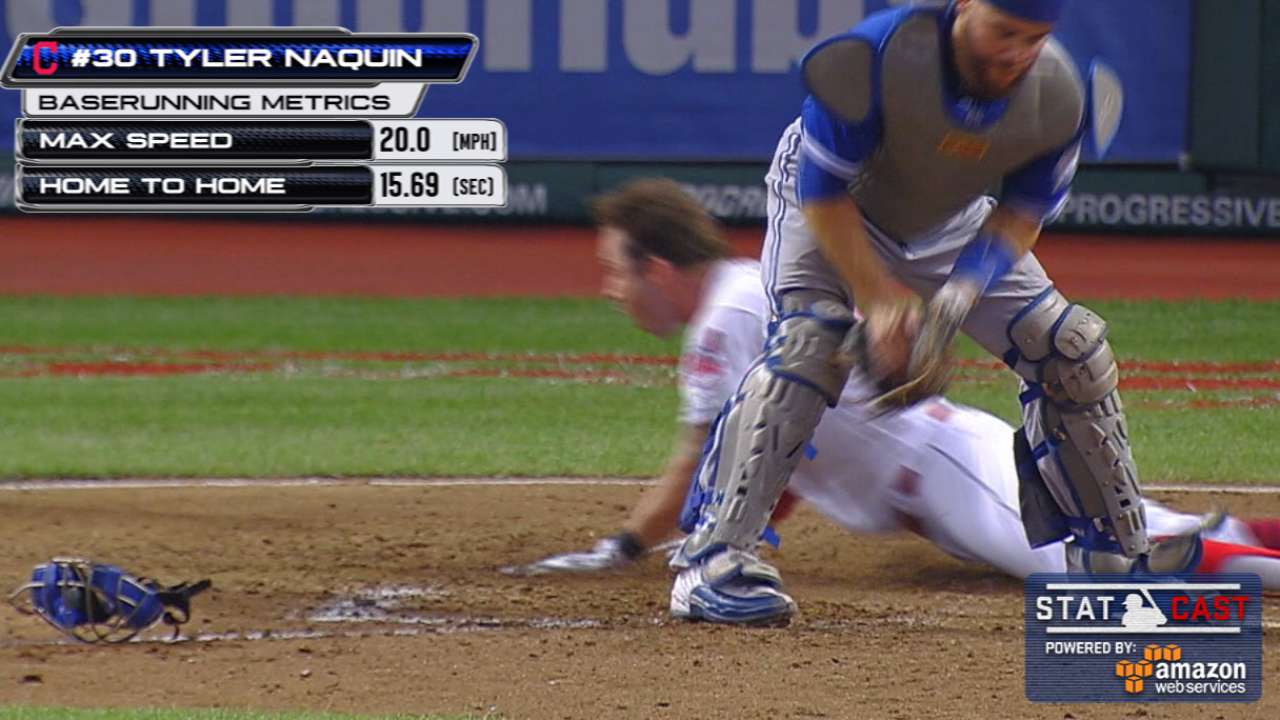 "When he's coming around third, he's looking at me," Sarbaugh said. "He did slow down a little bit, so to get him back going, he did a great job of keeping it. That was a lot of fun, especially to end up on the good side."
Friday's heroics included the fifth inside-the-park walk-off in baseball since 2000. The only other time it had been done in franchise history was when Braggo Roth accomplished the feat on Aug. 13, 1916, against the St. Louise Browns.
For Naquin, it was his second walk-off in as many days after he lifted the Tribe past the White Sox, 5-4, with a sacrifice fly in the ninth on Thursday. Although the rookie has just two such moments in his career, he wouldn't mind if Saturday's game was less dramatic.
"I'd actually like to win by five or 10 so we don't have to do that," Naquin said.
Shane Jackson is a reporter for MLB.com based in Cleveland. This story was not subject to the approval of Major League Baseball or its clubs.