'Back to business,' Porcello wins 17th vs. ex-mates
Righty tied for MLB lead after putting emotions aside, playing stopper for Sox in Detroit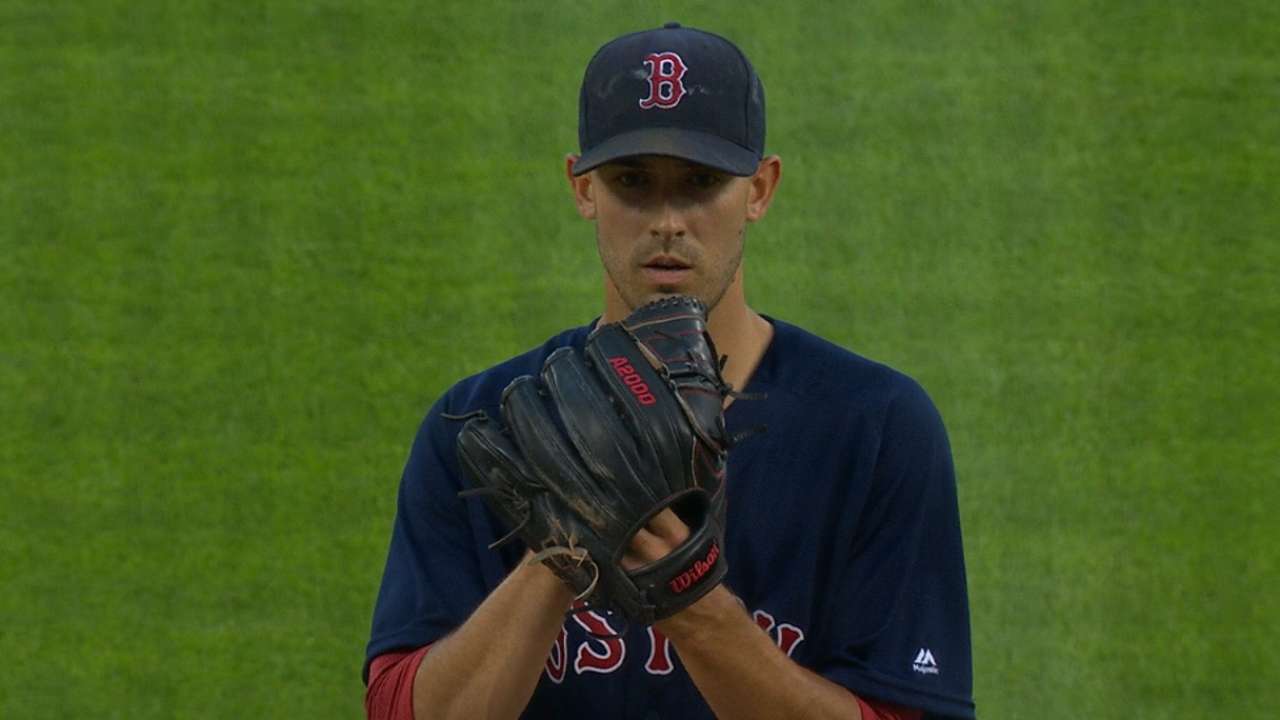 DETROIT -- The Tigers traded Rick Porcello to the Red Sox for Yoenis Cespedes before the 2015 season, then went on to trade Cespedes in a deal that brought starting pitcher Michael Fulmer to Detroit. Porcello and Fulmer squared off at Comerica Park on Friday night.
It was Porcello's first trip back to his original home ballpark, and he got the best of the Tigers' rookie, allowing two runs -- one earned -- over seven innings in Boston's 10-2 win.
"Once again, he had more reach-back to his fastball tonight to get some swing and miss to get some strikeouts up in the strike zone," Red Sox manager John Farrell said. "He was very strong for the seven innings tonight."
Farrell called Porcello the team's stopper. Porcello has pitched 13 times this season following a Red Sox loss. He has an 8-1 record in those games, and the Sox are 10-3.
"It's nice to be recognized like that," Porcello said. "But I think, at least in my mind, I don't try to put an over-emphasis on it. I think our starting rotation has been throwing the ball very well the last couple of weeks. I think we've all been pretty good out there."
Porcello's 17 wins are tied for the most in the Majors with Toronto's J.A. Happ and a career best for the righty, who is starting to pitch his way into the American League Cy Young Award conversation. Twenty wins is typically a major milestone for starting pitchers, but Porcello isn't too focused on it.
"Wins are relative, obviously, to the situations that you're in and runs being scored and things like that," Porcello said. "I look at 20 wins as a complete team effort. You can't go out there and win 20 games unless you score runs. For whatever reason, our offense has swung the bats really well when I've been on the mound, and I think it's all-inclusive as far as wins go for a pitcher."
Porcello got early run support Friday when David Ortiz and Jackie Bradley Jr. hit a pair of two-run home runs in the first inning to open up a 4-0 lead. The Tigers got two runs back in the second inning when J.D. Martinez hit a two-run shot of his own off Porcello.
Porcello allowed four hits and two walks, relying on a variety of pitches that put a Tigers lineup with potential power off balance all night.
Martinez was really the only thorn in Porcello's side, going 2-for-2 with a walk. The rest of the team was a combined 2-for-22 off Porcello. Martinez followed up his homer in the second inning with a single in the fourth and a 10-pitch walk in the sixth. Martinez saw the ball well, laying off several close balls and fouling off eight pitches.
"J.D. is better than me. That's what I saw," Porcello said. "The last at-bat, the third at-bat, I basically was emptying the tank on him, just doing my best to throw my best fastballs and not let him do what he did in the [second] inning, and he spoiled all of those and drew a walk. He had a [heck] of a game. He was really tough out there."
Porcello said it was a fun night getting to pitch at Comerica Park again, but said he tried not to think too much about it leading up to the game. He said it was not as big of a deal for him because the team made a trip to Detroit last season, and he pitched against the Tigers in Boston.
"Tonight was just back to business and just try to kind of keep all the other feelings and things like that out of my head and just try to do my job," Porcello said.
Kyle Beery is a reporter for MLB.com based in Detroit. This story was not subject to the approval of Major League Baseball or its clubs.