Abbott making most of being face of softball
Scrap Yard Dawgs fall in Game 1 of best-of-three semifinal series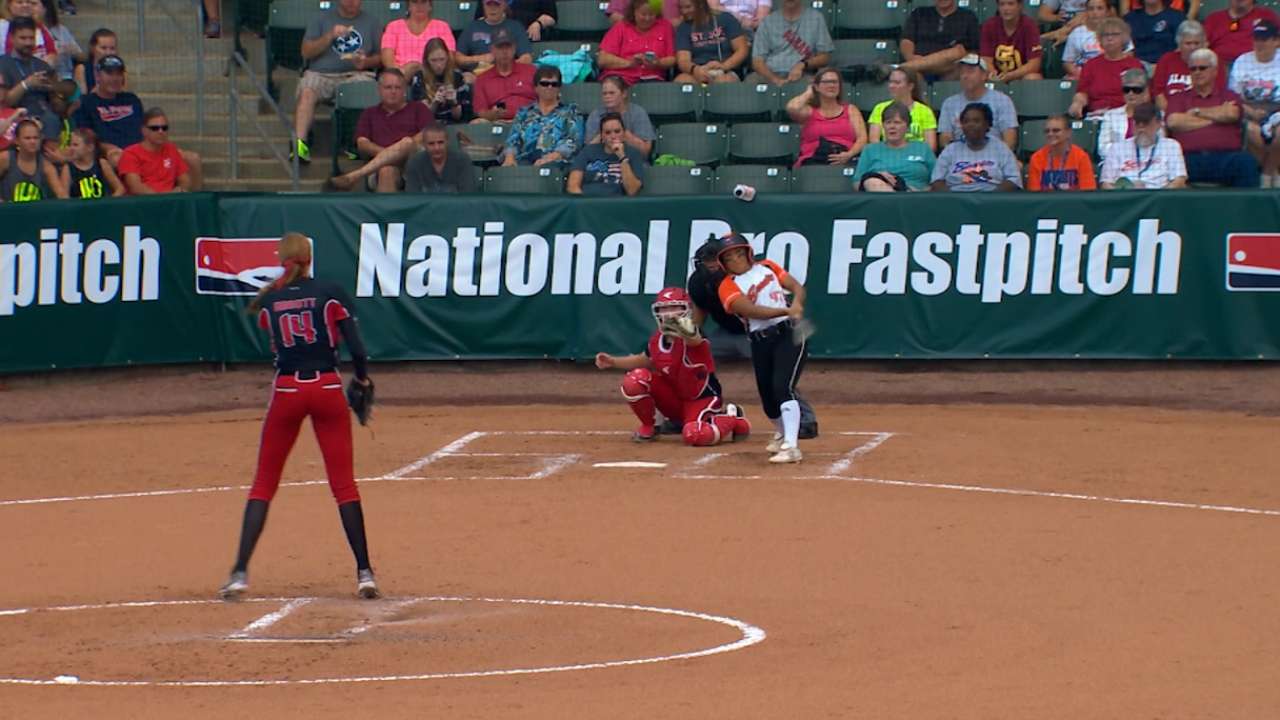 TUSCALOOSA, Ala. -- Monica Abbott has accepted the fact that she is the new face of women's fastpitch softball. That's what happened when earlier this year the 6-foot-3 left-handed pitcher signed the first million-dollar contract in National Pro Fastpitch history.
While her actions on the mound are violent in generating pitch speeds of greater than 70 mph, and the signature of the most dominant pitcher in the world today, Abbott is soft-spoken and extremely thoughtful as she answers questions about a career that has turned heads both on and off the field.
"I have been playing in the NPF a long time, so I believe in the sport and the avenue it creates for professional softball," Abbott said. "I've had a lot of good examples of people who have been the face of sports before, whether it was Jennie Finch or Pat Summitt or people who have continually carried that torch for us. So I am able to help carry that for the next generation."
For the foreseeable future, Abbott, is trying to lead her expansion Scrap Yard Dawgs (29-19) to the 2016 NPF championship. What better way for an expansion team to get a jump-start on winning? The nine-year pro and three-time NPF pitcher of the year has pitched without peer this season, compiling an 18-1 record, with an 0.72 ERA and 167 strikeouts in 125 2/3 innings pitched.
Wherever she has pitched, team success has followed, and that is quantified with three NPF championships, three championship MVP awards, three Pitcher of the Year awards, an Olympic silver medal (2008 in Beijing), the only perfect game in Olympic history, four Japan Softball League championships and two JSL MVP awards.
Speaking of three championships, she lists Giants lefty and three-time World Series champion Madison Bumgarner as her favorite current MLB player. As a high school and collegiate athlete, she was partial to 2015 Hall of Famer Randy Johnson.
"You have to like the lefties," she said with a smile.
While at University of Tennessee from 2004-2007, she set marks that still stand today: 2,440 career strikeouts and 189 wins. Add to that 23 no-hitters and six perfect games, and she was just looking for a place to continue her passion.
"When I was in college, when I left Tennessee, I went to the Olympics and was hoping to make a career out of softball and just kind of build and grow as the sport has grown," Abbott said. "As I have gotten older, trying to continue to become a better athlete and do the most for the future of the game."
Her new contract is reportedly for six years, which would take it through 2021 and her age-36 season. Given that timetable, Abbott still is planning on playing in 2020, when softball will be back in the Summer Olympics in Tokyo.
"Softball being back in the Olympics is just huge," Abbott said. "It was the biggest avenue for most girls playing. Having that avenue on the Olympic stage and world stage is huge for excitement at every level from the youth all the way up to the international level."
Losing the gold to Japan in Beijing in 2008 -- the last time softball and baseball were played in the Olympics -- still is something she thinks about. When asked whether she thought about avenging that loss, Abbott laughed said, "I was the youngest player on that team in 2008, yeah, I think about that. Our expectations were gold and we came up short that time. It was hard."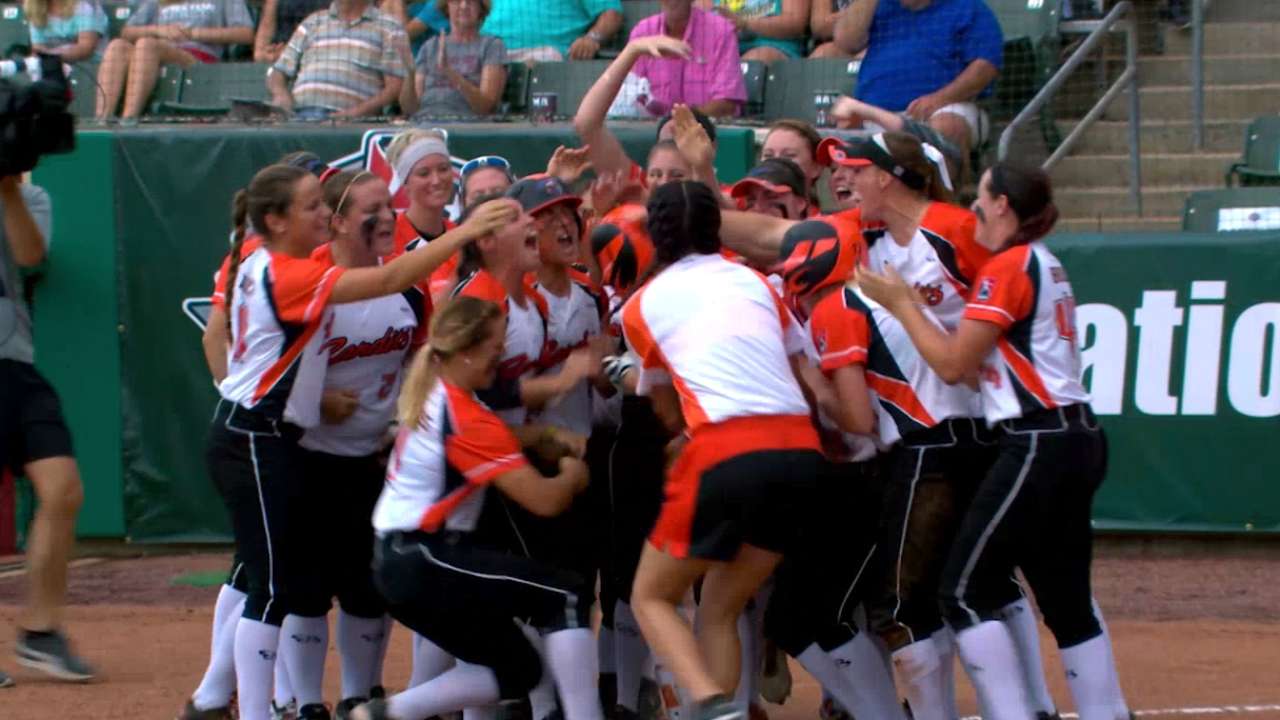 Chicago Bandits 11, Scrap Yard Dawgs 2
The Bandits hit three home runs, two off Abbott in the first inning, and took advantage of three errors to take an 11-2 victory in Game 1 of its NPF Championship best-of-three semifinal series at University of Alabama's Rhoads Stadium.
With one out and leadoff hitter Jill Barrett on first, Brittany Cervantes and Amanda Kamecona went back-to-back in the first inning. Cervantes started it with a 2-run blast to left-center and Kamecona followed with an identical solo shot. Kristen Brown added a 3-run insurance homer in the seventh.
Bandits Angel Bunner got the win, allowing six hits, including solo homers by Jade Rhodes and Madison Shipman.
Abbott, with only her second loss of the season, went six innings, giving up eight hits, six runs, four of them earned.
Game 2 is scheduled for Saturday at noon ET and Game 3, if necessary will be played at 6 p.m. ET.
USSSA Pride 3, Akron Racers 0
Lauren Chamberlain's three-run homer in the first inning was all that was needed as starting pitcher Keilani Ricketts took care of the rest, giving the Pride a 1-0 lead in their semifinal series.
Racers starter Jailyn Ford struggled with her command early, walking the second and third batters she faced before Chamberlain greeted her with a towering blast over the left-centerfield wall.
The Pride's bats fell quiet after that, getting only two singles the rest of the way against Akron's bullpen. It didn't matter as Ricketts scattered four hits and walked only one, working out of any trouble and keeping the Racers off balance with a great changeup.
Game 2 is scheduled for Saturday at 3 p.m. ET and Game 3, if necessary, will be played at 9 p.m.
Jim Jenks is an executive producer with MLB.com. This story was not subject to the approval of Major League Baseball or its clubs.